---
---
---
Do you participate in spacecraft development? Do you know the status of a particular mission? Please help us to keep this page up to date! (We respect confidentiality of all sources.) Contact: Anatoly Zak
---
For missions in 2020 click here
---
PLANNED RUSSIAN SPACE MISSIONS IN 2021:
2021: Russia to launch a Luna-Grunt mission to return soil samples from the lunar surface back to Earth. (As of October 2013. In August 2012, the mission was promised in 2019.)
Around 2021: Russia to start assembling a new space station under the OPSEK project to succeed the International Space Station, ISS.
Around 2021: Russia to launch Venera-D spacecraft to Venus. (A proposal in 2013)
2021: A Soyuz-5 launch vehicle to fly its first test mission (As of mid-2014).
For missions in 2022 click here
---
This page is compiled by Anatoly Zak; Last update: July 11, 2014
All rights reserved
IMAGE ARCHIVE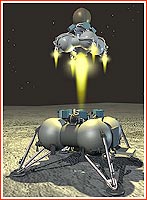 An early depiction of Luna-Grunt spacecraft.