---
---
---
---
If you ever tried to "google" such terms as "Russian space program," "Baikonur," "Mir," "Soyuz," "Proton rocket" and many similar ones, RussianSpaceWeb.com will likely top the list of search results: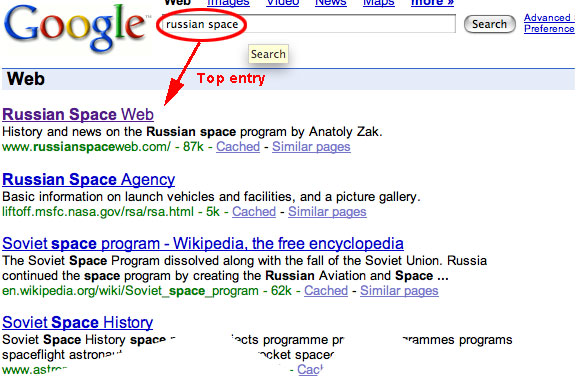 ---
...Or if you went on a trip to one of Russia's numerous space events, you could see printouts from RussianSpaceWeb.com in the hands of top international space officials, scientists and engineers.
As extensive correspondence to the editor of this web site testifies, RussianSpaceWeb.com became the ultimate source of information for engineers and scientists, politicians and businessmen, writers and journalists, students and teachers, historians and movie makers around the world. Readers often describe RussianSpaceWeb.com as the best illustrated and organized publication on the history of space program.
---
On an average month, the site is viewed by CLOSE TO 120,000 UNIQUE VISITORS and the traffic had continued to grow in 2009 and 2010, despite the world economic crisis: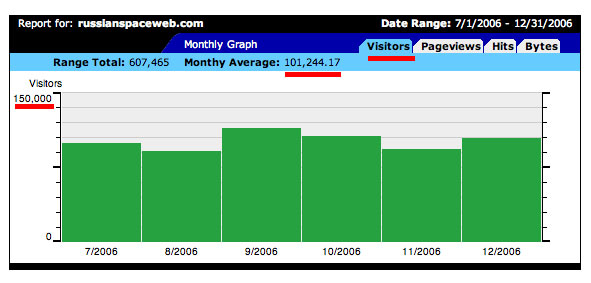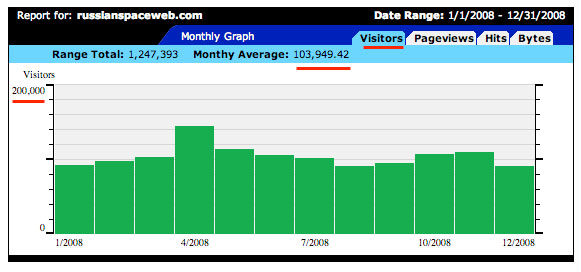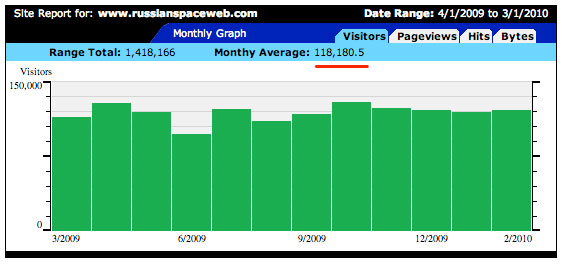 ---
Large percentage of visitors can be traced to the aerospace and defense industry professionals and high-tech companies in the English-speaking world and around the globe: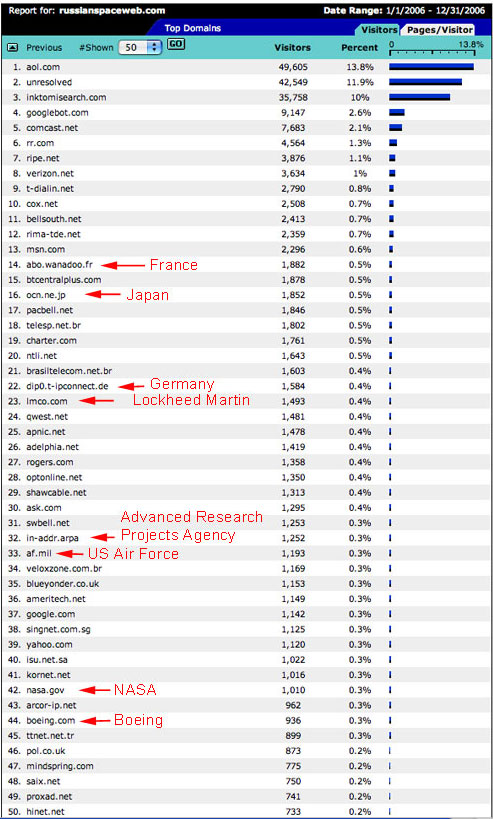 ---
To see what industry professionals and other readers have to say about RussianSpaceWeb.com, please visit testimonials page.
---
Consistent Updates
RussianSpaceWeb.com has been continuously published since January 2001! It has been indexed by Way Back Time Machine and its history can be independently verified here:
http://web.archive.org/web/*/russianspaceweb.com
---
If you are interested in advertising on RussianSpaceWeb.com, please contact Anatoly Zak. The rate card is available upon request.
Below is an incomplete list of organizations, whose representatives acknowledged the use of information from RussianSpaceWeb.com, requested consultancy or reproduction of content from the site:
Air & Cosmos (France)
Air & Space Smithsonian (US)
Aviation Week & Space Technology (US)
BBC (UK)
Boeing (US)
CNES (France)
CNN (US, UK)
Discover (US)
Dorling Kindersley, DK, publishers (UK)
European Space Agency, ESA
Financial Times (UK)
Flight International (UK)
Flieger Revue (Germany)
Formulation K.K., Japan, a research service for Nippon Television Network
Futron Corporation (US)
GEO (Germany)
Gong (Germany)
IEEE Spectrum (US)
Japan Manned Space Systems Corporation
Journal of the British Interplanetary Society (UK)
Lockheed Martin (US)
MIR Corp
NASA
National Geographic (US)
Nature (US)
New Scientist (UK)
Popular Mechanics (Russia)
Science magazine (US)
Space Illustrated (US)
Spaceflight magazine (UK)
SpaceflightNow.com (US)
Space.com (US)
Sunday Times of London
TransOrbital Inc. (US)
Twenty-First Century Bimonthly, The Chinese University of Hong Kong
US Air Force
USA Today
Union of Concerned Scientists (US)
Wired (US)