Soyuz rockets participate in building European GPS constellation
After years of debate, European countries agreed to fund the Galileo satellite navigation system, which was designed to rival and complement the America's Global Positioning System, GPS, and the Russian GLONASS network. Ironically, Russian-built Soyuz rockets were given the job of delivering all test versions of Galileo satellites into orbit. Soyuz would also fly five missions with a pair of operational satellites each, alongside three Ariane-5 ES rockets, carrying four spacecraft during each launch.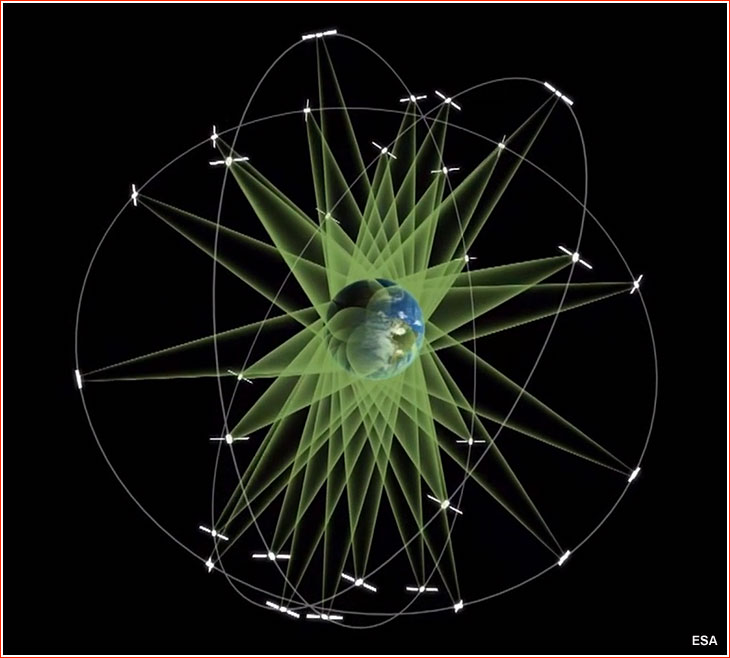 Above: A schematic illustrating the fully assembled Galileo constellation.
---
Somebody said that a camel is a horse designed by a committee. The Galileo constellation managed by the European commission, implemented by the European Space Agency and deployed by Arianespace can probably boast the most cumbersome and confusing naming system in the history of space technology. Below is the explainer attempting to demystify Galileo's mission names:

---
A complete list of launches in the Galileo constellation:
1

2005 Dec. 28

08:19 Moscow Time

GIOVE-A (GSTB-V/2A)

Success

2

2008 April 27

22:16 GMT

GIOVE-B

Success

3

2011 Oct. 21

10:30:26 GMT

IOV-1 PFM Thijs,
IOV-1 FM2 Natalia

Success

4

2012 Oct. 12

18:15:01 GMT

IOV-2 FM3 David,
IOV-2 FM4 Sif

Success

5

2014 Aug. 22

12:27:11 GMT

Failure*

6

2015 March 27

21:46 GMT

Success

7

2015 Sept. 11

02:08 GMT

Success

8

2015 Dec. 17

11:51:56 GMT

Success

9

2016 May 24

08:48:43 GMT

Success

10

2016 Nov. 17

13:06:48 GMT

Galileo FOC M6: Sat 15 FM07 Antonianna,
Sat 16 FM12 Lisa, Sat 17 FM13 Kimberley, Sat 18 FM14 Tijmen

Araine-5 (VA233)

Success
11

2017 Dec. 12

18:36:07 GMT

Galileo

-FOC FM15 (Nicole), Galileo-FOC FM16 (Zofia), Galileo-FOC FM17 (Alexandre), Galileo-FOC FM18 (Irina)

Ariane-5-ES (VA240)

Kourou

ELA-3

Success
12
2018 July 25
11:25 GMT
Galileo-FOC-M8-23, Galileo

-FOC-M8-

24, Galileo

-FOC-M8-

25, Galileo

-FOC-M8-

26
Ariane-5 ES (VA244)
Kourou
ELA-3
Success
13
2021 Dec. 4
21:19:20.687 French Guiana Time
Galileo FOC-M9-27,


Galileo FOC-M9-28

Success
---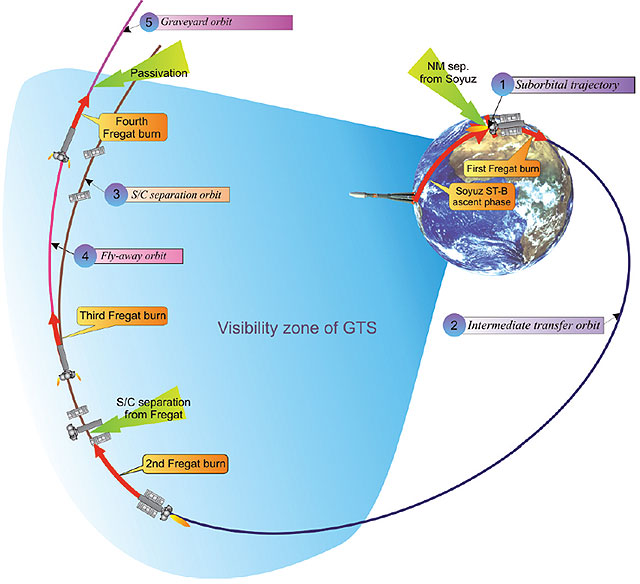 The launch sequence of the Galileo IOV mission.
---
On Dec 28, 2005, at 08:19 Moscow Time, the Soyuz-FG rocket with the Fregat upper stage, lifted off from Site 31 in Baikonur Cosmodrome, delivering the GSTB-V/2A satellite for the Galileo global positioning system. The mission, first announced in March 2004, was originally scheduled for Dec. 26, 2005, however it was postponed on the request of the customer.
---
The Soyuz-FG rocket with the Fregat upper stage blasted off from Baikonur Cosmodrome's Pad No. 6, on April 27, 2008, at 02:16 Moscow Time, (22:16 UTC on April 26) carrying a GIOVE-B satellite for Europe's future global positioning system.
Preliminary information showed that the vehicle successfully reached its initial orbit and the Fregat upper stage initiated its maneuvers to insert the satellite into the final orbit. Total three firings of the Fregat upper stage were planned before the separation of the satellite at 29,600-kilometer orbit with the inclination 56 degrees toward the Equator three hours 45 minutes after liftoff.
The mission was previously expected to take place on April 14, Nov. 27, Nov. 30, 2006, and at the end of February 2007. At the end of 2006, the mission was delayed from April 2007, by the failure of the onboard computer. It was further delayed from Dec. 29, 2007, February, March and April 14, 2008.
Preparations for the third mission
In March 2007, the GIOVE-A2 in-orbit validation mission was scheduled to lift off in the second half of 2008 from Baikonur. In January 2010, the mission was promised at the end of 2010. As of March 2010, the launch was delayed to February 2011 as the earliest. In January 2011, the launch was targeted for August 31, 2011, but by mid-March 2011, it slipped to the end of September 2011. By May 2011, the mission was promised in mid-October of that year. On May 23, 2011, the October 20 launch date was announced. Galileo's second flight model, FM2, touched down in Kourou on Sept. 7, 2011, on an An-124 and the Galileo Protoflight Model followed it seven days later on an Il-76.
On Oct. 10, 2011, Arianespace announced that the integration of the Galileo spacecraft on their dispenser occurred in the Spaceport's S5 payload preparation facility, where these European-built satellites also had been filled with propellant. In parallel, the Soyuz rocket was undergoing final testing inside its MIK launcher integration building, with the final checkout on schedule for an October 14 transfer to the launch pad.
The first rocket to fly from Kourou emerged from the assembly building on Oct. 14, 2011, at 07:00 local time, moved to the launch pad and was raised to vertical position.
October 20 launch attempt
The mission was postponed on Oct. 20, 2011, just three hours before a liftoff scheduled at 07:34:28 local time (10:34 GMT) due to a technical problem during the fueling of the launch vehicle's third stage. The fueling was stopped, when a leak was detected in one of the valves, requiring its replacement. According to Arianespace, the rocket and its two Galileo satellites, along with the launch facility have been placed in a safe mode and a new launch date will be announced later today. It is believed that at least 24 hour delay would be required.
On the morning of October 20, Arianespace released a statement quoting the company's Chairman & CEO Jean-Yves Le Gall as saying that the leak was in a launch pad pneumatic system that activates the pre-planned disconnection of fueling lines to Soyuz' third stage before the vehicle lifts off. "During the final phase of third stage fueling, there apparently was a change in pressure in this pneumatic system, and we observed the unplanned disconnection of the two connectors that enable the fueling of Soyuz' third stage with liquid oxygen and kerosene," Le Gall told reporters during a briefing at the Spaceport's Jupiter mission control room. "The problem apparently is due to a valve leak in this pneumatic system, and we have taken the decision to empty the launcher and replace the valve." Le Gall underscored that the identified anomaly is in the ground-based pneumatic system, not on the launch vehicle.
Fueling of the Soyuz is performed inside the mobile service gantry, which continues to remain in place on the launch pad. The launcher and its payload of two Galileo IOV (In-Orbit Validation) satellites were in a safe mode, as is the ELS launch site. Le Gall said a decision was to be made later on that day on whether to reschedule the liftoff for tomorrow. "We will confirm this once the valve is replaced; the decision also will take into account the launch team members – who worked all night during the original countdown." If the launch was to be approved for the next day, the liftoff time would be four minutes earlier – at 7:30 a.m. local time, Arianespace said on October 20, 2011.
Galileo launch sequence (for the second mission in 2011):
| | |
| --- | --- |
| PRE-LAUNCH EVENTS | Time (seconds) |
| Beginning of the State Commission meeting for launcher fueling authorization | -04:20:00 |
| Beginning of Launch Vehicle fueling with propellant components. | -04:00:00 |
| Launch Vehicle is fueled with all propellant components | -01:45:00 |
| Mobile gantry withdrawal | -01:00:00 |
| Key on start (beginning of Soyuz synchronized sequence) | -01:06:10 |
| Fregat transfer to onboard power supply | -00:05:00 |
| Upper Composite umbilical drop off command | -00:02:25 |
| Ground-board | -00:00:40 |
| Lower stage mast retraction | -00:00:20 |
| Ignition | -00:00:17 |
| Preliminary thrust level | -00:00:15 |
| Full thrust level | -00:00:03 |
| FLIGHT | - |
| Lift-off | 00:00:00 |
| Jettisoning of boosters | +00:01:58 |
| Jettisoning of fairing | +00:03:38 |
| Separation of main stage | +00:04:48 |
| Separation of 3rd stage | +00:09:24 |
| Fregat 1st burn | +00:10:24 |
| Fregat shut-down and the beginning of ballistic phase | +00:23:31 |
| Fregat 2nd burn begins | +03:40:05 |
| Fregat shutdown | +03:44:27 |
| Separation of IOV-1 PFM and FM2 | +03:49:27 |
The third Galileo launch
A Russian Soyuz rocket successfully delivered a pair of European satellites into correct orbit, following its first historic liftoff from a brand-new launch pad in French Guiana. A Soyuz-ST-B vehicle lifted off on Oct. 21, 2011, at 10:30:26 GMT (06:30 EST, 14:30 Moscow Time) Friday, opening a new era in its operations from Kourou, French Guiana. The rocket carried a first pair of four In-Orbit-Validation (IOV) satellites for the European Galileo navigation network. The legendary Russian launch vehicle started its mission after two decades of planning and construction of a brand-new launch complex in South America. The near-equatorial location of the launch facility enables a dramatic increase in the payload mass delivered by a veteran Russian rocket into space, comparing to cargo carried by the same vehicle from similar launch sites in Plesetsk and Baikonur.
Flight profile
The Fregat upper stage was scheduled to deploy its two-passenger payload into their final 23,222-kilometer circular orbit with an inclination 54.7 degrees toward the Equator, where they were to function for 12 years.
After a liftoff from the Guiana Space Center, the flight of the three lower stages of the Soyuz launch vehicle lasted for 9 minutes and 20 seconds. Then, the Soyuz third stage separated from the nose module, consisting of the Fregat upper stage, the satellite dispenser and two Galileo IOV-1 satellites. The three lower Soyuz stages fell back to Earth.
The Fregat upper stage will then fire its own engine, taking the satellites into an intermediate orbit. After this first burn, the Fregat will perform a so-called barbecue maneuver to slowly spin satellites for even out heating of the satellites in space. It will be followed by the release of the satellites.
The Galileo satellites were attached side-by-side to a dispenser developed by RUAG Space Sweden, with a pyrotechnic separation system used to release them in opposite directions three hours, 49 minutes 27 seconds after launch.
The first two Galileo IOV satellites, launched in October 2011, were to be followed by two more in 2012. This quartet of 700-kilogram satellites, built by a consortium led by EADS Astrium Germany, was to form the operational nucleus of the full Galileo navigation constellation. Satellites combine the best atomic clock ever flown for navigation – accurate to one second in three million years – with a powerful transmitter to broadcast precise navigation signals.
Galileo satellites IOV-1 PFM (Protoflight Model) and FM-2 (second flight model):

| | |
| --- | --- |
| Customer | ESA (European Space Agency) |
| Contractors | Astrium GmbH (prime) with Thales Alenia Space Italy |
| Total mass at lift-off | 700 kilograms each |
| Dimensions | 2.74 x 1.59 x 14.5 m (span in orbit) |
| Life span | More than 12 years |
| On-board power | 1,420 Watts |
| Orbit | Circular, Altitude: 23,222 kilometers; Inclination: 54.7 degrees |
Preparations for the fourth launch
The FM3 and FM4 satellites arrived to French Guiana on August 8 and 17, 2012, respectively. At the time, their launch was expected around Oct. 10, however the delay of a preceding Ariane-5 mission required to postpone the Soyuz liftoff by two days. The assembly of the Soyuz rocket for the mission started at the end of April 2012 and processing of the Fregat upper stage at the end of July 2012.
On October 3, a pair of Galileo satellites were integrated on their payload dispenser. The dual-payload dispenser for Galileo was developed by RUAG Space Sweden for Arianespace, and carries the satellites in a side-by-side arrangement. It will deploy the spacecraft by firing a pyrotechnic separation system to release them in opposite directions at the orbital insertion point. The Soyuz ST-B rocket for the mission, designated VS03, was rolled out to the launch pad on October 8. Early on October 9, the pair of Galileo satellites were transferred to the launch pad where they were hoisted up into the MST in preparation for mating with the Soyuz ST-B rocket. In the afternoon, the pair of Galileo satellites were mated to the Soyuz ST-B rocket in preparation for the October 12 launch.
On October 10, launch specialists in French Guiana conducted a full-scale rehearsal that simulated the launch and involved the same teams and communication links to be used during the actual mission. A day later, the mission was cleared for the actual liftoff. At the time, both Galileo IOV spacecraft were activated for their useful operational lifetimes of approximately 12 years, Arianespace announced.
The VS03 mission marked the return to flight mission for the RD-0124 engine following the December 2011 launch failure. The engine for this mission was modified to comply with interagency failure board's recommendations and increase its reliability. Following the modification process, the engine for this mission successfully completed two full duration test firings for verification tests before the engine (including stage three) was flown back to Guiana for final processing.
The European launch services consortium Arianespace launched the fourth mission to build the continent's satellite navigation system with the help of a Russian-built launch vehicle.
Fourth Galileo mission lifts off
The Soyuz ST-B/Fregat-MT rocket lifted off on Oct. 12, 2012, from its recently completed equatorial launch pad in French Guiana at 15:15:01 local time (18:15 GMT, 22:15 Moscow Time). It is carrying a second pair of In-Orbit Validation satellites (FM3 and FM4) for Europe's Galileo navigation satellite constellation. Around 10 minutes after the liftoff, the Fregat upper stage and its payload separated from the third stage of the launch vehicle and initiated its first engine burn during a planned three-hour, 30-minute orbital insertion mission.
Along with two previously launched spacecraft, the latest pair of satellites will form the minimum coverage required for satellite-based navigation – providing latitude, longitude and altitude data, while also checking ranging accuracy. As a result, these In-Orbit Validation Galileo satellites were to enable European industry to validate prototype Galileo-based receivers and services against actual satellite signals, while also allowing performance assessments of Galileo's ground system that serves to maintain the Galileo system's precision.
The IOV spacecraft were produced by a European industry consortium led by the Astrium division of EADS and Thales Alenia Space. A total of 24 Galileo satellites were yet to be launched by 2015, with six additional Soyuz vehicles carrying two spacecraft each, along with three Ariane-5s configured with four per launch.
Post-launch flight checks
Once Galileo sats launched and activated, Redu in Belgium runs in-orbit testing checking navigation payloads work. The Redu site features a 20-meter antenna used to check Galileo navigational signals in high resolution. The flight control of the satellites is conducted from Oberpfaffenhofen, Germany.
Activating Galileo
According to ESA, first ever Galileo positioning fix took place at the ESTEC center in Netherlands on March 12, 2013, followed by testing on roads, in air and on sea.