---

---
Site updates:
To sign up for FREE periodic E-mail notifications about new features on this site, send E-mail with word "update" in the subject line.
---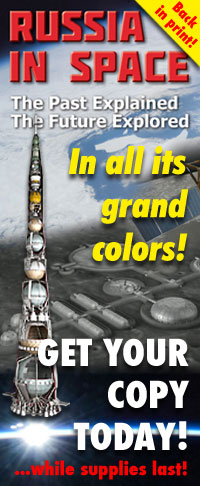 ---
PICTURE OF THE DAY
80 years ago, on Nov. 25, 1933, the USSR's first liquid propellant rocket, GIRD-X, lifted off.
---
NEXT IN SPACE
Dec. 19: A Soyuz rocket to launch a Gaia astronomy satellite from Kourou, French Guiana
See more in 2013, 2014, 2015, 2016, 2017, 2018, 2019, 2020, 2021, 2022, 2023
... and beyond
---
HELP WANTED!
Contributing editor
Marketer and social media expert
---
Searching photos, artwork, books, blueprints, published and unpublished articles, dissertations, memoirs and other materials and documents on the history of rocketry and space exploration from any country and any time period.
Contact Anatoly Zak
Proton lifts off with Inmarsat-5 F1 Sunday. Credit: Roskosmos
Proton launches Inmarsat-5 F1 satellite
Published: December 8
A Russian Proton rocket launched the first of four Inmarsat-5F satellites Sunday during its ninth mission in 2013.
A Proton-M rocket with a Briz-M upper stage lifted off from Baikonur Cosmodrome's Pad 39 at Site 200 on Dec. 8, 2013, at 16:12 Moscow Time (12:12 GMT, 7:12 a.m. EST). The rocket was carrying the 6,100-kilogram Inmarsat-5 F1 satellite for the Inmarsat organization based in London, UK.
Following a standard ascent profile, Briz-M upper stage with the satellite separated from the third stage of the launch vehicle at 16:21 Moscow Time (7:21 a.m. EST). The separation of the satellite from the upper stage was scheduled for 07:43 Moscow Time on Dec. 9, 2013, (10:43 p.m. EST on December 8) or 15.5 hours after the liftoff of the mission.
Inmarsat-5 F1 was planned to be positioned in the geostationary orbit, 63 degrees East longitude over the Equator.
More on the subject:
Proton rocket home page | Proton missions in 2013 | Proton launch facilities in Baikonur | Briz upper stage
---
Learn about history of astronomy by reading leading astronomy books and detailed historical books
---
Latest news, updates: