---

---
Site updates:
To sign up for FREE periodic E-mail notifications about new features on this site, send E-mail with word "update" in the subject line.
---
HELP WANTED!
Contributing editor
Marketer and social media expert
---
Searching photos, artwork, books, blueprints, published and unpublished articles, dissertations, memoirs and other materials and documents on the history of rocketry and space exploration from any country and any time period.
Contact Anatoly Zak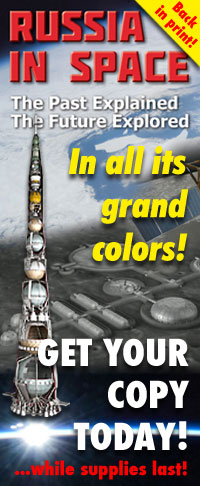 ---
PICTURE OF THE DAY
50 years ago, on Nov. 30, 1964, the USSR announced the launch of the Zond-2 spacecraft toward Mars, which would chase a pair of NASA's Mariner probes heading to the Red Planet for the first time.
---
NEXT IN SPACE
Dec. 18: A Soyuz-ST rocket to launch a second quartet of O3b satellites from Kourou, French Guiana.
See more in 2014, 2015, 2016, 2017, 2018, 2019, 2020, 2021, 2022, 2023, 2024, 2025
... and beyond
---
---
cheap wedding dresses from topswedding.com
---
---
Buy Cheap Homecoming Dresses 2014 on JDBRIDAL.com
---
---
---
---
Buy wedding dress at best bridal online store
---
buy china wholesale products on DHgate.com
---
Published: December 15
What's really behind the latest revival of Russia's smaller, cheaper space station concept.
On Monday, answering questions from journalists at the end of an annual press-conference, the head of Roskosmos, Oleg Ostapenko said that the agency had been considering options for the development of the High-Latitude Orbital Station, also known by its Russian abbreviation as VShOS.
According to Ostapenko, the new space station would enable to monitor more than 90 percent of the nation's territory (thanks to the higher inclination of its orbit toward the Equator than that of the ISS). In the future, the station would also serve as a foundation for the Russian lunar exploration program, Ostapenko said. The orbital outpost could function as a permanently inhabited facility or as a fully automated spacecraft with periodic visits by the crew, according to Ostapenko.
More on the subject:
OPSEK project | ISS home page | MLM module | Soyuz launch pad in Vostochny