---

---
Site updates:
To sign up for FREE periodic E-mail notifications about new features on this site, send E-mail with word "update" in the subject line.
---
HELP WANTED!
Contributing editor
Marketer and social media expert
---
Searching photos, artwork, books, blueprints, published and unpublished articles, dissertations, memoirs and other materials and documents on the history of rocketry and space exploration from any country and any time period.
Contact Anatoly Zak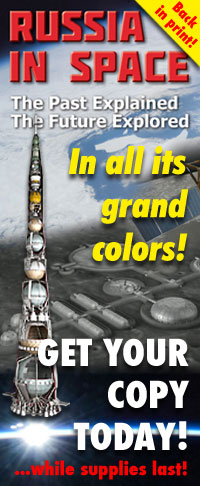 ---
PICTURE OF THE DAY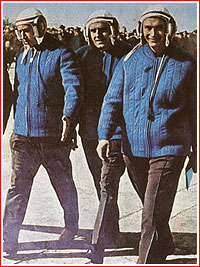 50 years ago, on October 12, 1964, the USSR continued its pioneering conquest of space orbiting the first multi-member crew onboard the Voskhod ("sunrise") spacecraft.
---
NEXT IN SPACE
Nov. 6 (?): A Dnepr rocket to launch the Asnaro-1, Hodoyoshi-1, ChubuSat-1, TSUBAME and QSAT-EOS satellites from the Dombarovsky launch site.
See more in 2014, 2015, 2016, 2017, 2018, 2019, 2020, 2021, 2022, 2023, 2024, 2025
... and beyond
---
cheap curtains from lightinhome.com
---
---
---
Buy Cheap Homecoming Dresses 2014 on JDBRIDAL.com
---
chiffon bridesmaid dresses
---
Where to buy cheap wedding dress online
---
---
Buy wedding dress at best bridal online store
---
buy china wholesale products on DHgate.com
---
Published: October 30; updated: October 31
After a complex orbital dance, Russia's mysterious maneuverable orbiter came ever closer to its apparent target in space and to a possible climax of its secret mission. Space observers around the world hold their breath in anticipation!
On December 25, 2013, at 04:31:54 Moscow Time, a Rockot booster lifted off from Russia's Northern launch site in Plesetsk on a seemingly routine mission to replenish the Rodnik communications satellite constellation, which has been operating in orbit since 2005.
However, unlike previous six launches, which had carried a trio of small Rodnik satellites each, this rocket also released a fourth object into orbit.
More on the subject: Russia's military satellites | Naryad anti-satellite system | IS anti-satellite system | Rodnik satellite family | Rockot booster