---
---
Searching for details:
The author of this page will appreciate comments, corrections and imagery related to the subject. Please contact Anatoly Zak.
For Proton missions in 2012 click here
---
Proton prepares to rehabilitate itself in 2013
Following a launch of the Rockot booster Tuesday, the stage was to be set for the return to flight of the Proton rocket, Russia's commercial workhorse. Rockot and Proton use a similar upper stage from the Briz (Breeze) family, whose abnormal performance doomed two Proton missions last year.
However despite the upper stage known as Briz-KM successfully delivered its payload in the Jan. 15 Rockot mission, its performance turned out to be abnormal yet again.
The problem would likely reduce confidence in the performance of a larger Briz-M stage during an upcoming mission of the Proton rocket. Even more so because the Rockot's flight profile does not require a kind of endurance experienced by Briz during a typical Proton mission. The engine onboard Briz-M has to fire four times longer than a similar engine onboard Rockot's Briz-KM.
A prolonged multiple firings of Briz-M in the last Proton mission of 2012 became a contributing factor to the failure of the stage's propulsion system. As a result, Russian engineers are devising corrective measures to ensure that Briz' propulsion system would withstand all rigors of the flight.
Officials at GKNPTs Khrunichev, the prime contractor on Proton, Briz and Rockot vehicles, hoped to resume Proton launches as early as Feb. 25, 2013. In total, as many as 12 Proton missions were expected during the year. Although exact dates of launches had still remained uncertain as of mid-January, Khrunichev's officials narrowed down a list of six international commercial payloads and their launch order in the flight manifest for 2013. In addition to commercial missions, three or four payloads for the Russian federal space program were expected to fly on Proton during the year. Two or three out of federal missions were scheduled for the summer. Finally, three additional commercial payloads were booked for Proton in 2013 with an exact order of their launches yet to be determined.
In the meantime, in January Roskosmos sources complained to the official Russian press that the Kazakh government had approved only 12 Proton launches out of 17 requested and, in response, Russia had threatened to reduce its $115-million annual rent for the facility. Given the fact that by the end of January, the Proton was not expected to return to flight until the end of February or beginning of March, it was unclear whether it was even technically possible to launch 17 Proton missions in just 10 months. In 2010, Proton's busiest year in a decade, just 12 missions were launched.
Summary and order of launches for commercial Proton missions planned in 2013 (of Jan. 17, 2013):
Launch date

Payload

1

Feb. 25

2

March 16

3

-

4

-

Astra-2E

5

-

SES-6

6

-

Sirius FM6

Flight order yet to be determined at the time:
7

-

Inmarsat-5 F1

8

-

Mexsat-1

9

-

Turksat-4A
---
Proton's return to flight scheduled for March
By the end of January, Proton's return to flight with SatMex-8 satellite was scheduled for March 15, at 23:15:07 Moscow Time, however a week later industry sources reported that the mission would likely be delayed until after March 25.
---
March 26
The Russian commercial launch workhorse returned to flight on March 26, 2013, after a botched mission previous December. The rocket carried the SatMex-8 communications satellite into a geostationary orbit for Satellites Mexicanos S.A. de C.V., Mexico.
---
April 15
Proton delivered a commercial communications satellite for a Canadian operator.
---
May 14
A Proton-M rocket with a Briz-M upper stage lifted off as scheduled on May 14, 2013, at 20:02:00 Moscow Time (12:02 EDT), from Pad 39 at Site 200 in Baikonur Cosmodrome. The launch vehicle is carrying the W3D communications satellite for Eutelsat of Paris, France.
Proton missions in 2013:
| | Launch date | Time of launch | Payload | Payload type | Launch vehicle | Launch site | Launch complex | Launch pad | Status |
| --- | --- | --- | --- | --- | --- | --- | --- | --- | --- |
| 1 | | 23:06:48 Moscow Time | | Application / communications | | | | 39 | Success |
| 2 | | 22:36 Moscow Time | | Application / communications | | | | 39 | Success |
| 3 | | 20:02 Moscow Time | | Application / communications | | | | 39 | Success |
---
For future Proton missions click here
Page author: Anatoly Zak; Last update: May 14, 2013
All rights reserved
PICTURE GALLERY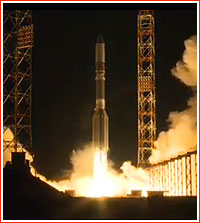 Proton lifts off with SatMex-8 satellite on March 26, 2013. Credit: ILS
---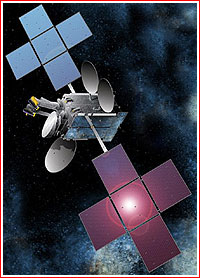 SatMex-8 satellite carried by Proton in its first mission of 2013. Credit: EADS Astrium
---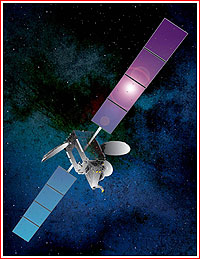 Anik G1 was launched on the second Proton mission of 2013. Credit: Space Systems/Loral
---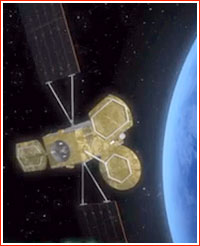 An artist renderings of W3D satellite launched in May. Credit: ILS