Soyuz rockets boost Internet for millions
Beginning in 2013, Soyuz rockets based at European launch facility in Kourou, French Guiana, were used to deploy quartets of O3b satellites designed to provide low-cost Internet access around the world.
---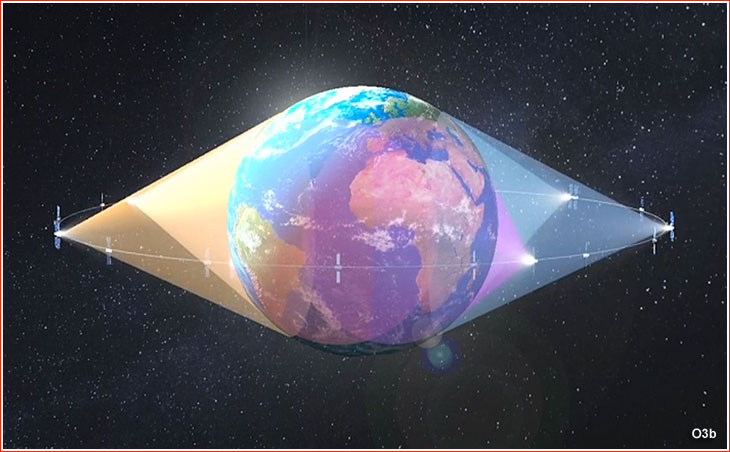 Architecture of the O3b constellation
Summary of O3b missions:
1

2013 June 24

FM1, FM2, FM3, FM4


Success

2

2014 July 10

FM5, FM6, FM7, FM8

Success

3

2014 Dec. 18

FM9, FM10, FM11, FM12

Success

4

FM13, FM14, FM15, FM16

Success

5

FM17, FM18, FM19, FM20

Success
From the publisher: Please help to keep this site open and current! The pace of our development depends primarily on the level of support from our readers.
O3b satellites

03b satellites are built by a European company Thales Alenia Space for the 03B Networks Ltd, a global, high-speed, satellite-based Internet network for telecommunications operators and ISPs. It was designed to provide high-speed, ultra-low-latency Internet Protocol (IP) connectivity between emerging and developed markets worldwide, thus bringing online most remote and disconnected regions of our planet.
More than 3 billion people in Asia, Africa, South America and the Middle East were reported to benefit from O3B's new broadband internet infrastructure, whose name stands for "Other 3 billion." The system was promised to fundamentally change the way IP, 3G Cellular and WiMAX networks interconnect. It was expected to reduce the costs of backhaul for Mobile Operators and Internet Service Providers, enabling them to provide more cost-effective services in underserved and emerging markets. O3b Networks Ltd., based in Jersey (Channel Islands) had investors including SES (a major communications satellite operator), Google Inc. (a search engine giant), Liberty Global Inc. (a cable company) and investment banks HSBC, Allen & Company, North Bridge Venture Partners, Satya Capital, and the Development Bank of South Africa. Combined these companies had reportedly invested $1.18 billion into the new venture since its foundation in 2008. (656) The idea for the project was reportedly conceived in the jungle of Rwanda in 2007.
O3B satellites built by Thales Alenia Space had a mass of 700 kilograms and a design life of 10 years. The satellites were to operate in Ka-band and provide greater than 10 Gbps of capacity.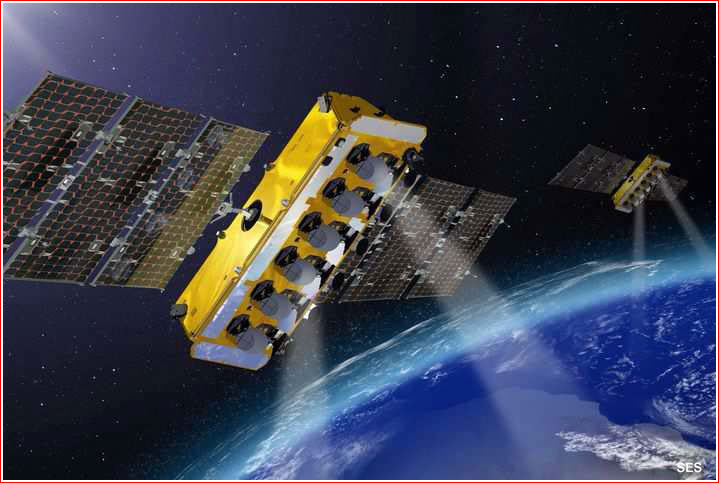 Artist rendering of O3b satellites in orbit.
---
Specifications of O3b satellites:
| | |
| --- | --- |
| Manufacturer | Thales Alenia Space |
| Application | Telecommunications and internet |
| Orbit | 8,063 kilometers |
| Orbital inclination toward the Equator | 0.04 degrees |
| Orbital period | 288 minutes (4.8 hours) |
| Satellites angular distribution in orbit | 45 degrees from each other |
| The satellite's visibility time for users on the ground | approximately 45 minutes |
| Payload | 12 Ka-band transponders with 12 steerable antennas |
| Coverage area | Asia, Africa, South America, Australia, Middle East |
| Attitude control system | 3-axis |
| Power supply system | Solar panels and Li-Ion batteries |
| Onboard power supply | 1,500 Watts* |
| Mass of each individual satellite at launch | 700 kilograms |
| The spacecraft life span | Approximately 10 years |
| Satellite dimensions | 7.72 meters by 3.2 meters by 1.7 meters |
First O3b mission
According to plans announced by the Sea Launch venture on Sept. 23, 2008, its Zenit-3SL rocket would deliver two batches of eight satellites for O3b Networks Limited for Medium Earth Orbit, MEO, telecommunications satellite constellation in 2010 into a 7,825-kilometer equatorial-injection orbit. For these missions, Sea Launch was developing a new multi-spacecraft dispenser accommodating O3b Networks' specific orbital insertion requirements.
In March 2010, O3b Networks announced that it had cancelled the agreement with the troubled Sea Launch and switched to Soyuz rockets. At the time, the first launch was apparently planned in 2012.
On Dec. 9, 2011, Arianespace announced that 03b Networks has exercised the first of the two options in its contract with Arianespace for an additional launch in 2014 for the O3b Networks' satellite constellation. By exercising this option, O3b has allocated a total of three launches of 12 satellites to Arianespace, with two prior missions scheduled for 2013.
First four O3b satellites arrived to French Guiana by April 26, 2013. By that time, Arianespace promised the first launch in June, while another launch was planned in the second half of 2013 and yet another in 2014 with four satellites each.
At one point the mission designated VS05 in the Arianespace nomenclature was scheduled for the beginning of June but it then slipped to the end of the month.
On May 15, 2013, Arianespace announced that the fueling of the first satellite -- Flight Model 4, FM4, -- had started at the S5 building in Kourou. The Soyuz rocket without its payload section was rolled out to the ELS launch pad on June 19, 2013. Within next two days, the payload section was integrated with its launch vehicle inside the service tower on the launch pad.
As of June 2013, the second batch of O3b satellites was expected to fly before the end of the year and the third launch was to take place in 2014.
2013 June 24: First launch
Following a 24-hour delay due to high winds, the launch of the Soyuz-ST-B rocket (No. 372RN21B) with a Fregat-MT upper stage (No. 1041) was scheduled for June 25, 2013, at 22:54:03 Moscow Time (3:54 p.m. local time, 2:54 p.m. EDT) from the ELS launch facility in Kourou, French Guiana. The launch time was 12 seconds later than the original launch time of 22:53:51 Moscow Time on June 24.
On June 25, the launch team also had another opportunity to launch the O3b mission 33 minutes after the first, according to Arianespace. Indeed, a 33-minute delay was announced at T-11 minutes in the countdown due to bad weather. The countdown officially restarted around 15:15 EDT. The actual liftoff took place at 19:27:03 GMT (23:27:03 Moscow Summer Time, 3:27 p.m. EDT).
After separation from the third stage of the Soyuz rocket, Fregat upper stage successfully completed first two maneuvers and started a long passive flight. Around 16:50 EDT, mission control reported a nominal trajectory for the flight. The third maneuver also went as scheduled. A pair of satellites separated first, followed by another Fregat's maneuver and a release of the second and final pair of satellites.
At the time of the first launch, a second Soyuz mission to deliver the next quartet of O3b satellites was expected in the middle of September 2013.
2014 July 10: Second launch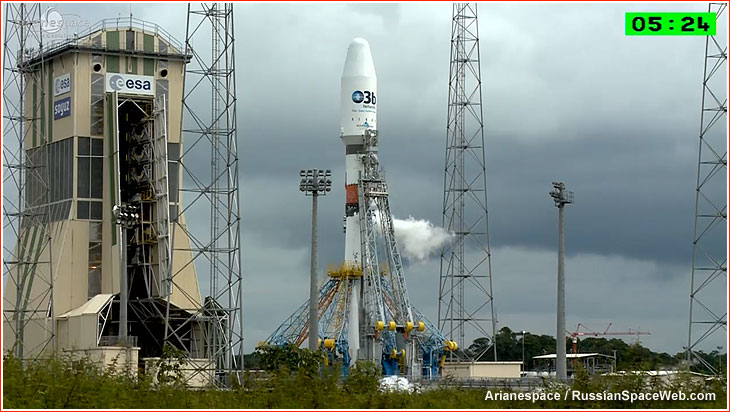 A Soyuz-ST-B rocket for the second O3b mission five minutes before launch on July 10, 2014.
Europe's Arianespace consortium launched a second batch of innovative communications satellites with a Russian-built rocket taking off from a European space center in South America.
The launch of the Soyuz-ST-B rocket from Kourou, French Guiana, took place as scheduled on July 10, 2014, at 3:55:56 p.m. French Guiana time (22:55:56 Moscow Time, 2:55 p.m. EST). The vehicle was carrying a second quartet of 700-kilogram 03b satellites into a 7,830-kilometer orbit with an inclination 0.04 degrees toward the Equator. A total payload mass carried by the Soyuz during the mission reached 3,204 kilograms.
According to the official flight scenario of the second mission, following liftoff from the Guiana Space Center, the first, second and third stages of the Soyuz rocket performed powered flight for a total of nine minutes. The third stage of the launcher then separated from the upper composite, comprising the Fregat upper stage and the four O3b satellites. The three lower stages fell back into the sea.
Fregat then carried out three main engine firings:
First burn, lasting about 4 minutes, followed by a ballistic phase lasting about 8 minutes and 30 seconds;
Second burn, lasting about 8 minutes and 30 seconds, followed by a second ballistic phase, lasting one hour and 21 minutes;
Third burn, lasting about 5 minutes.
One additional burn was carried out with the Attitude Control System, ACS, to inject the satellites on the dedicated orbit. The satellites will be released two by two, with the first pair being released about two hours after liftoff. The second pair of satellites was then released about 22 minutes later. Two successive firings of the Fregat engine will place Fregat into an orbit underneath that of the O3b constellation. Following satellite separation, Fregat will be inserted on a circular "graveyard" orbit.
The whole mission to deliver O3b satellites lasted 2 hours 22 minutes. The successful introduction of the second quartet of O3b satellites completed the basic constellation, however the third batch of O3b satellites was scheduled to go into orbit at the beginning of 2015, at the time when the second mission had been launched.
The European Arianespace consortium, which operates commercial Soyuz launches from the Guiana Space Center in Kourou, identified the second launch of O3b satellites as VS08, which denotes the 8th launch of the Russian-built rocket from the South-American space port.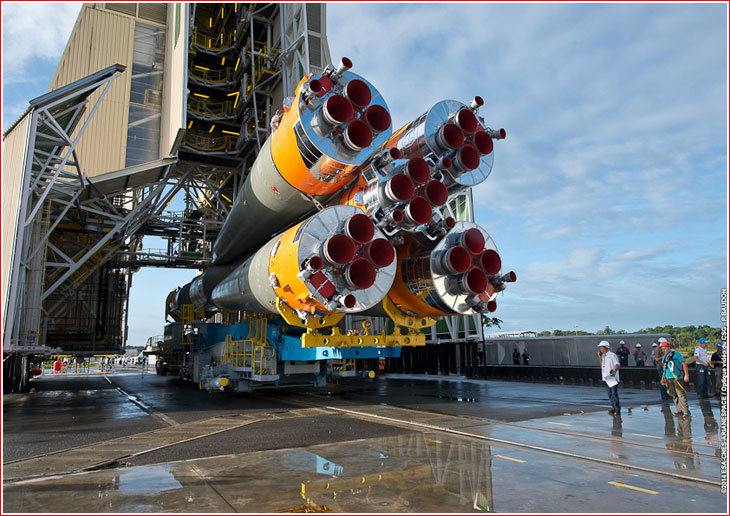 As of beginning of 2014, the third Soyuz launch with O3b satellites was expected in the middle of September of that year. The mission was then pushed to the end of September 2014, however after the launch failure of the Soyuz rocket with Galileo FOC1 satellites on August 22, 2014, the O3b launch was initially postponed until 2015. However, in October 2014, the O3b mission swapped places with the palnned Galileo FOC2 launch and thus it was rescheduled to fly on Dec. 18, 2014.
First three O3b satellites for the third launch were delivered to Kourou on Oct. 31, 2014.
The liftoff of the Soyuz-STB launcher took place as scheduled on December 18, 2014, at 18:37 GMT (3:37 p.m. local time). The launch vehicle followed a standard flight profile of two previous O3b missions. The mission seemingly went without a hitch.
Mission timeline for Soyuz-ST-B (No. 003) rocket with Fregat-MT (No. 1041) upper stage and four O3b satellites:
Liftoff

00:00:00

Separation between Stage I and Stage II

00:01:58

Payload fairing separation

00:03:29

Core stage separation

00:04:47

Separation of the tail section of the third stage

00:04:48

Stage III engine cutoff

00:09:19

Separation between Stage III and a payload section (Fregat upper stage and four satellites)

00:09:23

First burn of Fregat upper stage starts

00:10:23

First burn of Fregat upper stage ends

00:14:20

Second burn of Fregat upper stage starts

00:22:50

Second burn of Fregat upper stage ends

00:31:22

Third burn of Fregat upper stage starts

01:52:25

Third burn of Fregat upper stage ends

01:57:27

Separation of spacecraft No. 2 and No. 4

02:00:47

Fourth burn of Fregat upper stage starts

02:15:47

Fourth burn of Fregat upper stage ends

02:16:03

Separation of spacecraft No. 1 and No. 3

02:22:27

Fifth burn of Fregat upper stage starts

02:42:27

Fifth burn of Fregat upper stage ends

02:43:17

Sixth burn of Fregat upper stage starts

04:56:03

Sixth burn of Fregat upper stage ends

04:57:05
---