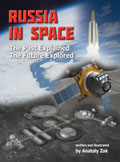 ---
---
---
---
Searching for details:
The author of this page will appreciate comments, corrections and imagery related to the subject. Please contact Anatoly Zak.
---
Related pages:

---

---

---

---

---

---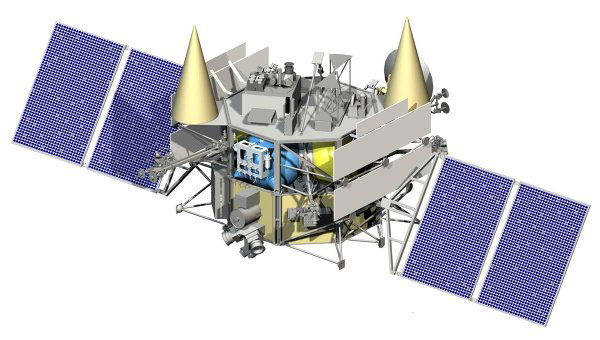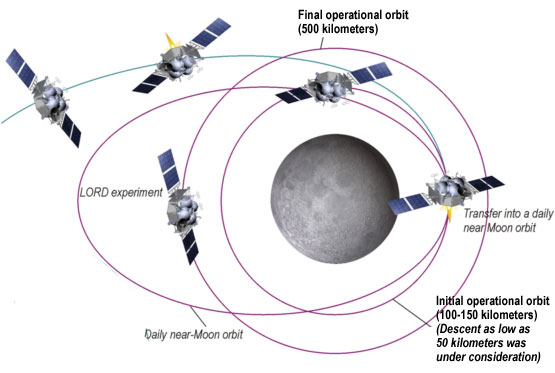 Above: Luna-Glob orbiter and a scenario of its mission, as it was envisioned by the end of 2011. Credit: Roskosmos/IKI
---
Previous chapter: Luna-Glob lander mission
Luna-Glob Orbiter (Luna-Glob-2/Luna-26)
On Nov. 17, 2011, the Space Council within the Russian Academy of Sciences, RAN, formally confirmed that Luna-Glob and Luna-Resurs missions had to be split into separate landing and orbiting missions. However despite a common sense of launching an orbiter ahead of the lander, Russian planners had to go with the landing mission first. According to industry sources, by 2012, the propulsion system and tank structure for the Luna-Resurs mission already appeared in metal, along with a number of other components of the lander. However in the process of its development, the Luna-Resurs lander gained weight, taking it beyond the capabilities of the Indian GSLV II rocket that was suppose to launch it along with an Indian-built orbiter. As a result, it was decided to complete the landing vehicle under the name Luna-Glob lander (a.k.a. Luna-Glob-1 or Luna-25) and launch it separately on the Soyuz-2/Fregat rocket in November 2015 or in the summer of 2016. (598)
Following a lander, another Soyuz-2 rocket would launch an orbiting mission toward the Moon in 2016. The space strategy document released by Roskosmos in June 2013, listed the Luna-Glob orbiter as scheduled for launch in the fourth quarter of 2016, even though industry sources had already confirmed that the mission would likely slip to 2017.
The spacecraft apparently had its own "weight" problems, ruling out its planned launch in tandem with a Luna-Glob lander. As an added benefit of the solo launch, the 2,100-kilogram orbiter could now carry more propellant, which would afford its maneuvering to a lower orbit for more detailed scientific research than previously planned. As of 2012, a mass of scientific payload onboard Luna-Glob orbiter was expected to reach 160 kilograms. Many instruments would be borrowed from previous missions, however the main LORD radar experiment would be developed specifically for the mission.
Onboard research would be focused on several disciplines:
Lunar surface science:
Topography;
Subsurface structure;
Studies of hydrogen-rich regions;
Studies of chemical composition of the lunar surface;
Studies of lunar gravitational field.
Studies of Moon's vicinity
Exosphere studies;
Studies of interaction of solar wind with lunar environment;
Studies of magnetic anomalies on the Moon;
Studies of micrometeoroid;
Space science:
Studies of solar wind and magnetic tail dynamics
High-energy cosmic rays research
In June 2013, head of NPO Lavochkin Viktor Khartov told the ITAR-TASS news agency that in addition to its scientific role, Luna-Glob orbiter (Luna-26) would also play a role of a communications relay station between the Earth and its "sister" lander. Obviously, if the launch date, which Khartov quoted as 2016-2017, would remain the same, along with the launch order, the orbiter would only be in place to relay signals for Luna-Resurs, but not for Luna-Glob lander, at least in the first phase of its mission. Moreover, in October 2013, the Deputy Designer General at NPO Lavochkin Maksim Martynov told RIA Novosti news agency that Luna-Glob orbiter had been recently dropped from the Federal Space Program and could still be re-instated in 2014. At the time, the project existed as a set of documents and several mockups, Martynov said.
Indeed in 2014, Roskosmos drafted a new Federal Space program, which would extend from 2016 to 2025. The document apparently listed not one but two orbiting missions even though wih considerable later launch dates in 2021 and 2023, probably to ensure that they would be available to provide communications for the Luna-Resurs lander and for the Luna-Grunt sample return mission.
Next chapter: Luna-Resurs lander
---
APPENDIX
Science instruments proposed for the Luna-Glob orbiter as of 2012 (598):
No.

Instrument

Goal

Developer

1

LGNS

Neutron and gamma ray research

IKI

2

LEVUS

Exosphere scanning in

UV range (30-150 nm wavelength)

France/Japan/IKI

3

LUMIS

IR mapping (1-16 mkm wavelength)

4

LSTK

Imaging with a stereo camera

IKI

5

RLK-L

Radar scanning in 20 and 200 MHz

IRE

6

LPMS-LG

Magnetometer

measurements

IKI

7

LEMI

Electromagnetic waves registration

Ukraine/Czech/IKI

8

BMSW-LG

9

Charged particles detection at 20-1,000 keV

10

LINA

Ion and neutral spectrometer measurements

11

PKD

IKI

12

LORD

Ultra-high energy cosmic rays studies

FIAN

13

METEOR-L

Circumlunar dust detection

GEOKhI

14

SSRNI2

IKI
---
Article by Anatoly Zak
Photos by Anatoly Zak and Claude Mourier
Last update: August 21, 2014
All rights reserved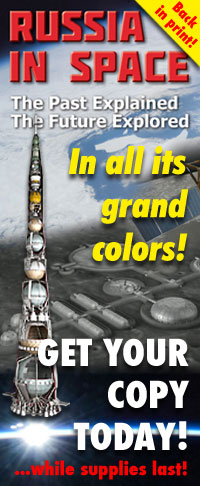 MEDIA ARCHIVE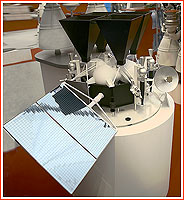 A scale model of the Luna-Glob spacecraft, which NPO Lavochkin demonstrated at various aerospace shows during 2008 and 2009. At the time, Luna-Glob was to be the first Russian spacecraft heading to the Moon since the mid-1970s until it was superceded by the Russian-Indian Luna-Resurs project in 2009-2010. Click to enlarge. Copyright © 2008 Anatoly Zak
---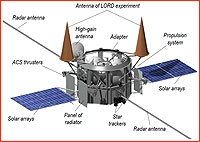 A depiction of the Luna-Glob orbiter circa 2010. Credit: IKI
---

A Luna-Glob orbiter under a payload fairing of the Soyuz-2/Fregat rocket, as it was envisioned in 2012. Credit: Roskosmos
---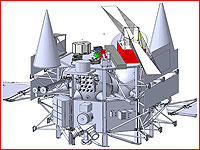 The Luna-Glob orbiter as of 2012. Credit: IKI
---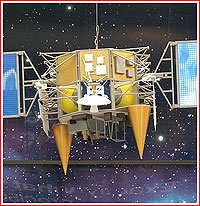 A scale model of Luna-Glob orbiter presented at the Paris Air and Space Show in Le Bourget in June 2013. Copyright © 2013 Claude Mourier
---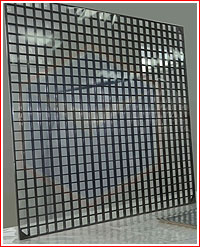 A solar panel structure developed at ONPP Tekhnologia for the Luna-Glob project.
---