---
---
---
Searching for details:
The author of this page will appreciate comments, corrections and imagery related to the subject. Please contact Anatoly Zak.
---
Related pages:

---

---

---

---

---

---
Above: Design of the Luna-Resurs lander as of 2012. At the time, it was expected to reach the Moon in 2017. Credit: Roskosmos
---
Previous chapter: Luna-Glob orbiter
Luna-Resurs lander (Luna-27)
Following the Phobos-Grunt launch fiasco, all planetary exploration and science projects in Russia faced uncertain future. Luna-Resurs and Luna Glob missions were now not expected before 2016-2017. According to unofficial sources, both projects were reverted back to the experimental phase, making it likely another major redesign of the missions. In the meantime, in April 2012, Indian Space Agency announced that Luna-Resurs would not fly until its GSLV rocket logs two successful missions beginning in September-October 2012.
The landing component of the former Luna-Glob mission was rescheduled to fly in 2017 under the name of Luna-Resurs. It was expected to have an increased payload capacity than Luna-Glob-1, sport improved landing gear and carry more propellant and a larger array of scientific instruments than its predecessor in 2015.
The 2,200-kilogram spacecraft could still deliver a small Indian-built rover (with a mass of around 15 kilograms) to the surface as a part of the 200-kilogram scientific payload. However after the loss of Phobos-Grunt and the postponement of the lunar plans, India essentially suspended its participation in the program. As a result, by the end of 2014, NPO Lavochkin considered a possibility of replacing the Indian rover with a relatively simple moving vehicle, possibly developed by students at the Bauman MGTU, a leading school preparing cadre for the Russian rocket and space industry. The rover could have a task of imaging and delivery of soil samples during the mission.
Luna-Resurs could also carry a European-built optical navigation and a hazard-avoidance system. The lander was expected to operate on the surface for at least a year.
The most important part of the scientific gear would be a state-of-the art drill, capable of penetrating lunar regolith up to a depth of two meters in a quest for lunar ice. To include a European-built drill adapted from the ExoMars-2018 mission, the Ministerial Council of the European Space Agency, ESA, would have to approve the continent's participation in the Luna-Resurs project during its meeting in the fall of 2014.
By October 2013, the launch of the Luna-Resurs mission was postponed from 2017-218 period to 2019.
Next chapter: Luna-Grunt
---
APPENDIX
Science instruments proposed for lunar landing missions in 2015 and 2017, as of 2012 (598):
| | | | | | |
| --- | --- | --- | --- | --- | --- |
| No. | Instrument | Goal | Mass, kg | Location on lander | Developer |
| 1 | Radio beacon | provides high stability radio signal | 1.7 | Main instrument deck | IKI |
| 2 | TV camera (TVRPM) | Imaging navigation of the robotic arm | 0.5 | Robotic arm | IKI |
| 3 | LIS | Infra-red spectrometry of minerals | 1.0 | Robotic arm | IKI |
| 4 | Chemical analysis suite | Chromatographic and mass spectroscopy analysis of volatiles content and chemical composition | 10.4 | Main instrument deck | IKI and University of Bern |
| 5 | LASMA | Laser mass spectrometer | 2.8 | Main instrument deck | IKI and University of Bern |
| 6 | TV spectrometer | UV and optical imaging of minerals with UV excitation | 0.5 | Main instrument deck | IKI |
| 7 | ADRON | Active neutron and gamma-ray analysis of regolith composition | 6.7 | Secondary instrument deck | IKI |
| 8 | RAT | Radio measurements of temperature of subsurface regolith | 0.5 | Secondary instrument deck | IKI |
| 9 | PML | Measurements of dust and micrometeorites | 1.5 | Secondary instrument deck | IKI |
| 10 | SEISMO | Measurements of seismic activity | 1.0 | Main instrument deck | IFZ |
| 11 | ARIES (Luna-Resurs only) | Measurements of plasma and neutrals | 2.2 | Main instrument deck | IKI |
| 12 | TERMO (Luna-Glob only) | Direct measurements of thermal properties of regolith | 2.0 | Main instrument deck | GEOKhI |
| 13 | LINA (Luna-Glob only) | Measurements of plasma and neutrals | 4.6 | Main instrument deck | IKI and ISP (Sw) |
| 14 | TV for panorama, TV for stereo | TV imaging of panoramas and area near Lander (rover and Robotic arm) | 0.2 | Main instrument deck | IKI |
| 15 | Retro Reflector | Moon libration and ranging experiment | 0.1 | Main instrument deck | NPO SPP |
---
---
Written and illustrated by Anatoly Zak
Last update: October 17, 2013
All rights reserved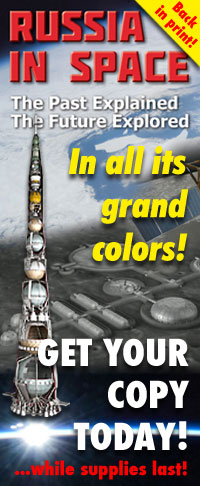 MEDIA ARCHIVE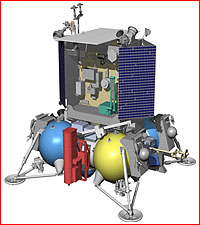 As of 2012, Luna-Resurs was expected to feature a soil-drilling device (red) and a robotic arm (green) capable of loading samples into an onboard chemical analysis lab. Credit: IKI
---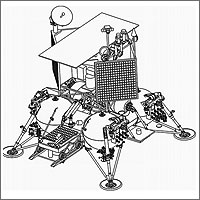 A depiction of the Luna-Resurs lander circa 2012. Credit: IKI
---