---
---
---
Searching for details:
The author of this page will appreciate comments, corrections and imagery related to the subject. Please contact Anatoly Zak.
---
Related pages:

---

---

TsSKB Progress' super-heavy launchers
---

---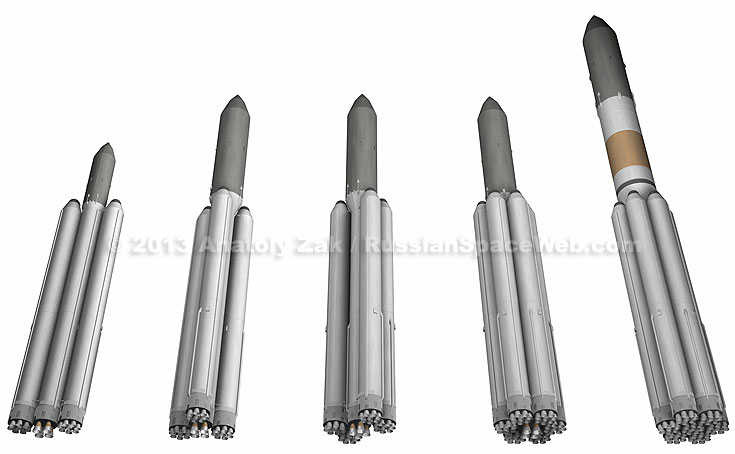 Above: The Kaskad launch vehicle family. Copyright © 2013 Anatoly Zak
---
Previous chapter: RKK Energia's super-heavy launcher
Last piece of a puzzle in Russia's big rocket competition
Proton's developer mulls the nation's super rocket
Not since mighty Energia had lifted Buran orbiter into space for the first and last time in 1988, had Russian rocket scientists such an exciting time. By the end of 2013, after several years of preliminary research, Russian space agency, Roskosmos, was expected to launch a formal competition for the winning design of the nation's super-heavy launcher. The agency's tender would essentially start the development of the rocket, which if ever built, could carry cosmonauts to the Moon and even become a foundation for an expedition to Mars.
Along with TsSKB Progress in Samara and RKK Energia in Korolev, a major role in the preliminary studies of prospective launchers was played by Moscow-based GKNPTs Khrunichev, the developer of veteran Proton and next-generation Angara rockets. The company's previous concepts for very large space vehicles, such as Amur/Angara-100 and Yenisei-5 have been on the table for quite some time, however these were "stand-alone" designs, while Roskosmos was likely to require an "open" architecture, which would enable a phased upgrade of the rocket's capabilities. To meet this requirement, an advanced planning division at GKNPTs Khrunichev drafted a family of launchers with a payload ranging from 16.6 tons to almost 130 tons. A key feature of the proposed architecture would be its engines burning kerosene at a relatively low pressure in their combustion chambers. Low-pressure engines would provide very good safety margin during the flight, which would be especially important for manned missions. However eight combustion chambers would be required per strap-on booster, perhaps giving the family a code name "Kaskad" (cascade).
Each standard booster in the proposed fleet would have a diameter of 3.9 meters, matching the "caliber" of the Zenit rocket, and carry 415 tons of fuel. The most powerful member of the family would be equipped with a hydrogen-fueled upper stage sporting a diameter of 7.7 meters (almost matching the core stage of the Energia rocket) and carrying a total of 250 tons of propellant.
It is unclear whether the Kaskad family was the "final" architecture submitted by GKNPTs Khrunichev to the tender or only one of several concepts evaluated at the company. However, according to industry sources, by October 2013, it was under consideration at the TsNIIMash research institute responsible for certification and planning for Roskosmos. Therefore, all major players in the Russian rocket industry were known to have at least one or more concepts of a super-heavy rocket on the table by the time Roskosmos planned to launch a formal tender to choose the final design.
Read (and see) much more about these and many other space projects in
in a richly illustrated, large-format glossy edition:
The Past Explained, the Future Explored
---
APPENDIX
Known specifications of the Kaskad family of rockets:
| | | | | | |
| --- | --- | --- | --- | --- | --- |
| - | 3K | 4K | 5K | 7K | 7KV |
| Liftoff mass | 1,280.1 tons | 1,798.6 tons | 2,287.1 tons | 3,214.7 tons | 3,566.7 tons |
| Payload to a 200-kilometer, 51.8 degree orbit | 16.6 tons | 32.9 tons | 48.6 tons | 76.9 tons | 129.2 tons |
---
Next chapter: Mayak series
Story, illustrations and photography by Anatoly Zak
Last update: January 14, 2014
All rights reserved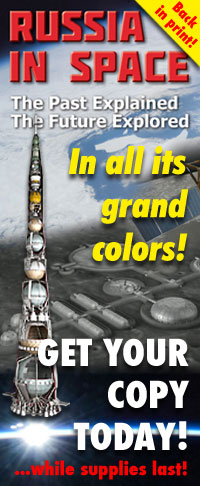 ---