Sea Launch promises return to flight in two years
The S7 Group, which owns the Sea Launch venture, has published a launch schedule for the Ukrainian-built Zenit rocket from the ocean-based platform. The missions were not expected to resume until the end of 2019, but once the did, S7 planned to fly the Zenit roughly every three months. A total of 12 launches were planned before the end of 2022.
Previous chapter: Sea Launch in 2017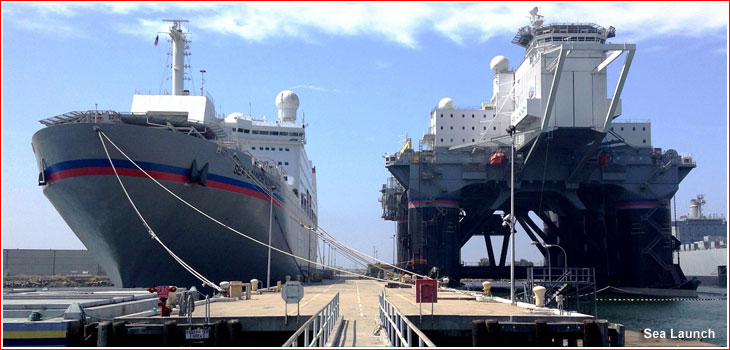 Sea Launch vessels moored at their home port of Long Beach, California.
From the publisher: Pace of our development depends primarily on the level of support from our readers!
Unbooked flights
The Sea Launch flight manifest was posted without much fanfare on the Russian-language version of the corporate web site for the Sea Launch venture, apparently, shortly after the successful campaign to launch the Zenit rocket with the Angosat-1 satellite on Dec. 26, 2017.
Although the schedule detailed all the launch dates with accuracy to a month, it listed no customers or their payloads to be carried during any of these missions. It was unclear, whether Sea Launch was in negotiations with any potential riders at the time.
The description accompanying the schedule also said that the permanent office of the S7 company had been established at the home port of the Sea Launch vessels in Long Beach, California, to handle the tasks of re-activating the facility and resuming launch operations. Based on estimates from a monitoring group, the complex would be ready for operations in 2018, the S7 Group said.
The company also announced that the Russian firms RKK Energia, Roskosmos State Corporation and the Ukraine-based Zenit manufacturer Yuzhmash would be partners in Sea Launch, which would be managed from Moscow by the S7 KTS company, also known as S7 Space.
Sea Launch flight manifest as of December 2017:
1
2019 December
?
2
2020 April
?
3
2020 July
?
4
2020 December
?
5
2021 March
?
6
2021 June
?
7
2021 September
?
8
2021 December
?
9
2022 March
?
10
2022 June
?
11
2022 September
?
12
2022 December
?
Yuzhmash details Zenit production
On January 11, the Yuzhmash production plant in Dnipro, Ukraine, announced that under an April 2017 contract with S7 Sea Launch Limited, the company had already been manufacturing two Zenit rockets for delivery in 2018. The company was also expecting an additional order for three more Zenit rockets in February 2018, Yuzhmash said.
(To be continued)
Read much more about the history of the Russian space program in a richly illustrated, large-format glossy edition: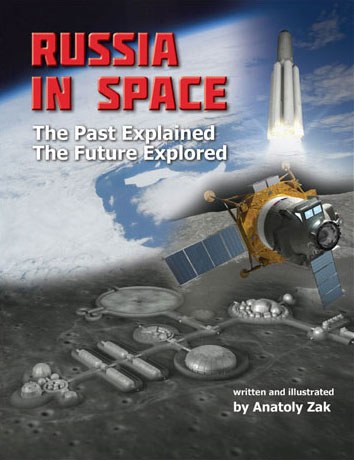 ---