---
---
---
With the end of the Cold War, the R-36M ballistic missile, the most fearsome weapon in the Soviet arsenal, turned into a space launcher, carrying commercial payloads into orbit.
---
HISTORY OF THE PROJECT
When the agreement on the elimination of multiple-warhead R-36M ICBMs was reached at the end of the 1980's, a total of 308 missiles were deployed in the former USSR. Conditions of the treaty set year 2007 as a deadline for the elimination of the R-36M. As an alternative to the physical destruction of the missiles, developers studied different possibilities for civilian use of the weapon.
Converted into a space launcher, the R-36M, could deliver up to 4.5 tons of payload into a 200-kilometer circular polar orbit. Among potential payloads, a material-processing experiment was considered. Developers also evaluated a project of a rescue system, which could be delivered by the R-36M missile into any point around the world. The idea was to rocket an emergency package or a floating device toward remote air or sea disaster sites. It was estimated that in less than an hour the R-36M missile would be capable of delivering 2.5-3 tons of cargo to an area 16,000 - 20,000 kilometers away from the launch site with the precision of one or two kilometers. For sea operations the missile would be equipped with unmanned boat self-navigated by an emergency beacon. Over land payload would be delivered on a parafoil with the autonomous control system. (35) None of these plans had been implemented.
Upon exhausting all exotic ideas, developers turned to more traditional concept of "expending" R-36M missiles as a space launcher. Specifically for the purpose, in 1997, Russia and Ukraine formed a Kosmotras joint venture. The company was charging its customers around eight million dollars per launch. A total of 17 launches were made from 1999 to 2012.
After more than a decade of operations, the Dnepr project appeared to be running into economic problems. By 2012, several media reports said that the cost of refurbishment and processing of R-36M-2 missiles for space launches has been eating up all profits from delivering payloads into orbit. In addition, Dnepr was using toxic propellants and one of its bases was in Baikonur, Kazakhstan. With the expected introduction of Soyuz-2.1v rocket in 2012 and Angara-1 rocket in 2013 (both based in Plesetsk, inside the Russian territory), Dnepr would become redundant.
In May 2012, the semi-official Interfax news agency reported that the Military industrial commission of the Russian government had been scheduled to decide the fate of the Dnepr project within a month. By that time, the Ministry of Defense had already issued a conclusion that Dnepr was unprofitable and environmentally unsafe. Since the maintenance of R-36M-2 ICBMs (lasting up to two years before their delivery to Roskosmos for space missions) has been taken place at military arsenals, the position of the Ministry of Defense on the issue would likely seal the fate of the program, Interfax said.
---
DNEPR'S ORBITAL LAUNCHES
The first Dnepr mission
The first demonstrational launch of the R-36M missile converted into space vehicle took place on April 21, 1999. The rocket carried UoSat-12, a small satellite, built by the Surrey Satellite Technology, SSTL, of Great Britain, which successfully made it into orbit.
The second Dnepr mission
For the second mission of the Dnepr-1 launcher, Cosmotras was able to book five customers:
| | | | |
| --- | --- | --- | --- |
| Payload | Mass, kg | Type | Payload owner |
| MegSat-1 | 54 | mobile communications | MegSat S.p.A., Italy |
| UniSat | 10 | experiments | University of Rome, Italy |
| SaudiSat-1A | 10 | communications | KACST Space Research Institute, Saudi Arabia |
| SaudiSat-1B | 10 | communications | KACST Space Research Institute, Saudi Arabia |
| TiungSat-1 | 54 | remote-sensing | ATSB, Malaysia |
The launch campaign in Baikonur started on July 28, 2000, with the arrival of the Malaysian TiungSat-1 satellite to the processing facility at the launch site.
The rocket was loaded with propellants on August 17, 2000. However, technical problems delayed the first launch attempt, originally scheduled for August 25, 2000, at 14:00 Moscow Time by 24 hours.
The problems reoccurred during the next attempt on August 26, and Cosmotras officials made a decision to replace the rocket altogether, before the next launch attempt would be made.
The decision meant a 30-day delay of the mission. The successful launch took place on Sept. 26, 2000, during a launch window extending from 14:01 to 16:17 Moscow Time. According to the official sources, the 214-ton missile used in the mission was manufactured in 1979 and remained in battle readiness until 2000.
The Dnepr-1 launch sequence (Sept. 26 Moscow Time):
14:05:09: first stage ignition
14:06:47: first stage cutoff
14:06:53: second stage ignition
14:09:41: second stage cutoff
14:09:47: third stage ignition
14:19:28: first spacecraft separation
14:19:32: last spacecraft separation
14:20:36: third stage cutoff
The payloads were delivered into a 650-kilometer circular orbit.
Dnepr-M
Even with five payloads, the second Dnepr mission would not turn profit and Cosmotras needed government subsidies to run its operations, the company's officials said. Only frequent launches and bigger payloads could make Dnepr launcher economically viable. (According to the official information, Cosmotras charged around $10,000 per kilogram of payload launched onboard Dnepr.)
To expand the range of potential customers, Cosmotras studied the possibility of development of a new upper stage for the Dnepr launcher, which would enable the vehicle to deliver up to 500 kilograms of payload to the geostationary orbit. However, with absolute majority of geostationary satellites sporting much higher mass, the demand for Dnepr's geostationary launches remained unfulfilled at the turn of the 21st century.
---
The third Dnepr mission
The third Dnepr mission was originally planned for 2001, however, lack of customers pushed the launch well into 2002. At the time, struggling telecommunications industry deprived Cosmotras from the bulk of its potential customers. In addition, during 2001, a US company, which booked a Dnepr launch for its lunar spacecraft encountered problems in obtaining a license from its government to export the payload to the launch site.
Former Satan lifts satellites
Published: 2002 Dec. 21
A converted ballistic missile launched a cluster of commercial satellites from Baikonur. The R-36M missile, once most powerful ICBM in the Soviet strategic fleet, blasted off from Silo complex in Baikonur on Dec. 20, at 20:00 Moscow Time.
Designated Dnepr, the rocket carried a cluster of commercial payloads, including UniSat-2 (Italy); SaudiSat-1C (Saudi Arabia); LatinSat-A and B (Argentina), Rubin-2 (Germany); and a Ukrainian-built mockup of the 2001 Trailblazer spacecraft developed by a private US company.
The mission was previously planned in November 2001, a number of problems dealyed it until Dec. 4, 2002.
---
Dnepr conducts its fourth mission
Published: 2004 July 1
A converted Russian ballistic missile launched eight commercial payloads for a diverse group of international customers.
The Dnepr booster, based on R-36M ICBM, blasted off from a silo launch complex at Site 109 in Baikonur Cosmodrome at 10:30 Moscow Time on June 29, 2004.
The vehicle carried following payloads:
| | | | |
| --- | --- | --- | --- |
| Payload | Customer | Mass, kg | Description |
| Demeter | CNES, France | 125-135 | Studies of electrical and magnetic signals in the upper atmosphere and their correlation to seismic and vulcanic activites on Earth. |
| SaudiComsat-1 | Space Research Institute, Saudi Arabia | 12 - 20 | Commercial communications |
| SaudiComsat-2 | Space Research Institute, Saudi Arabia | 12 - 20 | Commercial communications |
| SaudiSat-2 | Space Research Institute, Saudi Arabia | 35-50 | Communications |
| LatinSat-C | SpaceQuest, Ltd., USA | 12 | Communications |
| LatinSat–D | SpaceQuest, Ltd., USA | 12 | Communications |
| AMSat-Echo | SpaceQuest, Ltd., USA | 12 | Amateur radio |
| UniSat-3 | La Sapienza University, Rome, Italy | 12 | Student educational and scientific research |
The original payload list also included the AKS-1 experimental satellite for the Russian private company Aerospace Systems. The spacecraft was intended to deploy membranous frameless structures, which could be used for solar sailing technologies and for reflective structures designed to illuminate dark areas on the Earth surface.
According to Russian officials, 30 minutes after the launch, all eight payloads successfully separated for the upper stage into sun-sunchronous orbit. It was the fourth mission of the Dnepr booster since its the inauguration launch in 1999 and the first to reach sun-synchronous orbit.
---
Fifth Dnepr orbits a pair of Japanese satellites
Published: 2005 Aug. 24
A converted ballistic missile, successfully delivered two Japanese payloads into the polar orbit. The Dnepr launcher blasted off from a silo launch facility at Site 109 in Baikonur Cosmodrome at 01:10 Moscow Time on August 24, 2005, carrying the Optical Inter-orbit Communications Engineering Test Satellite, OICETS, spacecraft as the primary payload and the Innovative Technology Demonstration Experiment Satellite, INDEX, as a "piggyback."
The OICETS spacecraft developed by the prime contractor NEC Toshiba Space Systems, Ltd. (NTSpace) is intended for experiments with laser communications between spacecraft, while the INDEX satellite of the Institute of Space and Astronautical Science, ISAS, of the Japan Aerospace Exploration Agency, JAXA, would conduct observations of the aurora in the Earth atmosphere.
Minutes after the launch both payloads were successfully deployed into sun-synchronous polar orbit. JAXA confirmed that the OICETS and the INDEX were separated at 6:25:10 a.m. and 6:25:14 a.m. Japan Standard Time, JST, respectively, and were injected into their planned orbits based on information from the ISC Kosmotras. JAXA's Kiruna Overseas Mobile Tracking Station received first signals from the OICETS at 7:39 a.m. JST, which confirmed the deployment of the solar arrays. JAXA was scheduled to receive a signal from the INDEX at 12:18 p.m. (JST) at the Uchinoura Space Center.
Upon reaching the orbit, OICETS and INDEX were nicknamed "Kirari," and "Reimei" respectively.
It was the fifth mission of the Dnepr launcher, which is a converted R-36M ballistic missile. The launch was delayed from Aug. 15, 2005.
---
Russia inaugurates new space launch site
Published: 2006 July 17
A converted ballistic missile orbited a commercial payload, using an operational ICBM base as its launch site for the first time.
The Dnepr rocket, based on the R-36M UTTKh missile, lifted off from Dombarovsky base in southern Russia on July 12, 2006, at 18:53 Moscow Time. It carried the Genesis Pathfinder-1 experimental payload for the US-based Bigelow Aerospace.
The launch vehicle successfully released its cargo into nearly circular orbit with the altitude of about 500 kilometers and the inclination of 64.51 degrees toward the Equator. At 19:08 Moscow Time the control over the spacecraft was transferred to Bigelow, Roskosmos said. According to Bigelow Aerospace, the satellite aims to test inflatable structures, which the company claims could be used for the assembly of orbital hotels.
In the meantime, back on Earth, Dombarovsky provided Moscow-based Kosmotras, which markets Dnepr to commercial customers, with an alternative launch site on the Russian soil to the Baikonur Cosmodrome located several hundreds kilometers to the south in the former Soviet republic of Kazakhstan.
The launch was previously scheduled for April, June 13 and June 16, 2006.
---
Dnepr fails during launch with multiple payloads
Published: 2006 July 26
In its second mission of 2006, a converted Russian ICBM failed early in flight, crashing downrange from Baikonur.
---
Published: 2007 April 17
Almost nine months after its launch failure, a Russian-Ukranian rocket successfully returned to flight Tuesday, Kosmotras venture, which markets the vehicle around the world said.
---
Russia launches German satellite
Published: 2007 June 15
Russian rocket successfully delivered a long-delayed German Earth-watching satellite.
The Dnepr booster, carrying TerraSAR-X remote-sensing satellite, lifted off on June 15, 2007, at 06:14 Moscow Time from an underground silo facility Number 109 in Baikonur Cosmodrome.
The 1,346-kilogram TerraSAR-X spacecraft was designed for observation of Earth surface with an X-band Synthetic Aperture Radar (SAR). It is capable of providing images with the resolution up to one meter. The program is a public-private partnership between the German Space Agency DLR and EADS Astrium GmbH.
According to the satellite operator within the first half an hour after the launch, ground station in Malindi, Kenia, acquired first signals from the satellite, and after less than two hours the full command link to the spacecraft could be established.
To accommodate the spacecraft, the Dnepr rocket was equipped with an extended space payload fairing developed by Yuzhnoye SDO and manufactured by YuzhMash Plant of Dnepropetrovsk, Ukraine. In previous missions, the Dnepr was topped with a standard payload shroud inherited from the R-36M UTTKh ballistic missile. The Russian-ukrainian Kosmotras joint venture, which markets was offering this configuration specifically for the launches of large-size satellites of more than 5 meters in length and up to 2.7 meters in diameter.
The mission was previously expected on Oct. 31, 2006, but it had to be delayed in the wake of the Dnepr failure in 2006. It was then postponed from Feb. 27, 2007, then from the end of March - beginning of April 2007 and from June 6, 2007. The TerraSAR-X satellite was shipped to Baikonur on February 26, 2007.
---
Russia launches prototype of a private space station
Published: 2007 June 28
A long-delayed mission launched the new version of the inflatable spacecraft, promising to become a precursor of future private space station. The launch of the Dnepr rocket took place on June 28, 2007, at 19:02 Moscow Time from a strategic missile base near Dombarovsky in southern Russia, carrying Genesis-2 payload into the low-Earth orbit for the American private company Bigelow Aerospace.
The vehicle headed northeast to reach orbit with the inclination 64 degrees toward the Equator. The first stage of the rocket was expected to impact in the Tyumen Region of Russia, the second stage would splash down in the Pacific Ocean, while the third would reach the orbit along with the Genesis-2 payload.
The Genesis-2 spacecraft is a second copy of the inflatable module launched in 2006. It is advertised by developers as a prototype of a future private space station. According to Bigelow, another version of the Genesis-2 module called Galaxy is scheduled for launch in 2008, while larger models, which could eventually accommodate people, would fly in the future.
Although it was promoted as an innovative space enterprise, Bigelow Aerospace surrounded the Genesis-2 mission with the Soviet style secrecy. The company released no information on the status of the mission on the eve of the launch and warned media that would release details on the flight only after the successful launch.
The mission was originally scheduled for August 6, 2006, however it was delayed to January 30, 2007, by the failure the Dnepr rocket during its seventh mission in July 2006. Further technical and scheduling problems then pushed the launch to April 1, April 19, April 26 and May 23, 2007. It was the 10th mission of the Dnepr rocket.
---
Dnepr delivers RapidEye satellites
Published: 2008 August 30
A Russian-Ukrainian launcher successfully launched a cluster of remote-sensing satellites. The Dnepr rocket carrying five RapidEye remote sensing satellites lifted off from the underground silo at Site 109 in Baikonur Cosmodrome on August 29, 2008, at 11:15:53.783 Moscow Time (07:15 UTC).
According to Kosmotras, a Russian-Ukrainian company, which markets the converted ballistic missile as a space booster around the world, 15 minutes after the launch, a mobile ground station in Oman confirmed that all satellites successfully separated from the upper stage of the launch vehicle. The spacecraft were deployed at the 630-kilometers Sun-synchronous orbit.
The RapidEye constellation includes five 150-kilogram Earth-observation micro-satellites designed for a seven-year lifespan. Each spacecraft carries a camera capable of producing images of the Earth surface with the resolution of 6.5 meters in five optical bands, Kosmotras said.
The mission was delayed from Nov. 26, 2007, and the first and second quarter of 2008.
---
Published: 2008 Oct. 1
A converted ballistic missile launched a long-delayed Thai imaging satellite. The Dnepr rocket lifted off on October 1, 2008, at 10:37 Moscow Time from the operational ICBM deployment area near Dombarovsky. It carried the 720-kilogram THEOS spacecraft built by EADS Astrium for the Thai Ministry of Science and Technology's Space Agency. The satellite was designed for imaging of the Earth surface with the resolution of up to two meters.
Following the launch, the rocket headed south to reach the 820-kilometer sun-synchronous orbit and according to official report successfully entered the orbit.
As reported in the Kommersant newspaper, lack of production capacity at KB Khimmash, which builds engines for the Fregat and Breeze upper stages, forced Khrunichev enterprise to withdraw its bid to launch the satellite on the Rockot booster with Breeze KM stage, instead giving priority to a Russian government mission.
The mission was previously scheduled for launch as early as June 2007 and was delayed from October, December 2007 and Jan. 30, 2008, 09:33:59 Moscow Decree Time. It was delayed again from Feb. 27, 2008. An agreement with Kazakhstan on the new drop zone for the first stage of the launch vehicle was announced on April 30, 2008, however the mission was postponed again from end of June, July 24, July 29, Aug. 5 and 6, 2008.
---
Dnepr delivers six satellites
Published: 2009 July 29
The Dnepr launch vehicle lifted off on July 29, 2009, at 22:46:24 Moscow Time from Site 109 in Baikonur Cosmodrome. It carried multiple payloads for various commercial customers:
| | | | |
| --- | --- | --- | --- |
| Payload | Customer | Mass, kg | Description |
| DubaiSat-1 | UAE | 190 | remote sensing |
| Deimos 1 | Spain | 90 | remote-sensing; imaging |
| UK-DMC 2 | UK | 96.5 | remote-sensing; emergency response for Disaster Monitoring Constellation, DMC, network |
| Nanosat 1B | Spain, INTA | 22 | telecommunications and material science |
| AprizeSat 3 | US | 12 | communications |
| AprizeSat 4 | US | 12 | communications |
The satellites were scheduled to separate from the launch vehicle at 23:01 Moscow Time. The mission was previously scheduled to take place at the end of 2008 from Dombarovsky (Yasny). A semi-official Interfax news agency, quoted Aleksandr Vovk, a spokesman for Russian strategic missile forces, as saying that the missile used for this launch was manufactured in 1984 and was deployed operationally for 24 years until its decommissioning in 2008.
---
Published: 2010 April 8
Russia succeeded with a second attempt to deliver Europe's crucial Earth-watching satellite, after a loss of the original spacecraft four and half years ago. The Dnepr booster carrying CryoSat-2 remote-sensing satellite lifted off from Baikonur Cosmodrome's Site 109 on April 8, 2010, as scheduled at 17:57:04 Moscow Time. The rocket headed south downrange from Baikonur and initial data indicated nominal operation of the first and second stages. Some 15 minutes after the launch, ESA's ground control station confirmed that the spacecraft had reached its orbit. It was the 14th space mission of the converted Soviet ballistic missile. The CryoSat-1 was destroyed during the failure of the Rockot booster in October 2005.
Built by EADS Astrium, the 720-kilogram CryoSat-2 satellite was designed to determine exact changes in the thickness of land and sea ice, crucial for understanding how climate change is affecting remote but sensitive polar regions of the Earth. The satellite was intended for launch into a 720-kilometer near-polar orbit with the inclination 92 degrees toward the Equator. Its main payload was Synthetic Aperture Interferometric Radar Altimeter (SIRAL). Previous radar altimeters have been optimized for operations over the ocean and land, but SIRAL was the first sensor of its kind designed for ice, European Space Agency said. The satellite was expected to function in orbit for at least three years, including a six-month testing phase at the beginning of the mission. Another two years of operation could be added at the end of the mission. Around 850 Watts of power for the satellite would be supplied by two solar panels mounted on its body.
ESA's European Satellite Operations Centre (ESOC) in Darmstadt, Germany, would conduct flight control, with the support of a ground station in Kiruna, Sweden, responsible for downlinking of scientific information. Data from the satellite was to be distributed directly to users from the ground station in Kiruna, Sweden, while distribution and mission planning would be managed via ESA's Centre for Earth Observation (ESRIN) in Frascati, Italy. In addition, a long-term archive was to be created at the Centre National d'Etudes Spatiales (CNES) in Toulouse, France.
A decision to build CryoSat-2 satellite was made in the wake of the original spacecraft's failure and as of March 2007, the launch was expected in March 2009. The spacecraft arrived to Baikonur on Jan. 13, 2010. In the middle of February 2010, as the launch personnel was preparing for a "dress rehearsal" of the launch, the mission had to be delayed from February 25, due to technical problems with the launch vehicle. According to ESA sources, representatives of KB Yuzhnoe, which built the vehicle, raised concerns about the lack of fuel reserves for the second stage steering engine, despite available amount would be nominally enough to insert CryoSat-2 into its planned orbit. Due to mass of the CryoSat satellite, its intended orbital parameters lay near the limit of Dnepr's capabilities. While the situation was sorted out, the payload section was detached from the rocket and returned to the processing facilities in Baikonur to wait for at least a month-long delay. By March 18, 2010, ESA sources said that problems were resolved and the launch was re-scheduled for April 8.
---
Dnepr launches a cluster of satellites
Published: 2010 June 15
A converted Russian ballistic missile launched a group of satellites in its 15th mission. The Dnepr rocket lifted off from a Russian strategic missile base in Dombarovsky on June 15, 2010 at 18:42:21 Moscow Summer Time. The vehicle carried the Picard satellite for the French space agency, CNES, and the PRISMA (Mango/Tango) dual satellite for the Swedish Space Corporation. Onboard was also a Ukrainian BPA-1 (Block of Prospective Avionics), which was to remain attached to the upper stage of the launch vehicle. All satellites were to be inserted into a Sun-synchronous orbit with the inclination 98 degrees toward the Equator.
At the end of the powered flight, flight controllers reported nominal performance of the launch vehicle and a ground control station in Oman received signals from the mission.
Picard spacecraft belongs to the Myriade series of micro-satellites and designed for studies of interaction between the Sun and the Earth. The project involves French scientists and their foreign colleagues. The overall objective of the two-three year mission is to monitor the solar diameter, the differential rotation, the solar constant (simultaneous measurement of the absolute total and spectral solar irradiance).
According to the Swedish Space Corporation, SSC, PRISMA was a technology mission primarily aiming at the demonstration of different sensor technologies and guidance/navigation strategies for rendezvous and formation flying in space. One advanced and highly maneuverable satellite was originally called MAIN, and one simplified, earlier called TARGET. On September 17, 2008 the two spacecraft were officially renamed to Mango and Tango. Tango is a couple dance (two in formation) and Mango is thought to be connected with maneuvering. These two names have also the same first capital letter as the old ones. Mango is equipped with several sensor systems for Formation flying (FF) and Rendezvous purposes such as GPS, a vision based camera (VBS) and a radio frequency based navigation instrument (FFRF). Together with advanced guidance, navigation and control algorithms, several high level demonstrations were planned during a 10-month mission. The mission involves German Aerospace Center (DLR), French Space Agency (CNES), in cooperation with Center for the Development of Industrial Technology (CDTI), Spain and Danish Technical University (DTU). SSC said that results of Prisma tests would be applicable for the Mars sample return mission among other projects.
The BPA-1 payload built be Khartron-Arkos of Kharkov, Ukraine, under a contract with the Ukrainian space agency, NKAU, was expected to test navigation systems for aircraft.
In April 2008, the Prisma mission was expected in June 2009, but it was later postponed to February, March and April 6, 2010.
---
Published: 2010 June 21
A converted Russian ballistic missile launched a German remote-sensing satellite. The Dnepr rocket lifted off from Baikonur's Site 109, on June 21, 2010, at 06:14 Moscow Time, carrying the TanDEM-X spacecraft. According to the Russian space agency, the payload successfully separated from the launch vehicle 14 minutes after the liftoff. The 1,350-kilogram satellite was expected to conduct a formation flying with the TerraSAR-X spacecraft in the 514.8-kilometer orbit for as long as three years to produce high-resolution radar imagery of the Earth surface. The original plans called for the launch of this mission from Yasny/Dombarovsky, however had to be dropped. The launch was delayed from mid-2009, end of 2009 and the beginning of 2010.
---
Dnepr delivers a satellite cluster
Published: 2011 Aug. 20
A Dnepr rocket lifted off on August 17, 2011, at 11:12:20 Moscow Time (07:12:20 UTC) from the Dombarovsky missile deployment area, also known as Yasny and successfully reached the orbit. The mission delivered Sich-2 (Ukraine), Nigeriasat-2 and Nigeriasat-X (Nigeria), RASAT (Turkey), EDUSAT (Italy), Aprizesat-5, Aprizesat-6 (USA) satellites, as well as BPA-2 Advanced Avionics Unit (Ukraine).
---
Published: 2013 Aug. 22
After a two-year hiatus, Russia's largest ballistic missile converted into a space booster delivered a South-Korean observation satellite into orbit.
The Dnepr launch vehicle lifted off on Aug. 22, 2013, at 18:38 Moscow Summer Time from the underground silo facility No. 13 at the Dombarovsky (Yasny) ICBM deployment site. The rocket carried KOMPSat-5 remote-sensing satellite (a.k.a Arirang-5) for Korea Aerospace Research Institute, KARI.
According to South-Korean officials, the satellite successfully entered orbit around 15 minutes after its liftoff. According to a representiative of the Russian Strategic Missile Forces, RVSN, the satellite separated from the third stage of the launch vehicle at 18:55 Moscow Time. A ground station deployed by KB Yuzhnoe design bureau in Oman monitored the separation process, RIA Novosti news agency reported.
According to South-Korean media, Troll Satellite Station in Antarctica received beacon signals from KOMSat-5 32 minutes after its launch. Beacon signals from the satellite will again be picked up by the Svalbard Satellite Station in Norway at around 10:06 p.m., further indicating the successful deployment of the satellite into its target orbit, according to KARI officials. Whether the satellite was successfully deployed and was functioning properly was to be verified later when the satellite makes a radio contact with South Korea's ground station in Daejeon at 2:35 a.m. Friday, or five hours and 56 minutes after the launch, they said.
The KOMPSat-5 mission was delayed from 2012. At the time, the launch was surrounded by uncertainty due to the anticipated end of the Dnepr program. In the Spring, Korea's Minister of Education, Science and Technology Lee Ju-ho talked to Russian officials, however he was reportedly told that the Dnepr program would be discontinued and Koreans would have to choose among other (more expensive) launchers.
---
Dnepr delivers a cluster of satellites
A converted Russian ballistic missile launches a record-breaking number of small satellites Thursday during its 19th mission.
The Dnepr launcher is scheduled to lift off on Nov. 21, 2013, at 07:10:11 GMT from a silo facility in Dombarovsky site in Southern Russia.
The vehicle will carry DubaiSat-2 and STSat-3 satellites as its primary payload and a group of secondary payloads, some of which will be clustered in launch containers.
The mission was previously scheduled in October or November 2012. Initially announced payloads in the mission included DubaiSat-2, STSat-3, WNISat-1, SkySat-1, UniSat-5, AprizeSat-7, AprizeSat-8, GOMX-1, BRITE-PL (Lem), a BPA-3 payload, as well as containers holding several "cubesat" microsatellites: UWE-3, Ukube-1, NEE-01 Pegaso, Delfi-n3Xt, Triton 1/2, Cinema 2/3, FUNcube-1.
---
Dnepr successfully flies its 19th mission
A converted Russian ballistic missile launched a record-breaking number of small satellites during its 19th mission on Nov. 21, 2013.
---
Russian-Ukrainian Dnepr to fly in the midst of political crisis
As Russia and Ukraine are locked in the most serious political crisis and the military confrontation since the end of the USSR, specialists from both sides prepare to launch a converted Soviet ballistic missile originally built in Ukraine. The liftoff of the 20th Dnepr rocket, is scheduled for June 19, 2014, at 23:11:11 Moscow Summer Time (3:11 p.m. EST) from an underground silo facility No. 370/13 in the Dombarosvsky ICBM deployment area in southern Russia.
APPENDIX
A complete list of Dnepr's missions:
Date

Launch site

Payload

Status

1

1999 April 21

UoSat-12

Success

2

2000 Sept. 26

MegSat-1, UniSat, SaudiSat-1A, SaudiSat-1B, TiungSat-1

Success

3

2002 Dec. 20

UniSat-2, SaudiSat-1C, LatinSat-A and B, Rubin-2, Trailblazer mockup

Success

4

2004 June 29

Demeter, SaudiComsat-1, SaudiComsat-2, SaudiSat-2, LatinSat-C, LatinSat–D, AMSat-Echo, UniSat-3

Success

5

2005 Aug. 24

OICETS (Kirari), INDEX (Reimei)

Success

6

2006 July 12

Genesis-1

Success

7

BelKA

, UniSat-4, Baumanets, PiCPoT, ION, SACRED, ICE Cube 1, KuteSat, RINCON, HAUSAT-1, nCUBE-1, SEEDS, AeroCube-1, CP-2, MEROPE, ICE Cube 2, CP-1, Voyager

Failure

8

Egyptsat-1

, Saudisat-3, Saudicomsat-3, Saudicomsat-4, Saudicomsat-5, Saudicomsat-6, Saudicomsat-7, CP-4, AeroCube 2, CSTB1, MAST, CP-3, CAPE1, Libertad-1

Success

9

2007 June 15

TerraSAR-X

Success

10

2007 June 28

Genesis-2

Success

11

2008 August 29

RapidEye 1, RapidEye 2, RapidEye 3, RapidEye 4, RapidEye 5

Success

12

2008 Oct. 1

THEOS

Success

13

2009 July 29

DubaiSat-1, Deimos 1, UK-DMC 2, Nanosat 1B, AprizeSat 3, AprizeSat 4

Success

14

2010 April 8

CryoSat-2

Success

15

2010 June 15

Picard, Mango, Tango, BPA-1

Success

16

2010 June 21

TanDEM-X

Success

17

2011 August 17

Sich-2

, Nigeriasat-2, Nigeriasat-X, RASAT, EDUSAT, Aprizesat-5, Aprizesat-6, BPA-2 Advanced Avionics Unit

Success

18

2013 August 22

Success

DubaiSat-2

, STSat-3, WNISAT-1, SkySat-1, UniSat-5, AprizeSat-7, AprizeSat-8, BRITE-PL (Lem), BPA-3, UWE-3, Delfi-n3Xt, Triton 1, Cinema-2, Cinema-3, Dove-4, FUNcube-1, I-Cube, GOMX-1, eSt@r 2, PUCP-SAT 1, Humsat-D, BeakerSat, Wren, Pocket-PUCP, QBScout 1, First-Move, CubeBug 2, NEE-02 Krysaor, HiNCube, ZACUBE-1, VELOX-P 2, $50SAT, OPTOS

Success

KazEOSat-2 (DZZ-MRES), Deimos-2, Hodoyoshi-3, Hodoyoshi-4, BugSat-1, SaudiSat-4, AprizeSat-9, AprizeSat-10, UniSat-6, Tigrisat, AeroCube 6, ANTELSAT, Lemur-1, BRITE-CA 1, BRITE-CA 2, NanosatC-Br1, Duchifat-1, Perseus-M1, Perseus-M2, QB50P1, QB50P, Tablesat-Avrora, 11 satellites Flock-1c, POPSAT-HIP 1, PACE, PolyITAN, DTUSat-2.
This page is maintained by Anatoly Zak
Last update: June 19, 2014
All rights reserved
PICTURE GALLERY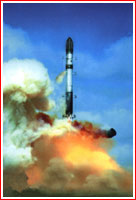 The first Dnepr booster blasts off from Baikonur in 1999. Credit KB Yuzhnoe
---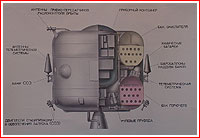 The Lift upper stage proposed by NPO Lavochkin for the Dnepr booster. Credit: NPO Lavochkin
---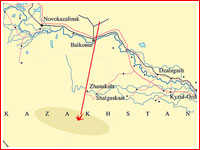 An estimated area, where Dnepr launcher crashed in July 2006. Click to enlarge. Copyright © 2006 Anatoly Zak
---
Dnepr lifts off on April 17, 2007, carrying out its 8th mission. Click to enlarge
---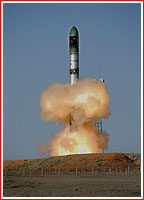 Dnepr launches TerraSAR-X on June 15, 2007. Credit: Terrasar.de
---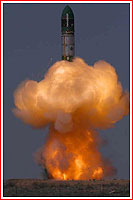 Dnepr launches five RapidEye satellites on August 29, 2008. Credit: Kosmotras
---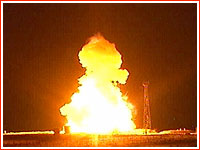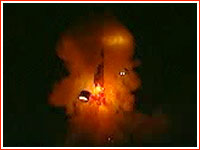 Dnepr launches six satellites on July 29, 2009. Credit: TsENKI
---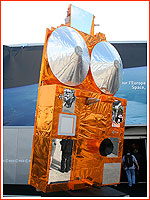 A second version of the European Cryosat satellite was originally scheduled for launch in 2009 to replace CryoSat-1 lost in the Rockot launcher mishap. Click to enlarge. Copyright © 2009 Anatoly Zak
---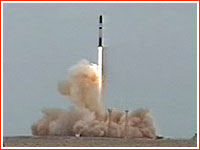 A second version of the European Cryosat satellite lifts off on April 8, 2010. Credit: ESA
---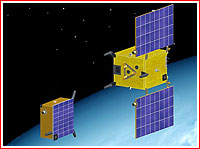 Mango and Tango satellites, comprising PRISMA payload. Credit: Swedish Space Corporation
---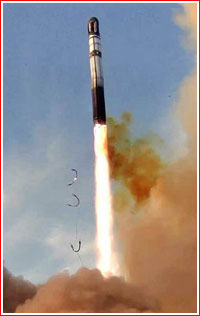 Launch of the KOMPSat-5 satellite on Aug. 22, 2013. Credit: Kosmotras
---