---
Although the original Progress cargo ship was designed as a one-way transport, to be destroyed on the reentry into the Earth atmosphere, Russian designers looked at various schemes to give the vehicle the ability to return cargo to Earth.
---
An early effort to equip the Progress with a reentry capsule from its manned cousin, Soyuz, was made around 1999. At the time, RKK Energia, a developer of the Soyuz and Progress, dusted off its plans dating back to mid-1980s, for bigger, better transport ships.
The new Progress vehicle would be equipped with the reentry capsule, borrowed from the Soyuz spacecraft, and it would also sport a streched cargo compartment. A drum-shaped instrument module would be eliminated to save room for the propellant section. (see illustration) (164)
In its turn, this concpet was based on the prospect for the development of the Yamal rocket, which could carry larger payload than the existing Soyuz booster. However, as hopes for the new launcher fizzled in the funding crunch, so did plans for its payloads.
Several years later, RKK Energia returned with a less ambitious concept of the prospective cargo ship, which would be based on the Soyuz TMA manned spacecraft. Its configuration was revealed at the International Astronautical Congress, which was held in Valencia, Spain, on Oct. 2-6, 2006. In interview with RIA Novosti on November 10, 2006, head of RKK Energia Nikolai Sevastyanov said that the work on the vehicle was ongoing. As of January 2007, the organization was preparing to deliver a formal proposal for the development of the spacecraft to the Russian space agnecy, Roskosmos, according to Sevastyanov.
RKK Energia used the upcoming retirement of the NASA Space Shuttle in 2010, as the main justification for the development of the new spacecraft.
---
Known specs of the Progress spacecraft, based on the Soyuz TMA:
| | |
| --- | --- |
| Payload mass delivered to orbit | 1,400 kg |
| Payload mass returned from space | 550 kg |
| Payload mass disposed at mission end | 620 kg |
---
PICTURE GALLERY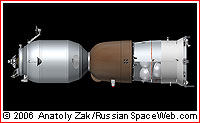 Conceived around 1999, this concept of a cargo ship was based on the Soyuz TM and Progress M vehicles. (Shown without protective outer layers) Click to enlarge Copyright © 2006 Anatoly Zak
---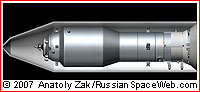 The Progress M2 cargo ship would feature an enlarged refueling and cargo section and would require the Zenit booster or a rocket with similar capabilities for launch. Click to enlarge Copyright © 2007 Anatoly Zak
---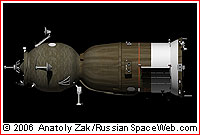 This version of the Progress cargo ship, based on the Soyuz TMA vehicle, was first presented at the International Astronautical Congress, which was held in Valencia, Spain, on Oct. 2-6, 2006. Click to enlarge Copyright © 2006 Anatoly Zak