Proton's dual launch complex at Site 81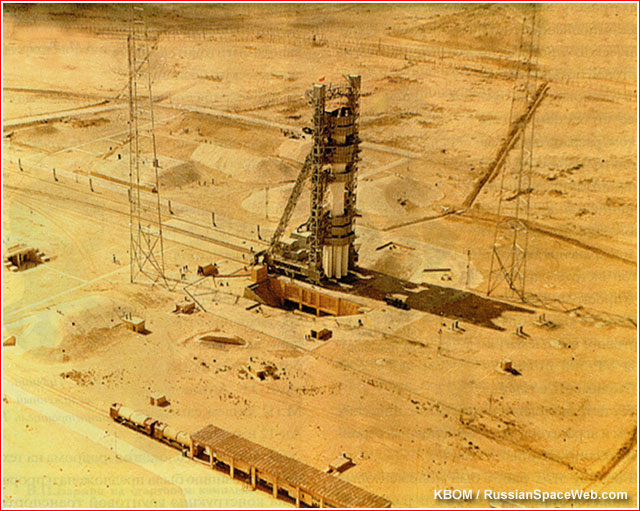 An aerial view of a Proton launch pad at Site 81.
Two original launch pads for the Proton rocket -- No. 23 and No. 24 -- are located at Site 81, which is also known as Facility No. 333 ("Ob'jekt 333" in Russian). Two pads are separated by a distance of about 600 meters, calculated to be safe enough for one of the pads to survive an explosion at the other. At the same time, both pads share much of the support infrastructure located between them. The dual launch complex is situated around 2.5 kilometers from Proton's assembly and processing facilities at Site 92.
Pad No. 24 is the oldest launch facility for Proton, which hosted the first launch of the rocket in 1965. The pad had been under renovation since 1979 for almost two decades, and no launches took place here until 1999. Yet, in the first decade of the 21st century it became the most extensively used launch pad for the Proton rocket. Along with Pad No. 39, Pad No. 24 was converted for the launches of the Proton-M rocket, however payloads developed at ISS Reshetnev, such as GLONASS-M navigation satellites and Globus-1M military communications satellite, could only be launched from Pad No. 24 until at least 2014. During the refurbishment of Pad No. 39 in 2012, industry sources reported a backlog of Proton-M missions competing for the use of Pad 24.
In 2018, Roskosmos announced plans to retire Pad No. 24 by 2023, while simultaneously considering refurbishing the facility for the launches of the Proton-Light variant.
Pad No. 23 was completed in 1966 and it was used for the first time in 1967. The pad was taken out of service for renovations at the end of the 1970s and it remained officially under repair for almost a decade. Proton-K rockets were launched from Pad No. 23 until December 2004, however funding needed to convert the facility for the Proton-M rocket had not been provided.
When most space launch complexes in Baikonur were transferred under civilian control at the end of the 1990s, Site 81 remained under jurisdiction of the Strategic Missile Forces. It was finally transferred under control of KBOM design bureau at the beginning of 2006. The organization initiated a number of upgrades at the site, including the installation of the new test and monitoring equipment.
On Feb. 1, 2011, around 07:00 in the morning, one of the cables on a launch pad at Site 81 apparently caught fire, which required around 30 minutes to suppress, fortunately causing no injuries.