---
---
---
Searching for details:
The author of this page will appreciate comments, corrections and imagery related to the subject. Please contact Anatoly Zak.
---
Related pages:

---
---
Above: A Volga upper stage. (Click arrows to interact with the graphic)
Previous chapter: Development of the Soyuz-1 rocket
During the development of the Soyuz-1 launch vehicle (later Soyuz-2-1v), TsSKB Progress in Samara proposed to equip the future rocket with a Volga upper stage, identified in official documentation as "block vyvedeniya" (insertion stage) abbreviated as BO and also designated 141KS or 14S46. Serving as a third stage of Soyuz-1, the Volga would deliver a payload with a mass up to 1,400 kilograms into final orbit with an altitude of up to 1,500 kilometers during its mission lasting no more than 24 hours. Particularly, it was designed to insert satellites into Sun-synchronous orbits with an altitude of 850 kilometers, following launches from Plesetsk and Baikonur.
Based on a propulsion module of existing satellites such as Kometa previously developed at TsSKB Progress, Volga was promised to have a price tag as much as four times lower than that of the Fregat stage. A standard part of the Soyuz-1 rocket, Volga could also fly on the Soyuz-2-1a rocket, replacing Fregat in up to half of expected missions. TsSKB Progress started the development of the Volga stage in 2008, using its internal funds. The preliminary design for the vehicle was defended in 2010.
To accommodate the Volga upper stage, a standard payload section, SZB, of the Soyuz rocket, would feature several upgrades:
Antennas of the Volga upper stage would be installed on the transfer ring connecting the payload section with the second stage;
Three additional disconnectors RO-100 would be installed;
Six cutoff plates and eight pyrotechnic devices would be installed on the interface between the transfer ring (PkhO) and the Volga upper stage;
An internal surface of the payload fairing would be covered with the foam polyurethane with a thickness of no less than 20 millimeters.
The typical orbit-insertion mission for Volga stage was expected to last no more than 60-120 minutes, which would be enough to release a single or multiple spacecraft into their final orbits. The stage would be responsible for the attitude control of the payload section during both coasting and powered flight. If necessary, Volga could provide spinning of the payload section. Some 24 hours after a liftoff, Volga could deorbit itself or go to a safe distance from a released satellite.
A single experimental prototype of the Volga stage was customized for three types of tests in the course of the vehicle's development.
The Volga stage was flight-proven during an inaugural launch of the Soyuz-2-1v rocket on Dec. 28, 2013.
APPENDIX
Specifications of the Volga stage:
| | | |
| --- | --- | --- |
| - | As of 2009 | As of 2010 |
| Fuel | UDMH | UDMH |
| Oxidizer | N2O2 | N2O2 |
| Fueled (launch) mass | 1,056-1,656 kilograms | 1,140-1740 kilograms |
| Dry mass | 756 kilograms | 840 kilograms |
| Propellant mass | 300-900 kilograms | 300-900 kilograms |
| Stage diameter | 2,720 millimeters | 3,200 millimeters |
| Stage height | 1,025 millimeters | 1,025 millimeters |
| Engine thrust | 300 kilograms | 300 kilograms |
| Specific impulse | 307 seconds | 307 seconds |
---
Test prototypes of the Volga upper stage:
| | |
| --- | --- |
| Experimental unit (EU) index | Purpose |
| EU-800 | Dynamic testing |
| EU-802 | Thermal and vacuum testing |
| EU-814 | Static testing |
---
Next chapter: NK-33 engine
Page author: Anatoly Zak; last update: December 29, 2013
All rights reserved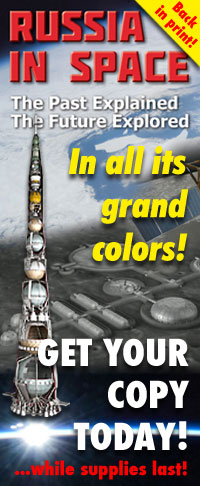 ---
MEDIA ARCHIVE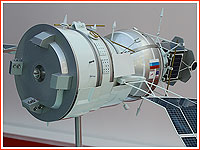 Soyuz-1 would use an upper stage closely resembling a propulsion section of spacecraft developed at TsSKB Progress. Click to enlarge. Copyright © 2010 Anatoly Zak
---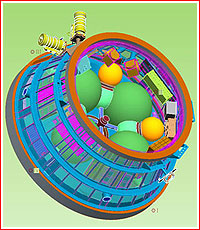 Volga upper stage. Credit: TsSKB Progress
---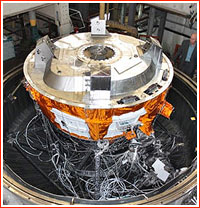 Volga upper stage during testing circa June 2012. Credit: TsSKB Progress
---