---
---
---
---
Searching for details:
The author of this page will greatly appreciate comments, eyewitness accounts, historic documents and imagery related to the subject. Please contact Anatoly Zak.
Roots of the Sputnik-2 project
At the time of the decision to launch Sputnik-2, Korolev had a sophisticated research satellite, known as Object D, in the works. However, it could not possibly be ready for takeoff before December 1957, therefore it was destined to become the third satellite. At the same time, a mere repetition of the previous launch was not good enough. To meet the November anniversary deadline, an "entirely new" concept for a Sputnik carrying a dog had emerged, most sources claim. Exactly how "new" was still opened to debate half a century later. It seems, several factors did give Korolev some lead time in an unprecedented spacecraft-building marathon, perhaps never again repeated in the history of space exploration.
The first and the foremost, since the end of 1940s, the USSR conducted an extensive program of flying animals onboard R-1E, R-2A and R-5A ballistic missiles. Dogs were first launched and safely returned to Earth from a ballistic rocket flight on July 22, 1951. (18)
Korolev's biographer Yaroslav Golovanov wrote that in the runup to the Soviet government's approval of the first satellite project at the end of August 1955, Korolev had a crucial meeting at the Academy of Sciences on possible scientific applications of satellites. Various configurations of the future spacecraft were discussed, including those capable of carrying live animals. One could speculate that some drafting of such mission had followed. If true, it would be fair to say that Sputnik-2 was conceived in 1955.
A year later, on September 14, 1956, Keldysh invited Korolev to a meeting of the Presidium of the Academy of Sciences, discussing the satellite program. The report made by Keldysh revealed a number of milestones in the future space exploration program:
Again, it is clear that a concept of the satellite with a dog had been if not on the drawing board, then at least in the minds of developers. (18) In his other book, Golovanov says that the work preparing animals for the orbital flight had started about a year before the mission. (229)
Another indirect evidence that the development of Sputnik-2 was underway well before the official approval of the project comes from Korolev's deputy Yevgeny Shabarov. As he hastily reported to Korolev's office after his aborted vacation on the Black Sea, the chief designer broke him the news: "It has been decided to launch a second satellite, PS-2, with animals onboard. Start packing and have a look at the technical documentation..." -- perhaps a reference to already existing blueprints of Sputnik-2. (262)
---
Next chapter: Decision to launch Sputnik-2
---
Written and illustrated by Anatoly Zak. All rights reserved. Last update: November 1, 2007
MEDIA ARCHIVE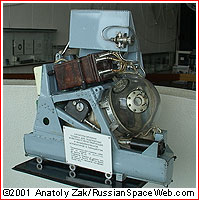 The catapult enabled safe return of a dog after a suborbital flight on a high-altitude research rocket. Copyright © 2001 Anatoly Zak
---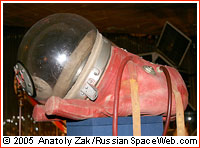 "Spacesuit" which protected dogs in suborbital flights onboard high-altitude research rockets during the 1950s. Click to enlarge. Copyright © 2005 Anatoly Zak