For Proton missions in 2012 click here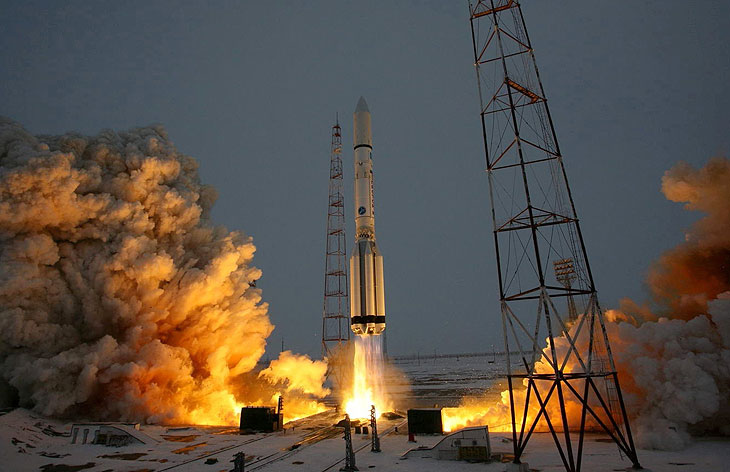 Above: Proton lifts off on Dec. 26, 2013, with Ekspress-AM5 satellite. Credit: Roskosmos
---
Proton attempts to rehabilitate itself in 2013
Following a launch of the Rockot booster in January, the stage was to be set for the return to flight of the Proton rocket, Russia's commercial workhorse. Rockot and Proton use a similar upper stage from the Briz (Breeze) family, whose abnormal performance doomed two Proton missions last year.
However despite the upper stage known as Briz-KM successfully delivered its payload in the Jan. 15 Rockot mission, its performance turned out to be abnormal yet again.
The problem would likely reduce confidence in the performance of a larger Briz-M stage during an upcoming mission of the Proton rocket. Even more so because the Rockot's flight profile does not require a kind of endurance experienced by Briz during a typical Proton mission. The engine onboard Briz-M has to fire four times longer than a similar engine onboard Rockot's Briz-KM.
A prolonged multiple firings of Briz-M in the last Proton mission of 2012 became a contributing factor to the failure of the stage's propulsion system. As a result, Russian engineers are devising corrective measures to ensure that Briz' propulsion system would withstand all rigors of the flight.
Officials at GKNPTs Khrunichev, the prime contractor on Proton, Briz and Rockot vehicles, hoped to resume Proton launches as early as Feb. 25, 2013. In total, as many as 12 Proton missions were expected during the year. Although exact dates of launches had still remained uncertain as of mid-January, Khrunichev's officials narrowed down a list of six international commercial payloads and their launch order in the flight manifest for 2013. In addition to commercial missions, three or four payloads for the Russian federal space program were expected to fly on Proton during the year. Two or three out of federal missions were scheduled for the summer. Finally, three additional commercial payloads were booked for Proton in 2013 with an exact order of their launches yet to be determined.
In the meantime, in January Roskosmos sources complained to the official Russian press that the Kazakh government had approved only 12 Proton launches out of 17 requested and, in response, Russia had threatened to reduce its $115-million annual rent for the facility. Given the fact that by the end of January, the Proton was not expected to return to flight until the end of February or beginning of March, it was unclear whether it was even technically possible to launch 17 Proton missions in just 10 months. In 2010, Proton's busiest year in a decade, just 12 missions were launched.
Summary and order of launches for commercial Proton missions planned in 2013 (as of Jan. 17, 2013):
Launch date

Payload

1

Feb. 25

2

March 16

3

-

4

-

5

-

6

-

Sirius FM-6

Flight order yet to be determined at the time:
7

-

8

-

Mexsat-1

9

-

Turksat-4A
---
Proton's return to flight scheduled for March
By the end of January, Proton's return to flight with SatMex-8 satellite was scheduled for March 15, at 23:15:07 Moscow Time, however a week later industry sources reported that the mission would likely be delayed until after March 25.
---
March 26
The Russian commercial launch workhorse returned to flight on March 26, 2013, after a botched mission previous December. The rocket carried the SatMex-8 communications satellite into a geostationary orbit for Satellites Mexicanos S.A. de C.V., Mexico.
---
April 15
Proton delivered a commercial communications satellite for a Canadian operator.
---
May 14
A Proton-M rocket with a Briz-M upper stage lifted off as scheduled on May 14, 2013, at 20:02:00 Moscow Time (12:02 EDT), from Pad 39 at Site 200 in Baikonur Cosmodrome. The launch vehicle is carrying the W3D communications satellite for Eutelsat of Paris, France.
---
June 3
A Proton-M rocket with a Briz-M upper stage lifted off as scheduled from Baikonur Cosmodrome's Pad 39 at Site 200 on Monday, June 3, 2013, at 13:18:31 Moscow Time (05:18 a.m. EDT). The vehicle was carrying the 6,100-kilogram SES-6 satellite.
---
Proton crashes again with a trio of GLONASS satellites
July 2
Russia's Proton rocket crashed less than a minute after its liftoff from Baikonur, Kazakhstan, Monday. A Proton-M with a Block DM-03 upper stage lifted off as scheduled from Pad No. 24 at Site 81 in Baikonur Cosmodrome on July 2, 2013, at 06:38:22 Moscow Time (on July 1, 10:38 p.m. EDT).
Planned Proton commercial missions in 2013 before the July 2 accident*:
| | Launch date | Payload |
| --- | --- | --- |
| 1 | End of July | |
| 2 | Middle of August (Aug. 14) | |
| 3 | Middle of November | |
| 4 | End of December | MELCO Turksat-4A |
*A Raduga-1M/Globus-1M communications satellite for the Russian Ministry of Defense was scheduled for launch on Sept. 5 and Ekspress-AM-5 for Roskosmos was expected to fly at the end of October.
The semi-official Interfax news agency reported that on the evening of July 3 a commission investigating the latest Proton accident had made a decision to suspend preparations for several upcoming missions of Russia's workhorse rocket. The Astra-2E communications satellite and its Briz-M upper stage, which were scheduled to launch on Proton on July 20, were transferred to a storage mode.
Proton accident might impact Olympics
On July 18, Aleksandr Lopatin, the head of the commission investigating the Proton accident on July 2, estimated that after all the corrective measures, Proton-M rocket could return to flight by September. However he admitted that it would be difficult to make up the original schedule of launches for 2013.
Industry sources told the editor of this web site that if everything went as scheduled, during its return-to-flight mission in the middle of September, Proton would be carrying the Astra-2E communications satellite. If successful, it would be followed by the launch of the Sirius FM-6 satellite in late October. Beyond these two missions, Roskosmos tried to reconcile competing priorities for follow-on launches. It was now becoming increasingly important for the agency to launch Ekspress-AT1 and Ekspress-AT2 satellites for the Russian Satellite Communications Organization, even though those launches previously had not been expected until 2014.
Both satellites would be urgently needed to provide communications during the winter Olympics in Sochi in 2014 and accumulating delays with Proton missions could make their deployment impossible within the remaining timeframe. As many as 19 Proton missions were reportedly crowded into the 2014 calendar.
Proton manifest set for the remaining of 2013
By August 22, Russian officials finalized launch windows and the flight order for most missions of the Proton rocket for the remainder of 2013, the project officials told RussianSpaceWeb.com. After the planned return-to-flight launch on Sept. 15, Proton was scheduled to launch a Sirius FM-6 commercial satellite and a classified Russian military satellite in October. The classified payload is believed to be Globus (Raduga-1M) satellite designed for military communications. It would likely have ability to relay data from Russian military spy satellites to ground stations, while they fly out of direct contact with their mission control. A commercial mission delivering an Inmarsat satellite would follow in November.
As this site reported before, a high-priority mission to deliver a pair of Russian communications satellites designed to support Winter Olympics in Sochi was inserted into the manifest. It is currently scheduled for the beginning of December.
The Proton's 2013 launch schedule would be concluded with another launch at the end of December. The rocket will carry either Russian Ekspress-AM5 satellite or Turksat-4A communications satellite for Turkey. The payload which would ultimately be bumped off this mission would have another opportunity to fly at the end of January or beginning of February 2014.
During another series of meetings in November or December, Proton officials plan to add another batch of missions to the rocket manifest in 2014.
Proton launch manifest as of Aug. 22, 2013:
| | Launch date | Payload |
| --- | --- | --- |
| 1 | Sept. 15 | |
| 2 | Oct. 9 | |
| 3 | Oct. 22 | |
| 4 | 3rd week of November | |
| 5 | 1st week of December | Ekspress-AT1, Ekspress-AT2 |
| 6 | Last week of December | |
Technical problems delays Proton's return to flight
On Sept. 12, ILS announced that the launch of the first Proton rocket (then scheduled for September 17) after July's accident had been "postponed today for technical reasons associated with the launch vehicle" with a new launch date to be determined a later time.
Proton successfully returned to flight with Astra-2E
On the night from September 29 to September 30, Russia's workhorse rocket successfully returned to flight after an accident in July.
The Proton-M launcher with a Briz-M upper stage lifted off as scheduled from Pad 39 at Site 200 in Baikonur Cosmodrome, Kazakhstan, on Monday, Sept. 30, 2013, at 01:38:10 Moscow Time (5:38 p.m. EDT on Sunday, September 29), successfully delivering Astra-2E communications satellite.
Proton manifest set for the rest of the year, possibly reveals a previously unknown military bird
By the middle of October, the Proton launch manifest for the remainder of the year listed four missions:
| | Launch date | Payload |
| --- | --- | --- |
| 1 | Oct. 20-21 | |
| 2 | Nov. 14 | |
| 3 | Dec. 8 | |
| 4 | Dec. 26-28 | |
There were some unofficial reports that ISS Reshetnev, the developer of Ekspress-AM5 satellite, would not be able to deliver it on time for its December launch. A number of other Russian payloads with uncertain delivery dates had to be postponed to 2014. The Proton's commercial manifest for the first seven months of 2014 included launches of four communications satellites: Turksat-4A, Inmarsat-5 F1, Astra-2G and Mexsat-1/Sentenario satellites.
In the meantime, the list of Russian federal missions requiring Proton for launches in 2014, also grew exponentially and, apparently, included a mysterious military satellite dubbed Olymp (Olympus), which was not previously identified in any public source. Given the fact that in 2014 Russia was to host winter Olympics in Sochi, one could speculate that the name was assigned recently to a new-generation military satellite. The Soviet space history knows a few examples when the vehicle developed under a numeric code would receive a proper name shortly before reaching a launch pad. During the post-Soviet period, the Russian Ministry of Defense routinely declassified names for past and even current military satellites, while keeping most other details about their missions under wraps.
Multiple sources did confirm that one classified payload was "booked" for Proton in 2014 in addition to the Garpun data-relay satellite, but did not provide any additional details on the nature of that second mission:
| | Launch period | Payload | Customer |
| --- | --- | --- | --- |
| 1 | Late February | Ekspress-AT1 and Ekspress-AT2 | Russian Satellite Communications Company, RSCC |
| 2 | Late March | | Russian Satellite Communications Company, RSCC |
| 3 | April to June | | Russian Ministry of Defense |
| 4 | April to June | | Russian Ministry of Defense |
| 5 | April to June | | |
| 6 | June to August | | Kazakhstan and Russian space agency, Roskosmos |
| 7 | August to October | | Russian Satellite Communications Company, RSCC |
---
Proton launches Ekspress-AM5 communications satellite
December 26
A Proton rocket concluded the world's orbital launch attempts in 2013 with a mission delivering the most advanced Russian communications satellite.
The launch of the Proton-M rocket with a Briz-M upper stage from Pad 24 at Site 81 in Baikonur Cosmodrome took place as scheduled on Dec. 26, 2013, at 14:49:56 Moscow Time (5:49 a.m. EST). The vehicle was carrying the Ekspress-AM5 communications satellite for Russian Satellite Communications Company, RSCC.
APPENDIX
Completed Proton missions in 2013:
| | Launch date | Time of launch | Payload | Payload type | Launch vehicle | Launch site | Launch complex | Launch pad | Status |
| --- | --- | --- | --- | --- | --- | --- | --- | --- | --- |
| 1 | | 23:06:48 Moscow Time | | Application / communications | | | | 39 | Success |
| 2 | | 22:36 Moscow Time | | Application / communications | | | | 39 | Success |
| 3 | | 20:02 Moscow Time | | Application / communications | | | | 39 | Success |
| 4 | | 13:18 Moscow Time | | Application / communications | | | | 39 | Success |
| 5 | | 06:38:22 Moscow Time | | | | | | 24 | Failure |
| 6 | | 01:38:10 Moscow Time | | Application / communications | | | | 39 | Success |
| 7 | | 22:08:54 Moscow Time | | Application / communications | | | | 39 | Success |
| 8 | | 03:46:00 Moscow Time | | | | | | 24 | Success |
| 9 | | 16:12 Moscow Time | | Application / communications | | | | 39 | Success |
| 10 | | 14:49:56 Moscow Time | | | | | | 24 | Success |
---
For Proton missions in 2014 click here
Page author: Anatoly Zak; Last update: February 20, 2014
Page editor: Alain Chabot; Last edit: September 12, 2013
All rights reserved