---
---
Searching for details:
The author of this page will appreciate comments, corrections and imagery related to the subject. Please contact Anatoly Zak.
Eutelsat-3D (W3D) mission
Russia's workhorse rocket successfully delivered a commercial communications satellite on May 14, 2013.
The spacecraft
The 5,470-kilogram Eutelsat-3D or W3D satellite, previously also known as Eutelsat-7B, was built by Thales Alenia Space based on the company's Spacebus-4000 C3 platform. It was equipped with 56 transponders in Ku and Ka-band and designed for a 15-year life span in orbit.
Eutelsat-3D was designed to bring resources, reach and flexibility for high-growth professional video, data, telecom and broadband services.
Originally, the satellite was to be placed at 7 degrees East however, later, it was decided to deploy it first at 3 degrees East, an orbital position that sits at the crossroads of Europe, Africa and Asia. Through a configuration of Ku and Ka transponders connected to three footprints, Eutelsat's new satellite will serve customers in Europe, North Africa, the Middle East and Central Asia. A fourth footprint in the Ku-band will serve customers in sub-Saharan Africa.
Eutelsat-3D will be located at 3 degrees East until the launch in the first half 2014 of Eutelsat-3B that will further extend coverage to South America. It will subsequently continue service at 7 degrees East.
The contract for the launch was announced on Nov. 9, 2011. By November 2012, the mission was expected in February 2013. However by that month, the launch was postponed to March 15, April 26 and May 14
Launch profile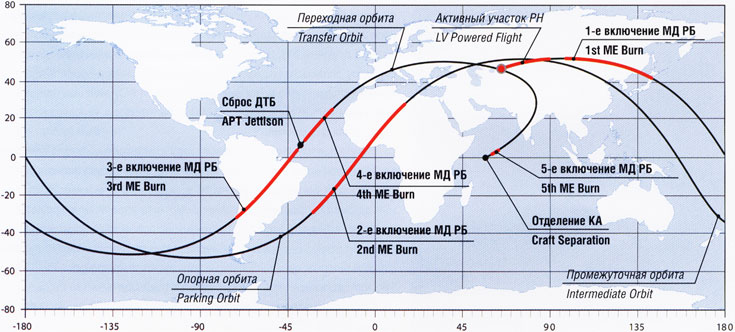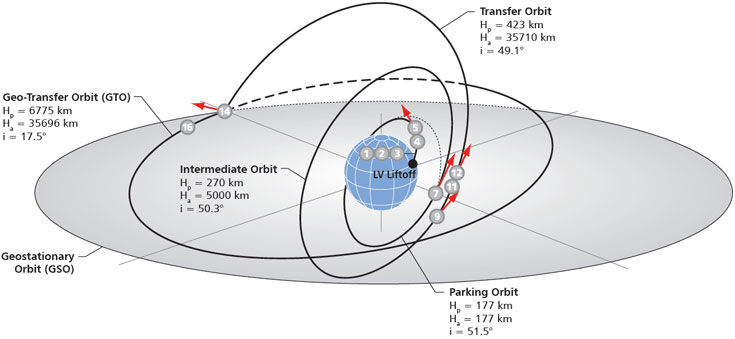 A standard launch profile flown by Proton-M/Briz-M rocket with commercial payloads.
A Proton-M rocket with a Briz-M upper stage lifted off as scheduled on May 14, 2013, at 20:01:59 Moscow Time (12:02 EDT), from Pad 39 at Site 200 in Baikonur Cosmodrome.
The launch vehicle was carrying the Eutelsat-3D communications satellite for Eutelsat of Paris, France.
To deliver Euterlsat-3D, the Proton M will use a standard flight profile with five burns of the Briz-M upper stage.
The first three stages of the Proton will place the payload section comprised of the Briz M and the satellite into a sub-orbital trajectory. From this point in the mission, the upper stage is programmed to perform planned mission maneuvers to deliver the orbital unit first to a circular parking orbit, then to an intermediate orbit, followed by a transfer orbit, and finally to a geosynchronous transfer orbit.
Separation of the W3D satellite was scheduled to occur approximately nine hours, 13 minutes after liftoff. The spacecraft will use its own propulsion system to enter its final operational orbit.
Eutelsat-3 launch timeline:
Moscow time

EDT

Elapsed time

Event

Status

May 14

20:01:59

12:01 p.m.

0

Liftoff

Completed

20:04:00

12:04 p.m.

120 seconds

Stage 1 separation

Completed

20:07:24

12:07 p.m.

324 seconds

Stage 3 ignition command

Completed

20:07:27

12:07 p.m.

327 seconds

Stage 2 separation

Completed

20:07:30

12:07 p.m.

330 seconds

Stage 3 main engine ignition command

Completed

20:07:45

12:07 p.m.

345 seconds

Payload fairing separation

Completed

20:11:31

12:11 p.m.

571 seconds

Stage 3 main engine cutoff

Completed

20:11:42

12:11 p.m.

582 seconds

Stage 3 separation

Completed

20:13:16 - 20:17:55***

12:13 - 12:17 p.m.

676-955 seconds

Completed

21:09:33 - 21:27:14**

1:09 - 1:27 p.m.

4,053 - 5,114 seconds

Briz-M engine firing 2**

Completed

23:30:34 - 23:43:37

3:30 - 3:43 p.m.

12,514 - 13,297 seconds

Briz-M engine firing 3****

Completed

23:44:27

3:44 p.m.

13,347 seconds

External tank separation****

Completed

23:45:54 - 23:50:18

3:45 - 3:50 p.m.

13,434 - 13,698 seconds

Briz-M engine firing 4

Completed

04:53:50* - 05:01:38*

8:53 - 9:01 p.m.

31,910 - 32,378***** seconds

Briz-M engine firing 5***

Completed

05:15:00*

9:15 p.m.

32,378 seconds

Spacecraft separation

Completed
---
Next Proton mission: SES-6
Page author: Anatoly Zak; Last update: May 30, 2019
All rights reserved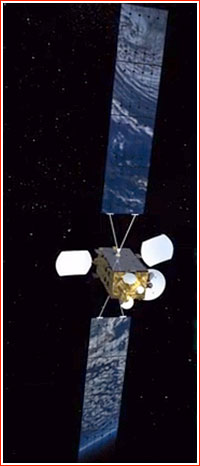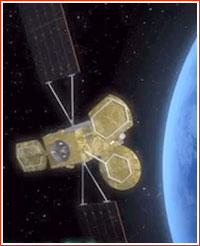 An artist renderings of Eutelsat-3D satellite. Credit: ILS
---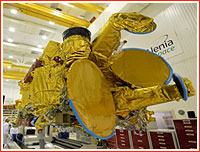 A fully assembled Eutelsat-3D satellite. Credit: ILS
---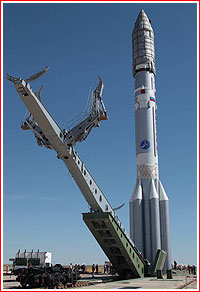 A Proton rocket with W3D satellite is installed on the launch pad on May 11, 2013. Credit: Roskosmos
---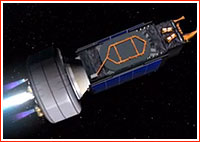 An artist rendering of the Briz-M maneuver. Credit: ILS
---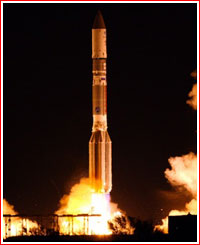 Proton lifts off on May 14, 2013 with Eutelsat-3D satellite. Credit: GKNPTs Khrunichev