---
---
Searching for details:
The author of this page will appreciate comments, corrections and imagery related to the subject. Please contact Anatoly Zak.
For Proton missions in 2013 click here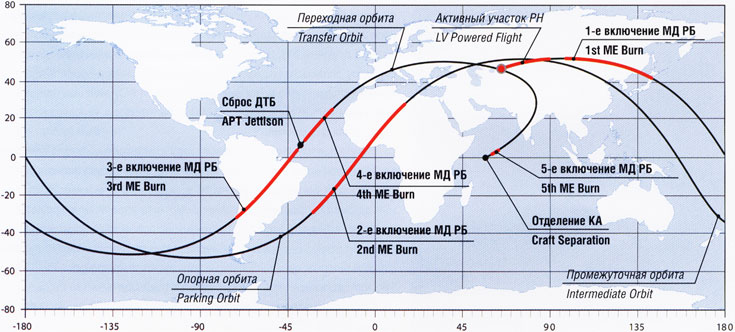 ---
SatMex-8 mission
2013 March 26/27
The Russian commercial launch workhorse successfully returned to flight after a botched mission in December 2012.
A Proton M rocket with Briz M upper stage lifted off from Baikonur Cosmodrome's Pad 39 as scheduled on March 26, 2013, at 23:06:48 Moscow Time. The rocket was carrying the SatMex-8 communications satellite for Satellites Mexicanos S.A. de C.V., Mexico.
Mission Profile
The Satmex-8 mission was to use a standard launch scenario with five engine firings of the Briz M upper stage. The first three stages of the Proton followed a routine ascent path to place the payload section (Briz M upper stage and the SatMex-8 satellite) into a sub-orbital trajectory. From that point in the mission, the Briz M was to perform planned maneuvers to advance the orbital unit first to a circular parking orbit, then to an intermediate orbit, followed by a transfer orbit, and finally to a geostationary transfer orbit. Separation of the SatMex-8 satellite into a 6,159 by 35,786-kilometer orbit with an inclination 18.38 degrees toward the Equator was scheduled to occur approximately nine hours, 13 minutes after liftoff. The spacecraft was to use its own propulsion system to enter its final geostationary orbit 36,000 kilometers above the Equator.
The spacecraft
Built by California-based Space Systems/Loral, SatMex-8 was a 5,474-kilogram satellite with 24 C and 40 Ku-band transponders to replace SatMex-5. Placed at the orbital location of 116.8 degrees West, SatMex-8 was intended to provide Fixed Satellite Services to serve the continental United States to Argentina as well as the Caribbean, all of Latin America and the major cities of Brazil. SatMex-8's design is based on SS/L 1300 platform designed for a lifespan of 15 years.
Mission history
The agreement with the launch provider was announced on Dec. 29, 2010, with the launch promised in the third quarter of 2012. The mission was postponed from October 13 by the Proton rocket failure in August. By November 2012, the launch was scheduled for December 28, 2012. Following the mishap during the launch of the Yamal-402 satellite on Dec. 8, 2012, the SatMex-8 mission schedule was under review pending investigation. By mid-January 2013, the launch was expected on February 25, however during that month it was postponed to March 15 (23:15:07 Moscow Time) and then to March 26.
In the preparation for the mission, the rocket with its payload was rolled out to the launch pad on March 23, 2013.
---
SatMex-8 mission timeline:
Moscow time

EST

Elapsed time

Event

Status

March 26

23:06:48

3:06 p.m.

0

Liftoff

Completed

-

-

119.7 seconds

1st stage separation

Completed

-

-

327.2 seconds

2nd stage separation

Completed

-

-

346.9 seconds

Payload fairing separation

Completed

23:16:30

3:16 p.m.

582.2 seconds

Payload section separation from the 3rd stage

Completed

23:18:34 - 23:23:01

3:18 p.m.

706-973 seconds

First engine firing on the

Briz-M

stage

Completed
March 27

00:14:21 - 00:32:07

4:14 p.m. (March 26)

-

Second engine firing on the

Briz-M

stage

Completed

02:35:18 - 02:48:17

6:35 p.m. (March 26)

-

Third engine firing on the

Briz-M

stage

Completed

02:49:07

6:49 p.m. (March 26)

-

Briz-M external tank separation

Completed

02:50:34 - 02:55:05

6:50 p.m. (March 26)

-

Fourth engine firing on the

Briz-M

stage

Completed

07:58:23 - 08:05:54

11:58 p.m. (March 26)

-

Fifth engine firing on the

Briz-M

stage

Completed

08:19:48

12:19 a.m.

9 hours 13 minutes

Spacecraft separation from

Briz-M

stage

Completed
---
Proton's next mission: Anik G1
Page author: Anatoly Zak; Last update: April 15, 2013
All rights reserved
PICTURE GALLERY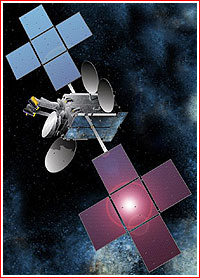 SatMex-8 satellite carried by Proton in its first mission of 2013. Credit: Space Systems/Loral
---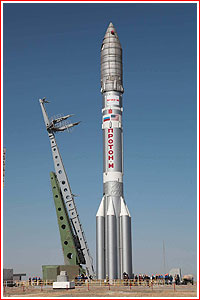 Proton with Satmex-8 satellite shortly after its rollout to the launch pad on March 23, 2013. Credit: Roskosmos
---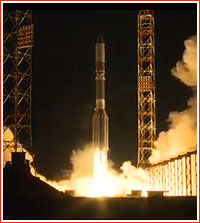 Proton lifts off with SatMex-8 satellite on March 26, 2013. Credit: ILS
---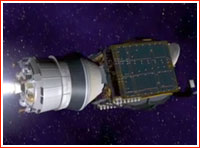 Briz-M with SatMex-8. Credit: ILS
---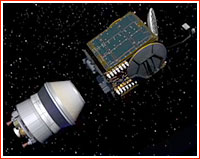 Separation between Briz-M and SatMex-8. Credit: ILS
---