---
---
Searching for details:
The author of this page will appreciate comments, corrections and imagery related to the subject. Please contact Anatoly Zak.
Previous Proton mission: Astra-2E
---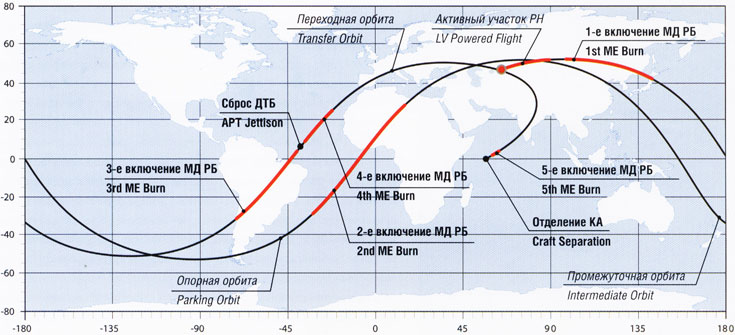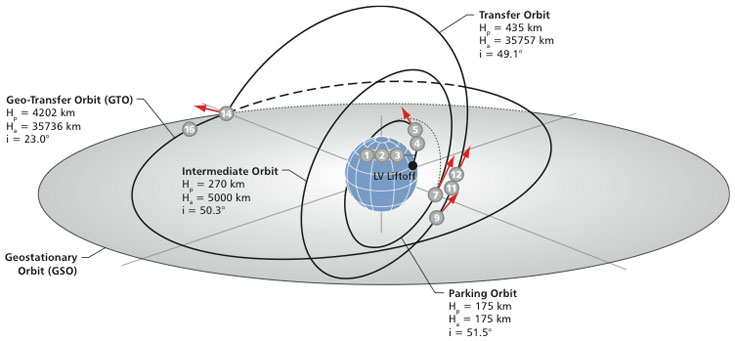 Above: Ground track and flight profile of the Proton mission to deliver Sirius FM-6.
---
Proton delivers Sirius FM-6 satellite
Russia's commercial workhorse rocket started its seventh mission of 2013.
The liftoff of the Proton-M/Briz-M rocket from Pad 39 at Site 200 in Baikonur Cosmodrome took place as scheduled on October 25, 2013, at 22:08:54 Moscow Time (2:08 p.m. EDT). It was already October 26 at the launch site.
The vehicle carried a 6-ton Sirius FM-6 radio-broadcasting satellite for Sirius Satellite Radio based in New York, NY, US.
According to the Russian space agency, Roskosmos, the payload section comprised of the Briz-M upper stage and the Sirius FM-6 satellite, successfully separated from the third stage of the launch vehicle at 22:18 Moscow Time. After five orbit corrections with the help of Briz-M's propulsion system, the satellite was successfully released into planned orbit at 07:20 Moscow Time on Oct. 26, 2013, Roskosmos announced.
The launch delay
The launch of Sirius FM-6 was previously scheduled for October 20, 2013, at 22:12:56 Moscow Summer Time (4:13 p.m. EDT). However on October 19, industry sources said that the mission had to be postponed by at least 24 hours by technical problems with the Briz upper stage, which could require to return the launch vehicle to the assembly building. It was ultimately possible to resolve the issue on the pad, however, later, the official Russian media reported that communications problems between a US ground station and the payload had forced at least a 24-hour delay anyway. The launch was rescheduled for October 21, at 22:12:06 Moscow Time (4:13 p.m. EDT). On October 21, the project officials announced a new delay, this time to October 25, 2013.
Mission profile
The Proton M launch vehicle, utilizing a 5-burn Briz-M mission design, will lift off from Pad 39 in Baikonur Cosmodrome, Kazakhstan, with the Sirius FM-6 satellite on board. The first, second and third stages of the rocket was to use a standard ascent profile to place the orbital unit, comprised of Briz-M upper stage and the Sirius FM-6 satellite, into a sub-orbital trajectory. From this point in the mission, the Briz-M will perform planned mission maneuvers to advance the orbital unit first to a circular parking orbit, then to an intermediate orbit, followed by a transfer orbit, and finally to a geostationary transfer orbit.
Separation of the Sirius FM-6 satellite is scheduled to occur approximately nine hours, 11 minutes, and 20 seconds after liftoff. The satellite has to be released into a 4,126 by 35,786-kilometer orbit with an inclination 23.2 degrees toward the Equator. The spacecraft was designed to use its own engines to enter its final operational orbit.
Sirius FM-6 spacecraft
Sirius FM-6 is based on the SSL-1300 platform developed by Space Systems Loral of Palo Alto, California in the US.
According to the International Launch Service, ILS, which markets the Proton rocket around the world, Sirius FM-6 is a high-power geostationary satellite for SiriusXM, America's largest radio broadcaster measured by revenue and one of the world's largest pure-play audio entertainment companies. Sirius FM-6 was expected to help with the delivery of commercial-free music, and premier sports, news, talk, entertainment and Latin programming, traffic and weather to more than 25 million subscribers. Sirius FM-6 was also designed to deliver traffic and other data service information to markets across North America for vehicles with navigational systems. SiriusXM is installed in vehicles of every major automaker and available for sale at retail locations nationwide, ILS said.
According to the company, Sirius FM-6 satellite was to ensure SiriusXM's array of audio and data services are received by vehicles, mobile devices and home receivers and was to play an important role in bolstering the continuity of service for years to come.
Known specifications of Sirius FM-6 satellite:
| | |
| --- | --- |
| Initial mass in orbit (after separation from launch vehicle) | 6,018 kilograms* |
| Power supply at the end of projected life span | 20 kilowatts |
| Onboard propulsion system | R-4D, 4 SPT-100 plasma thrusters |
| X-band uplink transponder | 1 |
| S-band downlink transponder | 1 |
| Planned orbital location over the Equator | 116.15 degrees West longitude |
| Projected operational life span | 15 years |
---
*6,003 kilograms according to previous sources
Mission history
A contract for the launch of Sirius FM-6 satellite was first announced on Feb. 7, 2006. In February 2008, Sirius announced that a total of two satellites would be launched on Proton, one with an unspecified date.
The Sirius FM-6 mission was originally expected in the fourth quarter of 2010, it was later delayed to late December 2011 and to Jan. 24 and Jan. 29, 2012. By the end of 2011, the mission slipped to the third week of February 2012 and then was scheduled for March 5 and April 24, 2012. The launch was later expected in August 2012. The Briz-M upper stage for the mission was flown to Baikonur on May 11 and the spacecraft followed on May 19. By November 2012, the launch was expected in May 2013. However in the wake of the Proton launch accident in July 2013, the mission was rescheduled for October of the same year.
---
APPENDIX
Sirius FM-6 mission timeline on Oct. 25, 2013:

| Event | Moscow time | EDT | Scheduled elapsed time | Factual elapsed time | Deviation |
| --- | --- | --- | --- | --- | --- |
| Liftoff | 22:08:54 | 2:08 p.m. | 0 seconds | - | 0 |
| | 22:10 | - | 120 seconds | 120 seconds | 0 |
| | 22:14 | - | 327 seconds | 327 seconds | 0 |
| Payload fairing separation | 22:14 | - | 345 seconds | 345 seconds | 0 |
| | 22:18 | - | 582 seconds | 581 seconds | -1 second |
| | - | - | 706 seconds | 706 seconds | 0 |
| Briz-M firing 1 ends | - | - | 973 seconds | 965 seconds | -8 seconds |
| Briz-M firing 2 starts | - | - | 4,053 seconds | 4,053 seconds | 0 |
| Briz-M firing 2 ends | - | - | 5,119 seconds | 5,092 seconds | -27 seconds |
| Briz-M firing 3 starts | - | - | 12,499 seconds | 12,499 seconds | 0 |
| Briz-M firing 3 ends | - | - | 13,188 seconds | 13,176 seconds | -12 seconds |
| Briz-M jettisons its external tank | - | - | 13,238 seconds | 13,227 seconds | -11 seconds |
| Briz-M firing 4 starts | - | - | 13,325 seconds | 13,325 seconds | 0 |
| Briz-M firing 4 ends | - | - | 13,680 seconds | 13,670 seconds | -10 seconds |
| Briz-M firing 5 starts | - | - | 31,924 seconds | 31,924 seconds | 0 seconds |
| Briz-M firing 5 ends | - | - | 32,297 seconds | 32,290 seconds | -7 seconds |
| Spacecraft separation | 07:20* | 11:20 p.m. | 33,080 seconds | 33,065 seconds | -15 seconds |
---
*October 26
---
Next Proton mission: Raduga-1M (3)
Page author: Anatoly Zak; Last update: December 7, 2013
All rights reserved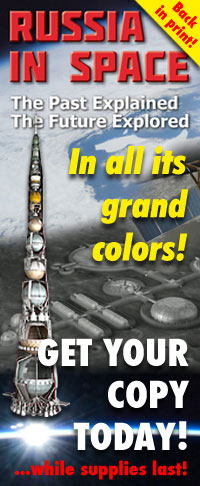 IMAGE ARCHIVE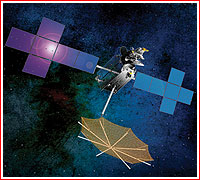 An artist rendering of Sirius FM-6 satellite. Click to enlarge. Credit: SSL
---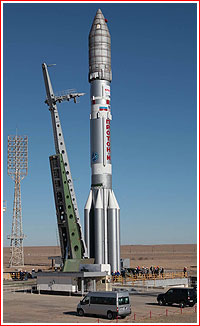 Proton-M with Sirius FM-6 satellite shortly after arrival at launch pad on Oct. 17, 2013. Click to enlarge. Credit: Roskosmos
---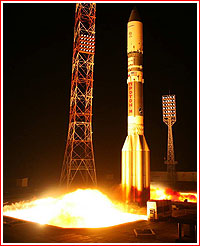 Proton with Sirius FM-6 lifts off on Oct. 25, 2013. Click to enlarge. Credit: Roskosmos