---
---
Searching for details:
The author of this page will appreciate comments, corrections and imagery related to the subject. Please contact Anatoly Zak.
Previous Proton mission: Eutelsat-3D
---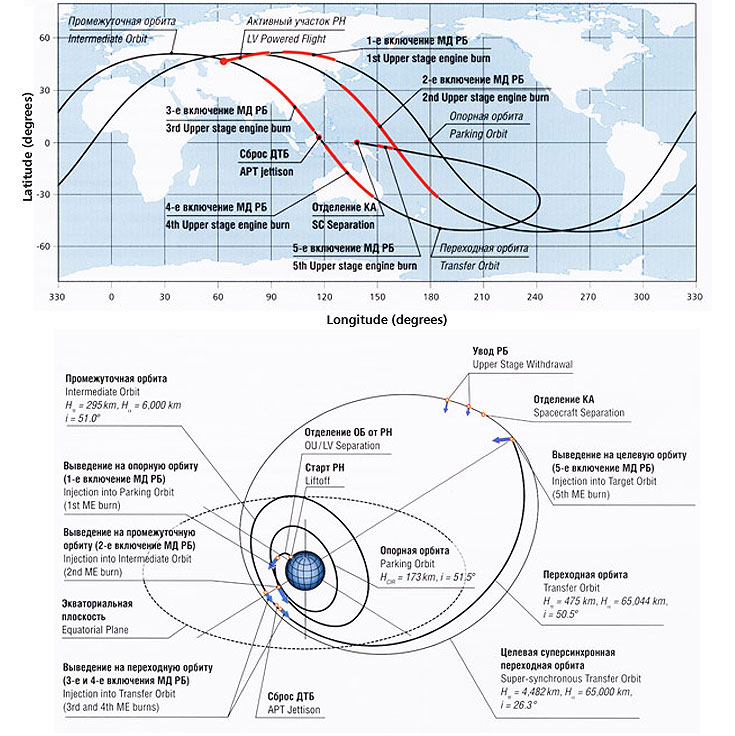 Above: Ground track and flight profile of the Proton mission to deliver SES-6.
---
Proton to launch SES-6 satellite
2013 June 3
A Proton rocket launched a commercial communications satellite in the fourth mission of a Russian workhorse space booster in 2013.
A Proton-M rocket with a Briz-M upper stage lifted off as scheduled from Baikonur Cosmodrome's Pad 39 at Site 200 on Monday, June 3, 2013, at 13:18:31 Moscow Time (05:18 a.m. EDT). The vehicle was carrying the 6,140-kilogram SES-6 satellite.
Flight profile
To deliver SES-6, the Proton M was expected to use a 5-burn Briz-M mission design. The first three stages of the Proton will use a standard ascent profile to place the payload section including Briz-M upper stage (No. 99541) and the SES-6 satellite into a sub-orbital trajectory. From this point in the mission, Briz-M will perform planned mission maneuvers to advance the orbital unit first to a circular parking orbit, then to an intermediate orbit, followed by a transfer orbit, and finally to a super-synchronous transfer orbit. Separation of the SES-6 satellite into a 4,482 by 65,000-kilometer orbit with an inclination 26.3 degrees toward the Equator was scheduled to occur approximately 15 hours, 31 minutes after liftoff.
The satellite would then use its own propulsion system to enter a geostationary orbit 36,000 kilometers above the Equator at 116.8 degrees West longitude, where it is expected to function for 15 years.
Mission history
Proton's launch of SES-6 was the sixth mission under the SES Multi Launch Agreement, MLA, signed in June 2007 by the International Launch Service, ILS, which markets Proton around the world, and SES Satellite Leasing Limited, SES's satellite procurement and leasing company based in the Isle of Man. Plans for the SES-6 launch were announced on March 16, 2011.
SES-6, weighing about six metric tons at launch, was being built on Astrium's Eurostar 3000 platform and was expected to carry 43 C-band and 43 Ku-band transponders to serve SES's existing cable-television customers and provide capacity for growth.
SES-6 was to replace the NSS-806 satellite at the orbital location of 40.5 degrees West longitude, and would provide enhanced coverage in North, Central and South America and will further support applications like HD, DTH, enterprise networks and digital inclusion projects in the Latin America region serving over 18 million households.
During 2012, the mission was expected in the first quarter of 2013, but by November 2012 it was postponed to April 2013. The launch was then set for June 3, 2013.
The SES-6 satellite was delivered to Baikonur on May 3, 2013.
---
SES-6 mission timeline on June 3, 2013, according to GKNPTs Khrunichev:
| Event | Moscow time | EDT | Scheduled elapsed time | Factual elapsed time | Deviation |
| --- | --- | --- | --- | --- | --- |
| Liftoff | 13:18:30.969 | 5:18 a.m. | 0 | 0 | 0 |
| Stage 2 oxidizer tank membrane breakup | - | - | 119 seconds | 118 seconds | -1 second |
| Stage 1 separation command | - | - | 120 seconds | 120 seconds | 0 |
| Stage 3 main engine ignition command | - | - | 324 seconds | 325 seconds | 1 second |
| Stage 2 separation | - | - | 327 seconds | 328 seconds | 1 second |
| Stage 3 ignition command | - | - | 330 seconds | 331 seconds | 1 second |
| Payload fairing jettison command | - | - | 345 seconds | 346 seconds | 1 second |
| Stage 3 main engine cutoff | - | - | 571 seconds | 572 seconds | 1 second |
| Payload section separation | 13:28:15 | 5:28 a.m. | 582 seconds | 583 seconds | 1 second |
| Briz-M main engine firing 1 start | - | - | 676 seconds | 678 seconds | 2 seconds |
| Briz-M main engine firing 1 end (04 min. 27 sec.) | - | - | 943 seconds | 937 seconds | -6 seconds |
| Briz-M main engine firing 2 start | - | - | 1 h. 50 min. 30 sec. | 6,630 seconds | 0 |
| Briz-M main engine firing 2 end (duration: 19 min. 34 sec.) | - | - | 2 h. 10 min. 4 sec. | 7,781 seconds | -23 seconds |
| Briz-M main engine firing 3 start | - | - | 4 h. 23 min. 49 sec. | 15,829 seconds | 0 |
| Briz-M main engine firing 3 end (duration: 9 min. 26 sec.) | - | - | 4 h. 33 min. 15 sec. | 16,387 seconds | -8 seconds |
| Briz-M external tank separation | - | - | 4 h. 34 min. 05 sec. | 16,438 seconds | -7 seconds |
| Briz-M main engine firing 4 start | - | - | 4 h. 35 min. 32 sec. | 16,532 seconds | 0 |
| Briz-M main engine firing 4 end (duration: 8 min. 25 sec.) | - | - | 4 h. 43 min. 57 sec. | 17,025 seconds | -12 seconds |
| Briz-M main engine firing 5 start | - | - | 15 h. 15 min. 05 sec. | 54,905 seconds | 0 |
| Briz-M main engine firing 5 end (duration: 3 min. 34 sec.) | - | - | 15 h. 18 min. 39 sec. | 55,114 seconds | -5 seconds |
| SES-6 spacecraft separation from Briz-M | 04:49:31.331* | 8:49 p.m. | 15 h. 31 min. 00 sec. | 55,860 seconds | 0 |
---
*June 4
Next Proton mission: A launch accident with GLONASS satellites
Page author: Anatoly Zak; Last update: July 6, 2013
All rights reserved
IMAGE ARCHIVE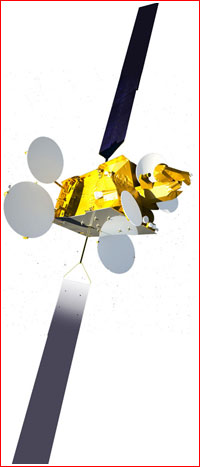 SES-6 satellite. Credit: ILS
---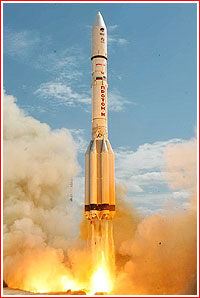 Proton lifts off with SES-6 satellite on June 3, 2013. Credit: Roskosmos
---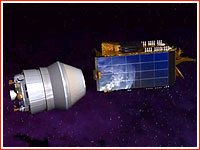 An artist depiction of the separation between Briz-M and SES-6 satellite. Credit: ILS