Russian application satellites
Although vast majority of satellites that the Soviet Union developed during its existence had originated as defense-related systems, many of them were slowly making their way into civilian sectors of the Soviet and, later, Russian economy. During the post-Soviet period, many spacecraft combined their military and civilian roles, while a number of satellites was built specifically for civilian purposes.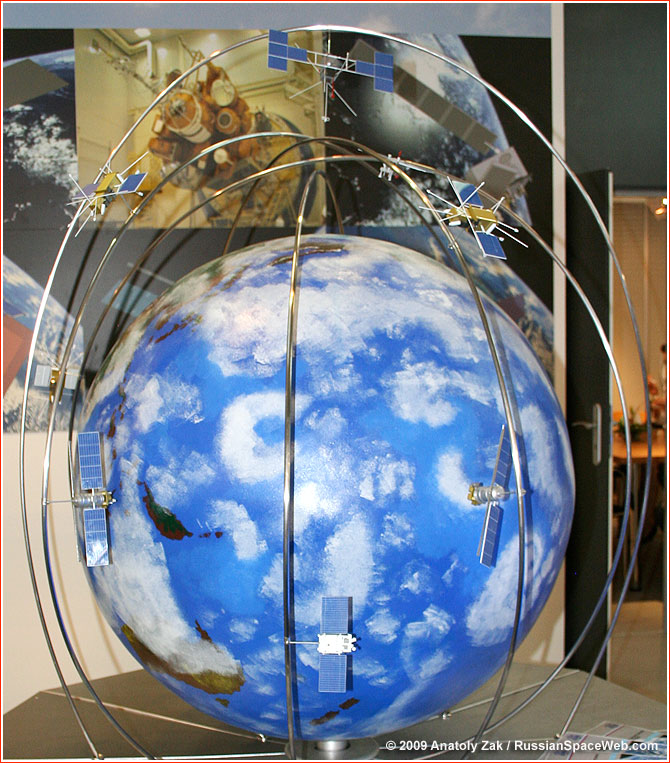 In 2009, the Russian government promised to orbit a whole constellation of Earth-watching satellites.
---
For the period 2008-2015, Russia's Federal Space Program approved three Elektro meteorological spacecraft and two Arkon-2 satellites for radar sensing of the Earth surface.
With the launch of Kanopus-V, Zond-PP, BKA and Yubileiny-2 (MiR) satellites during 2012, Russia deployed as many as nine Earth-watching cameras in orbit. In the same year, Russian officials promised to orbit 26 remote-sensing satellites by 2020. In August 2013, RIA Novosti news agency quoted the head of the Russian forest agency, Rosleskhoz, Andrei Zhilin as saying that in a previous year the organization had been acquiring up to 80 percent of satellite imagery from its foreign partners, but by 2013 around 60 percent was coming from abroad and the rest from Russian satellites. In November of the same year, the head of the nation's weather service, Rosgidromet, Aleksandr Frolov told RIA Novosti that seven satellites planned for launch in 2014 and 2015 would service the agency, among them Meteor and Arktika satellites.
In 2014, Roskosmos drafted a new Federal Space program, which would extend from 2016 to 2025. According to the document, a number of Russian civilian satellites operating in orbit would increase from 35 in 2015 to 76 in 2025. During the same period, a number of communications satellites would increase from from 15 to 36, remote-sensing satellites from 10 to 27 and scientific satellites from 2 to 10. Up to 14 satellites would be used for meteorological observations. (713)
As of beginning of 2015, the Russian remote-sensing satellite capability was estimated at less than 25 percent from the planned capability in 2025. At the time, Russia had four remote-sensing satellites in orbit and had a plan to have 10 such satellites by 2020. During the same period, a number of meteorological satellites was expected to grow from two to 11. (744)
RECENT DEVELOPMENTS
NPO Mash to build its first comsat
2001 Aug. 16: NPO Mashinostroenia, based in Reutov, demonstrated a full-scale mockup of the Ruslan-MM communications satellite and a full-scale payload section of the Strela booster, which is expected to boost the Ruslan-MM into initial orbit.
On June 22, 2001, NPO Mash won a contract from Russian satellite communications provider Intersputnik, which calls for the launch of the two Ruslan-MM comsats. The satellites will become the part of the constellation, which could eventually include as many as 100 spacecraft. As of July 2001, Interpsutnik also signed contracts with Khrunichev and NPO PM, who would supply two satellites each.
According to the terms of the contract with NPO Mash, the first Ruslan-MM has to be launched 30 months after first funds are delivered by Intersputnik, presumably in September 2001. The second Ruslan-MM is expected to fly four months later.
Both 637-kilogram satellites will be launched by the Strela booster into the initial orbit and then spend around 150 days climbing to their final geostationary orbit using electro-reactive engines. The weight of the spacecraft at the final orbit is expected to be 560 kilograms.
NPO Mash currently hopes to test-fly the Strela booster for the first time in the second or third quarter of 2002. The launch is expected to take place from the silo facility in Baikonur, built from UR-100N ICBM. The Strela derived from the UR-100N ICBM, originally developed at NPO Mash.
The Strela's operational launches are expected beginning in the fourth quarter of 2002 from Svobodny Cosmodrome in the Russian Far East.
NPO Mash also develops Condor-E satellite platform designed to carry radar remote-sensing and optical imaging payloads. The spacecraft is an "export" version of a classified project financed by the federal government. Both satellites would be launched on the Strela booster.
---
Ukraine to build satellite for Egypt
Published: 2001 Nov. 1
Ukrainian space officials inked a deal last month to build and launch a satellite for the Egyptian government. According to the contract, signed in Egypt on October 24, the KB Yuzhnoe design bureau, based in the city of Dnepropetrovsk, and a group of industrial sub-contractors in Ukraine will develop and build the satellite within next three years. The deal was reached during a visit to Egypt by a group of Ukrainian space officials led by Stanislav Konyukhov, Designer General of KB Yuzhnoe and Yuri Alekseev, director of KB Yuzhnoe's production plant.
Earlier this year, KB Yuzhnoe came out a winner among several bidders around the world to build the spacecraft for the Egyptian government, KB Yuzhnoe representative said. The Egyptian satellite, which will be used for remote-sensing applications, is expected to have an operational lifetime of five years. The spacecraft will be launched by the Dnepr-1 booster.
KB Yuzhnoe used to be a major manufacturer of military and civilian spacecraft in the former Soviet Union. In the post-Cold War period, the financially struggling company developed several versions of the orbital platforms, which could be adapted for needs of the commercial customers. With a weight ranging from 59 to 153 kilograms, such standardized satellites can carry from 10 to 100 kilograms of payload respectively.
---
Zenit-2 lofts a cluster of satellites
Published: 2001 Dec. 10
The Zenit-2 rocket delivered the Meteor-3M remote-sensing satellite from Baikonur Cosmodrome's Site 45 on December 10, 2001. Along with the 2,477-kilogram Meteor, the Zenit-2 was carrying a cluster of international payloads with the total weight of 188 kilograms. It included Moroccan MAROCTUBSAT and Pakistani BADR-R satellites. Also onboard were the Compass spacecraft developed at KB Mashinostroenia in the city of Miass and designed to test the techniques of predicting earthquakes, and the Reflector experiment developed by NII KP design bureau and designed to monitor "space junk."
All five spacecraft were inserted into a 1020-kilometer orbit with an inclination 99 degrees toward the Equator.
This launch was originally expected in December of last year, however it was continuously delayed mainly due to the problem with the US-build SAGE-III instrument installed onboard the Meteor-3M. This was the 35th launch of the Zenit rocket from Baikonur.
---
Kosmos-3M launches navsat
Published: 2002 Sept. 27
The Kosmos-3M booster delivered a Nadezhda-M ("Hope") navigation satellite on September 26, 2002, after the launch from Russia's northern cosmodrome in Plesetsk.
The blastoff took place at 19:30 Moscow Time, the Russian Space Forces announced. The Nadezhda-M satellite entered a 987.4 by 1,022.1-kilometer orbit with the inclination 83 degrees toward the Equator.
The Nadezhda-M carries COSPAS-SARSAT equipment designed to relay distress signals from the ships around the world.
According to official statistics it was the 405th launch of the Kosmos-3M-type booster and the 1934th space launch from Plesetsk.
---
Former spysat enters Earth-watching business
Published: 2006 June 16
A new Russian satellite based on a military reconnaissance platform joined a crowded field of commercial remote-sensing.
The Soyuz-U rocket blasted off from Baikonur Cosmodrome's Pad 5 at Site 1, on June 15, 2006, at 12:00:00.193 Moscow Time, carrying the Resurs-DK-1 No. 1 spacecraft. The payload successfully reached orbit eight minutes later, according to the official Russian sources.
---
Russia introduces two new satellite families
Published: 2012 July 20; updated July 22
A Russian rocket lifted off Sunday with a cluster of five satellites, among them a pair of new-generation spacecraft inaugurating platforms for future scientific and commercial applications.
A Soyuz-FG/Fregat rocket blasted off from Site 31 in Baikonur on July 22, 2012, at 10:41:39 Moscow Time, carrying Russian Kanopus-V No. 1 remote-sensing satellite along with a similar BKA spacecraft built for the government of Belarus. As secondary payloads, the mission carried a Russian MKA-FKI science satellite, an exactView satellite for a Canadian company and a TET-1 experimental satellite funded by the German space agency, DLR.
According to the Russian space agency, the Fregat upper stage separated from the third stage of the launch vehicle at 10:50 Moscow Time and started its own flight including five firings of its main engine.
All five payloads reached orbit successfully. BKA separated from the Fregat at 11:26 Moscow Time, followed by Kanopus-V at 11:31, TET-1 at 11:33, exactView-1 and MKA-FKI at 13:00:33 Moscow Time, when flying over the Pacific Ocean beyond the communication range of Russian ground stations. The Fregat upper stage then conducted a deorbiting maneuver and reentered the Earth atmosphere at 13:50:53 Moscow Time. A ground control team responsible for MKA-FKI spacecraft confirmed establishing normal contact with the satellite shortly after it had entered the communication range at 13:55:21 Moscow Time. Industry sources also reported that Kanopus and BKA satellites established contact and downlinked telemetry during the second orbit of the mission.
Both Russian spacecraft onboard this Soyuz rocket represented new types of standard carriers, which are scheduled to be customized for future missions. The Kanopus platform is intended primarily for remote-sensing commercial applications, while a smaller Karat bus is well suited for a wide variety of low-cost science experiments. Both platforms already have a backlog of future missions waiting for launch.
---
Russia to develop new remote-sensing satellite constellation Obzor-O
Published: 2012 Oct. 25
On October 25, 2012, Russian space agency, Roskosmos, formally announced a soliciation of bids for a tender to develop an Obzor-O four-satellite constellation of remote-sensing satellites at a cost of 5,088 billion rubles. The system would provide imagery of the Earth surface for the nation's civilian agencies such as Emergency Situations Ministry, MChS, Ministry of Agriculture, Russian Academy of Sciences and Russian Cartography Ministry. Obzor-O satellites were expected to provide imaging of the Earth surface in eight different ranges of spectrum including optical and infrared. Optical instruments would have a resolution of five meters and infra-red sensors would be able to detect details as small as 20 meters.
---
Russia to build its first nano-satellite
Published: 2012 Dec. 14
A Russian company will build its first nano-satellite dedicated to imaging of the Earth surface. In December 2012, Russian space agency, Roskosmos, awarded a 315-million-ruble contract to a startup company Dauria to develop a pair of 10-kilogram MKA-N satellites and launch them before Nov. 25, 2015. (MKA-N stands for "Small Spacecraft in Nano-class.) Satellites would be equipped with cameras capable of taking photos of the Earth surface with a resolution around 20 meters from an altitude of 450 kilometers. They would have to function in space for at least three years and to be as closely compatible as possible to the standard CubeSat design, which served as a basis for many student-built and experimental satellites in the West.
Along with the spacecraft itself, Roskosmos asked the contractor to develop a release mechanism, which would enable to deploy up to 24 such satellites in a single launch of the Soyuz rocket.
The agency favored Dauria's bid for the project over a lower cost proposal from a veteran of the Russian space industry -- TsSKB Progress in Samara, which offered Roskosmos to complete the project at a price tag of 297 million rubles.
---
Russia to develop a new-generation radar satellite
Published: 2012 Dec. 17
On Dec. 17, 2012, Russian space agency, Roskosmos, solicited bids for a tender to develop a radar-carrying Obzor-R remote-sensing satellite. The new-generation spacecraft aimed to replace the Arkon-2M project, which was canceled in 2012. The agency allocated 3,604,800 thousand rubles ($116.3 million) for three years of development work ending on Nov. 25, 2015. The agency put a deadline for the submission of bids for the tender at Jan. 15, 2013, and scheduled to announce a winner on January 24.
---
Russian satellites to monitor forest fires
In December 2012, Russian forest ministry, Rosleskhoz, and the emergency situation agency, MChS, requested the Russian space agency, Roskosmos, to conduct "technical imaging" of the nation's territory during 2013 in an effort to monitor forest fires. Until that time, the government agencies had still used data from infra-red sensors on foreign satellites, the head of Rosleskhoz Viktor Maslyakov, told RIA Novosti news agency. According to Maslyakov, his agency could finally get access to domestic capabilities in the field. Roskosmos could reportedly employ operational Meteor-M1, Elektro-L No. 1 and Kanopus-V No. 1 satellites for the task. In the past few years, a number of serious forest fires have raged in Russia, including a massive fire around Moscow that paralyzed life in the Russian capital for weeks.
In August 2013, the head of Rosleskhoz, Andrei Zhilin told RIA Novosti that by 2015, up to 15 Russian satellites would be involved in monitoring of forest fires, dramatically increasing the operational awareness about sources of fires, as well as about illegal logging.
---
Russia prepares new push into satellite remote sensing in 2019
The Roskosmos State Corporation appears to be planning another attempt to match western capabilities in delivering high-resolution imagery of the Earth's surface and remote-sensing information from orbit.
The overview of application satellite projects in the former USSR:
Aist (198KS)

Soyuz

TsSKB Progress

Remote-sensing

2013

-
Aist-2D

Soyuz

TsSKB Progress

Remote-sensing

-
Arkon-2

-

NPO Lavochkin

Remote-sensing

-

Three-band radar satellite; canceled
Arkon-2M

-

NPO Lavochkin

Remote-sensing

-

X-band radar satellite; canceled in 2012
Arktika

-

NPO Lavochkin

Multi-functional

2021

Remote sensing and communications
BelKA

RKK Energia

Remote-sensing

2006

Failed at launch
BLITS

Soyuz

NPK SPP

Experimental

2009 Sept. 21

Calibration laser reflector
EgyptSat-1

KB Yuzhnoe

Remote-sensing

-
Ekran (Statsionar-T)

Proton

NPO PM

1976

-
Ekran-M

Proton

NPO PM

1987

-
Elektro (IC)

VNIIEM

Weather forecasting

Geostationary sat for military and civilian applications.
Elektro-L, Elektro-M

NPO Lavochkin

Weather forecasting

Elektro-M was planned for launch starting in 2024-25 on a Zenit rocket
Energia

-

VNII EM

Weather forecasting

~1972

Project of a geostationary weather satellite
Etalon

NPO PM

Navigation

1989

Measurements for GLONASS network
Ekspress

NPO PM

1994

Geosynchronous satellite
Ekspress-A

NPO PM

1999

Geosynchronous satellite
Ekspress-K

NPO PM

-

Geosynchronous satellite
Foton

Vostok

TsKB MOM

Material science

~1985

A civilian version of the reconnaissance spacecraft
Fram

Soyuz-U

TsSKB

Remote-sensing/cartography

1975 Sept. 25

Zenit-based for remote-sensing research
Gals

NPO PM

1994 Jan. 20

Geosynchronous satellite
Geo-IK-2 (14F31)

ISS Reshetnev

Geodesic

-
Gekata

?

NPO Lavochkin

Remote sensing

-

Magnitosphere and earthquake remote-sensing
GLONASS (Uragan)

NPO PM/PO Polyot

Navigation

1982

GLONASS navigation system
GLONASS-K

ISS Reshetnev

Navigation

GLONASS navigation system
Gorizont

KB PM

1978 Dec. 19

Multi-channel relay equipment for the Moskva network; 33 launched
Iskra

-

MAI

Amateur radio

1981 July 10

-
Iskra-2

-

MAI

Amateur radio

1982 May 17

-
Iskra-3

-

MAI

Amateur radio

1982 Nov. 18

-
Kanopus-V

VNIIEM

Remote sensing

2012 July 22

Optical imaging
Kanopus-V-IK

VNIIEM

Remote sensing

2017

Wild fire monitoring
Kartograf-OE

-

-

Remote sensing

-

-
KazSat

GKNPTs Khrunichev

2006

Geosynchronous satellite
Kondor-E (14F133)

Strela

NPO Mash

Imaging

-

Project
Kupon (K95K)

Proton

NPO Lavochkin

-

Geyzer-based bus
Luch (Altair)

Proton

NPO PM

Relay

1985

Relay system to serve manned DOS spacecraft
Luch-2 (Altair)

Proton

NPO PM

Relay

1995

Relay system to serve manned DOS spacecraft
MAK-1

-

MAI

Amateur radio

1991 June 17

-
MAK-2

-

MAI

Amateur radio

1992 Nov. 20

-
Maksat-R

?

TsSKB Progress

-

2015

Radar satellite
Meteor

Vostok M

NII-627/VNII EM

Weather forecasting

1964

Manufactured by Yuzhmash
Meteor (2)

Vostok M

NII-627/VNII EM

Weather forecasting

1964

Manufactured by Yuzhmash; Military and civilian use
Meteor (2M)

Vostok M

NII-627/VNII EM

Weather forecasting

1964

Manufactured by Yuzhmash
Meteor-Priroda

Vostok-2M

VNIIEM

Remote sensing

1974

-
Meteor (3)

Vostok M

VNIIEM

Weather forecasting

1985

Project
Meteor-M

VNIIEM

Weather forecasting

2009

M2 launched in 2014
Meteor-M2

-

VNIIEM

Weather forecasting

-

-
MKA-N

Soyuz

NPP Dauria

Remote sensing

2015

In development since 2012
MKA-R

Soyuz

OOO Gazprom SPKA

Radar remote sensing

2015

-
Molniya-1

OKB-1

1965

Military and civilian applications
Molniya-2

KB PM MOM

1971

Civilian communications for the Orbita network
Molniya-3

KB PM MOM

1974

Civilian communications for the Orbita network
Monitor

Rockot

GKNPTs Khrunichev

Remote-sensing

-

Project
MS-1TK

Dnepr-1

KB Yuzhnoe

Remote sensing

-

1990s project of micro-stallite platform
Musson (Geo-IK)

NPO PM

Geodesic

1981

-
Nadezhda

Kosmos

-

Navigation and rescue

-

Based on Tsikada
NIKA-Kuban

-

-

Multi-spectral remote sensing

-

-
Okean-O

Zenit

KB Yuzhnoe

Remote-sensing

1999

Based on Tselina-D
Okean-OE

Zenit

KB Yuzhnoe

Remote-sensing

1983

-
Oblik

Soyuz-U

-

-

-

Zenit-4M-based
Obzor-O (372AZ61)

-

GKNPTs Khrunichev

Remote-sensing

-
Obzor-R

-

-

Remote-sensing

-
Plamya

-

NPO Lavochkin

Remote-sensing

-

Fire-monitoring system
Radio ROSTO

Rockot

MAI

Amateur radio

1994

-
Radio-2

-

MAI

Amateur radio

1978 Oct. 26

-
Raduga (Statsionar)

Proton

NPO PM

1975

Dual purpose; 32 launched until 1996
RBKA

VNIIEM

Remote-sensing

?

A project circa 2019
Resurs

TsKB MOM

Remote-sensing

1979

A civilian version of the reconnaissance spacecraft
Resurs-DK No. 1 (46KS)

Soyuz-U

TsSKB

Remote-sensing

2006

Neman-based
Resurs-F1

-

TsSKB

Remote-sensing

1979 Sept. 5

Based on the Fram satellite. 55 launched through 1999.
Resurs-F1M

Soyuz-U

TsSKB

Remote-sensing

1997

-
Resurs-F2

Soyuz-U

TsSKB

Remote-sensing

1987

Based on Fram. 10 launched through 1995.
Resurs-O

Vostok M

TsSKB

Remote-sensing

1979

Based on Meteor-Priroda
Resurs-O1

-

TsSKB

Remote-sensing

-

-
Resurs-OE

-

TsSKB

Remote-sensing

-

-
Resurs-P

Soyuz

TsSKB

Remote-sensing

2013

Launched, operational
Resurs-P No. 2

RKTs Progress

Remote-sensing

2014 Dec. 26

Launched
Ruslan-MM

Strela

NPO Mash

-

Project
Sapsan

?

-

Remote-sensing

-

Project circa 2019
Serval (200KS)

?

TsSKB Progress

Remote-sensing

-

Project
Sich-2

KB Yuzhnoe (Ukraine)

Remote-sensing

-
Sich-2-30

Falcon-9

KB Yuzhnoe (Ukraine)

Remote-sensing

2022

-
Skif-D (14F149)

ISS Reshetnev

Internet

-
Sterkh

PO Polyot/Khrunichev

Rescue/navigation

Canceled in 2012 after two botched launches.
Tsikada/Nadezhda

Kosmos-3M

-

Navigation

-

Used by the civilian ships
Yubileiny

Rockot

ISS Reshetnev

Remote-sensing

2008

Micro-satellite
Zenit-MT

TsKB MOM

Cartography

-

A civilian version of the reconnaissance spacecraft
Zeya

Start

-

-

-

Based on Strela satellite
---