---
---
In the meantime:
(Historical background for the events described in this section)
2004 January: US President George W. Bush ordered NASA to prepare plans for the return of US astronauts to the Moon.
---
A family of the Manned Transport Spacecraft, PTK, poposed by Khrunichev enterprise as a replacement for Soyuz and an alternative to the winged Kliper design:
Manned vehicles

Unmanned vehicles

"Base" configuration

Vehicle for long-duration missions

Deep space version

Rescue vehicle and light cargo ship

Unmanned transport vehicle

Multifunctional modular vehicle
In March 2005, Khrunichev enterprise, Russia's leading developer of rocket technology and spacecraft, unveiled ambitious plans for the country's participation in the US-led exploration of the Moon. Moscow-based company proposed a super heavy-lift rocket booster, along with a new generation of partially reusable spacecraft, which could be used to support manned expeditions to the Moon.
---
Follow-on to the TKS series
In addition to the heavy-lift launch-vehicle, Khrunichev concurrently proposed a new manned spacecraft, loosely based on the company's long-lasting TKS family of space tugs and modules. A partially reusable vehicle could carry up to six people -- not coincidentally a full crew of the International Space Station -- but also clearly featured capabilities for deep-space missions. The spacecraft, would put Khrunichev on a collision course with its old-time rival -- RKK Energia -- which earlier proposed the Kliper spacecraft with similar capabilities.
The new spacecraft would be launched by a "man-rated" version of the Angara-3 booster, which was designated Angara-A3M.
Technical specifications of the follow-on to the TKS series of spacecraft:
| | |
| --- | --- |
| Liftoff mass | 14 tons |
| Crew | 2-6 people |
| Number of flights | 10 |
| Payload to LEO | 6,350 kilograms |
| Payload from orbit | 1,870 kilograms |
Federal tender for the Soyuz replacement
In January 2006, Khrunichev submitted its proposals to the government tender aimed to choose a replacement for the Soyuz spacecraft.
The proposals included multiple versions of transport vehicles within two weight categories: the 14,500-kliogram "light" configurations, which would be launched by the Angara-3P (where "P" apparently stood for "pilotiryemaya" - or man-rated) rocket and the 24,000-kilogram "heavy" configuration, which would require the Angara-5 launcher:
PTK or Pilotiruemyi Transportniy Korabl (Manned Transport Spacecraft), which included two variations, including an unmanned version;
MMK or Mnogofunktsionalniy Modulniy Korabl (Multifunctional Modular Spacecraft) -- an expendable cargo ship;
PTK for the deep space exploration;
PTK for long-duration autonomous flight (with light and heavy versions);
GTK or Gruzovoi Transportniy Korabl (Cargo Transport Ship) -- a retrievable heavy cargo ship;
Although the government tender for a new-generation spacecraft was officially canceled in June 2006, Khrunichev did not give on its concept of a manned vehicle. In February 2007, the head of the center Vladimir Nesterov told RIA Novosti news agency, that his company "slowly continued this work," using internal funds. According to Nesterov, Khrunichev hoped this project would be included in the yet-to-be-drafted Federal Space Program, which would include a forward-looking plans up to year 2040.
MULTIMEDIA
To purchase high-resolution versions of these images or order other renderings contact Anatoly Zak
---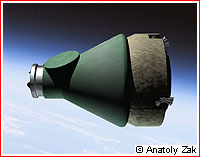 Animation of the TKS-based spacecraft proposed by Khrunichev enterprise in 2005. Click to play: QuickTime: 4 seconds/636K Copyright © 2005 Anatoly Zak
---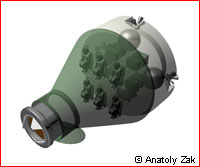 The interior of the new version of the TKS spacecraft was designed to accommodate as many as six people. Click to enlarge: 400 x 334 pixels / 20K. Copyright © 2005 Anatoly Zak
---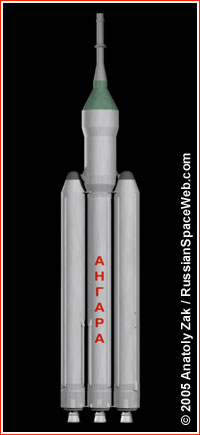 Artist rendering of the Angara-A3M rocket. Click to enlarge: 183 by 400 pixels / 12K Copyright © 2005 by Anatoly Zak