---
---
---
Acknowledgment:
Author thanks Igor Puchkov at NPO Mashinostroenia for his help in preparing this section.
---
Related pages:

---

---

---
From the beginning of the 20th century, rocket technology evolved into two major forms: wingless ballistic vehicles, flying beyond the atmosphere like a shell from a cannon and cruise missiles, relying on wings to fly within the atmosphere.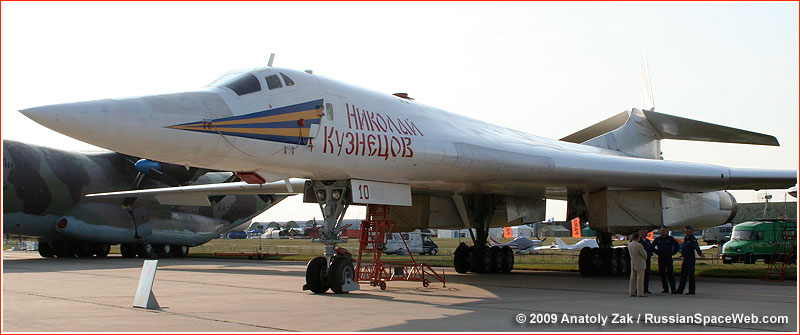 Above: A Tupolev-160, Tu-160, jet bomber was one of several Russian carriers of cruise missiles at the beginning of the 21st century.
---
During the arm race of the 1950s, these two breeds of rockets competed to achieve intercontinental range, with ballistic missiles eventually becoming the ultimate strategic weapon of the Cold War. In its turn, the cruise missile evolved into tactical weapon, designed to hit land and sea targets.
In the 1960s, the Soviet navy adopted cruise missiles to counteract a perceived threat from the US Navy. Despite its purely military applications, cruise missile technology stimulated development in several other fields, including the space program. In the Soviet Union, challenges associated with the targeting of long-range cruise missiles justified the creation of space-based guidance systems and even prompted development of manned military outposts in space.
In the post-Soviet period, aircraft-based cruise missiles continued playing a strategic role in the Russian armed forces. In 2011, the Ministry of Defense planned to purchase 20 such vehicles.
In October 1944, the remnants of a German V-1 cruise missile shot down over London arrived in Moscow courtesy of the British allies. On June 14 of the same year, Minister of Aviation Industry Shakhurin and Marshal of Artillery Novikov accompanied young engineer Vladimir Chelomei to the Kremlin for a meeting with Malenkov, Stalin's Deputy responsible for the aviation industry.
Malenkov asked Chelomei, who previously had conducted independent research in the field of cruise missiles, about the possibility of duplicating the German V-1. Chelomei replied with an impressive speech, advocating the enormous potential of this kind of technology.
Yaroslav Golovanov quoted Chelomei (18) as saying that two days after the meeting with Malenkov, he had a 100-person-strong collective formed within TsIAM and designated Department 6.
On September 17, 1944, (according to another source -- on September 19 (29)), Chelomei was appointed a chief designer of the aviation plant No. 51, until that time a part of the production facilities of the late Nikolai Polikarpov, a renowned airplane designer.
By the end of 1944, Chelomei had reproduced the German engine and in the first half of 1945 he had designed a similar cruise missile, 10Kh, which apparently was never mass-produced but was tested in flight after launch from a Pe-8 bomber. Like Korolev, Chelomei made a trip to Germany searching for related technology.
Later, Chelomei proposed the Soviet Air Force new versions of his cruise missiles -- 14Kh and 16Kh -- designed for launch in midair from long-range bombers like Pe-8 and Tu-4. Ground based and navy versions of the same cruise missiles, known as 10 KhN and 10KhM, were also under development.
All projects faced enormous problems with flight control systems, which took years to solve. By 1953, the Air Force had grown skeptical of such weapons. (27)
By that time, Artem Mikoyan, the chief-designer of Soviet MIG fighter jets, who employed Sergei Beriya, the son of Stalin's security chief, proposed a competing project of a cruise missile. As a result, in February 1953, just weeks before his death, Joseph Stalin signed a decree, making Plant No. 51 and its design bureau a branch of Mikoyan's OKB-155.
Chelomei lost his position as chief designer and was left with his professorship at the Moscow High Technical School (MVTU).
New beginning
The death of Stalin on March 1, 1953, essentially brought Malenkov to power in the USSR. He remembered the young designer, and helped him rebuild his collective.
On June 9, 1954, the Ministry of Aviation Industry, MAP, issued a decree, creating the Special Design Group (SKG-10), which was based at Plant No. 500 in the town of Tushino, near Moscow. Former employees of Plant No. 51, as well as a group of young engineers made the new 80-member team of SKG-10.
Chelomei started promoting his winged missiles for Navy use, particularly for submarines. The projected missile, designated P-5, featured folding wings, which would deploy automatically in midair after the launch from the launch container under its own power.
During the Summer of 1955, Chelomei got a phone call from the president of the Academy of Sciences, Mastislav Keldush, who informed him that the decision had been made to build a new enterprise for the implementation of Chelomei's proposals on submarine-launched cruise missiles.
On July 19 and Aug. 8, 1955, government decrees reorganized SKG-10 into Union Experimental Design Bureau No. 52, or shortly OKB-52.
The competitors
The new organization, based in the town of Reutov, just east of Moscow, initially occupied a single brick building of the Reutov Mechanical Plant, known to the residents as the "drunken plant." Chelomei had to survive harsh competition to place his missiles onboard Soviet submarines. Such experienced aviation designers as Mikoyan, Iluyshin and Beriev, all proposed alternative designs of long-range cruise missiles. Beriev's design bureau, based in Taganrog, was developing the P-10 cruise missile, as a direct competitor to Chelomei's P-5. (73)
In addition, during 1958-1971, the design bureau led by A. Ya. Bereznyak successfully developed surface-based short range missiles, such as the land and sea-based KSR-11 and KSR-5 missiles, air-launched KRM, Kh-22 and Kh-55 missiles and ground-based P-15 missile. (129)
Nevertheless, by mid-1950s, Chelomei's cruise missiles had won a long-range "niche" in the Soviet navy, while Beriev's P-10 project was canceled. That was the beginning of Chelomei's personal ascent as well as that of his OKB-52, which culminated during Khrushchev's years.
P-5 and others
The 4,300-kilogram P-5 missile, introduced in 1959, had a range of 500 kilometers and a speed of 1,250 kilometers per hour. It carried a 1,000-kilogram warhead.
For the rest of the 20th century, the development center founded by Vladimir Chelomei and later renamed NPO Mashinostroenia, continued with follow-on generations of long-range cruise missiles, including the P-5D, P-6, P-7, C-6, P-35, Ametist, Malakhit, Bazalt, Granit, Progress, Vulkan, Meteorit and Yakhont.
The P-5 and P-5D missiles were adopted by the Soviet navy, while a modification, known as C-5, was offered to the ground forces. (130) The P-6 missile was adopted for the armament of submarines in 1962.
In 1959, OKB-52 started development of the Ametist, the world's first cruise missile capable of taking off from a submerged submarine. The rocket was equipped with a solid-propellant engine and had a range of 80 kilometers. In 1967, the first submarine with the Ametist missiles had been deployed and the system was considered operational in 1968.
More advanced, the Malakhit missile, was introduced in 1972. As its predecessor, the new vehicle used solid-propellant engine, but had an increased range and could be deployed on submarines, as well as on surface ships. The Granit missile was also designed for underwater and surface launch.
The P-35 cruise missile was developed specifically for the coastal defense complex, known as Redut.
A 2,500-kilogram Yakhont missile, equipped with a ramjet engine, was designed for surface and air launch. The version designed for surface launch was also equipped with a so-called launching-accelerator stage, burning solid fuel. Depending on the launch platform, the Yakhont had a range of 120 to 300 kilometers and a speed of 750 meters per second. It was capable of carrying 200 kilogram of explosives. (132)
In total, NPO Mash built 20 weapon systems, or 60 percent of all the anti-ship missiles carried by the Russian navy in the 1990s.
Some of the newest cruise missiles, developed at NPO Mashinostroenia, were exported to India at the beginning of the 21st century. (22)
---
Recent developments:
2001 July: According to an article published in the Washington Times, sometimes in the middle of July, Russia conducted an unannounced test of a new scramjet-powered missile, which, reportedly was tracked by US radars, as it hit an impact range at Kamchatka Peninsula (apparently Kura range). The newspaper claimed that the cruise missile was launched on top of the SS-25 (Topol) ICBM and after reaching an apogee of its trajectory separated from the booster stage reentered the atmosphere and continued flying toward the target. According to the newspaper, the launch took place in "central Russia," which is probably Plesetsk. The Washington Times report apparently reached Russia in misinterpreted form, so when asked if Russia had conducted any new ICBM tests, the representative of the Russian Strategic Missile Forces said that no new ICBMs had been tested recently.
2002 Oct. 12: Russian armed forces had a busy weekend on Saturday, October 12, 2002, conducting the most extensive missile launching exercise in years. According to the Russian media, the nation's submarines stationed in the Sea of Okhotsk and the Barents Sea fired long-range missiles at the targets at Cape Kanin Nos in the Russia's northern regions and at Kamchatka Peninsula, respectively. On the same day, strategic bombers launched cruise missiles aimed at targets beyond the polar circle and the Volga River region. To complete the picture, the Topol ICBM flew a training mission from Plesetsk to Kamchatka Peninsula.
2004 Feb. 17: Tu-95MS strategic bombers successfully launched cruise missiles and safely returned to their bases.
2004 June 29: Russian Strategic Missile Forces, RVSN, test-fired an R-36M missile from the Baikonur Cosmodrome. The flight aimed to certify the service life of such systems for a 20-year period.
In the meantime, the submarine Ekaterinburg (Dolphin Class, Project 667) from the Russian Northern Fleet launched a D-9RM ballistic missile from its underwater position in the Barenz Sea. The missile's warhead successfully reached the Kura impact range on Kamchatka Peninsula.
On the same day, a Tupolev-95MS strategic bomber conducted a training launch of a long-range cruise missile. After takeoff from its base in the town of Engels, Saratov Region, the aircraft covered around 3,000 kilometers before releasing the missile. The weapon reportedly hit its target on the island of Novaya Zemlya in the Arctic Ocean.
2004 Dec. 24: Russian Minister of Defense Sergei Ivanov, attending the launch of the Topol-M mobile ICBM from Plesetsk, said that during 2005, Russian Air Force would recieve new long-range nuclear capable cruise missiles.
2008 Oct. 12: Russian strategic bombers conducted multiple launches of cruise missiles. Tu-160 and Tu-95MS aircraft, participated in Stabilnost (Stability) 2008 strategic and command war games, which also featured launches of submarine- and land-based missiles.
2012 Oct. 19: Russian Tu-160 jet aircraft and Tu-95MS propeller bomber flying from an air force base near Engels launched four cruise missiles toward the Pemboy impact site.
2013 Oct. 5: Ships and submarines of the Russian Northern fleet fired eight cruise missiles at targets in the middle of the Barents Sea from 60 to 400 kilometers away. They included two Granit missiles launched from submerged Voronezh and Orel nuclear submarines. Another Granit missile was fired from the Peter the Great cruiser. During the same exercise, a strike force of the Russian navy launched four anti-ship missiles, including two Moskit missiles fired from the Admiral Ushakov battleship. Small missile-carrying Aisberg and Rassvet ships fired single Malakhit missiles each. Finally, a coastal defense deployed at the Rybachiy Peninsula fired a Redut tactical missile at a sea-based target, a semi-official Interfax news agency reported.
2014 May 8: During a major "command and control exercise" of the Russian armed forces, featuring multiple missile launches, a Tu-95 strategic bomber launched six cruise missiles, believed to be Kh-55. The official Russian sources only said that missiles were heading toward targets within the Western Military District. A 3M14 sea-based cruise missile was apparently also launched.
2015: Russia used cruise missiles based on ships deployed in the Caspian Sea to hit targets in Syria during its campaign to prop-up government forces in the country's civil war. On October 30, the Tu-160 aircraft fired cruise missiles at targets in Komi Republic and on the Kamchatka Peninsula, while the Velikiy Ustyug cater launched a Kalibr cruise missile during a routine exercises of the Russian armed forces.
---
Overview of Russian cruise missiles (listed alphabetically):
| | | | | | |
| --- | --- | --- | --- | --- | --- |
| Vehicle | Industrial designation | US designation | NATO designation | Developer | Description |
| 10Kh | N | - | - | OKB-52 | Air-launched cruise-missile; Pe-8, Tu-4-based |
| 10KhN/KhM | N | - | - | OKB-52 | Sea-launched cruise-missile |
| 14Kh | - | - | - | OKB-52 | Cruise-missile |
| 16Kh/KhN Lastochka | - | - | - | OKB-52 | Cruise-missile |
| Ametist | - | - | - | NPO Mash | Submarine-based, underwater launched |
| Bazalt | - | - | - | NPO Mash | Surface ship and submarine-based |
| Buran | 42 | - | - | OKB-23 | Project of the intercontinental cruise missile |
| Burya | V-350 | - | - | OKB-301 | Intercontinental cruise missile |
| C-5 | - | - | - | NPO Mash | Ground-based |
| EKR | EKR | - | - | OKB-1 | Experimental cruise missile |
| G-300 | - | - | - | - | First air-to-air cruise missile, circa 1953. |
| Granit | - | - | - | NPO Mash | Submarine and ship-based; Surface and underwater launched |
| K-10S | - | AS-2 | Kipper | Mikoyan | Air-to-air cruise missile. Tu-16K-10-based |
| K-11 | - | - | - | Bereznyak | Air-launched |
| Kh-15 | - | AS-16 | - | Raduga | Tu-22, Tu-160-based |
| Kh-16 | - | - | - | OKB-52 | Cruise-missile |
| Kh-20 | - | AS-3 | Kangaroo | Mikoyan | Tu-95K-based |
| Kh-22 | - | AS-4 | Kitchen | Raduga | Tu-22, Tu-95-based |
| Kh-45 | - | - | - | Raduga | Sukhoi T-4-based |
| Kh-55 | - | AS-15 | - | Raduga | Tu-95, Tu-160-based |
| KS-1 | G-300 (?) | AS-1 | Kennel | Mikoyan | Tu-4, Tu-16-based air to surface |
| KSR-1 | - | - | - | Bereznyak | - |
| KSR-2 | - | AS-5 | Kelt | Bereznyak | Air-launched |
| KSR-5 | - | AS-6 | Kingfish | Raduga | - |
| KSR-11 | - | AS-5B | - | Mikoyan | - |
| KRM | - | - | - | Bereznyak | air-launched |
| M-51 | 51 | - | - | OKB-23 | Project 1959-60; M-50-based |
| M-59 | - | - | - | OKB-23 | Project 1959-60 |
| M-61 | - | - | - | OKB-23 | Project 1959-60 |
| Malakhit | - | - | - | NPO Mash | Submarine and ship-based; Surface and underwater launched |
| Meteorit-H/M (Grom) | 3M25 | SSC-X-5 | - | NPO Mash | Sea-based missile tested in 1985-1990, but not adopted. (133) |
| P-5/P-5D | - | - | - | NPO Mash | Submarine-based, surface-launched |
| P-6 | - | - | - | NPO Mash | Submarine-based, surface-launched |
| P-10 | - | - | - | Beriev | Competitor to P-5. Canceled. |
| P-15 | - | - | - | Bereznyak | Surface-ground |
| P-20S | - | - | - | OKB-240 | Project of a cruise missile |
| P-100 | - | - | - | OKB-49 | Project of a cruise missile |
| P-35 | - | - | - | NPO Mash | Surface ship-based |
| Progress | - | - | - | NPO Mash | Surface ship-based |
| R-15 | G-5 | - | - | Branch 1 NII-88 | Project of a cruise missile |
| R-55 Granat | RK-55 | SSC-4 | Slingshot | KB Novator | Test version |
| Tu-121 | 121, S | - | - | OKB-156 | Project of a cruise missile |
| Tu-123 | 123 | - | - | OKB-156 | Project of a cruise missile |
| Tu-133 | 133, SD | - | - | OKB-156 | Project of a cruise missile |
| Tu-123 | 123 D | - | - | OKB-156 | Project of a cruise missile |
| Yakhont | - | - | - | NPO Mash | Surface, underwater and air-launched |
---
This page is maintained by Anatoly Zak
Last update: November 3, 2015
All rights reserved
PICTURE GALLERY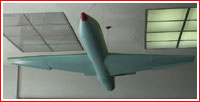 The cruise missile designated 212 was developed at RNII research institute in Moscow. It flew twice in 1939. Copyright © 2001 Anatoly Zak
---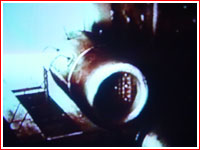 Test firing of Chelomei's "pulsating" engine, later employed in cruise missile technology. Credit: NPO Mash
---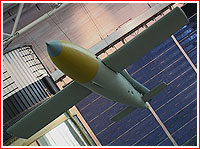 At the end of World War II, Soviet engineers evaluated German V-1 winged missile. Copyright © 2001 Anatoly Zak
---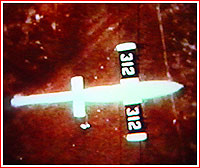 A still from a video shows Soviet "duplicate" of the German V-1 missile, seconds after separation from its carrier aircraft, during trials in the USSR. Credit: NPO Mash
---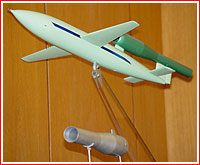 Scale models of Chelomei's pulsating engine (bottom), and 10Kh cruise missile (top). Copyright © 2002 Anatoly Zak
---

The 10KhN missile sitting on the launch ramp. Credit: NPO Mash
---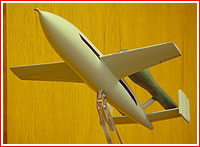 A scale model of the twin-engine 16Kh cruise missile. Copyright © 2002 Anatoly Zak
---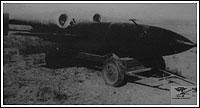 The 16Kh missile. Credit: NPO Mash
---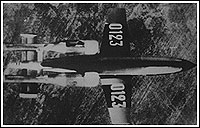 The 16Kh missile photographed seconds after separation from the carrier aircraft. Credit: NPO Mash
---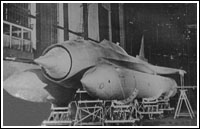 Burya intercontinental cruise missile, the Soviet largest winged rocket. Credit: Lavochkin
---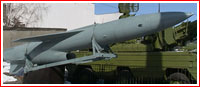 The P-5 submarine-based cruise missile equipped with self-guided warhead. The missile was designed to strike sea-based targets. Copyright © 2001 by Anatoly Zak
---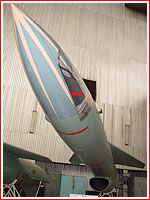 The P-6 cruise missile. Copyright © 2002 Anatoly Zak
---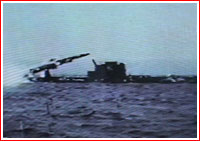 Launch of the P-type cruise missile from a submarine. Credit: NPO Mash
---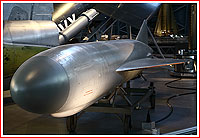 Pairs of P-15 cruise missiles were carried onboard a dozen of Soviet Navy speed boats deployed in Cuba. Copyright © 2008 Anatoly Zak
---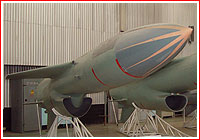 The P-35 cruise missile, developed in 1960s for coastal defenses within Redut complex. Copyright © 2002 Anatoly Zak
---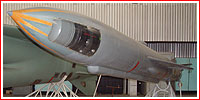 The Ametist missile. Copyright © 2002 Anatoly Zak
---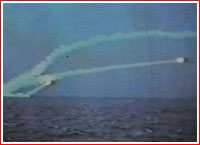 A salvo launch of cruise missiles from a submerged submarine. Credit: NPO Mash
---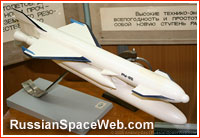 A torpedo-carrying 85 RU (aka RU-85) anti-submarine missile. Copyright © 2005 Anatoly Zak
---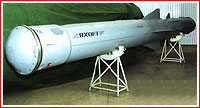 The Yakhont missile, shown with solid-fuel launching-accelerator stage attached to its front end. Credit: NPO Mash
---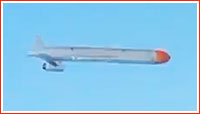 A cruise missile launched from a Tu-95MS bomber during an exercise on Oct. 30, 2013.