---
Searching for details:
The author of this page will greatly appreciate comments, eyewitness accounts, documents and imagery related to the subject. Please contact Anatoly Zak.
---
A naval component of French nuclear forces consisted of submarine-based ballistic missiles, collectively known as MSBS, or Mer-Sol-Balistique-Strategique.
---
Deployment
The first version of the MSBS system, designated M1 was deployed in 1971 Three years later it was replaced by the M2 missile capable of logner range. In 1977, the M20 version was fielded, which featured a warhead section protected by a special fairing. It covered hardened reentry vehicle with a one-megaton warhead and a system of penetration aides. All three missiles had two stages and a range of 1,800 miles.
In 1985, the new submarine, Inflexible, entered service fielding three-stage M4 missiles boasting increased range and multiple 150 kiloton reentry vehicles. The M4 was fired for the last time in 1992 from submarine Foudroyant.
A three-stage M4 missile had a range of 4,000 kilometers and featured inertial guidance system. The first stage was made out of flow-turned 40 CDV 20 alloy, while both upper stages were made of wound synthetic fiber.
By 1996, the M45 missiles equipped with penetration aides was to enter the service, while even more advanced system, the M5 was to enter service at the beginning of the 21st century.
---
Known specifications of the M4 silo-based missile (223):
| | |
| --- | --- |
| Launch mass | 35 tons |
| Main diameter | 1.93 meters |
| Missile height | 11.05 meters |
| Missile range | 4,000 kilometers (2,400 miles) |
| STAGE I: | |
| Propellant weight | 20 tons |
| Propulsion system | Solid-propellant motor with a single steerable nozzle |
| Propulsion system thrust | 70 tons |
| STAGE II: | |
| Propellant weight | 8 tons |
| Propulsion system | Solid-propellant motor with a single steerable nozzle |
| Propulsion system thrust | 30 tons |
| STAGE III: | |
| Propellant weight | 1.5 tons |
| Propulsion system | Solid-propellant motor with a single steerable nozzle |
| Propulsion system thrust | 7 tons |
---
MEDIA ARCHIVE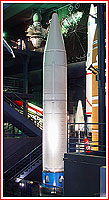 The MSBS (M-1) missile. Click to enlarge: 194 x 400 pixels / 28K Copyright: © 2005 Anatoly Zak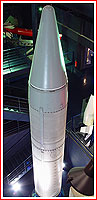 The MSBS (M-1) missile. Click to enlarge: 194 x 400 pixels / 28K Copyright: © 2005 Anatoly Zak
---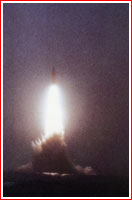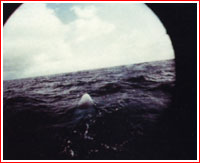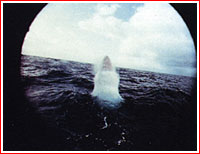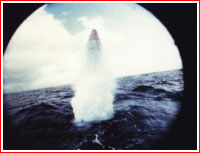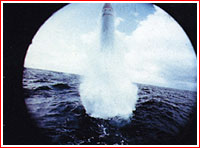 The launch of the MSBS (M-4) missile. Credit: Aerospatiale
---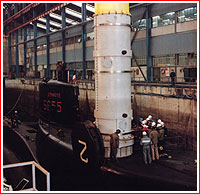 The loading of the MSBS missile into the submarine launcher. Credit: Aerospatiale
---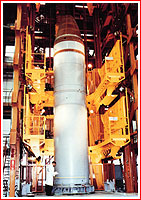 The processing of the MSBS (M-4) missile. Credit: Aerospatiale
---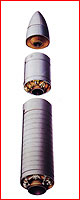 The MSBS (M-4) missile. Credit: Aerospatiale
---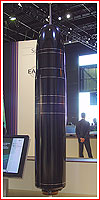 Scale model of the MSBS (M-51) missile developed at the turn of the 21st century. Click to enlarge: 200 x 400 pixels / 28K Copyright: © 2005 Anatoly Zak