Russian space activities in 2019
At the beginning of the year, Roskosmos promised 45 launches of rockets and missiles built by the Russian industry within the Roskosmos State Corporation in 2019. They included plans for 32 launch attempts to deliver spacecraft into orbit. However, these numbers did not include test firings of submarine-based missiles. Around five or six military orbital launches were promised from Plesetsk and as many as 19 from Baikonur. In November 2018, the Russian emergency agency, MChS, also announced plans for launches of six remote-sensing satellites, including radar-carrying spacecraft before the end of 2019. The Ministry of Defense also promised to deploy 31 Yars and Avangard launchers, four Tu-95 cruise-missile-carrying aircraft and the Knyaz Vladimir submarine with Bulava missiles during 2019.
---
For missions in 2018 click here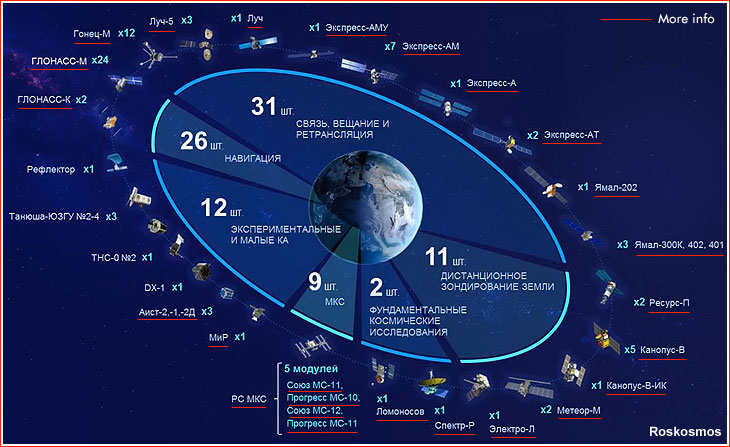 Russian orbital assets included 91 spacecraft as of May 14, 2019, according to Roskosmos. There is no independent confirmation of the operational status of some satellites and others officially listed as part of the constellation were known to be inoperable or crippled. In December 2019, Roskosmos said that Russian orbital assets included 92 civilian, scientific and navigation satellites. According to ISS Reshetnev, in December 2019, the Russian orbital assets (military and civilian) included 163 satellites, including 104 spacecraft developed by the company.
---
Year-end results
In reality, by the end of 2019, Russia made 25 orbital launch attempts, but remarkably, all of them were successful, discounting a non-fatal anomaly during the launch of Egyptsat-A. Even more remarkable, 2019 became only the third year after 2003 and 2001 without launch accidents for the Russian space program during the entire post-Soviet period. In the three space decades of the USSR, not a single year, except for 1957, went without a launch failure.
Still, Deputy Prime Minister Yuri Borisov in an interview with Rossiya 24 TV channel on December 27 said that Russia was able to complete only slightly more than 50 percent of the planned space launches in 2019. Borisov also pointed out that only six out of 19 planned facilities at the new Vostochny spaceport had been declared operational and 20 billion rubles allocated for the project remained unspent. According to Borisov, a meeting in Sochi at the beginning of the month, chaired by the Russian president, reviewed the status of the Russian military space assets and resulted in the formation of a commission charged with reporting to Putin not later than January 20, 2020, on the causes for lagging schedules. Various catch-up measures were also in the works, Borisov said.
However Head of Roskosmos Dmitry Rogozin explained the unfulfilled launch schedule "first of all" by late delivery of foreign-produced OneWeb satellites which required the postponement of multiple launches of Soyuz-2 rockets. Rogozin also cited tough US sanctions on the supplies of space-grade electronics to Russia as the reason for delays with the nation's military payloads. He also mentioned "organizational" problems and admitted that some commercial payloads had gone to Roskosmos' foreign competitors providing launch services.
Also, using a Twitter account, which is attributed to a space robot, but clearly under Rogozin's control, Roskosmos fired back at Borisov. "In any other country, the leadership of a company that outperformed the results of the previous year by 25 percent would be thanked and not publicly bad-mouthed," the "robot" wrote. (Russia performed 20 launches in 2018.) This was not the first time that Rogozin publicly rebuked his boss in the government.
In 2019, Russia also announced launches of five ICBMs and five submarine-based missiles. Rogozin cited the launch of 12 military missiles, but during a traditional meeting with the Russian president on the eve of Cosmonautics Day on April 10, 2020, Rogozin said that a total of 10 military rocket systems produced by companies within Roskosmos conducted launches in 2019.
The world's orbital launch attempts in 2019 (as of March 18, 2023 ):
1

China

Jan. 10

17:11:04.838 UTC

Zhongxing-2D

Application / communications

Chang Zheng-3B/E

Xichang

2

-

Success
2

USA

Jan. 11

07:31:33.492 Pacific Time

Iridium-Next 8-1, Iridium-Next 8-2, Iridium-Next 8-3, Iridium-Next 8-4, Iridium-Next 8-5, Iridium-Next 8-6, Iridium-Next 8-7, Iridium-Next 8-8, Iridium-Next 8-9, Iridium-Next 8-10

Application / communications

Falcon-9 B1049

Vandenberg

SLC-4E

E

Success
3

Iran

Jan. 15

00:30 UTC

Payam

Experimental

Simorgh

Semnan

2

2

Failure
4

Japan

Jan. 18

05:00:20 UTC

RAPIS-1, RISESAT,
MicroDragon,
OrigamiSat-1,
NEXUS,
Aoba VELOX-4,
ALE-1

Experimental

Epsilon-4 S/N-4

Uchinoura

-

-

Success
5

USA

Jan. 19

11:10 a.m. Pacific Time

NROL-71/USA-290

Military / reconnaissance (?)

Delta-4 Heavy (D-382)

Vandenberg

SLC-6

-

Success
6

China

Jan. 21

13:42:20.984 Beijing Time

Jilin-1-01, Jilin-1-02, Lingque-1A, Xiaoxiang-1-03

Application / remote sensing

Chang Zheng-11 (Y6)

Jiuquan

-

-

Success
7

India

Jan. 24

23:37 India Standard Time

KalamSat-v2, Microsat-R

Application / remote sensing

PSLV-DL (C44)

Sriharikota

FLP

1

Success
8

Europe

Feb. 5

6:01:07 p.m. French Guiana time

HallasSat-4/Saudi Geostationary Satellite-1, GSAT-31

Application / communications

Ariane-5 (VA-247)

-

Success
9

Iran

Feb. 5

-

Dostij

Experimental

Simorgh (Safir-1B)

Semnan

1

1

Failure
10

Feb. 21

19:47 Moscow Time

6

Success
11

USA

Feb. 21

8:41 p.m. EST

Nasatara Satu (PSN-6), Beresheet lunar lander, S5

Application / communications, Planetary / Lunar, Military

Falcon-9 B1048

Cape Canaveral

SLC-40

-

Success
12

Feb. 27

6:37 p.m. French Guiana time

-

Success
13

USA

March 2

2:49:03 a.m. EST

Dragon-V2 (SpX-DM1)

Piloted / unPiloted test

Falcon-9-070 (B1051)

Cape Canaveral (KSC)

39A

A

Success
14

China

March 9

16:28:04.5408 UTC

Zhongxing-6C

Application / communications

Chang Zheng-3B/G2

Xichang

2

-

Success
15

March 14

5

Success
16

USA

March 16

8:26:00.1 p.m. EDT

Wideband Global Satcom, WGS-10

Military / communications

Delta-4-Medium+ (5,4)

Cape Canaveral

37B

B

Success
17

Europe

March 21

22:50:35 French Guiana time

Prisma

Application / remote sensing

1

Success
18

China

March 27

17:39 Beijing Time

Lingque-1B (ZG6U)

Experimental

OS-M1 (Chongqing-Liangjiang Star)

Jiuquan

-

-

Failure
19

USA

March 28

23:57 UTC

R3D2

Experimental

Electron

Mahia

-

-

Success
20

China

March 31

15:51 UTC

Tianlian-2-01

Communications / Data relay

Chang Zheng-3B/E

Xichang

-

-

Success
21

India

April 1

9:30 Indian Standard Time

EMISat, Flock-4a-1 (Dove 2218), Flock-4a-2 (Dove 2201), Flock-4a-3 (Dove 2206), Flock-4a-4 (Dove 2220), Flock-4a-5 (Dove 2227), Flock-4a-6 (Dove 220B), Flock-4a-7 (Dove 222D), Flock-4a-8 (Dove 2213), Flock-4a-9 (Dove 2224), Flock-4a-10 (Dove 2205), Flock-4a-11 (Dove 2223), Flock-4a-12 (Dove 2209), Flock-4a 13 (Dove 220C), Flock-4a-14 (Dove 222C), Flock-4a-15 (Dove 2207), Flock-4a-16 (Dove 222B), Flock-4a-17 (Dove 2212), Flock-4a-18 (Dove 2215), Flock-4a-19 (Dove 2235), Flock-4a-20 (Dove 2232), Lemur-2-96, Lemur-2 -97, Lemur-2 -98, Lemur-2 -99, BlueWalker-1 (BW-1), M6P, Astrocast-0.2, AISTECHSAT-3 (Danu Pathfinder), AIS, APRS, ARIS

Application

PSLV-C45 (QL)

Sriharikota

-

-

Success
22

April 4

6

Success
23

April 4

Application / communications

-

Success
24

USA

April 12

22:35 UTC

Arabsat-6A

Application / communications

Falcon Heavy

Cape Canaveral, KSC

39A

A

Success
25

USA

April 17

4:46 p.m EDT

Cygnus

NG-11 (CRS-11,

Roger Chaffee

)

Piloted / cargo supply

Wallops Isl.

LP-0A

A

Success
26

China

April 20

14:41 UTC

Beidou-3IGSO-1 (Beidou-44)

Application / navigation

Chang-Zheng-3B/G2

Xichang

3

-

Success
27

China

April 30

06:52:05.017 Beijing Time

Tianhui 2-01-1, Tianhui 2-01-2

Application / remote sensing

Chang Zheng-4B

Taiyuan

-

-

Success
28

USA

May 4

02:48 EDT

Dragon SpX-17 (CRS-17) OCO-3, STP-H6

Piloted / cargo supply

Falcon-9-071 (B1056.1)

Cape Canaveral

SLC-40

-

Success
29

USA

May 5

06:00 UTC

Harbinger, SPARC-1 (Space Plug and Play Architecture Research CubeSat-1), Falcon ODE (Falco Orbital Debris Experiment)

Military / Experimental

Electron

Mahia

1

-

Success
30

China

May 17

15:49 UTC

Beidou-2G8 (45)

Application / navigation

Chang Zheng-3C/G2 (Y16)

Xichang

2

-

Success
31

India

May 22

00:00 UTC

RISAT-2B

Application / remote sensing

PSLV-CA (C46)

Sriharikota

-

-

Success
32

China

May 23

06:49 Beijing Time

Yaogan-33

Military / radar reconnaisance

Chang Zheng-4C

Taiyuan

9

-

Failure
33

USA

May 23

10:30 p.m. Eastern Time

Starlink (1), Starlink (2), Starlink (3), Starlink (4), Starlink (5), Starlink (6), Starlink (7), Starlink (8), Starlink (9), Starlink (10), Starlink (11), Starlink (12), Starlink (13), Starlink (14), Starlink (15), Starlink (16), Starlink (17), Starlink (18), Starlink (19), Starlink (20), Starlink (21), Starlink (22), Starlink (23), Starlink (24), Starlink (25), Starlink (26), Starlink (27), Starlink (28), Starlink (29), Starlink (30), Starlink (31), Starlink (32), Starlink (33), Starlink (34), Starlink (35), Starlink (36), Starlink (37), Starlink (38), Starlink (39), Starlink (40), Starlink (41), Starlink (42), Starlink (43), Starlink (44), Starlink (45), Starlink (46), Starlink (47), Starlink (48), Starlink (49), Starlink (50), Starlink (51), Starlink (52), Starlink (53), Starlink (54), Starlink (55), Starlink (56), Starlink (57), Starlink (58), Starlink (59), Starlink (60)

Application / communications

Falcon-9 B1049.3

Cape Canaveral

SLC 40

-

Success
34

May 27

09:23 Moscow Time

4

Success
35

May 30

20:42:00 Moscow Time

39

Success
36

China

June 5

12:06 local time

Jilin-1 Gaofen-3A, Bufeng-1A, Bufeng-1B, Xiaoxiang-1 (04), Tianqi-3 'Tao Xingzhi', Zhongdianwangtong-1A, Zhongdianwangtong-1B


Experimental

Chang Zheng-11

Yellow Sea

Floating platform

-

-
37

USA

June 12

14:17 UTC

Radarsat C-1, Radarsat C-2, Radarsat C-3

Application / remote sensing

Falcon-9

Vandenberg

-

-

Success
38

Europe

June 20

6:43 p.m. French Guiana

T-16, Eutelsat-7C

Application / communications

Ariane-5 ECA (VA248)

-

Success
39

China

June 24

18:09:04.518 UTC

Beidou-3 IGSO-2 (Beidou-46)

Military / navigation

Chang Zheng-3B

Xichang

3

-

Success
40

USA

June 25

2:30 a.m. EDT

Space Test Program-2 (STP-2)

Military / experimental

Falcon Heavy

Cape Canaveral

39A

A

Success
41

USA

June 29

04:30 UTC

BlackSky Global-3, Prometheus (1), Prometheus (2), ACRUX-1, SpaceBEE-8, SpaceBEE-9, Painani

Experimental

Electron

Mahia

-

-

Success
42

July 5

Meteor-M No. 2-2

, Momentus X1, NSLSat-1, Lemur-2 (100), Lemur-2 (101) Lemur-2 (102), Lemur-2 (103), Lemur-2 (104), Lemur-2 (105), Lemur-2 (106), Lemur-2 (107), Lemur-2 (108), JAISAT-1, EXOCONNECT, D-Star One (Lightsat), Lucky-7, SEAM-2.0, MTCube, SONATE, Beesat-9, Beesat-10, Beesat-11, Beesat-12, Beesat-13, MOVE-2b, TTU-100, Ecuador-UTE, ICEYE-X4, ICEYE-X5, DoT-1, MKA Sokrat, VDNKhA-80, AmurSat (AmGU-1)

-

Success
43

July 10

20:14 Moscow Time

Kosmos-2535, Kosmos-2536, Kosmos-2537, Kosmos-2538

4

Success
44

Europe

July 10

22:53:03 French Guiana time

Falcon Eye-1

Application / remote sensing

-

Failure
45

15:30:57 Moscow Time

24

Success
46

July 20

1

5

Success
47

India

July 22

2:43 India Standard Time

Chandrayaan-2

Planetary / lunar

GSLV MkIII-M1

Sriharikota

-

-

Success
48

USA

July 25

6:24 p.m. EDT

Dragon SpX-18 (CRS-18)

Piloted / cargo supply

Falcon-9-074 (B1056.2)

Cape Canaveral

SLC-40

-

Success
49

China

July 25

13:00:00.278 Beijing Time

Xingshidai-6, Bei Lilong-1 CAS-7B

Experimental / communications

Shuang Quxian-1 SQX-1 (Y1)

Jiuquan

-

-

Success
50

China

July 26

11:57 Beijing Time

Yaogan-30-05, Yaogan-30-05, Yaogan-30-05

Military / reconnaissance

Chang Zheng-2C

Xichang

-

-

Success

51

July 30

08:56 Moscow Time

4

Success
52

July 31

6

Success

53

August 6

00:56:00.008 Moscow Time

24

Success
54

Europe

August 6

4:30:07 p.m. French Guiana time

INTELSAT-39, EDRS-C/Hylas-3

Application / communications

Ariane-5 ECA (VA249)

-

Success
55

USA

August 6

7:23:00.538 p.m. EDT

AMOS-17

Application / communications

Falcon-9-075 (B1047.3)

Cape Canaveral

SLC-40

-

Success
56

USA

August 8

6:13:00.246 a.m. EDT

AEHF-5, TDO (12U cubesats)

Military / communications

Atlas-5 (551) (AV-084)

Cape Canaveral

SLC-41

-

Success
57
China
August 17
12:11:40 Beijing Time
Qiansheng yi hao-01, Xing Shidai-5, Tianqi er hao
Application / remote sensing / communications
Jielong-1, (Smart Dragon, SD-1)
Jiuquan
Mobile
-
Success
58
China
August 19
20:03:04.655 Beijing Time
Zhongxing-18
Application / communications
Chang Zheng-3B
Xichang
LC-2
-
Success*
59
USA
August 20
12:12 a.m. New Zeland Time

Global-4 (BlackSky), ??? (UNSEENLABS), US Air Force (1), US Air Force (2)

Experimental
Electron
Mahia
LC-1
-
Sucess
60

August 22

31

6

Success
61
USA
August 22
9:06:00.167 a.m. EDT
GPS-3 SV02 (USA-293)
Application / navigation
Delta-4 Medium+ (4,2)
Cape Canaveral
37B
B
Success
62
Russia
August 30
17:00 Moscow Time
Kosmos-2540 (Geo-IK-2 No. 3)
Military / geodesy

3

Success
63

China

August 31

07:41 local time

Wei Zhongli Jishu Shiyan Weixing (KX-09), Xiaoxiang yihao (XX1-07)

Experimental

Jiuquan

-

-

Success
64

China

Sept. 12

11:26 Beijing Time

Ziyuan-2D, Jingshi-1, Taurus Naxing-3

Application / remote-sensing

Chang Zheng-4B

Taiyuan

9

-

Success
65

China

Sept. 19

14:42:00.275 Beijing Time

Zhuhai-1 Group 03 (OHS-3 - Chunlei Jìhua Zhixing,
OHS-3A - Fenbie Shì Xihai'an-1,
OHS-3B - Feitian Maotai,
OHS-3C - Gaomi-1, OVS-3D - Guoyuan V9)

Application / remote-sensing

Chang Zheng-11

Jiuquan

43/95

-

Success
66

China

Sept. 23

05:10:04.639 Beijing Time

Beidou-47 (3-M23), Beidou-48 (3-M24)

Application / navigation

Chang Zheng-3B

07-107

2

Success
67
China
Sept. 25
00:54 UTC
Yunhai-1-02
Science / atmosphere

Chang Zheng-2D

Jiuquan

-

-

Success
68
Japan
Sept. 25
01:05 Japan Time
HTV-8
Cargo supply

H-2B

Tanegashima
-
-
Success
69
Russia
Sept. 25

16:57:42.701 Moscow Time

Soyuz MS-15
Piloted

5

Success
70

Sept. 26

10:46 Moscow Time

4

Success
71

China

Oct. 5

02:51 Beijing Time

Gaofen-10 (2)

Application / remote sensing

Chang Zheng-4C

Taiyuan

9

-

Success
72
Russia
Oct. 9
13:17:56 Moscow Time
Eutelsat-5 West-B, MEV-1
Application / communications

39

Success
73
USA
Oct. 11
-
ICON (MIDEX-8, Helio EX-1, Explorer-96)
Science

Pegasus-XL

-
L-1011
-
Sucess
74
USA
Oct. 17
01:22 UTC
Palisade
Experimental

Electron

Mahia
LC-1
-
Sucess
75
China
Oct. 17
15:21 UTC
Tongxin jishu shiyan weixing si hao (TJS-4) Communication Technology Test Satellite-4
Experimental

Chang Zheng-3B

Xichang

-

-

Success
76
USA
Nov. 2
9:59 a.m. Eastern Time
Cygnus NG-12 S.S. Alan Bean (CRS-12)
Piloted / cargo supply

Antares

Wallops Island
-
-
Success
77
China
Nov. 3
11:22 Beijing Time
Gaofen-7, Exquisite High Score Test Satellite, Sudan Scientific Experiment Satellite-1, Tianyi-15
Application / remote sensing

Chang Zheng-4B

Taiyuan
-
-
Success
78
China
Nov. 4
01:43:04.482 Beijing Time
Beidou-3 (49)
Military / navigation

Chang Zheng-3B

Xichang
LC-3
-
Success
79
USA
Nov. 11
9:56 a.m. EST
Starlink (61), Starlink (62), Starlink (63), Starlink (64), Starlink (65), Starlink (66), Starlink (67), Starlink (68), Starlink (69), Starlink (70), Starlink (71), Starlink (72), Starlink (73), Starlink (74), Starlink (75), Starlink (76), Starlink (77), Starlink (78), Starlink (79), Starlink (80), Starlink (81), Starlink (82), Starlink (83), Starlink (84), Starlink (85), Starlink (86), Starlink (87), Starlink (88), Starlink (89), Starlink (90), Starlink (91), Starlink (92), Starlink (93), Starlink (94), Starlink (95), Starlink (96), Starlink (97), Starlink (98), Starlink (99), Starlink (100), Starlink (101), Starlink (102), Starlink (103), Starlink (104), Starlink (105), Starlink (106), Starlink (107), Starlink (108), Starlink (109), Starlink (110), Starlink (111), Starlink (112), Starlink (113), Starlink (114), Starlink (115), Starlink (116), Starlink (117), Starlink (118), Starlink (119), Starlink (120)
Application / communications

Falcon-9

Cape Canaveral
SLC-40
-
Success
80
China
Nov. 13
11:40 Beijing Time

Jilin-1 Gaofen 02A

Application / remote-sensing
Jiuquan
-
-
Success
81
China
Nov. 13
14:35 Beijing Time

Ningxia-1 (1), Ningxia-1 (1), Ningxia-1 (1), Ningxia-1 (1), Ningxia-1 (1)

Application / remote sensing

Chang Zheng-6

Taiyuan

-
-
Success
82
China
Nov. 17
10:00:02 UTC
KL-Alpha A,
KL-Alpha B
-
Jiuquan
-
-
Success
83

China

Nov. 23

00:55:54.831 UTC

Beidou-3M21 (Beidou-50), Beidou-3M22 (Beidou-51)

Military / navigation

Chang Zheng-3B/YZ-1

Xichang

07-110 LC-3

-

Success
84
Russia
Nov. 25
20:52 Moscow Time
Kosmos-2542, Kosmos-2543
Military / inspection
Plesetsk
43
4
Success
85
Europe
Nov. 26
21:23:07.3 UTC
TIBA-1, Inmarsat-5 F5 (GX-5)
Application / communications

Ariane-5 ECA (VA-250)

-

Success
86
India
Nov. 27
03:58 UTC

Cartosat-3, Meshbed, Flock-4p-1, Flock-4p-2, Flock-4p-3, Flock-4p-4, Flock-4p-5, Flock-4p-6, Flock-4p-7, Flock-4p-8, Flock-4p-9, Flock-4p-10, Flock-4p-11, Flock-4p-12

Application / remote sensing
PSLV (C-47)

Sriharikota

-

-

Success
87
China
Nov. 29
23:52 UTC
Gaofen-12
-

Chang-Zheng-4C

Taiyuan

LC-9
-
Success
88
USA
Dec. 5
12:29 p.m. EST

Dragon SpX-19 (CRS19), HISUI, CIRiS, EdgeCube, PTD-1

Falcon-9-077 B1059.1

Cape Canaveral

SLC-40

-

Success
89
Russia
Dec. 6

12:34:11 Moscow Time

6

Success
90

USA

Dec. 6

22:22 New Zeland Daylight Time

ALE-2, ATL-1, FossaSat-1, NOOR-1A, NOOR-1B, SMOG-P, TRSi Sat


Experimental

Electron

Mahia

LC-1

-

Success
91

China

Dec. 7

10:55 Beijing Time

Jilin-1 (Gaofen-02B)

Application / remote-sensing

Kuaizhou-1A

Taiyuan

-

-

Success
92

China

Dec. 7

16:52 Beijing Time

HEAD-2A, HEAD-2B (Skywalker), Tianyi-16 (Spacety-16), Tianyi-17 (Spacety-17), Tianqi-4A, Tianqi-4B,

Remote sensing, IoT

Kuaizhou-1A

Taiyuan

LC-16

-

Success
93

Dec. 11

11:54 Moscow Time

3

Success
94

India

Dec. 11

15:25 India Standard Time

RISAT-2BR1, QPS-SAR-1 (Izanagi), 1HOPSat-TD, PTD-1 (Pathfinder, Tyvak 0129), Lemur-2x1, Lemur-2x2, Lemur-2 x3, Lemur-2x4, COMMTRAIL (Tyvak 0092), Duchifat 3

Application

PSLV-QL C48

Sriharikota

-

-

Success
95

China

Dec. 16

15:22 Beijing Time

BeiDou-3M19, Beidou-3M20

Military / navigation

Chang Zheng-3A

Xichang

-

-

Success
96

USA

Dec. 16

7:10 p.m. EST

JCSat-18, Kacific-1

Application / communications

Falcon-9

Cape Canaveral

SLC-40

-

Success
97

Dec. 18

5:54 a.m. French Guiana time

Millitary / observation

-

Success
98
China
Dec. 20

03:22:29.171 UTC

CBERS-4A (Ziyuan-1 04A), ETRSS-1, FloripaSat-1, Tianqin-1/CAS-6, Weilai-1R (Guozhi Henghao Nianjing 1), Tianyan-01 (MN50-2), Xingshidai-8 / Tianyan-02 (MN6U-2), Yuheng, Shuntian

Application / remote sensing

Chang Zheng-4B

Taiyuan

LC-9

05-71

Success
99

USA

Dec. 20

6:36:43 a.m. EST

CST-100 Starliner

Piloted / automated test

Atlas-5

Cape Canaveral

SLC-41

-

Success**
100

Dec. 24

15:03:02 Moscow Time

Application / weather

24

Success
101

Dec. 27

02:11 Moscow Time

3

Success
102

China

Dec. 27

20:45:10.526 Beijing Time

Shijian-20

Application / communications

Chang Zheng-5 (Y3/07-W4)

Wenchang

-

-

Success
The 2019 space launch score card (as of March 18, 2023 ):
Chang Zheng-3B/E:
10

Falcon-9:
11

Ariane-5:
4

PSLV:
5

Simorgh:
2*

Epsilon:
1

Chang Zheng-11:
3

Electron:
6

GSLV MkIII-M1:
1

H-2B:
1

OS-M1:
1*

Delta-4 Heavy:
2

Chang Zheng-4B:
4

Falcon Heavy:
2

Chang Zheng-3C:
1

Chang Zheng-4C:
3 (1*)

Atlas-5:
2

Shuang Quxian-1:
1

Delta-4 Medium:
1

Chang Zheng-2C:
1

Pegasus-XL:
1

Chang Zheng-2D:
1

Jielong-1:
1

China total:
34

USA total:
27

Russia total:
25

Europe total:
6

India total:
6

Iran total:
2

Japan total:
2

World total:
102

China failed:
2

USA failed:
0

Russia failed:
0

Europe failed:
1

India failed:
0

Iran failed:
2

Japan failed:
0

World failed:
5

Xichang:
13

Cape Canaveral:
15

Sriharikota:
5

Semnan:
2

Uchinoura:
1

Jiuquan:
8

Vandenberg:
3

Tanegashima:
1

Taiyuan:
10

Mahia, NZ:
6

Yellow Sea:
1

Wallops Isl.:
2

Wenchang:
1
---
---