Cygnus cargo ship
Developed by the Orbital Sciences Corporation, OSC, (now Orbital ATK), the Cygnus cargo ship became an unglamorous replacement for the Space Shuttle, or at least for its role of delivering cargo to the International Space Station, ISS.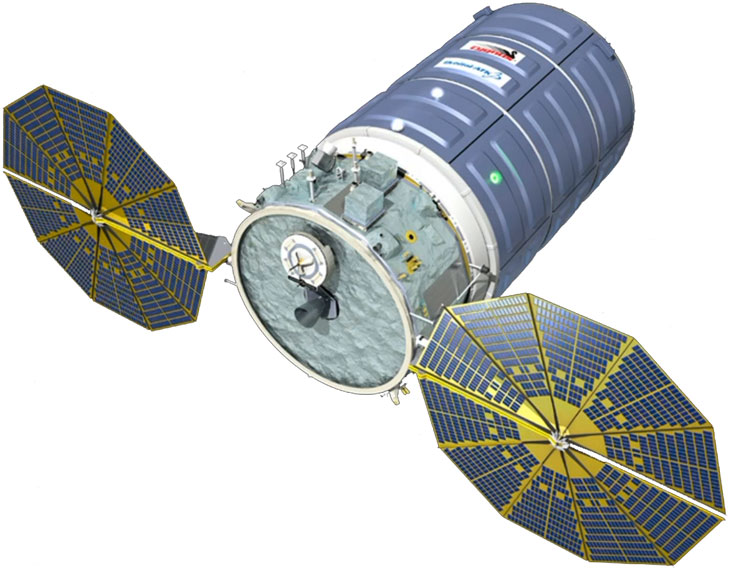 One of the variants of the Cygnus cargo spacecraft.
The Cygnus spacecraft at a glance:
| | |
| --- | --- |
| Liftoff mass | 6,173 kilograms |
| Ascent cargo mass | 2,425 - 3,515 kilograms |
| Descent cargo mass | 1,687 kilograms |
| Onboard propellant mass | 800 kilograms |
| Pressurized volume | 27 cubic meters |
| Length | 6.39 meters |
| Power supply system | Two fixed "UltraFlex" solar panels, ZTJ gallium arsenide cells |
| Power supply | 3,500 Watts (32 Volts in the main bus) |
| Power for hosted payloads | 1,300 Watts |
| Battery capacity | 20,262 Watt-hours |
| Onboard propellant | Nitrogen Tetroxide and 2H4/Mon-3 or N2H4 |
| Flight duration | 90 days (extendable up to a year after primary mission) |
| Docking system | Node 2 Common Berthing Mechanism, CBM |
| Launch vehicle | Antares-230 |
From the publisher: Pace of our development depends primarily on the level of support from our readers!
CRS contract
For the CRS-1 contract Orbital ATK promised to deliver approximately 30,000 kilograms of cargo to the ISS, and dispose of ISS waste, using Cygnus spacecraft. In 2016, Orbital ATK quoted six planned missions to the ISS through 2018 and under a second NASA contract -- CRS2 -- for another six missions, beginning in 2019. According to the company, a total of more than 50 tons of cargo would be delivered to the ISS from 2013 to 2024.
In addition to its cargo-delivery role, Orbital ATK pitched the vehicle to commercial users for a variety of tasks, such as launching small satellites and conducting experiments in microgravity.
Cygnus design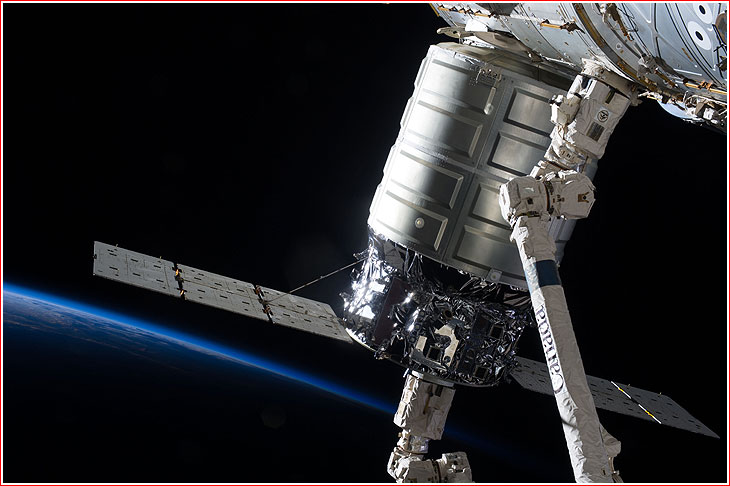 Astronauts onboard the International Space Station use a robotic arm to attach the first Cygnus cargo ship to the US segment of the station in 2013. Credit: NASA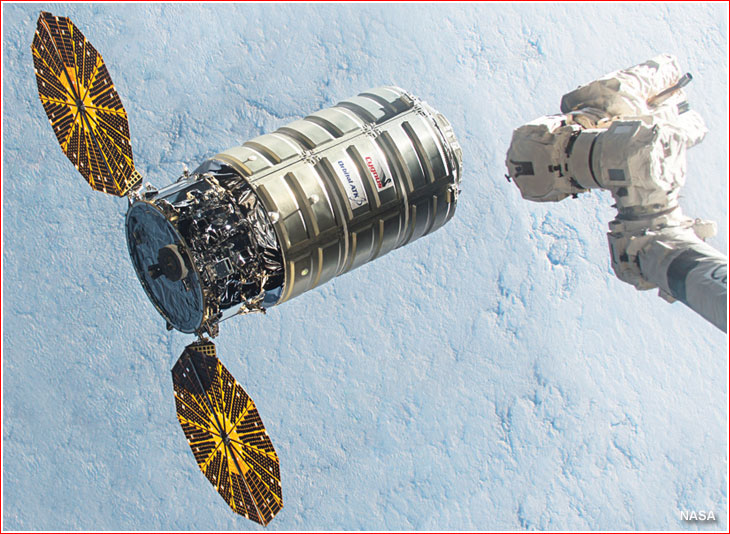 An upgraded version of the Cygnus cargo ship.
The Cygnus cargo ship can accommodate up to 3,515 kilograms of supplies in its Pressurized Cargo Module, PCM. The pressurized section is manufactured by Thales Alenia Space in Turin, Italy, and based on the company's Multi-Purpose Logistics Module, MPLM, which was carried in the Space Shuttle's cargo bay to resupply the International Space Station.
The same company also built similar barrel-shaped structures for the Space Shuttle's Spacelab and Spacehab modules and for the European Columbus module.
For the first three CRS missions, a standard PCM was employed to carry up to 2,300 kilograms of cargo. The
enhanced PCM designed to carry up to 3,500 kilograms of cargo was to be used in CRS missions four through eight.
The service module for the spacecraft is manufactured by Orbital ATK in Dulles, Virginia. The service module incorporates avionics systems from Orbital ATK's flight-proven LEOStar and GEOStar satellite series. The ship's propulsion and power systems were also borrowed from GEOStar communications satellites.
To control Cygnus flights in orbit, Orbital ATK set up mission control in Dulles, Va, which works in cooperation with NASA's main mission control at Johnson Space Center, JSC, in Houston, TX.
Flight profile
After several days in solo flight, Cygnus automatically approaches the ISS up to a distance of 12 meters with the help of satellite navigation and laser imaging. The ISS crew then uses the station's robotic arm to grab the ship and dock it to the US segment.
The ship can remain attached to the ISS for a period of up to 90 days, after which it is released in orbit for a destructive reentry into the Earth's atmosphere.
A complete list of Cygnus missions:
1

2013 April 21

5 p.m. EDT

Cygnus mass simulator, DOVE-1, PhoneSat v1a, PhoneSat v1b, PhoneSat v1c

Antares-110

Success
2

2013 Sept. 18

10:58:02 a.m. EDT

Cygnus Orb-D1 (COTS Demo)

Antares-110

Success
3

2014 Jan. 9

1:07:05 p.m. EST

Cygnus (Orb-1)

Antares-120

Success
4

2014 July 13

12:52 p.m. EDT

Cygnus Orb-2 (CRS-2)

Antares-120

Success
5

2014 Oct. 28

6:22:38 p.m. EDT

Cygnus Orb-3 (CRS-3)

Antares-130

Failure
6

2015 Dec. 6

4:44:57 p.m. EST

Cygnus OA-4 (CRS4) (enhansed)

Atlas-5 (401/AV-061)

Success
7

2016 March 22

11:05 p.m. EDT

Cygnus OA-6 (CRS6) (enhansed)

Atlas-5 (401/AV-064)

Success
8

2016 Oct. 17

7:45:40 p.m. EDT

Cygnus CRS OA-5 (Alan Poindexter)

Antares-230

Success
9

2017 Nov. 12

7:19:55 a.m. EST

Cygnus CRS-8 OA-8

Antares-230

Success
10

2018 May 21

4:44:09.7 a.m. EDT

Cygnus OA9 (CRS-9)

Antares-230

Success
11

2018 Nov. 17

4:01 a.m. EST

Cygnus-10 (CRS-10, NG-10, John Young)

Antares-230

Success

12
2019 April 17
4:46 p.m EDT
Cygnus NG-11 (CRS-11, Roger Chaffee)

Antares-230

Success
13
2019 Nov. 2
9:59 a.m. Eastern Time
Cygnus NG-12 (CRS-12,

Alan Bean

)

Antares-230+

Success
14
2020 Feb. 15
3:21:04.9 p.m. EST
Cygnus NG-13 (CRS-13, S.S. Robert Lawrence, Jr.)

Antares-230+

Success
15
2020 Oct. 2

9:16:14 p.m. EDT

Cygnus NG-14

(CRS-14, S.S. Kalpana Chawla)

Antares-230+

Success
16
2021 Feb. 20
12:36 p.m. EST
Cygnus NG-15 (CRS-15, S.S. Kathrine Johnson)

Antares-230+

Success
17
2021 Aug. 10
6:01:09.300 p.m. EDT
Cygnus NG-16 (CRS-16, Onizuka)

Antares-230+

Success
18
2022 Feb. 19
12:40 p.m. EST
Cygnus NG-17 (CRS-17, S.S. Piers Sellers)

Antares-230+

Success
19

2022 Nov. 7

Cygnus NG-18 (CRS-18, S.S. Sally Ride)

Antares-230+

Success
20
2023 Aug. 1
8:31:14 p.m. EDT

Cygnus NG-19 (CRS-19, S.S. Laurel Clark)

Antares-230+

Success
---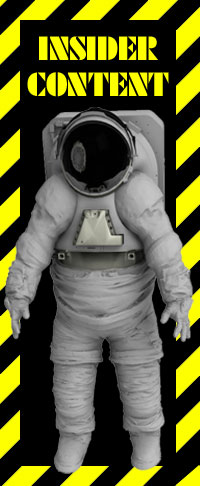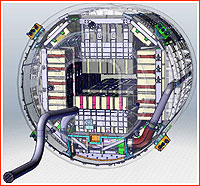 Internal layout of the Pressurized Cargo Module, PCM, for the Cygnus spacecraft. Credit: Orbital
---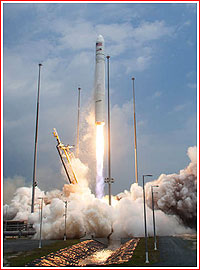 ---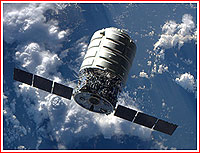 Original version of Cygnus spacecraft. Credit: NASA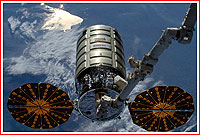 ---