---
---
---
---
---
---

---
---
---
---
---
---
---

---
---

---

---

---

---

---
---

---
Russian space program and rocket development in 2018
At the beginning of the year, Roskosmos listed 23 missions in its 2018 flight manifest, which if fulfilled, would increase the previous year's record of 21 attempts (including one failure). In reality, Russia performed 20 orbital launch attempts in 2018, including one failure, despite a false claim by the head of Roskosmos Dmitry Rogozin on December 29 about 22 launches.
---
For missions in 2017 click here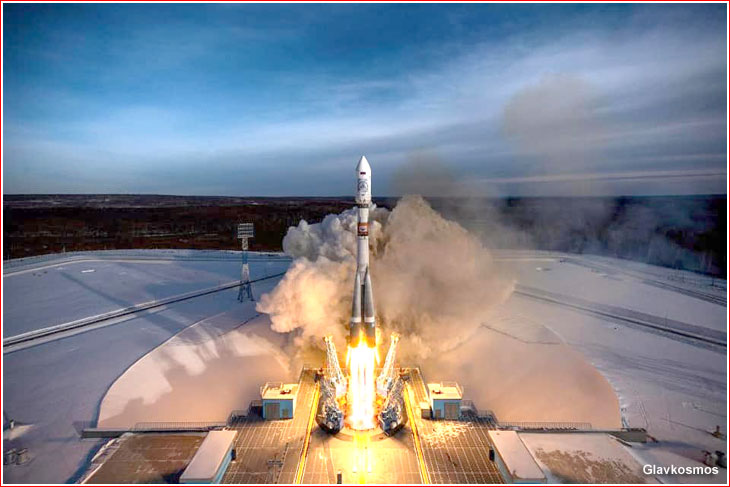 In his count, Rogozin likely included two suborbital launches of the 14A042 Nudol anti-satellite missile, bringing a total of launches from Plesetsk to eight. Even if their flights were successful, the Nudols are not known to carry satellites or to achieve orbital velocity. However, their designation contains letter "A" associated with space launch vehicles in the current Russian nomenclature.
In any case, as long expected, the annual launch rate left Russia in a distant third place after China and the United States in this key indicator of space activity. For comparison, on January 4, the official Chinese press promised 35 launches of the liquid-propellant Chang Zheng series of space rockets and five orbital shots of the solid-propellant Kuaizhou launchers. As of December 30, China had apparently made a total of 39 orbital launch attempts with one failure.
According to Rogozin, the Russian orbital assets increased by eight spacecraft, reaching a total of 156. In the official Roskosmos tally at the end of the year, Russia operated 89 civilian or dual-use spacecraft, including nine remote-sensing satellites, among them two for observation of natural resources, three for meteorology and four for monitoring of natural and man-made disasters.
In the field of military rocketry, the Russian Ministry of Defense promised to boost its strategic arsenal with 20 new Yars intercontinental ballistic missiles and to conduct 12 test launches, or twice as many as in 2017, according to the commander of Strategic Missile Forces, RVSN, Col. General Sergei Karakaev quoted by the Krasnaya Zvezda newspaper in December 2017. At the end of 2018, the Ministry of Defense confirmed that one regiment of Yars ballistic missiles had entered operational readiness. At the same time, the Peresvet laser battle complex and the Kinzhal aircraft-based ballistic missile system were reported as undergoing deployment tests.
In the course of the year, the Russian military also performed a salvo test launch of four Bulava ballistic missiles from the Yuri Dolgorukiy submarine and fired 12 Kh-101 cruise missiles from the Tupolev-160 aircraft. On December 26, Russia also claimed flight-testing an Avangard maneuverable reentry vehicle, while releasing footage of the Strela booster (converted from the Soviet-era UR-100NU ballistic missile) lifting off from a silo originally built for the R-36M-2 ICBM in the Dombarovsky deployment area. Satellite imagery revealed six such silos around Dombarovsky in the apparent process of being converted for the UR-100NU-based missiles.
The world's orbital launch attempts in 2018 (as of October 11, 2022 ):
1

USA

Jan. 8

01:00 GMT

Zuma (USA-280)

Military

Falcon-9 (048, B1043)

Cape Canaveral

SLC-40

-

Failure*

2

China

Jan. 9

11:24:33.475 Beijing Time

GaoJing-1 (3), GaoJing-1 (4)

Application / remote sensing

Chang Zheng-2D

Taiyuan

LC-9

-

Success

3

China

Jan. 12

07:18:04.434 Beijing Time

Beidou-3MEO7 (26), Beidou-3MEO8 (27)

Military / navigation

Chang Zheng-3B/Yuazheng-1

Xichang

LC-2

-

Success

4

India

Jan. 12

09:28 India Standard Time

Cartosat-2F, Microsat-TD, LEO Vantage-1 (Telesat Phase-1 LEO), Carbonite-2, ICEYE-X1, INS-1C, Arkyd-6, CICERO-7, Corvus-BC-3 (Landmapper), Lemur-2 (1), Lemur-2 (2), Lemur-2 (3), Lemur-2 (4), Flock-3p (1), Flock-3p (2), Flock-3p (3), Flock-3p (4), SpaceBEE (1), SpaceBEE (2), SpaceBEE (3), SpaceBEE (2), MicroMAS-2, PicSat, Canyval-X1, Canyval-X2, CNUSail-1, Kausat-5, SIGMA (Khusat-3), DemoSat-2, Tyvak-61C, Fox-1D, STEP Cube Lab

Application / remote sensing

PSLV

Sriharikota

-

-

Success

5

USA

Jan. 12

2:11 p.m. Pacific Standard Time

NROL-47 (Topaz-5, USA-281)

Military

Delta-4-M+ (5,2) D-379

Vandenberg

SLC-6

-

Success

6

China

Jan. 13

07:10 GMT

Ludikancha Weixing (LKW-3)

Military / reconnaissance

Chang Zheng-2D (Y49)

Jiuquan

LC-43/603

-

Success

7

Japan

Jan. 17

21:06:11 GMT

Asnaro-2

-

Epsilon

-

-

-

Success

8

China

Jan. 19

04:12 GMT

Jilin 1-07 (Dequing-1), Jilin 1-08, Huaian 'Zhou Enlan', Xiaoxiang-2 (TY-2 Tianyi-2), Quantutong-1 (QTT-1), Kepler-1

-

Chang Zheng-11

Jiuquan

-

-

Success

9

USA

Jan. 20

00:48:00 GMT

SBIRS-GEO-4

Military / Early warning

Atlas-5 (411, AV-076)

Cape Canaveral

SLC-41

-

Success

10

USA

Jan. 21

01:43 GMT

Dove-0F1C (Dove Pioneer), Lemur-2 (Tallhamn-ATC), Lemur-2 (Marshall)

Application / remote sensing

Electron

Mahia Peninsula

-

-

Success

11

China

Jan. 25

05:39 GMT

Yaogan 30 No. 10, Yaogan 30 No. 11, Yaogan 30 No. 12, NanoSat-1A

Military / reconnaisance

Chang Zheng-2C

Xichang

-

-

Success

12

Europe

Jan. 25

22:20 GMT

SES-14, Al Yah-3

Application / communications

Araine-5 ECA (VA-241)

-

Success**
13

USA

Jan. 31

21:25 GMT

GovSat-1 (SES-16)

Application / communications

Falcon-9

Cape Canaveral

SLC-40

-

Success
14

Feb. 1

05:07:18 Moscow Time

Kanopus-V No. 3

,

Kanopus-V No. 4

, S-Net-1, S-Net-2, S-Net-3, S-Net-4, Lemur-2-Kadi, Lemur-2-Thenickmolo, Lemur-2-Jin-Luen, Lemur-2-Uramchansol, D-StarOne

-

Success
15

China

Feb. 2

15:51:04.428 GMT

Zhangheng-1 (ZH-1), Fengmaniu-1, Shaonian Xing (Youth Star), ÑuSat-4 "Ada" (Aleph-1-4), ÑuSat-5 "Maryam" (Aleph-1-5), GomX-4A (Ulloriaq), GomX-4B

Science / geophysics

Chang Zheng-2D

Jiuquan

LC-43/94

-

Success
16

Japan

Feb. 3

-

Tricom-1R (Tasuki)

Application / experimental communications

SS-520-5

Uchinoura

-

-

Success
17

USA

Feb. 6

3:45:00 p.m. EDT

Tesla Roadster

Planetary / experimental

Falcon Heavy

Cape Canaveral (KSC)

39A

A

Success
18

China

Feb. 12

05:03:04.218

Beidou-3MEO3 (Beidou-28); Beidou-3MEO4 (Beidou-29)

Military / navigation

Chang Zheng-3B/YZ-1

Xichang

LC-2

-

Success
19

Feb. 13

6

Success
20

USA

Feb. 22

14:17 GMT

Paz, Tintin-A (MicroSat-2a), Tintin-B (MicroSat-2b) (SpaceX Starlink Satellite System-Precursor)

Military / reconnaissance

Falcon-9-051 (B1038.2)

Vandenberg

SLC-4E

E

Success
21

Japan

Feb. 27

04:34:00 GMT

IGS Optical-6

Military / reconnaissance

H-2A F38

Tanegashima

-

-

Success
22

USA

March 1

22:02 GMT

GOES-17 (GOES-S)

Application / Weather forecasting

Atlas-5 (541/AV-077)

Cape Canaveral

SLC-41

-

Success
23

USA

March 6

12:33 a.m. EST

Hispasat-30W-6

Application / communications

Falcon-9

Cape Canaveral

SLC-40

-

Success
24
March 9

1:37:06 p.m. French Guiana time

Application / communications

-

Success
25

China

March 17

15:10 Beijing Time

Ludikancha Weixing (LKW-4)

Military / reconnaissance

Chang Zheng-2D

Jiuquan

-

-

Success
26

March 21

Manned

5

Success
27

India

March 29

16:56 India Standard Time

GSAT-6A

Application / communications

GSLV (F08)

Sriharikota

-

-

Success
28

March 29

20:38:43 Moscow Time

4

Success
29

China

March 29

17:50 GMT

Beidou-3 M9 (30), Beidou-3 M10 (31)

Military / navigation

Long March-3B/YZ-1

Xichang

2

-

Success
30

USA

March 30

7:13:51 a.m. PDT

Iridium-5 Next 140, Iridium-5 Next 142, Iridium-5 Next 143, Iridium-5 Next 144, Iridium-5 Next 145, Iridium-5 Next 146, Iridium-5 Next 148, Iridium-5 Next 149, Iridium-5 Next 150, Iridium-5 Next 157

Application / communications

Falcon-9

Vandenberg

SLC-4E

E

Success
31

China

March 31

11:22 a.m. Beijing Time

Gaofen-1, Gaofen-1, Gaofen-1

Application / remote sensing

Chang Zheng-4C

Taiyuan

-

-

Success
32

USA

April 2

4:30 p.m. EDT

Dragon CRS-14

Manned / cargo supply

Falcon-9

Cape Canaveral

SLC-40

-

Success
33

Europe

April 5

18:34 French Guiana time

DSN-1/Superbird-8, Hylas-4

Communications

Ariane-5 ECA

-

Success
34

China

April 10

12:25 local time

Yaogan-31, Yaogan-31, Yaogan-31

Military / reconnaissance

Chang Zheng-4C

Jiuquan

-

-

Success
35

India

April 12

04:04 India Standard Time

IRNSS-1I

Application / navigation

PSLV-C41

Sriharikota

-

-

Sucess
36

USA

April 14

7:13 p.m. EDT

AFSPC-11, EAGLE (ESPA Augmented Geostationary Laboratory Experiment): HTI-SpX, MYCROFT, CEASE-III-RR, ISAL, ARMOR

Military / communications

Atlas-5 551 (AV-079)

Cape Canaveral

SLC-41

-

Success
37

April 19

01:12:00 Moscow Time

24

Success
38

USA

April 19

6:51 p.m. Eastern Time

TESS

Science / astronomy

Falcon-9

Cape Canaveral

-

-

Success
39

April 25

20:57:52.016 Moscow Time

Application / remote sensing

-

Success
40

China

April 26

-

Zhuhai-1 (A), Zhuhai-1 (B), Zhuhai-1 (C), Zhuhai-1 (D), Zhuhai-1 (E)

Application / remote sensing

Chang Zheng-11

-

-

-

Success
41

China

May 3

16:06 UTC

Apstar-6C

Application / communications

Chang Zheng-3B

Xichang

-

-

Success
42

USA

May 5

4:05:00 a.m. PDT

InSight, MarCO-A, MarCO-B

Atlas-5 (401)/Centaur

Vandenberg

SLC-3

-

Success
43

China

May 8

18:28 GMT

Gaofen-5

Application / remote sensing

Chang Zheng-4C

Taiyuan

LC-9

-

Success
44

USA

May 11

4:14 p.m.

Bangabandhu-1

Application / communications

Falcon-9 (B1046)

Cape Canaveral (KSC)

LC-39A

A

Success
45

China

May 20

21:28 GMT

Queqiao, Longjiang-1 (DSLWP-A1), Longjiang-2 (DSLWP-A2)

Planetary / Lunar orbiter / data relay

Chang Zheng-4C (Y-27)

Xichang

LC-3

-

Success
46

USA

May 21

4:44:09.7 a.m. EDT

Cygnus OA9 (CRS-9)

Manned / cargo supply

Wallops

0A

-

Success
47

USA

May 22

19:47:58 GMT

Iridium-NEXT-110, Iridium-NEXT-147, Iridium-NEXT-152, Iridium-NEXT-161, Iridium-NEXT-162, GRACE-FO-1, GRACE-FO-2

Applications / communications

Science / geophysics

Falcon-9 (B1043.2)

Vandenberg

SLC-4E

E

Success
48

China

June 2

12:13 Beijing Time

Gaofen-6, Luojia-1

Application / remote sensing

Chang Zheng-2D

Jiuquan

-

-

Success
49

USA

June 4

04:45 GMT

SES-12

Application / communications

Falcon-9 (B1040.2)

Cape Canaveral

SLC-40

-

Success
50

China

June 5

13:07:03.898 GMT

Fengyun-2H

Application / weather forecasting

Chang Zheng-3A

Xichang

LC-2

-

Success
51

June 6

5

Success
52

Japan

June 12

04:20:00 GMT

IGS Radar-6

Military / reconnaissance

H-2A 202 (F39)

Tanegashima

-

-

Success
53

June 17

00:46 Moscow Time

4

Success
54

China

June 27

03:30:05.854 GMT

Xin Jishu Shiyan-A, Xin Jishu Shiyan-B

Military

Chang Zheng-2C

Xichang

LC-2

-

Success
55

USA

June 29

5:42:42 a.m. EDT

Dragon SpX-15, Ecostress, Lee

Manned / cargo supply

Falcon-9 B1045.2

Cape Canaveral

SLC-40

-

Success
56

China

July 9

03:56 GMT

PRSS-1, PakTESS-1A

Application / remote sensing

Chang Zheng-2C/SMA

Jiuquan

-

-

Success
57

China

July 9

20:58 GMT

Beidou-2

Military / navigation

Chang Zheng-3A

Xichang

-

-

Success
58

July 10

00:51:34.452 Moscow Time

6

Success
59
USA
July 22
05:50 GMT
Telstar-19 Vantage
Application / communications
Falcon-9
Cape Canaveral
SLC-40
-
Success
60
Europe
July 25
11:25 GMT
Galileo-FOC-M8-23, Galileo

-FOC-M8-

24, Galileo

-FOC-M8-

25, Galileo

-FOC-M8-

26
Application / navigation
Ariane-5 ES (VA-244)
Kourou
ELA-3
-
Success
61
USA
July 25
04:39:26 PDT
Iridium Next-7,

Iridium Next-7

,

Iridium Next-7

,

Iridium Next-7

,

Iridium Next-7

,

Iridium Next-7

,

Iridium Next-7

,

Iridium Next-7

,

Iridium Next-7

,

Iridium Next-7

Application / communications

Falcon-9 (B1048.1)
Vandenberg
SLC-4E
E
Success
62
China
July 29
09:48 Beijing Time
Beidou-33 (3M5), Beidou-34 (3M6)
Military / navigation
Chang Zheng-3B/YZ-1
Xichang
LC3
-
Success
63
China
July 31
11:00 Beijing Time
Gaofen-11
Application / remote sensing

Chang Zheng-4B

Taiyuan
-
-
Success
64
USA
Aug. 7
05:18 UTC
Merah Putih (Telkom-4)

Application / communications

Falcon-9 Block 5

Cape Canaveral
SLC-40
-
Success
65
USA
Aug. 12
03:31 EDT
Solar Probe (Parker)
Planetary / Sun
Delta-4 Heavy/Star-48BV (D-380)
Cape Canaveral
SLC-37B
B
Success
66
Europe
Aug. 22
21:20:09.478 GMT
Aeolus
Application / remote sensing
Vega
Kourou
ELA-1
-
Success
67
China
Aug. 24
23:52:04.550 GMT
Beidou-3M11 (Beidou-35); Beidou-3M12 (Beidou-36)
Military / navigation

Chang Zheng-3B/YZ-1

Xichang
LC3
-
Success
68
China
Sept. 7
11:15:05 Beijing Time
Haiyang-1C
Application / remote-sensing / oceanography
Chang Zheng-2C

Taiyuan

LC-9
-
Success
69
USA
Sept. 10
04:45 GMT
Telstar-18-Vantage (APStar-5C)

Application / communications

Falcon-9-062 B1049.1
Cape Canaveral
SLC-40
-
Success
70
USA
Sept. 15
13:02 GMT
ICESat-2, ELaNa-18: ELFIN, ELFIN-STAR, SurfSat, CP-7

Application / remote-sensing

Delta-2 7420-10C (D-381)
Vandenberg
SLC-2W
W
Success
71
India
Sept. 16
16:38 GMT
SSTL S1-4 & NovaSAR-1
Application / remote sensing
PSLV-CA (C42)
Sriharikota
-
-
Success
72
China
Sept. 19
22:07 Beijing Time (14:07 GMT)
Beidou-3 (13-37), Beidou-3 (14-38)
Military / navigation
Chang Zheng-3B/YZ-1
Xichang
2
-
Success
73
Japan
Sept. 22
17:52:27 GMT
HTV-7
Manned / cargo supply
H-2B (F7)
Tanegashima
-
-
Success
74
Europe
Sept. 25
22:38 GMT
Horizons-3e, Azerspace-2/Intelsat-38
Application / communications
Ariane-5 (VA-243)
Kourou
ELA-3
-
Success
75
China
Sept. 29
04:13 GMT
CentiSpace-1-S1
Military / navigation
Kuaizhou-1A (Y8)

Jiuquan

-

-

Success
76

USA

Oct. 7

7:21:28 p.m. Pacific Standart Time

SAOCOM-1A (Satélite Argentino de Observación Con Microondas-1A)

Application / remote sensing

Falcon-9 Block-5 (F9-063, B1048.2)

Vandenberg

SLC-4E

E

Success
77

China

Oct. 9

02:43:03 GMT

Yaogan Weixing-32 (32-01A),

Yaogan Weixing-32 (32-01B)

Military / navigation

Chang Zheng-2C/YZ-1S

Jiuquan

43/94

-

Success
78
Russia
Oct. 11
11:40 Moscow Time
Soyuz MS-10
Manned
Soyuz-FG

5

Failure
79

China

Oct. 15

04:23 GMT

Beidou-3 (15-39), Beidou-3 (16-40)

Military / navigation

Xichang

-

-

Success
80

USA

Oct. 17

04:17 GMT

AEHF-4 (Advanced Extremely High Frequency)

Military / communications

Atlas-5/551

Cape Canaveral

SLC-41

-

Success
81
Europe
Oct. 19
-
BepiColombo
Planetary / Mercury
Ariane-5
Kourou
ELA-3
-
Success
82
China
Oct. 25
06:57 local time
Haiyang-2B
Science / remote-sensing

Chang Zheng-4B

Taiyuan
-
-
Success
83
Russia
Oct. 25
03:15 Moscow Time
Kosmos-2528 (Lotos-S1)
Military / electronic intelligence
Soyuz-2-1b

4

Success
84

China

Oct. 27

08:00 GMT

Weilai-1

Application / communications

Zhuque-1

Jiuquan

mobile

-

Failure
85
China
Oct. 29
08:43:13.576 Beijing Time
CFOSat (China-France Oceanography SATellite) Zhongfa Haiyang Weixing, Zhaojin-1 'Tongchuan-1' (TY4-02); Xiaoxiang-1 (02) (TY1-02); Xinghe (Tianfuguoxing-1 / TY1-03); Changshagaoxin (TY4-01); Tiangue-1; Unknown Sat; CubeBel-1 (BSUSat-1)
Application / remote sensing

Chang Zheng-2C (Y22)

Jiuquan

43/94

-

Success
86
Japan
Oct. 29
13:08:00 Japan Standard Time
GOSAT-2, KhalifaSat, DIWATA-2B, (Tenkou), 1U CubeSatsx2 (Stars-AO (Aoi), AUTcube2
Application / remote sensing
H-2A-202 F40

-

-

Success
87
China
Oct. 31
23:57 local
Beidou-3 GEO-1 (Beidou-41)
Military / navigation
Chang Zheng-3B

Xichang

2

-

Success
88
Russia
Nov. 3
23:17 Moscow Time
GLONASS M-57 (Kosmos-2529)
Military / navigation
Soyuz-2-1b

4

Success
89
Russia
Nov. 6
9:47:27 p.m. French Guiana time
MetOp-C
Application / meteorology

-

Success
90
USA
Nov. 11

03:50 GMT

Outernet-1, CICERO, Lemur-2, Lemur-2, IRVINE01,
NABEO, Proxima-1, Proxima-2

Application

Electron

Mahia Peninsula

-

-

Success
91

India

Nov. 14

11:38 GMT

GSAT-29

Application / communications

-

-

Success
92

USA

Nov. 15

3:46 p.m. EST

Es'hail-2 (AmSat-P4A)

Application / communications

Falcon-9 (B1047.2)

Cape Canaveral

LC-39A

A

Success
93
Russia
Nov. 16

21:14 Moscow Time

Progress MS-10
Manned / cargo supply

5

Success
94

USA

Nov. 17

4:01 a.m. EST

Cygnus-10 (CRS-10, NG-10, John Young)

Wallops

LP-0A

-

Success
95

China

Nov. 18

18:07 GMT

Beidou-42 (3M17), Beidou-43 (3M18)

Chang Zheng-3B

Xichang

LC-3

-

Success
96

China

Nov. 19

23:40 GMT

Shiyan Weixing-6, Jiading-1 (OKW-01), Tianzhi-1, Tianping-1A, Tianping-1B

Military / experimental / communications

Chang Zheng-2D

Jiuquan

43/94

-

Success
97

Europe

Nov. 20

10:42:31 p.m. French Guiana time

Mohammed-6B

Application / remote sensing

-

Success
98
India
Nov. 28
-
HysIS, Centauri-1, Kepler (CASE), FACSAT, Reaktor Hello World, InnoSat-2, HIBER-1, 3Cat-1, CICERO-8, Flock-3R,

Flock-3R,

Flock-3R,

Flock-3R,

Flock-3R,

Flock-3R,

Flock-3R,

Flock-3R,

Flock-3R,

Flock-3R,

Flock-3R,

Flock-3R,

Flock-3R,

Flock-3R,

Flock-3R,

Flock-3R,

Global-1, HSAT-1, Lemur-2-Orzulak, Lemur-2-Vladimir, Lemur-2-Kobyszcze, Lemur-2-Duly
Application / remote sensing

PSLV-C43

Sriharikota

1

-

Success
99
Russia
Nov. 30
05:27 Moscow Time
Kosmos-2530, Kosmos-2531, Kosmos-2532 (Rodnik)
Military / communications

3

Success
100
Russia
Dec. 3

14:31:52 Moscow Time

Soyuz MS-11
Manned
Soyuz-FG

5

Success
101
USA
Dec. 3
18:34:05 GMT
Spaceflight SSO-A/SHERPA SSO: SkySat-14, SkySat-15, STPSat-5, Eu:CROPIS, NEXTSat-1, FalconSat-6, KazSTSAT, eXCITe, SeeMe, ICEYE-X2, BlackSky Global-2, ESEO (FUNcube 4), Hawk-A, Hawk-B, Hawk-C, Capella-1, SIRION Pathfinder-2, AISTECHSAT-2, BlackHawk, CSIM-FD, Hiber-2, ITASAT-1, Landmapper-BC 4 (Corvus-BC-4), ORS-7A (Polar Scout-1), ORS-7B (Polar Scout-2), Al-Farabi-2, Astrocast-0.1, Audacy-0, BRIO, Centauri 2, Eaglet 1, ENOCH, Flock-3s 1, Flock-3s 2, Flock-3s 3, ICE-Cap, K2SAT, KazSciSat 1, MinXSS 2, Orbital Reflector (ORS 1), RAAF M1, SeaHawk 1, SNUSAT 2, THEA, VESTA, PW-Sat 2, SNUGLITE, VisionCube, RANGE-A, RANGE-B, Elysium-Star-2, ExseedSat-1, Fox-1C, Irvine-02, JY1-Sat, KNACKSAT, MOVE-2, Suomi-100, SpaceBEE-5, SpaceBEE-6, SpaceBEE-7, WeissSat-1
=
Falcon-9 (B1046.3)
Vandenberg
SLC-4E
E
Success
102

Europe

Dec. 4

20:37:07.3 GMT

GSAT-11, GEO-KOMPSAT-2A (GK2A, Cheollian 2A)

Application

Ariane-5 ECA (VA-246)

Kourou

ELA-3

-

Success
103

USA

Dec. 5

18:16:16 GMT

Dragon SpX-16 (CRS-16), GEDI, RRM3

Manned / cargo supply

Falcon-9 (B1050)

Cape Canaveral

SLC-40

-

Success
104
China
Dec. 7
04:12:05.223
SaudiSAT-5A, SaudiSAT-5B, Douyu-666 (TFSTAR), Xijiang Jiantong-1 (TY3-01), Sagittarius-01, Hua Mi Xing, PiaoChong-1 (LadyBird-1), PiaoChong-2 (LadyBird-2) "Elvis Presley", PiaoChong-3 (LadyBird-3) "Hua Mi", PiaoChong-5 (LadyBird-5) "Linda Education Satellite", PiaoChong-6 (LadyBird-6) "Tmall International", PiaoCong-7 (LadyBird-7) "RE: X"
Application

Cahng Zheng-2D (Y38)

Jiuquan

LC43/94

-

Success
105
China
Dec. 7
18:23 GMT
Chang'e-4
Planetary / lunar
Chang Zheng-3B

Xichang

LC-3

-

-
106
USA
Dec.
06:33 GMT
VCLS-1 (ELaNa XIX): ALBus, CeREs, CHOMPTT, Da Vinci, NMTSat, ISX, RSat-P, Shields-1, STF-1, CubeSail-1, CubeSail-2, TomSat Eagle Scout, TomSat-R3, SHFT-1
Application

Electron

Mahia Peninsula

-

-

Success
107

India

Dec. 19

16:10 India Standard Time

GSAT-7A

Application / communications

GSLV-F11

Sriharikota

SLP

2

Success
108

Dec. 19

13:37:14 French Guiana Time

Military / reconnaissance

-

Success
109
Russia
Dec. 21
03:20:00.020 Moscow Time

24

Success
110

China

Dec. 22

07:51:00.228 Beijing Time

Hongyun Engineering Test Satellite

Application / communications

Chang Zheng-11

Jiuquan

01-100

-

Success
111

USA

Dec. 23

8:51 a.m. EST

GPS-3 SV01 Vespucci

Military / navigation

Falcon-9

Cape Canaveral

SLC-40

-

Success
112
China
Dec. 25
00:53:04.321 Beijing Time

TJS-3

Application / communications

Chang Zheng-3C/G2Y17

Xichang

07-98

3

Success
113

Dec. 27

05:07:18.231 Moscow Time

Kanopus-V No. 5, Kanopus-V No. 6

, Flock-3k Dove-1, Flock-3k Dove-2, Flock-3k Dove-3, Flock-3k Dove-4, Flock-3k Dove-5, Flock-3k Dove-6, Flock-3k Dove-7, Flock-3k Dove-8, Flock-3k Dove-9, Flock-3k Dove-10, Flock-3k Dove-11, Flock-3k Dove-12, ZACube-2, Lume-1, D-Star ONE (iSat), D-Star ONE (Sparrow), Lemur-2-30-Remy-Colton, Lemur-2-31-Gustavo, Lemur-2-32-Christina-Holt, Lemur-2-33-Zo, Lemur-2-34-Tinkyev, Lemur-2-35-Sarah-Betty-Boo, Lemur-2-36-Natalie-Murray, Lemur-2-37-Daisy-Harper, UWE-4

-

Success
114

China

Dec. 29

16:00 Beijing Time

Yunhai-2, Yunhai-2, Yunhai-2, Yunhai-2, Yunhai-2, Yunhai-2, Hongyan

Application / remote sensing

Chang Zheng-2D/Yuanzheng-3

Jiuquan

-

-

Success
The 2018 space launch score card (as of October 11, 2022 ):,
1

China

Chang Zheng-3B: 11

Chang Zheng-11: 3

Chang Zheng-2C: 6

Chang Zheng-4C: 4

Chang Zheng-3A: 2

Chang Zheng-4B: 2

Zhuque-1: 1***

Chang Zheng-3C: 1

39

1

2

USA

Falcon-9: 20 (1)*

Delta-4: 1

Atlas-5: 5

Electron: 3

Falcon Heavy: 1

Antares-230: 2

Delta-4 Heavy: 1

Delta-2: 1

-

-

34

1

3

-

-

-

-

-

20

1

4

Europe

Ariane-5: 6

Vega: 2

-

-

-

-

-

-

-

-

8

0

5

India

PSLV: 4

GSLV: 3

-

-

-

-

-

-

-

-

7

0

6

Japan

Epsilon: 1

SS-520: 1

H-2A: 4

-

-

-

-

-

-

-

6

0
---
For missions in 2019 click here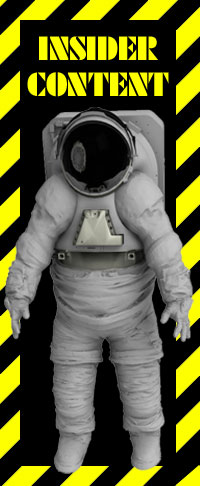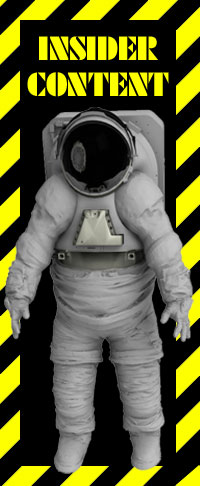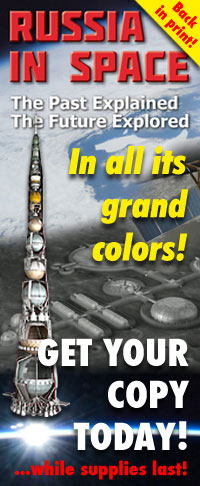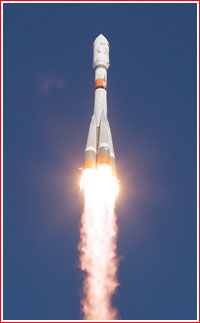 ---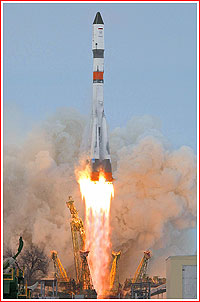 Progress MS-08 lifts off on Feb. 13, 2018. Click to enlarge. Credit: Roskosmos
---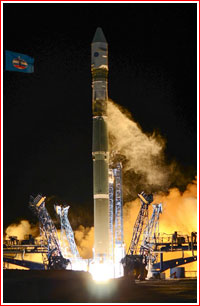 A Soyuz-2-1v rocket lifts off with the EMKA satellite on March 29, 2018. Click to enlarge. Credit: Russian Ministry of Defense
---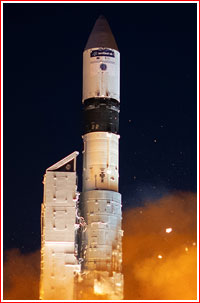 Rockot with Sentinel-3B lifts off on April 25, 2018. Click to enlarge. Credit: ESA
---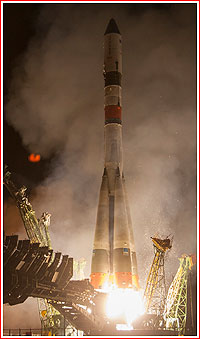 A Soyuz-2-1a rocket lifts off with Progress MS-09 spacecraft on July 10. Click to enlarge. Credit: ESA
---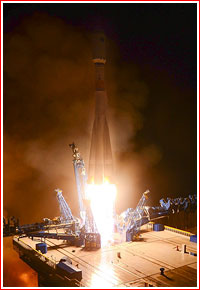 Soyuz-2-1b lifts off on Nov. 3, 2018, with GLONASS M-57 satellite. Click to enlarge. Credit: Russian Ministry of Defense
---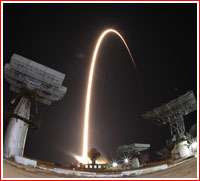 ---
---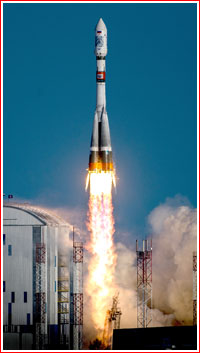 Soyuz-2-1a lifts off from Vostochny on Dec. 27, 2018. Click to enlarge. Credit: Roskosmos
---