Russian military launches a fresh satellite cluster
On Nov. 30, 2018, a converted ballistic missile launched a cluster of small communications satellites for a classified orbital network. A Block 16 payload included three Rodnik satellites.
---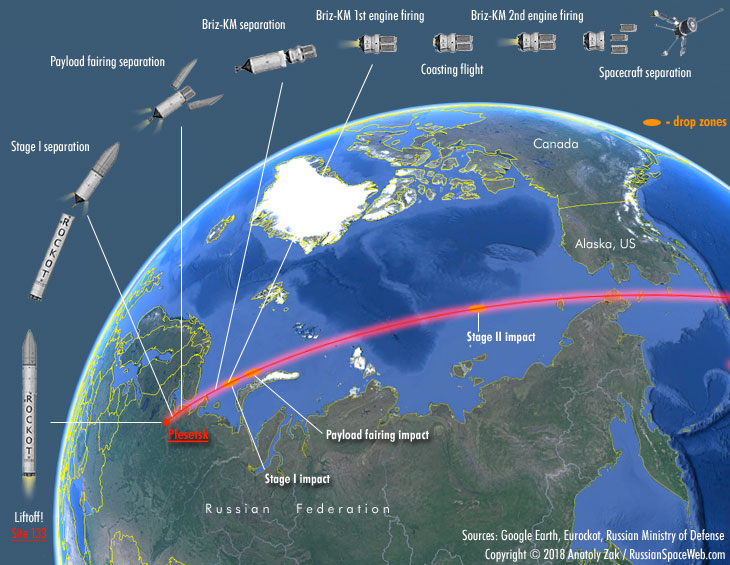 A Rockot/Briz-KM launcher carrying a trio of Rodnik communications satellites lifted off from Pad 3 at Site 133 in Plesetsk Cosmodrome on Nov. 30, 2018, 05:27 Moscow Time (09:27 EST).
According to the official Russian media, ground assets of the Titov Chief Testing Center began tracking the vehicle two minutes after liftoff. The Russian Ministry of Defense also confirmed that Briz-KM upper stage and its payloads had separated from the second stage of the launch vehicle as planned at 05:33 Moscow Time. The entire orbit insertion process was expected to take around two hours, Ministry of Defense said. At the conclusion of that time period, the Russian military announced that Briz-KM had deployed three satellites into a planned orbit at 07:12 Moscow Time on November 30 (11:12 p.m. EST on November 29). The official statement also said that the Briz-KM stage had been disposed of, (likely in a pre-programmed deorbiting maneuver) and that officers of the center for space control had began tracking four new orbital objects, referring to the three satellites and the upper stage.
After reaching orbit, the three new satellites received official designations Kosmos-2530, Kosmos-2531 and Kosmos-2532.
Peculiarly, NORAD registered five rather than four objects resulting from the launch, counting three satellites and one upper stage:
Object A

43751

2018-097A

115.87 minutes

82.51 degrees

1,507 kilometers

1,483 kilometers

Object B

43752

2018-097B

115.90 minutes

82.51 degrees

1,508 kilometers

1,484 kilometers

Object C

43753

2018-097C

115.92 minutes

82.51 degrees

1,509 kilometers

1,486 kilometers

Object D

43754

2018-097D

112.50 minutes

82.51 degrees

1,506 kilometers

1,177 kilometers

Object E

43755

2018-097E

112.43 minutes

82.52 degrees

1,504 kilometers

1,172 kilometers
---
One extra object could be another maneuverable satellite deployed in three previous Rockot launches. Because Object D and Object E had a lower perigee than three other objects, they likely represented the Briz-KM stage and the unidentified payload released after the separation of three Rodnik satellites and an orbit-lowering maneuver performed by Briz.
This launch was believed to be relying on one of three remaining Rockot vehicles featuring a Ukrainian-built flight control system. Two other Rockots are scheduled to launch a trio of civilian versions of the Rodnik satellites, known as Gonets, and the third Geo-IK-2 satellite.
According to various reports, this mission was previously planned in May, June and August 2017. In the spring of 2018, the launch was apparently expected during the summer and later slipped to the middle of September and ultimately was set for November 30.
---