Robotic missions to Mars
In the 20th century, the humanity began exploration of the Red Planet with robotic probes. Although they were often viewed as only precursors to human missions, the cost and complexity of the expedition to Mars left automatic orbiters and landers as the only alternative for the exploration of the planet as late as early decades of the 21st century.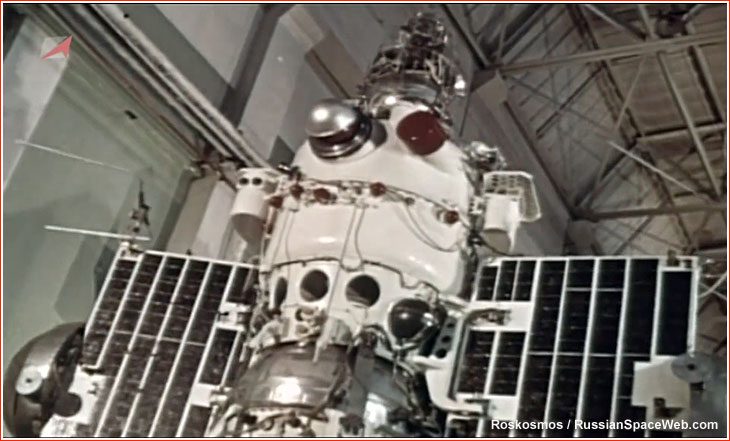 A 2MV-4 spacecraft during pre-launch processing in Tyuratam (Baikonur) in August 1962.
---
A complete list of the world's launch attempts in the direction of Mars:
1

1960 Oct. 10

USSR

1

1M No. 1

Mars flyby

Third stage failure at T+300 seconds
2

1960 Oct. 14

USSR

2

1M No. 2

8K78/L1-5

Mars flyby

Third stage failure at T+290 seconds
3

1962 Oct. 24

USSR

3

2MV-4 No. 3

8K78/T103-15

Mars flyby

Fourth stage failure in the low orbit
4

1962 Nov. 1

USSR

4

2MV-4 No. 4 (Mars-1)

8K78/T-103-16

Mars flyby

Failed on its way to Mars
5

1962 Nov. 4

USSR

5

2MV-3 No. 1

8K78/T-103-17

Mars landing

Stranded in the low Earth orbit
6

1964 Nov. 5

USA

1

Mariner-3

Atlas Agena D

Mars flyby

Failure of the payload fairing to separate
7

1964 Nov. 28

USA

2

Mariner-4

Atlas Agena D

Mars flyby

World's first flyby of Mars and transmission of imagery
8

1964 Nov. 30

USSR

6

8K78

Mars impact (?)

Failed on its way to Mars
9

1969 Feb. 25

USA

3

Mariner-6

Atlas Centaur

Mars flyby

Transmitted 75 photos of Mars
10

1969 March 27

USSR

7

Mars orbit

Exploded at T+438 seconds
11

1969 March 27

USA

4

Mariner-7

Atlas Centaur

Mars flyby

Transmitted 126 photos of Mars
12

1969 April 2

USSR

8

UR-500

Mars orbit

Failed at T+0.02s.; destroyed
13

1971 May 8

USA

5

Mariner-8 (Mariner H)

Atlas Centaur

Mars orbit

Launch failure
14

1971 May 10

USSR

9

M-71 No. 170
(Kosmos-419)

UR-500

Mars orbit

Failed to leave Earth orbit
15

1971 May 19

USSR

10

M-71 No. 171
(Mars-2)

UR-500

Mars orbit, landing

Orbited Mars, landing failed
16

1971 May 28

USSR

11

M-71 No. 172
(Mars-3)

UR-500

Mars orbit, landing

Orbited Mars; Lander failed upon landing
17

1971 May 30

USA

6

Mariner-9
(Mariner I)

Atlas Centaur

Mars orbit

Orbited Mars; transmitted numerous images
18

1973 July 21

USSR

12

M-73 No. 52
(Mars-4)

UR-500

Mars orbit

Failed to orbit Mars
19

1973 July 25

USSR

13

M-73 No. 53
(Mars-5)

UR-500

Mars orbit

Entered Mars orbit
20

1973 Aug. 5

USSR

14

M-73 No. 50
(Mars-6)

UR-500

Mars flyby, landing

Flew by Mars, landed capsule
21

1973 Aug. 9

USSR

15

M-73 No. 51
(Mars-7)

UR-500

Mars flyby, landing

Flew by Mars, capsule missed the planet
22

1975 Aug. 20

USA

24

Viking-1

Titan-3 Centaur

Mars orbit, landing

Successfully orbited and landed on Mars
23

1975 Sept. 9

USA

25

Viking-2

Titan-3 Centaur

Mars orbit, landing

Successfully orbited and landed on Mars
24

1988 July 7

USSR

16

UR-500

Mars orbit

Failed on its way to Mars
25

1988 July 12

USSR

17

UR-500

Mars orbit

Failed in Mars orbit
26

1992 Sept. 25

USA

28

Mars Observer

Titan-3 TOS

Mars orbit

Failed shortly before entering orbit of Mars
27

1996 Nov. 7

USA

29

Mars Global
Surveyor

Delta-2

Mars orbit

Functioned until Nov. 2, 2006
28

1996 Nov. 16

Russia

18

UR-500

Mars orbit, landing, penetrators

Failed to leave Earth orbit
29

1996 Dec. 4

USA

7

Mars Pathfinder

Delta-2

Lander and rover landing

Landed on Mars, released small rover
30

1998 July 4

Japan

1

Nozomi

M-V

Mars
orbit

Failed in cruise in 2003
31

1998 Dec. 11

USA

8

Mars Climate Orbiter

Delta-2

Mars
orbit

Failed during orbit insertion
32

1999 Jan. 3

USA

9

Mars Polar Lander
Two Deep Space probes

Delta-2

Mars landing

Failed on landing
33

2001 April 7

USA

10

Mars Odyssey

Delta-2

Mars orbit

Successfully entered
orbit of Mars
34

2003 June 2

Europe

1

Mars Express, Beagle 2

Soyuz-Fregat

Mars orbit, landing

Success in orbit, lander failed
35

2003 June 10

USA

11

Mars Exploration Rover A (Spirit)

Delta-2

Rover landing

Successfully landed a rover
36

2003 July 7

USA

12

Mars Exploration Rover B (Opportunity)

Delta-2

Rover landing

Successfully landed a rover
37

2004 March 2

Europe

2

Rosetta


Ariane-5

Comet

Mars flyby
on Feb. 23, 2007
38

2005 Aug. 12

USA

13

Mars Reconnaissance Orbiter

Atlas-5

Mars orbit

Entered orbit in March 2006
39

2007 Aug. 4

USA

14

Phoenix

Delta-2

Mars landing

Landed successfully on May 25, 2008
40

2007 Sept. 27

USA

15

Dawn

Delta-2

Vesta,
Ceres orbits

Flew by Mars in February 2009
41

Russia

19

Mars, Phobos

Landing on Phobos and soil sample return; Failed to leave Earth's orbit
42

2011 Nov. 26

USA

16

Mars Science Laboratory

Atlas-5 (541)

Mars
landing

Successfully landed a rover
43

2013 Nov. 5

India

1

MOM (Mangalyaan)

PSLV

Mars
orbit

Successfully entered orbit
44

2013 Nov. 18

USA

17

MAVEN

Atlas-5 (401)

Mars
orbit

Successfully entered orbit
45

Europe

3

In progress
46

2018 May 5

USA

18

InSight, MarCO-A, MarCO-B

Atlas-4 (401)

Lander

In progress; Landed on Mars on Nov. 26, 2018.
47

2020 July 19

UAE/Japan

1

Emirates Mars Mission (Al'amal, Hope)

H-2A F42

Orbiter

In progress
48

2020 July 23

China

1

Tianwen-1

Chang Zheng-5

Orbiter, lander, rover

In progress
49

2020 July 30

USA

18

Mars-2020
Perseverance

Atlas-5

Rover

In progress
---
Russian Mars exploration in the post-Soviet period
Mars-94 mission
The Mars-94 mission, which would include two small landers and two penetrators on the surface of Mars was canceled after budget constraints did not allowed its launch on schedule in October 1994.
2001 lander
In December 1997, NASA officials were expected to travel to Moscow to discuss plans for launching a Russian lander toward Mars onboard the US spacecraft in 2001. The agreement initially was expected in 1996, but financial problems did not allow Russian officials to make any commitments. These plans had never materialized. (105)
At the end of the 1990s, Moscow-based Institute of Space Research, IKI, considered the possibility of launching small Mars probe and Phobos lander onboard Rockot-Briz launcher. Both spacecraft and the rocket could be built by Khrunichev enterprise. The project stalled due to lack of funds.
---
Russia offers US to launch planetary probes
Published: 2001 June 27
The Russian Aviation and Space Agency, Rosaviakosmos, offered NASA to launch future US planetary missions onboard Russian rockets. According to the proposal, discussed by Russian and US officials in December 2000 in Moscow, Russia could provide its rockets to launch NASA planetary probes in exchange for a fee, which would cover the cost of integration of the US spacecraft with the Russian vehicle. Rosaviacosmos then would use NASA payments to finance Russia's scientific contribution in the US planetary missions.
Such a scheme was considered the only realistic possibility for Russian scientists to obtain funds for participating in planetary research. Russia's only independent planetary exploration project, which targets Mars' moon Phobos, has been stalled due to lack of funds.
Among the most likely candidates to be launched onboard Russian rockets was the Scout project, which envisioned a series of relatively small spacecraft for the exploration of Mars. Rosaviacosmos offered to launch one or several Scout probes on the Soyuz-Fregat launcher and also to contribute Russian payload, such as a rover, to the project. Theoretically, a more powerful and expensive Proton rocket could also be used to launch NASA's probe toward Pluto, however, the Pluto mission itself has been all but canceled at the time. (It was later re-instated but was launched onboard the US Atlas rocket.
Six months after the initial discussions, NASA was yet to respond to the Russian proposal. In light of deteriorating relations between two agencies over the ISS project, the idea had little chance to fly. The issue was expected to be raised again during a visit to Moscow by Dr. Edward Weiler, NASA Associate Administrator for Space Science.
---
Europe heads to Mars, as Russian planetary science remains grounded
Published: 2003 June 2
Russia successfully launched a European science probe on a mission to explore Mars. The Soyuz/Fregat booster blasted off from Site 31 at Baikonur Cosmodrome in Kazakhstan on Monday, June 2, 2003, at 23:45 local time (1745 GMT; 1:45 p.m. EDT), carrying the Mars Express spacecraft built by the European Space Agency. After reaching the initial low orbit around the Earth, the Fregat upper stage re-ignited, sending the probe on a six-month journey to Mars.
The Mars Express is scheduled to enter the orbit around Mars in December 2003. A small lander will then separate from the orbital module of the spacecraft and land on the Martian surface to conduct a number of scientific studies, including search for traces of life. Two NASA rovers will follow the Mars Express in June 2003, using the same planetary alignment to reach Mars at the end of the year.
The Mars Express became the first planetary mission departing from Baikonur, since the ill-fated attempt to send Russian Mars-96 spacecraft to the Red Planet in 1996. The failure of the upper stage of the Proton rocket left the probe stranded in a decaying low-Earth orbit. The Mars-96 fiasco essentially ended decades-long Russian planetary exploration program, as well as dwarfed that country's cooperation with NASA and European Space Agency, ESA, in the field.

During the planning stage of the Mars Express mission, Russian space officials expressed interest in active participation in the scientific part of the project. The Russian Space Agency also offered the rocket as a free contribution into the program. However, ESA preferred to purchase the Soyuz/Fregat booster commercially, in order to avoid dependency on the cash-strapped Russian space program. As a result, Russian scientists had never had a chance to assume any active role in the scientific program of the Mars Express mission. Similar scenario played out during Russian attempts to get involved into NASA-led planetary missions. In the meantime, Russia's own plans to send a probe to Mars and return soil samples from one of its moons had been stalled for years due to lack of funding.
---
The fiasco of Mars-96 marked the beginning of the darkest hour (or rather a decade) for the Russian planetary exploration program. The loss of that complex mission not simply wasted years of efforts and deprived the international scientific community of the wealth of data about mysteries of the Red Planet, but also imploded Russia's reputation as the leader in deep space missions and as a reliable international partner. Combined with the collapsing funding for the Russian space program throught the 1990s and the mass exodus of specialists from the industry, it was a perfect storm that nearly wiped out the nation's space science potential. Under this kind of circumstances, in 1997, the planetary and small bodies division of the Russian Academy on Sciences Space Council outlined three areas of research: Moon, asteroids and comets and Mars. Each of these targets became a focus of a Scientific and Reasearch Project, or NIR, envisioning following missions:
Luna-Glob, the mission carrying penetrators to the surface of the Earth's Moon for studies of its interior;
Phobos-Grunt, the delivery of soil samples from the Martian Moon Phobos;
Mars-Aster, the development of a Mars rover;
In May 1998, the Academy of Sciences was offered to chose only one project, which could be included in the Federal Space Program during 2000-2005, thus giving it a chance for at least minimal funding and enabling a preliminary design. On June 2, 1998, after an agonizing debate at the meeting of the planetary division, Phobos-Grunt came out a winner.
---
Mars-Aster
Despite the choice of Phobos-Grunt as the main and only Russian planetary mission in the decade 2000, the Mars-Aster concept remained on the short list of possible future planetary missions. According to Russian officials, if Phobos-Grunt mission succeeded in 2009, it could serve as a platform for more daring deep space launches, targeting asteroids. In addition, another launch to Mars could be attempted as early as 2011, according to Russian documents circa 2004. (391) In 2005, Russian officials quoted a "no later than 2015" launch date for Mars-Aster.
At the time, the primary goal of the mission was described as the delivery of a 95-kilogram rover on the surface of Mars, carrying scientific instruments totalling 15 kilograms. A relatively small vehicle could be launched by the Soyuz-2/Fregat rocket or an even, smaller, Dnepr converted ballistic missile. Mars-Aster could serve as a precursor to a Mars sample return mission.
Alternatively, a mission to asteroid could also be included in the Mars-Aster project. As late as 2008, such mission was considered as early as in 2010, but it has never been approved.
---
By the middle of 2000s, the Mars-Aster concept was replaced by the Mars-NET (a.k.a. Met-Net) project on the list of Russian priorities beyond the Phobos-Grunt project. The mission concept included deployment of multiple low-mass landers on the surface of the Red Planet. The project was based on previous designs of small surface landers and penetrators developed in USSR during the 1980s and in Russia in the 1990s.
By 2009, Mars-NET was still in a conceptual stage and, according to official documents, it was scheduled for launch in 2016. The main vehicle for the Mars NET mission would be based on the standard platform developed by NPO Lavochkin for such projects as Phobos-Grunt and Luna-Glob. The main spacecraft was expected to have a liftoff mass of 2,500 kilograms and the mass in the orbit of Mars of 2,380 kilograms.
The orbiter would carry 10 15-kilogram landers and three 55-kilogram penetrators designed to be scattered globally over the surface of Mars for long-term studies of the environment on the Red Planet. Landing stations for the mission could be built in Finland and first such vehicle could attempt to conduct a landing to Mars during the Phobos-Grunt mission, then scheduled for launch in 2011. (388)
The mission would be the first Russian attempt to put scientific instruments on the surface of Mars since the ill-fated Mars-96 mission.
---
After a monumental fiasco of the Phobos-Grunt mission in 2011, the Russian planetary exploration program faced a difficult dilemma on what to do next. One option would be to rebuild Phobos-Grunt, hopefully with an upgraded flight control system which likely doomed the original launch attempt. However even with all available blueprints and some spare parts, such a complex spacecraft could not be assembled by the next available window to Mars in 2013-2014. Thus, any new Russian mission to the Red Planet would have to be postponed to 2016. Within the same window, European Space Agency and NASA planned to launch the first phase of the ExoMars mission, featuring a large Mars orbiter. The spacecraft would serve as a data-relay station for a life-searching rover which was to go to Mars in 2018. However by 2011, the ExoMars mission run into trouble, as NASA failed to secure money to acquire a rocket for the 2016 launch. As NASA once experienced with its beleaguered space station project, ESA saw the only way to save the ExoMars project by asking Russia to provide a powerful Proton rocket to launch the mission. In exchange, Russia would become a full member in the project.
---
On November 26, 2011, NASA launched its latest, largest and most sophisticated rover to date to explore Mars - Mars Science Laboratory, MSL, nick-named Curiosity. Within an array of its science instruments, the six-wheeled vehicle carried a Dynamic Albedo Neutron, DAN, experiment built at Moscow's Space Research Institute, IKI. The successful launch of the MSL was a small consolation for the failure of the Phobos-Grunt mission, which lifted off on November 9. The DAN instrument was designed for remote-sensing of the Martian surface to a depth of up to one meter with the aim of detecting water and hydrogen-containing chemicals.
---
Practically immediately after the failure of the original Phobos-Grunt spacecraft, Russian scientists expressed their wish to try again. After all, they spent more than a decade preparing the mission to return soil samples from the mysterious Martian moon. By June 2012, Russian space scientists cautiously predicted the possibility of re-flying Phobos-Grunt in the 2020-2022 period. By that time, Roskosmos and the Russian Academy of Sciences reportedly approved the project. Russian scientists also hoped that Phobos-Grunt-2, along with the ExoMars project, would pave the way to a large-scale international effort to return soil samples from Mars as early as 2024 or soon thereafter.
---
ExoMars to pave the way for soil sample return
Russian engineers preparing the 2018 launch of the ExoMars rover in cooperation with their European colleagues hope to employ the same hardware to return a piece of the Red Planet back to Earth.
Page author: Anatoly Zak
Last update: February 20, 2022
All rights reserved