Luna-Glob faces new delays in 2015
In 2014 and 2015, as the long-delayed Luna-Glob lander started appearing in metal, its launch had to be officially postponed again from the end of 2017 to the end of 2018 but even that schedule had to be viewed as highly unrealistic.
---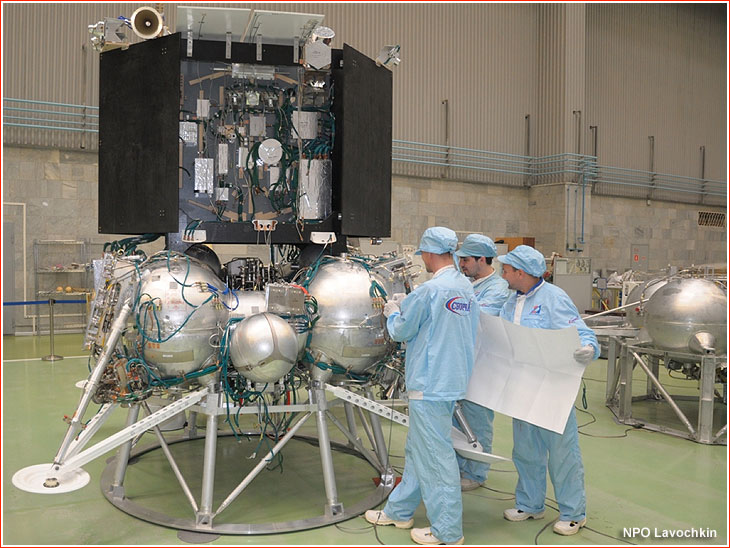 A likely prototype of the Luna-Glob lander under assembly at NPO Lavochkin circa 2015.
From the publisher: Pace of our development depends primarily on the level of support from our readers!
During 2014, Russian space officials promised the launch of Luna Glob between 2017 and 2019. In October, the official TASS news agency quoted Deputy Designer General at NPO Lavochkin Maksim Martynov as saying that the company had been in processing of building a prototype of the spacecraft. A development mockup of the probe's antenna had already been built, Martynov said. A series of tests were planned in 2015, followed by the officially planned launch at the end of 2017 or beginning of 2018, even though these dates were not considered realistic.
Following the conflict in Ukraine and the resulting Western economic sanctions, the Luna-Glob had to be redesigned to exclude hardware, which became a subject to western embargo. First of all, it included electronics and communications equipment onboard the spacecraft.
According to the information released by NPO Lavochkin in August 2015, the Luna-Glob lander would lift off on the Soyuz-2-1b/Fregat rocket during a period from November 2018 to January 2019. However, despite a year-long delay from the previously advertised schedule, the latest launch date looked dubious as well, given the fact that NPO Lavochkin was expected to focus all its attention on the ExoMars-2018 project, which would have to be launched the previous May (2018) or, more likely, postponed until 2020.
In any case, the company's planetary mission team could hardly have enough time and resources to prepare both missions in parallel. By that time, ExoMars-2018 had already faced extremely tight deadline, which would require maximum effort by all key contractors to bring the spacecraft to the launch pad. If ExoMars-2018 was to be ultimately postponed until 2020, it is not unreasonable to add at least two more years for the completion of the Luna-Glob's development. Under these circumstances, the mission could fall back as far as 2022 or even further.
Luna-Glob mission at a glance as of 2015:
| | |
| --- | --- |
| Mission | Landing near the South Pole of the Moon |
| Currently planned official launch date | 4th quarter 2018 - 1st quarter 2019 |
| Launch site | Baikonur, Site 31 or Soyuz pad in Vostochny |
| Launch vehicle | Soyuz-2-1b*/Fregat |
| Spacecraft mass | approximately 1,450-1,550 kilograms |
| Spacecraft dry mass | approximately 533 kilograms |
| Payload mass | approximately 30 kilograms |
| Landing site | Near Lunar South Pole, Boguslavsky Crater |
| Landing site coordinates | Approximately 73 degrees South latitude, 44 degrees East longitude |
| Mission duration | No less than one year |
| Modes of communication with ground control | X-band, UHF |
Projected budget for the Luna-Glob project in the Russian Federal Space Program for 2016-2025 (in millions, as of spring 2015):
Russian rubles

1,071

900

900

1,300

340

4,511
---
Key dates in the Luna-Glob project in 2015:
Aug. 26: Roskosmos and ESA exchange letters on the initial phase in the exploration of the Moon, formalising the cooperation on the Luna-Glob and Luna-Resurs missions.
Aug. 28: Roskosmos issues Decision No. MKh-316-r on revision of the implementation of the Luna Glob research and development project.
Next chapter: Luna-Glob project in 2016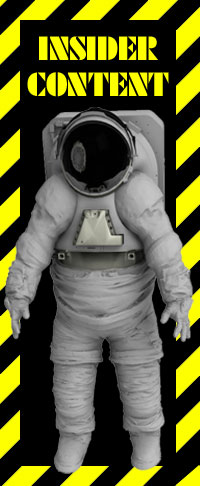 ---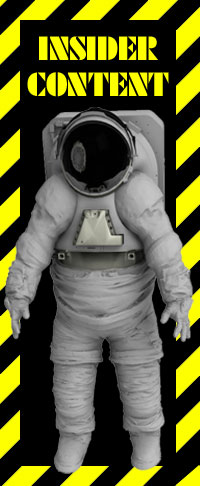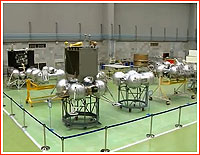 Several prototypes of lunar landers appeared at NPO Lavochkin during 2014. Credit: Roskosmos
---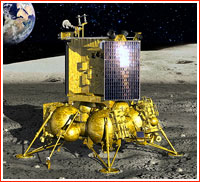 ---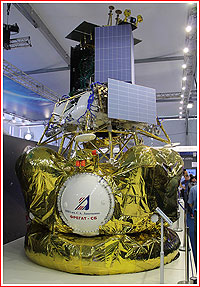 ---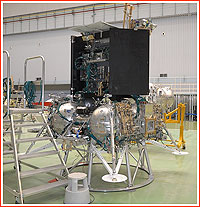 A likely prototype of the Luna-Glob lander under assembly at NPO Lavochkin circa 2015.
---