Obzor-O project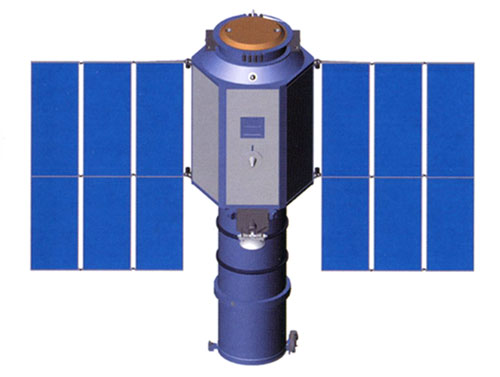 A compact Earth-imaging satellite proposed at TsSKB Progress in Samara. Credit: TsSKB Progress
---
Previous chapter: Kanopus
Published: 2012 Oct. 25
On October 25, 2012, Russian space agency, Roskosmos, formally announced a soliciation of bids for a tender to develop an Obzor-O four-satellite constellation of remote-sensing satellites at a cost of 5,088 billion rubles. The system would provide imagery of the Earth surface for the nation's civilian agencies such as Emergency Situations Ministry, MChS, Ministry of Agriculture, Russian Academy of Sciences and Russian Cartography Ministry. Obzor-O (372AZ61) satellites were expected to provide imaging of the Earth surface in eight different ranges of spectrum including optical and infrared. Optical instruments would have a resolution of five meters and infra-red sensors would be able to detect details as small as 20 meters.
In the first phase of the Obzor-O constellation deployment, two satellites would be able to image the entire Russian territory in 30 days. With the introduction of two additional spacecraft, any region in the nation could be covered in seven days. Launches of Obzor-O spacecraft were to be carried out by Soyuz-2-1v/Volga, Rockot or Angara-1.2 rockets from Plesetsk or Baikonur, in the middle of 2015, in 2017 and 2019. The satellites were expected to operate in a 700-kilometer circular orbit with an inclination 98.2 degrees toward the Equator.
In addition, a pair of Obzor-R radar satellites was expected to complement optical spacecraft in 2015-2018. Obzor-R would carry a phased-array radar, enabling it to obtain all-weather images with a resolution up to one meter. Obzor-R would replace Arkon-2M satellites, whose development was canceled in 2012.
Obzor satellites could also carry KOSPAS-SARSAT search and rescue signal hardware, which was previously expected to fly on the ill-fated Sterkh spacecraft.
All bids for the Roskosmos tender to develop the satellite had to be submitted to the agency on November 27, 2012, with a winner to be announced on December 4. Three companies participated in the tender: TsSKB Progress, which asked for 5,088 billion rubles, NPO Dauriya offering to build the spacecraft for 3,568 billion and GKNPTs Khrunichev, which asked for 4,665 billion. Roskosmos awarded the contract to GKNPTs Khrunichev. However, during the following management reshuffle, the company withdrawn the project, prefering to focus exclusively on launch vehicles.
Next chapter: Obzor-R
---
This page is maintained by Anatoly Zak
Last update: April 9, 2022
All rights reserved