---
---
Mir operations in 1990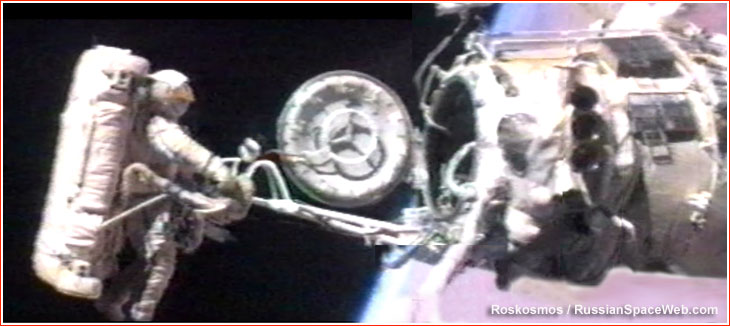 A cosmonaut wearing the SPK maneuvering unit prepares to disengage from the Kvant-2 module on the Mir space station in February 1990.
---
Missions to Mir in 1990:
1

Soyuz TM-9

Feb. 11

Aug. 9

Anatoly Soloviev, Alexander Balandin

2

Progress M-3

March 1

April 27

unmanned

3

Progress-42

May 5

May 27

unmanned

4

May 31

unmanned

5

Soyuz TM-10

Aug. 1

Dec. 10

Gennady Manakov, Gennady Strekalov

6

Progress M-4

Aug. 15

Sept. 17

unmanned

7

Progress M-5

Sept. 27

Nov. 28

unmanned

8

Soyuz TM-11

Dec. 2

1991 May 26

Viktor Afanasiev, Musa Manarov, Toyohiro Akiyama (Japan) (ret. Soyuz TM-10)
---
Expedition 6 (EO-6)
The fifth long-term crew, which arrived at Mir on Sept. 8, 1989, remained onboard the station until February 19, 1990.
Shortly before returning to Earth, on February 1 and February 5, 1990, Viktorenko and Serebrov exited a brand-new Kvant-2 module to test manned manuevering unit, SPK. Unlike Shuttle astronauts, who tested a similar device in 1984, the cosmonauts remained tethered to the station. Without a tether, a failure of the maneuvering unit or any other problem during a free flight would leave a man stranded in the emptiness of space, while station did not have the maneuverability of the Shuttle to pick a helpless cosmonaut.
On February 13, 1990 a new crew, including Anatoly Soloviev and Aleksandr Balandin arrvied to Mir onboard Soyuz TM-9, to relieve Viktorenko and Serebrov.
On June 10, 1990, the expedition recieved a new permanent extension to the Mir space station -- the Kristall research module, which featured a docking port compatible with the Buran reusable orbiter.
Expedition 7 (EO-7)
On Aug. 3, 1990, the Soyuz TM-10 delivered the seventh long-duration expedition to Mir, including Gennady Manakov and Gennady Strekalov. They relieved Soloviev and Balandin, who landed on Aug. 9, 1990.
In November, upon conclusion of its mission to Mir, the Progress M-5 spacecraft, jettisoned a retrievable capsule dubbed Raduga, expanding the capability of returning cargo from orbit.
Expedition 8 (EO-8)
The eight long-term expedition boarded Mir on Dec. 4, 1990. Along with two cosmonaut, the Japanese TV reporter, Toyohiro Akiyama, arrived to the station on a privately financed assignment. After a week-long stay onboard the station, Akiyama returned to Earth with the Expedition 7 crew, which landed on December 10, 1990.
---
Expedition 6 (EO-6) EVA activities:
Participants: Viktorenko, Serebrov
| | | |
| --- | --- | --- |
| Date | Duration | Details |
| Jan. 1 | 2 hours 57 minutes | - |
| Jan. 12 | 2 hours 56 minutes | - |
| Jan. 26 | 3 hours 5 minutes | - |
| Feb. 1 | 4 houres 58 minutes | SPK test |
| Feb. 5 | 5 hours 45 minutes | SPK test |
---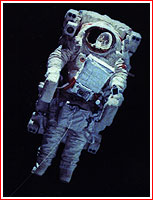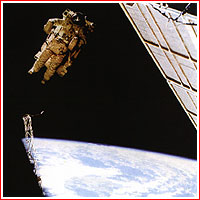 ---
---
---