---
---
---
Mir operations in 1988
---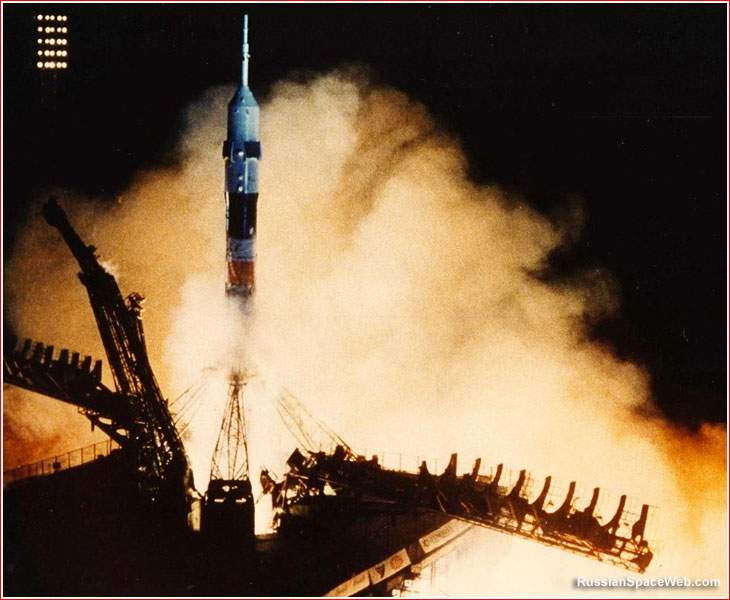 The Soyuz TM-7 spacecraft lifts off on Nov. 26, 1988.
---
Missions to Mir in 1988:
Launch

Landing*

Spacecraft

Crew**

Jan. 21

March 4

Progress-34

unmanned

March 24

May 5

Progress-35

unmanned

May 13

June 5

Progress-36

unmanned

June 7

Sept. 7

Soyuz TM-5

Anatoly Soloviev, Valery Savinukh, Alexander Aleksandrov (Bulgaria) (crew returned on

Soyuz TM-4

)

July 19

Aug. 12

Progress-37

unmanned

Aug. 29

Dec. 21

Soyuz TM-6

Valery Lyakhov (ret. Soyuz TM-5), Valery Polyakov (ret. Soyuz TM-7), Abdul Akhad Mohmand (Afghanistan) (ret. Soyuz TM-5)

Sept. 10

Nov. 23

Progress-38

unmanned

Nov. 26

Soyuz TM-7

Aleksandr Volkov, Sergei Krikalev, Jean-Loup Chretien (France) (ret. Soyuz TM-6)

Dec. 25

Progress-39

unmanned
---
---
Expedition 3 (EO-3)
Russian cosmonauts Vladimir Titov and Musa Manarov met 1988 on Mir and they remained onboard the station until the end of the year. They were visited by two visiting crews. In June 1988, the first visitors, including Bulgarian cosmonaut, delivered fresh Soyuz TM-5 spacecraft to the station, and returned onboard Soyuz TM-4.
The second visiting crew arrived to Mir on Aug. 31, 1988, and it included a guest cosmonaut from Afghanistan and medical researcher Valery Polyakov, who remained onboard the station with the long-duration crew, after his crew mates departed the station onboard the Soyuz TM-5 spacecraft. During their trip back to Earth, two cosmonaut went through a dangerous ordeal, which could potentially cost them their lives. (52)
Expedition 4 (EO-4)
The fourth long-duration crew, including Alaksandr Volkov and Sergei Krikalev boarded Mir on November 28, 1988. Onboard of the arriving Soyuz TM-7, two Russian cosmonauts were accompanied by French researcher Jean-Loup Chretien, who arrived for a three-week-long mission, featuring a spacewalk -- the first ever for non-Soviet, non-US space traveler. The exercise took place on December 9, 1988. Chretien and Volkov spent almost six hours outside the station, struggling to deploy a 240-kilogram hexagonal truss structure.
On December 21, 1988, Chretien returned to Earth onboard the Soyuz TM-6 spacecraft, along with Vladimir Titov and Musa Manarov, from Expedition 3. The pair logged a year in space. Valery Polyakov remained on Mir along with Volkov and Krikalev.
Volkov, Krikalev and Polyakov would stay onboard Mir for the remainder of 1988 and well in 1989. (52)
---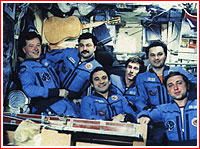 ---