Russia completes its space relay network, delivers KazSat-3
On April 28, 2014, a Proton rocket successfully launched the third satellite for the Luch-M data relay network alongside a communications satellite for Kazakhstan.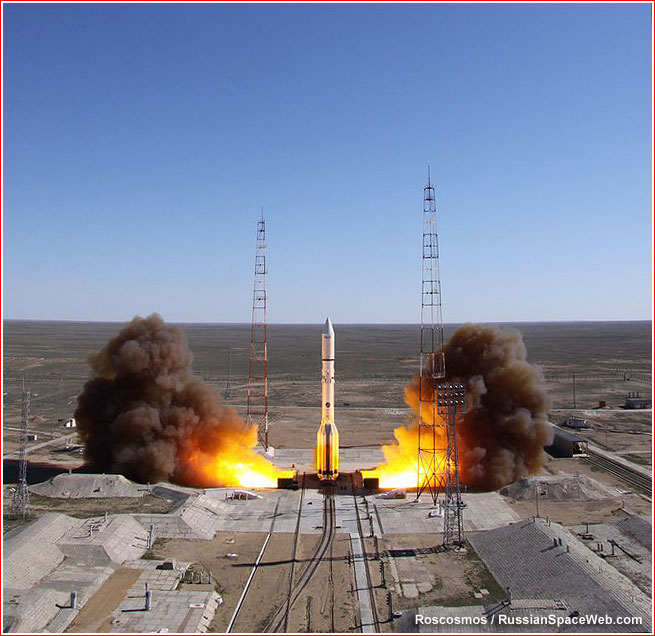 Proton lifts off on April 28, 2014, with Luch-5V and KazSat-3 satellites.
---
Luch-5V data-relay satellite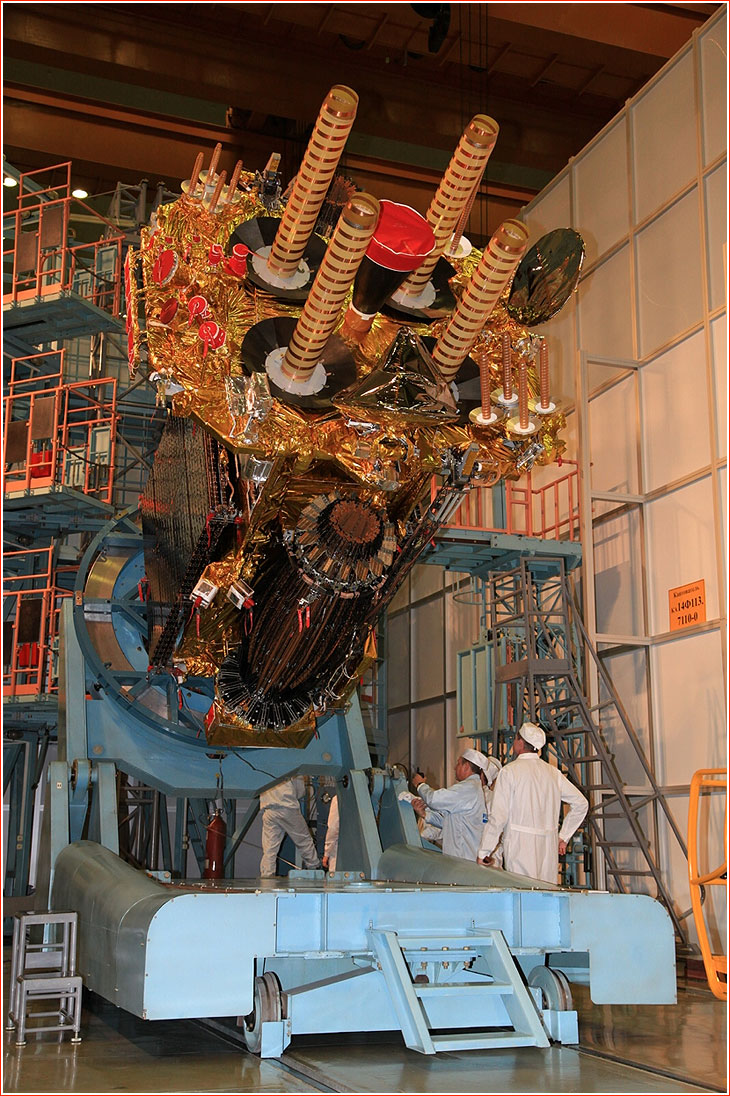 The Luch-5V satellite was intended to complete a three-satellite network known as Luch-M. The constellation had a primary purpose to pickup data signals from other spacecraft and instantly transmit them to ground control in Russia. The Luch-M network is the successor to the original Soviet Luch constellation. Luch satellites are also analogous to the US spacecraft in the Tracking and Data Relay Satellite System, TDRSS.
With three Luch satellites evenly spread around the globe, most Earth-orbiting spacecraft equipped with necessary hardware should be able to communicate with their mission control via Luch satellites at any moment without going out of range of ground stations. The Russian segment of the International Space Station, ISS, was expected to be a major user of the Luch constellation.
As of 2014, the Luch-5V was expected to operate from a geostationary orbit at 95 degrees East longitude over the Equator, "hanging" over the Indian Ocean. At the time, its siblings, Luch-5A and Luch-5B had already been launched in December 2011 and November 2012, respectively, and deployed at 16 degrees West and 167 degrees East longitude.
In addition to space-to-ground data relay, Luch-5V was also designed to pick up and re-transmit data from the Planet-S meteorological network, KOSPAS-SARSAT search and rescue systems and also support the GLONASS navigation system.
Known specifications of the Luch-5V satellite, as of 2014:
| | |
| --- | --- |
| Total launch mass | 1,148 kilograms |
| Orbital location | 95 degrees East longitude over the Equator |
| Longitudal accuracy in orbit | 0.2 degrees |
| Station keeping accuracy | 0.2 degrees |
| Number of transponders | 8 |
| Number of antennas for the main communication system, MTsA | 9 |
| Dimensions (in deployed position) | 6,260 by 19,436 by 11,661 millimeters |
| Power supply | 2,200 Watts |
| Operational life span | 10 years |
| Antenna patterns | Spot beam, steerable and global |
| Manufacturer | ISS Reshetnev of Zheleznogorsk |
| Launch vehicle | |
---
KazSat-3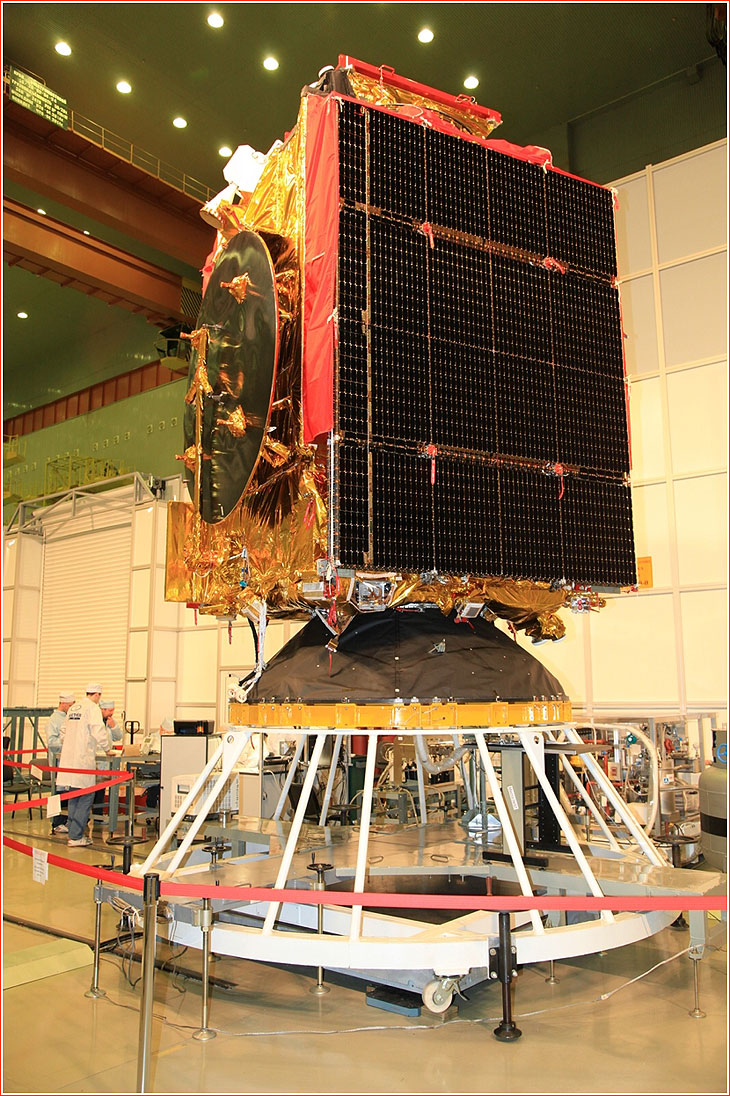 As its number suggests, KazSat-3 would become the third communications satellite ordered by the government of Kazakhstan.
The initial stage of a tender for the development of KazSat-3 was completed in January 2011. According to Kazakh officials, specialists from France, Germany, Japan, Russia, US, Israel and India participated in a bid to develop the spacecraft. (450)
On June 20, 2011, during the Paris Air and Space Show in Le Bourget the Kazakh center for satellite communications signed an agreement with Russia's ISS Reshetnev to build the KazSat-3 satellite. This time, the spacecraft would be based on Ekspress-1000N platform developed at ISS Reshetnev. The satellite, then slated for launch in 2013 into an orbital position at 58.5 degrees East longitude, was promised to work for 15 years. It would feature 28 Ku-band transponders and provide 5.5 kilowatt of power for its payloads. The European consortium Thales Alenia Space was subcontracted to provide the communications system and the command and measuring system for the KazSat-3 project.
On Sept. 19, 2011, the head of the National Space Agency, Talgat Musabaev, reported to the Mazhilis (parliament) that KazSat-3 would fly by the end of 2013. (518) In October 2012, ISS Reshetnev promised to launch KazSat-3 in 2014.
Mission history
Around 2011, Luch-5V and KazSat-3 satellites were paired to share a ride on the same Proton rocket. As of beginning of 2012, Luch-5V was to be manufactured by the end of 2013.
As of March 2012, the launch was promised for December 2013 or beginning of 2014, however in May 2012, a Russian document indicated that the mission had slipped to March 2014. However by the beginning of that year, the launch was rescheduled to April 28.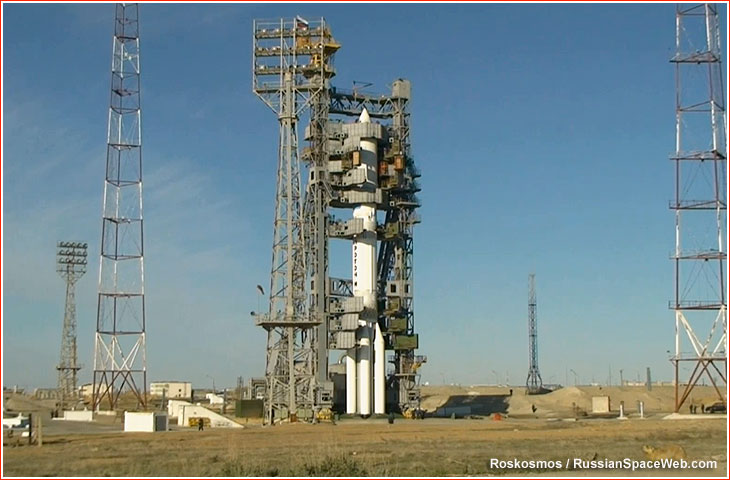 Proton shortly before launch on April 28, 2014.
---
Mission profile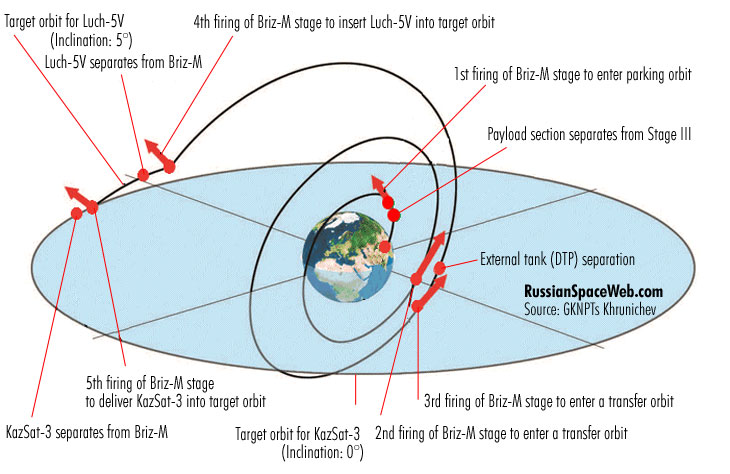 | Event | Moscow time | EST | Scheduled elapsed time |
| --- | --- | --- | --- |
| Liftoff | 08:25:00 | 12:25 a.m. | 0 |
| | 08:27:03 | - | 00:02:03 |
| | 08:30:31 | - | 00:05:31 |
| Payload fairing separation | 08:30:47 | - | 00:05:47 |
| | 08:34:45 | 12:34 a.m. | 00:09:45 |
| | 08:36:16 | - | 00:11:16 |
| Briz-M firing 1 ends | 08:40:22 | - | 00:15:22 |
| Briz-M firing 2 starts | 09:32:35 | - | 01:07:35 |
| Briz-M firing 2 ends | 09:50:26 | - | 01:25:26 |
| Briz-M firing 3 starts | 11:53:05 | - | 03:28:05 |
| Briz-M firing 3 ends | 12:11:09 | - | 03:56:09 |
| Briz-M jettisons its external tank | 12:23:01 | - | 03:14:00 |
| Briz-M firing 4 starts | 17:03:46 | - | 08:48:46 |
| Briz-M firing 4 ends | 17:16:16 | - | 08:50:16 |
| Separation of Luch-5V satellite | 17:17:27 | 9:17 a.m. | 08:58:27 |
| Briz-M firing 5 starts | 17:55:05 | - | 09:30:05 |
| Briz-M firing 5 ends | 17:55:51 | - | 09:30:51 |
| Separation of KazSat-3 satellite | 17:57:01 | 9:57 a.m. | 09:32:01 |
Launch profile for the Proton mission to deliver Luch-5V and KazSat-3 satellites on April 28, 2014.
The launch of a Proton-M rocket with a Briz-M upper stage from Pad 24 at Site 81 in Baikonur Cosmodrome in Kazakhstan took place as scheduled on April 28, 2014, at 08:25 Moscow Time (12:25 a.m. EST). The launch vehicle was carrying the KazSat-3 communications satellite for the government of Kazakhstan and the Luch-5V data-relay satellite riding to orbit above the KazSat-3.
After liftoff, Proton headed east along a standard ascent trajectory, which enables to reach an orbital inclination of 51.56 degrees toward the Equator. The firing of the first, second and third stages of the rocket were designed to insert the payload section (sometimes referred to as upper composite), including the Briz stage and the two satellites into a suborbital trajectory. Around 94 seconds after the separation from the third stage, Briz-M was scheduled to fire its engine in order to reach an initial parking orbit with an altitude of 180 kilometers.
As the Briz-M and its payloads approach the ascending node of the parking orbit (crossing of the Equator from Southern to Northern hemisphere), the engine will fire again stretching the near-circular orbit into an elliptical (oval-shape) transfer orbit with an apogee (highest point) at 5,007 kilometers above the Earth surface and a perigee (lowest point) at 270 kilometers. The same maneuver will also slightly tilt the orbital plane to 50.0 degrees toward the Equator.
After one revolution, as the stack crosses into the northern hemisphere again, the Briz-M is programmed to fire its engine for the third time. Around a minute after the completion of the maneuver, Briz-M will briefly fire its small thrusters to separate and slide away from its empty doughnut-shape external tank. At the conclusion of this procedure, the vehicle's will have its apogee at 35,810 kilometers, which is near the altitude of the geostationary orbit. However its perigee will increase to just 404 kilometers. The inclination will be reduced to 47.8 degrees. The vehicle will then climb passively and upon reaching the apogee, Briz will conduct its fourth firing. This maneuver will not only circularize the orbit but, taking advantage of the weakened gravitational influence of the Earth at this altitude, will also drastically tilt the orbital inclination, leaving it just five degrees short of the Equatorial plane.
Slightly more than a minute after the fourth maneuver, the Luch-5V satellite riding on top of the stack is programmed to separate. It should be released into a 35,753 by 35,793-kilometer orbit around 8.9 hours after the liftoff.
After the separation of Luch-5V, Briz-M conducted its fifth firing to place itself into a position to release KazSat-3 around 9.5 hours after the liftoff from Baikonur. Following the fifth maneuver, the orbital inclination should be reduced to just 0.01 degrees, practically matching the Equatorial plane. The same firing will also make the orbit circular at an altitude of 35,793 kilometers.
After release of its second payload, Briz-M was to conduct two more firings with its small thrusters to get itself away from the busy geostationary orbit. Valves on all pressurized vessels onboard Briz were to be opened to leave the stage fully inactive in its graveyard orbit.
KazSat-3 runs in trouble in orbit
In September 2023, after nearly 9.5 years of operation in orbit (instead of projected 15 years), the KazSat-3 satellite experienced a technical failure, which interrupted its operations throughout Kazakhstan. The spacecraft developer, ISS Reshetnev insured KazSat-3 with the Russian company Alfa Strakhovanie, which reportedly was on the hook for around $100 million in case of a complete failure of the spacecraft. However on September 16, Kazakh Ministry of Digital Technologies reported that after a night-long effort, controllers had been able to restore TV transmissions via KazSat-3 and had been working on restoring other services. The ministry also said that the source of the failure had been under investigation.
Earlier in 2023, the Kazakh government switched all future communications spacecraft procurements from Roskosmos to the European consortium Airbus Defense and Space.
---