---
---
---
Searching for details:
The author of this page will appreciate comments, corrections and imagery related to the subject. Please contact Anatoly Zak.
---
Related pages:

Proton crash with GLONASS satellites
---

Proton launch facilities in Baikonur
---
Proton successfully returns to flight with Inmarsat-5 F3
Following a launch accident on May 16, Russia's commercial workhorse went back to business on August 28, 2015. The Proton-M/Briz-M vehicle successfully delivered the Inmarsat-5 F3 satellite, the third spacecraft in a series developed by Boeing company for the London-based Inmarsat company.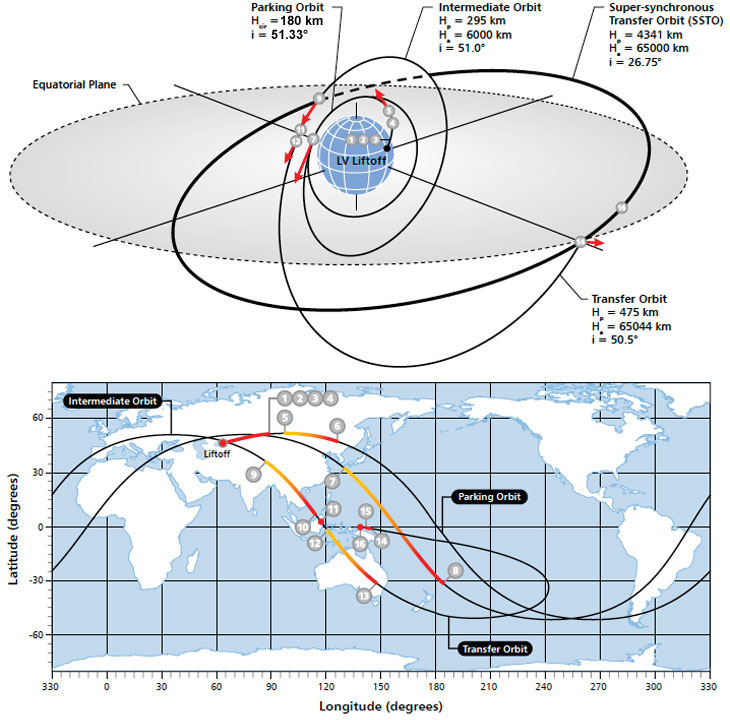 Event

Moscow time

Scheduled elapsed time

Actual elapsed time

Deviation

-

Liftoff

14:44:00

0

0

0

1

14:45:59.63

00:02:00

119 seconds

0.14 seconds

2

14:49:27.18

00:05:27

327 seconds

0.60 seconds

3

Payload fairing separation

14:49:46.88

00:05:47

345 seconds

0.56 seconds

4

14:53:42.22

00:09:42

582 seconds

0.03 seconds

5

Briz-M

firing 1 starts (for 04 min. 27 s.)

14:55:16.22

00:11:16

676 seconds

0.37 seconds

6

Briz-M firing 1 ends

14:59:42.56

00:15:43

939 seconds

3.30 seconds

7

Briz-M firing 2 starts (for 19 min. 34 s.)

16:34:30.00

01:50:30

6,630 seconds

0.15 seconds

8

Briz-M firing 2 ends

16:54:04.14

02:10:04

7,826 seconds

22.46 seconds

9

Briz-M firing 3 starts (for 9 min. 24 s.)

19:07:49.00

04:23:49

15,829 seconds

0.07 seconds

10

Briz-M firing 3 ends

19:17:12.73

04:33:13

16,391 seconds

1.32 seconds

11

Briz-M jettisons its external tank

19:18:02.73

04:34:03

16,442 seconds

1.16 seconds

12

Briz-M firing 4 starts (for 8 min. 27 s.)

19:19:29.73

04:35:30

16,530 seconds

0.35 seconds

13

Briz-M firing 4 ends

19:27:56.59

04:43:57

17,031 seconds

5.00 seconds

14

Briz-M firing 5 starts (for 3 min. 29 s.)

05:59:05.00

15:15:05

54,905 seconds

0.31 seconds

15

Briz-M firing 5 ends

06:02:34.34

15:18:34

55,113 seconds

1.32 seconds

16

Spacecraft separation

06:15:00.00

15:31:00

55,841 seconds

18.94 seconds
---
Launch profile
The flight profile was designed to be virtually identical to the previous Proton mission with the Inmarsat-5 satellite. The 15-hour 31-minute orbital insertion process includes the delivery of the satellite into the so-called Supersynchronous Transfer Orbit with an altitude of 65,000 by 4,341 kilometers, which is almost twice as high as the satellite's ultimate destination in the geostationary orbit at 36,000 kilometers above the Equator. The satellite will use its own propulsion system to enter an operational orbit with an orbital position 180 degrees East longitude over the Equator.
According to the GKNPTs Khrunichev, the developer of the Proton rocket, the launch sequence for the Inmarsat-5 F3 mission will start with a traditional "Klyuch na Start" (Key to Liftoff) command issued 300 seconds before a scheduled liftoff. It will be followed by the KP-120s command, signaling 120 seconds to the liftoff. The readiness of the upper stage for launch will be declared at T-113 seconds. Five seconds before launch, the OTP command (The completion of accurate control) will be issued, followed by the Zemlya-Bort ("Ground to Board") command, marking the readiness of the launch vehicle for the autonomous flight just two seconds before liftoff. At the same time, the thrust control for the rocket's first stage engines is activated and a second later, a membrane holding the supply of oxidizer into the engine will be cut triggering an instantaneous ignition. The propulsion system will reach an operational thrust in a second, lifting the rocket off the pad.
Following the liftoff, Proton passes the maximum dynamic pressure of the atmosphere 62.4 seconds in flight and its propulsion system enters a full-thrust mode, known as F1, at T+108 seconds. The Proton's first stage separates almost two minutes after the liftoff, as the second stage begins to fire its four engines through a lattice structure connecting the two boosters at an altitude of more than 42 kilometers and a speed of 1.7 kilometers per second. The first stage then impacts a drop zone 310 kilometers downrange from Baikonur.
The second stage continues firing until five and a half minutes since launch and then separates with the help of small solid motors at an altitude of 130 kilometers and a speed of 4.5 kilometers per second. The second stage then reenters the atmosphere and its remnants crash in the Altai Republic in Southern Russia, almost two thousand kilometers from the launch site.
Just 20 seconds after the third stage begins operation, the payload fairing splits in two halves and drops away. The operation is timed to ensure the fall of the fairing's fragments in the same impact site with the second stage. The third stage should complete its work and separate from the payload section nine minutes and 42 seconds into the flight.
Three booster stages of the Proton rocket were programmed to deliver the payload section, including the Inmarsat-5 F3 and the Briz-M upper stage, into a suborbital trajectory matching an orbital inclination of 51.5 degrees toward the Equator. Briz-M will then perform its first engine firing lasting almost four and a half minutes to reach an initial parking orbit at an altitude of around 173 kilometers.
After making an almost full revolution, around an hour and 50 minutes later, Briz-M will fire again at the second descending node of the mission (the point where the orbit's ground track crosses the Equator from northern to southern hemisphere.)
The maneuver will last less than 20 minutes to boost an apogee (highest point) of the orbit to 6,000 kilometers. After a more than two hours of unpowered flight, Briz-M should perform two more engine runs, this time to raise an apogee to more than 65 thousand kilometers from Earth. Since the external tank of the Briz-M stage runs out of propellant in the middle of an almost 18-minute maneuver, the firing was split into two burns separated by the jettisoning of the empty tank. The stack will then climb passively for 10.5 hours to its supersynchronous altitude.
Finally, the Briz-M ignites its main engine for three and a half minutes to enter a super-synchronous transfer orbit. The same maneuver will also reduce an orbital inclination from 50.5 degrees to 26.39 degrees toward the Equator. The 6,070-kilogram Inmarsat-5 F3 satellite will then separate from Briz-M into a 4,341 by 65,000-kilometer orbit, 15 hours and 31 minutes after its liftoff from Baikonur.
Following the release of the satellite, Briz-M is programmed to conduct two maneuvers with its small thrusters to enter a 2,744 by 63,522-kilometer orbit at a safe distance from its payload. The tanks onboard the stage will be depressurized to avoid a potential explosion resulting in the contamination of the Earth's orbit with space junk.
Actual launch
The Proton-M/Briz-M launch vehicle lifted off as scheduled on Aug 28, 2015, at 14:44:00 Moscow Time (7:44 a.m. Eastern Time) from Pad 39 at Site 200 in Baikonur Cosmodrome, successfully delivering its payload section into a 179.9 by 180.25-kilometer initial orbit around 16 minutes later. The actual orbital parameters were practically on target for the planned 180-kilometer parking orbit.
After the second Briz-M firing, based on the telemetry received from the stage, the stack was estimated to be in a 301.72 by 6,008.39-kilometer orbit, just 1.4 kilometers off the planned apogee.
After the third and fourth maneuver, Briz-M and its payload entered a 481.12 by 65,062-kilometer orbit with an apogee just 11.25 kilometers off its planned altitude. An inclination of 50.3 degrees toward the Equator was within just 13 seconds off the planned parameters.
The fifth and final maneuver of the Briz-M took place practically on time and the Inmarsat-5 F3 was successfully released less than 19 seconds ahead of schedule. The satellite was found in a 4,331.08 by 65,020-kilometer orbit, which was within 13-14 kilometers from a targeted altitude. An orbital inclination of 26 degrees 51 minutes was just six minutes off target.
From the publisher: Pace of our development depends primarily on the level of support from our readers!
Inmarsat-5 F3 satellite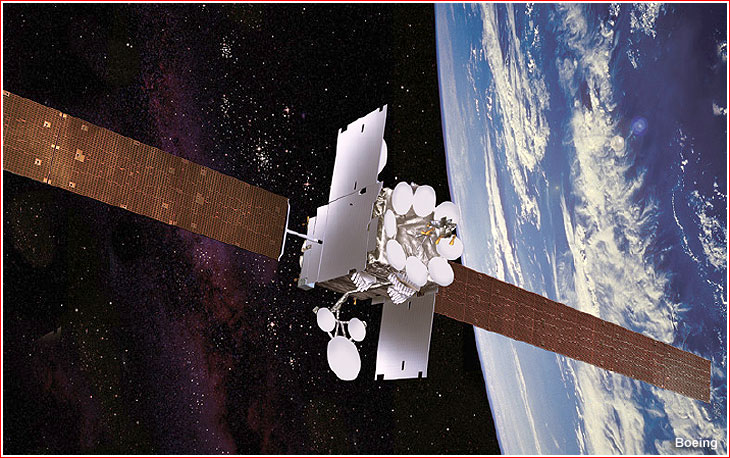 An artist rendering of the Inmarsat-5F satellite. In reality, the spacecraft would deploy its solar panels and antennas much farther from Earth than depicted here.
Inmarsat-5 F3 satellite became the fifth payload launched by Proton for the London-based Inmarsat. It is also the third satellite in the Inmarsat-5 series.
Based on the BSS-702HP satellite developed by Boeing, the six-ton Inmarsat-5 (a.k.a. I-5) was conceived to form the three-satellite constellation to support Inmarsat's Global Xpress network, also known as GX.
Global Xpress was designed to offer seamless voice and data communications around the world and deliver unprecedented mobile broadband speeds of up to 50 megabytes per second for users in the government, maritime, enterprise, energy and aeronautical sectors. Inmarsat promised to invest an estimated $1.2 billion in the Global Xpress program, which included launch costs. In October 2013, Inmarsat decided to procure the fourth I-5 satellite from Boeing also based on the 702HP platform with a completion date in the middle of 2016.
The Inmarsat-5 F3 satellite was equipped with 89 Ka-band transponders and featured six steerable spot beams to open communications channels on demand. The satellite was designed to function in the geostationary orbit. The satellite will be in ideal position for providing mobile voice, data and video to airline passengers and submarine crews. Boeing also reported lending the satellite's capacity to provide secure communications across land, sea and air to unspecified US government agencies.
The satellite is equipped with a pair of five-section solar panels featuring ultra triple-junction gallium arsenide solar cells. They are projected to deliver 15 kilowatts of power at the beginning of the satellite's service, eventually degrading to no less than 13.8 kilowatts after 15 years of operation. Solar panels will charge an onboard dual lithium-ion battery.
For propulsion, the satellites based on 702HP platform come equipped with the main liquid-propellant orbit-correction engine and eight ion engines powered by xenon gas.
Known specifications for the Inmarsat-5 F3 spacecraft:
| | |
| --- | --- |
| Spacecraft fueled mass | 6,070 kilograms |
| Spacecraft dry mass | 3,663 or 3,750 kilograms |
| Projected life span | 15 years |
| Dimensions in folded position | 6.98 by 3.21 by 3.676 meters |
| Orbital position | 180 degrees East longitude |
| Spacecraft manufacturer | Boeing Space and Intelligence Systems, California, USA |
| Spacecraft platform | Boeing (formerly Hughes) BSS-702HP |
Mission history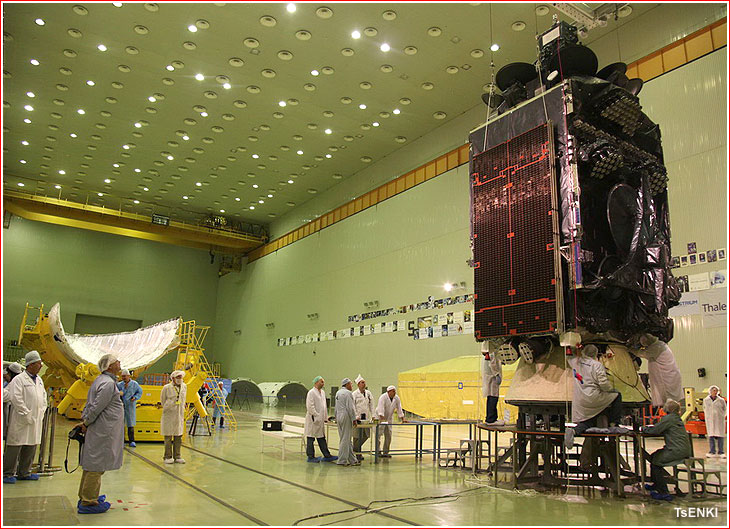 The Inmarsat-5 F3 satellite is being integrated with its space tug transfer compartment, PKhO, on August 15, 2015, in preparation for launch at Building 92A-50 in Baikonur.
The agreement to launch a trio of the fifth-generation Inmarsat satellites on three Proton rockets during 2013 and 2014 was first announced on Aug. 1, 2011. The first satellite in the Inmarsat-5 series was launched on Proton on Dec. 8, 2013. The second satellite was also successfully launched on Feb. 1, 2015.
As of December 2014, the launch Inmarsat-5 F3 was expected at the end of May 2015, however it had to be postponed in the wake of the MexSat-1 failure on May 16, 2015.
Following a break caused by the accident, the launch campaign for the Inmarsat-5 F3 satellite had resumed in Baikonur on August 12, 2015, with the fueling of the satellite. The spacecraft was then delivered to Building 92A-50 for integration.
On August 15, Inmarsat-5 F3 was mated with its transfer compartment and then with its Briz-M space tug. Next day, the Inmarsat-5 F3/Briz-M stack was rotated into a horizontal position for encapsulation into the payload fairing scheduled for August 17.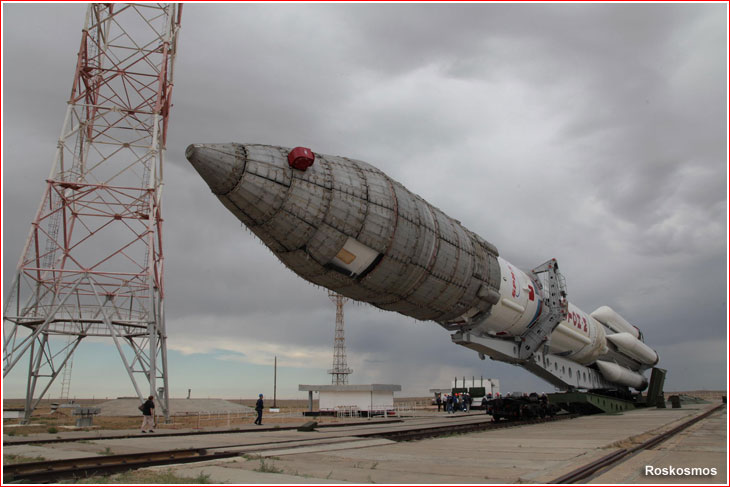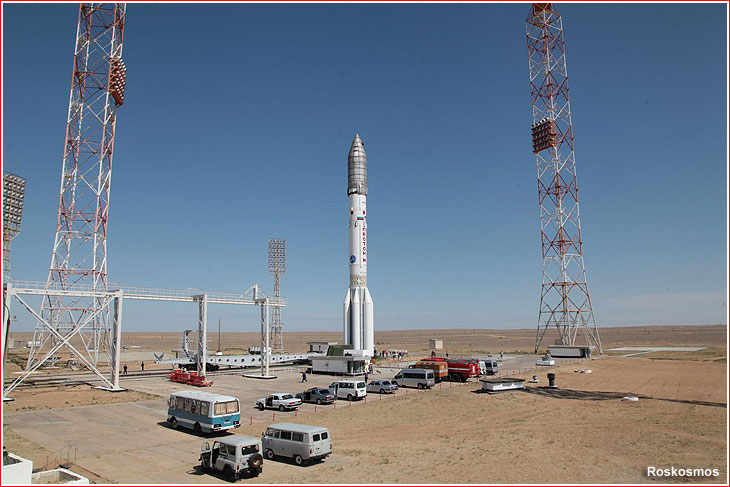 After a trip to a Briz-M fueling site, the Proton rocket with Inmarsat-5 F3 was delivered to the launch pad at Site 200 on the morning of Aug. 28, 2015.
Read (and see) much more on the history of the Russian space program in a richly illustrated, large-format glossy edition: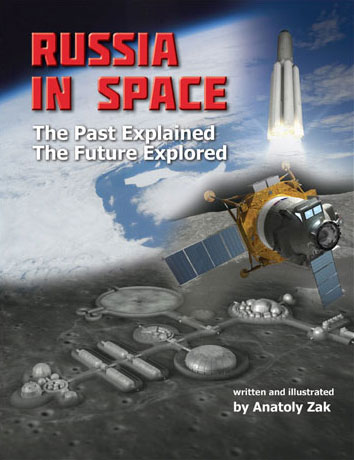 ---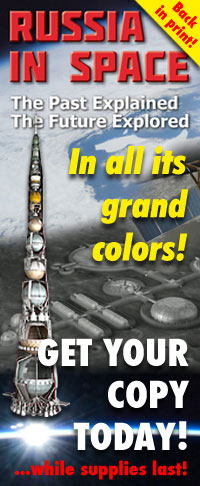 IMAGE ARCHIVE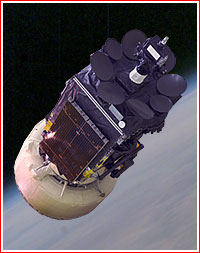 Artist rendering of the Inmarsat-5 satellite and its Briz-M upper stage in the initial parking orbit.
---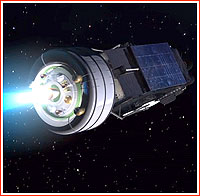 Artist rendering of Briz-M's second firing.
---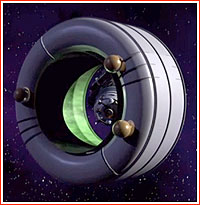 Briz-M sheds its empty external tank between its third and fourth engine firings.
---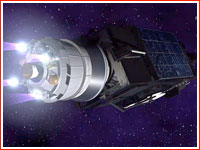 Typically for an upper stage operating in weightlessness, Briz-M first fires its small thrusters to give the vehicle initial acceleration to ensure a reliable propellant supply into the main engine during prolonged orbit correction maneuvers.
---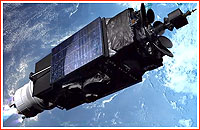 Briz-M conducts 4th orbit correction with its main engine.
---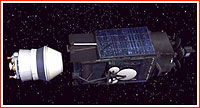 Inmarsat-5 F3 separates from Briz-M stage. Credit: ILS
---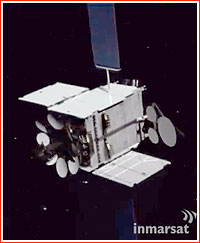 Inmarsat-5 in deployed position. Credit: Boeing
---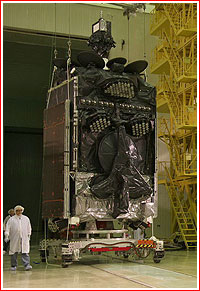 Inmarsat-5F3 is being prepared for integration with its Briz-M space tug at Building 92A-50 in Baikonur on August 15, 2015. Click to enlarge. Credit: TsENKI
---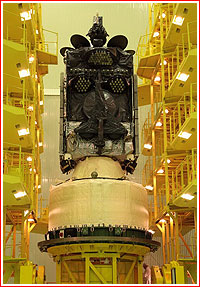 Inmarsat-5 F3 and Briz-M shortly after their integration in Baikonur on August 16, 2015. Click to enlarge. Credit: TsENKI
---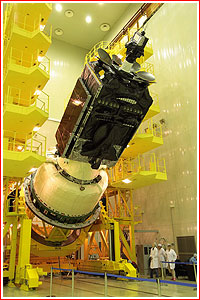 Click to enlarge. Credit: TsENKI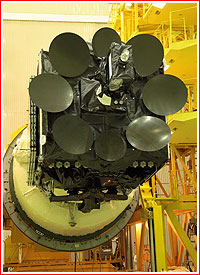 On Aug. 16, 2015, Inmarsat-5 F3 and Briz-M are being rotated into horizontal position in preparation for mating with the Proton rocket. Click to enlarge. Credit: TsENKI
---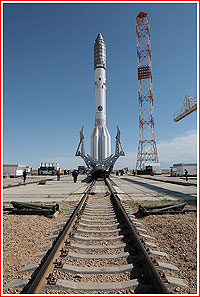 Click to enlarge. Credit: Roskosmos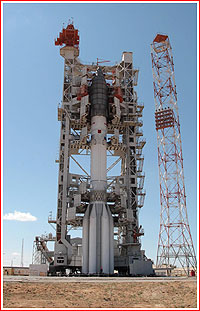 Proton with Inmarsat-5 F3 shortly after installation on the launch pad on Aug. 25, 2015. Click to enlarge. Credit: Roskosmos
---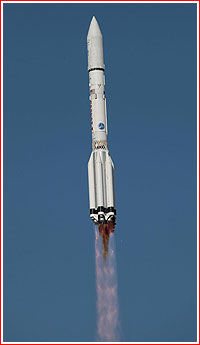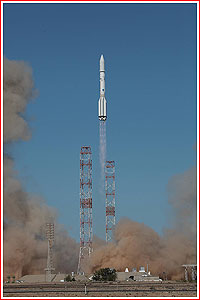 Click to enlarge. Credit: Roskosmos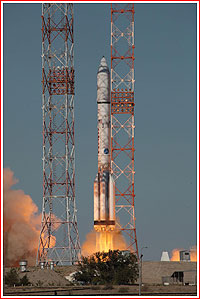 Proton lifts off with Inmarsat-5 F3 satellite on Aug. 28, 2015. Click to enlarge. Credit: Roskosmos
---