Above: Small bodies of the Solar System which were approached by spacecraft. USSR led the exploration of these islands in the sky with a high-profile mission to Halley Comet in 1984. In the post-Soviet period, Russian scientists looked at future missions to comets and asteroids, as the nation's planetary exploration program showed first signs of revival.
---
Vesta project
During 1986-1988, following USSR's successful flyby of the Halley Comet, Soviet and French representatives evaluated similar mission scenarios, which would bring spacecraft either to an asteroid or a comet. Dubbed Vesta, (Venus-Asteroid), the project actually envisioned a pair of probes designed to fly by Venus and Mars, following the launch in 1992, 1994 or 1996. Gravitational fields of Venus and Mars would be used to "slingshot" the spacecraft either to an asteroid or a comet for a prolonged chase of their respective targets. In case of a comet mission, a detailed study of the cometary core would be possible, while the asteroid-bound mission could deploy a French-built lander along with penetrating probes. The Vesta project was eventually overshadowed by the work on M1, M2 and M3 projects. Nevertheless, another mission concept dubbed "Asteroid" eventually grew out of the Vesta project. It had an ambitious goal of encountering five asteroids using gravitational field of Mars to accelerate itself in the direction of the main asteroid belt. If launched on Dec. 13, 1996, the spacecraft would reach following destinations:
Mars on Oct. 8, 1997;

Asteroid Fortune - Sept. 17, 1998;

Asteroid Harmonia - Nov. 26, 1998;

Asteroid Vesta - June 14, 1999;

Asteroid Haldey - Oct. 12, 1999;

Asteroid Juewa - July 22, 2000.
Unfortunately, this project had also remained on a drawing board.
Post-Soviet developments: Led project
With the end of the Cold War, Russia and the United States evaluated several joint missions into deep space. The project known as Led (Ice) called for the launch onboard the Russian launch vehicle of a 85-kilogram US-built probe into a 12-year journey to Pluto. The mission would also carry a 10-kilogram Russian satellite, which would separate from the mothership around one month before rendezvous with Pluto and conduct a close flyby of the planet. An actual crash of the micro-satellite into Pluto was also under consideration. In the meantime, the main spacecraft would pass Pluto at the distance of 15,000 kilometers. After relaying data from Russian probe back to Earth, the main spacecraft would proceed to Pluto's moon Charon, passing it within 5,000 kilometers.
Various trajectories for reaching Pluto were under consideration within the Led project. It was shown that a "direct" launch onboard a medium-lift launch vehicle would require 30 years to reach the outskirts of the Solar System. As a result, a switch to a larger, more expensive vehicle was evaluated. The use of a four-ton upper stage would allow cutting the flight time to 8-10 years. In turn, the use of two or three gravitational maneuvers near Venus with subsequent flyby of Jupiter would enable reaching Pluto in 12 years. Under this scenario, Molniya or Soyuz-2 launch vehicle could launch a 720-kilogram spacecraft with a 620-kilogram propulsion system in 2001 or 2002. (118)
In the wake of Russian economic troubles and rocky relations between US and Russia, the Led project had never had a chance to materialize, even though US plans to explore Pluto remained on the books. In 2000-2001, Russia proposed a more powerful and expensive Proton rocket to launch NASA's probe toward Pluto. A possibility of including a Russian lander into the mission was also discussed. However, the US Pluto mission itself has been all but canceled at the time and these plans went nowhere. The American mission was later re-instated under name New Horizons and it was launched onboard a US Atlas rocket. Ironically, when the project was conceived, Pluto was the only planet of the Solar System yet to be visited by spacecraft, however at the beginning of the 21st century it officially lost its status as a planet. It was now considered a part of the increasingly large group of objects discovered on the edges of the Solar System and comprising so-called Kuiper Belt.
Program recovery
After a long hiatus caused by economic problems of the post-Soviet period, engineers at NPO Lavochkin, the country's chief developer of planetary spacecraft, could at least dream again about deep-space missions. In August 2007, management of the company revealed plans for a number of missions beyond Earth orbit, including the Asteroid-Grunt and Kometa-Grunt projects, which could collect soil samples from an asteroid and a comet respectively. Both probes would be based on the Phobos-Grunt spacecraft, then scheduled for launch in 2009. The actual implementation of these missions would depend on the success of the initial Russian attempts to jump-start its planetary exploration program, level of funding of the Russian space program and the ability of Russian scientists to forge cooperative agreements with their colleagues abroad.
Early planning for asteroid missions
By 2010, NPO Lavochkin researched several mission concepts, which would explore asteroids and comets if approved by the Russian government for implementation after 2015 (408):
Asteroid Tur with a projected launch in 2018;

Apophis in 2019;

Asteroid-P (landing mission) in 2024;

Asteroid-Grunt (sample return mission) in 2028.
As of 2010, none of these missions had received political approval or funding, however they could be on the list of contenders for the new Russian space program beginning in 2015.
Still, at the beginning of 2010s, Apophis seemed to remain the most popular target among Russian proposals for asteroid missions.
Aster
In 2012, Moscow-based Space Research Institute, IKI, mentioned preliminary plans to launch a small spacecraft to visit a triple asteroid for spectroscopy, photometric and remote-sensing studies aimed to determine internal structure of the body. (612)
Big impact of 2013
On Feb. 15, 2013, the world was stunned with dramatic videos from Russia capturing the fiery reentry of an unknown natural object from space. The reports of injuries and a wide-spread damage caused by the shockwave followed. More than 1,000 people were reported injured, most often with pieces of flying glass and 52 had to be hospitalized. By February 18, Vice Prime Minister Rogozin received a proposal approved by the Russian space agency, Roskosmos, to develop a national asteroid protection system. A 10-year program had a price tag of 58 billion rubles, RIA Novosti news agency quoted Lidiya Rykhlova, the head of the Astronomy department at the INASAN institute.
2015 proposals
During annual Korolev Memorial Readings in January 2016, NPO Lavochkin announced proposals for three asteroid missions developed in cooperation with Vernadsky Geochemistry and Analytical Chemistry Institute, GEOKhI. According to NPO Lavochkin's representative Aleksandr Shakhanov, quoted by the official TASS news agency, the proposals were to be incorporated into a wider plan for the exploration of the small bodies in the Solar System developed by the TsNIIMash research institute for the subsequent review by Space Council of the Russian Academy of Sciences. The proposed mission concepts included:
A small spacecraft heading toward one of the near-Earth objects;

A flyby mission to (multiple) objects in the main asteroid belt for the selection of the most scientifically significant destination;

A landing mission to the selected object in the main asteroid belt.
---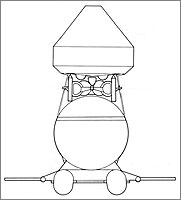 ---
---
---
---