---
---
Severin, Gai Il'ich, 1926 July 24 - 2008 Feb. 7. Leading developer of spacesuits and life-support systems for spacecraft. Since 1964, Severin worked as Chief Designer of the Zvezda enterprise, a developer of spacesuits and life-support and safety systems for Soviet spacecraft.
---
Gai Severin was born in the town of Chudovo in the Novgorod Region. He graduated from the Moscow Aviation Institute (Aviation-building Department) in 1947. (271) From 1947, Severin worked for the Flight Research Institute, LII, of the Ministry of Aviation Industry, rising from Senior Technician to Engineer, to Leader of Flight testing to Chief of Laboratory of Safety Equipment and In-Flight Refueling. In 1955, while still at LII, Severin completed a dissertation, earning a title of Candidate of Technical Sciences.
In 1964, Severin was appointed Chief Designer of the Zvezda (Star) Machine building Plant (Plant No. 918), the leading developer of life-support systems within the Ministry of Aviation Industry, MAP. In this position, he replaced S. M. Alekseev.
From the dawn of the manned space program, Severin played an active role in the development of safety and life-support hardware for Soviet cosmonauts. Severin's first assignment was to complete the development of the Elbrus seats for the 3KV spacecraft, later known as Voskhod. It wasn't an easy task given the fact that developers tried to squeeze three people into what was originally a one-seat Vostok spacecraft. He was then in charge of building an airlock for the Voskhod-2 spacecraft, which enabled the world's first spacewalk. The next big task for the Zvezda plant was the development of the Kazbek amortizing seats for the Soyuz spacecraft. His organization also converted the Sokol aviation suit into the Sokol-K system for use onboard modified Soyuz 7K-T spacecraft.
Severin is credited for backing a controversial, but ultimately succesful plan to conduct a long-duration manned flight onboard the Salyut-4 space station concurrently with a high-profile and complex mission to dock the Soyuz and Apollo spacecraft in 1975. (231)
In 1989, Severin became Designer General.
Along with his work as an engineer and a manager, in 1954, Severin started a decades-long career as an educator, working for his alma-mater and Russia's chief supplier of cadre for the rocket industry - the Moscow Aviation Institute, MAI. In 1976, he became a MAI professor, heading the department of life-support and flight safety. He is the author of more than 120 publications and patents and was a member of the National committee on theoretical and applied mechanics within Russian Academy of Sciences; he was also a member of the International Astronautics Federation. (76)
Severin's honors and degrees:
Lenin Prize: 1965
State Prize: 1978
Hero of Socialist Labor: 1982
Doctor of Technical Sciences: 1987
---
Written by Anatoly Zak. Edited by Alain Chabot on Feb. 10, 2008
All rights reserved. Last update: February 10, 2008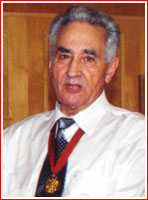 Gai Severin. Credit: NPP Zvezda
---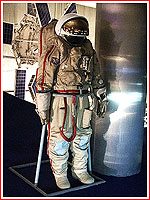 Gai Severin, who led the development of several generations of Russian spacesuits died Thursday, Feb. 7, 2008. Above, the Orlan spacesuit, which was used onboard the Mir space station. Click to enlarge. Copyright © 2000 Anatoly Zak
---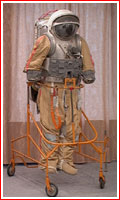 The so-called GN (hydraulic weightlessness) version of the Orlan spacesuit was used in the underwater training of cosmonauts during the Mir and ISS programs. Copyright © 2000 Anatoly Zak