Russia delivers station supplies in its first space mission of 2014
Previous chapter: Progress-MM missions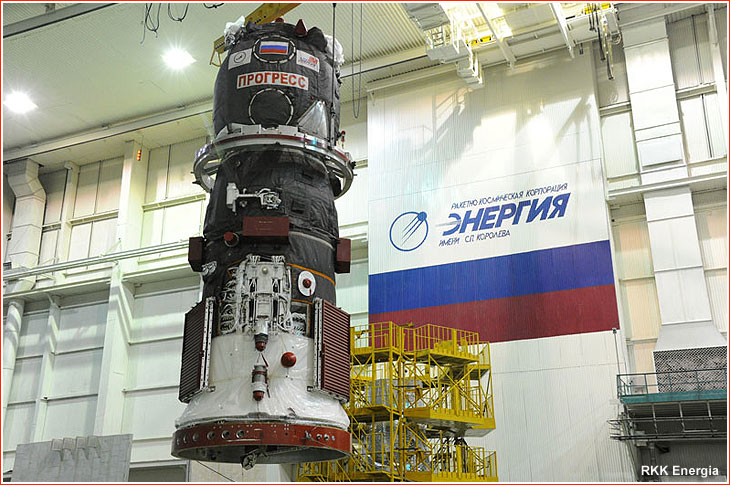 Progress M-22M is being delivered for final integration on Jan. 28, 2014, after fueling.
---
Launch
The launch of the Soyuz-U rocket from Pad No. 5 at Site 1 in Baikonur took place as scheduled on Feb. 5, 2014, at 20:23 Moscow Time (11:23 a.m. EST). The launch vehicle was carrying the Progress M-22M (No. 422) cargo spacecraft with 2.5 tons of cargo for the orbiting outpost and its 38th long-duration expedition. Among unusual payloads onboard the ship, is a container with gold fish for the Russian-Japanese Akvarium-AQH experiment. In the ISS schedule, this mission is known as 54P.
The launch was ensured for 1.518 billion rubles with the Sogaz company and its was previously scheduled on Oct. 23 and Dec. 24, 2013.
Docking
The automated docking of Progress M-22M at Pirs docking compartment on the ISS took place as scheduled on Feb. 6, 2014, at 02:22 Moscow Summer Time, or 5 hours 59 minutes and four orbits after the liftoff, as two vehicles were flying over the Atlantic.
In preparation for the arrival of Progress M-22M, a previous cargo vehicle -- Progress M-20M -- was undocked from the station on Feb. 3, 2014.
End of mission
Progress M-22M undocked from the Pirs Docking Compartment, SO1, of the Russian segment on April 7, 2014, at 17:58 Moscow Time. As a number of predecessors, the cargo ship was scheduled to remain in orbit until April 18, for a series of radar experiments prepared by the TsNIIMash research institute.
The spacecraft was deorbited on April 18, 2014, at 19:46 Moscow Time.
Next chapter: ISS missions
---