Retrievable Soyuz GVK spacecraft
Although the original Progress cargo ship was designed as a one-way transport to be destroyed during the reentry into the Earth atmosphere, Russian designers looked at various schemes to give the vehicle the ability to return cargo back to Earth. The concept of the retrievable Progress spacecraft became known as GVK for Russian "gruzo-vozvrashaemy korabl" or the cargo-returning vehicle.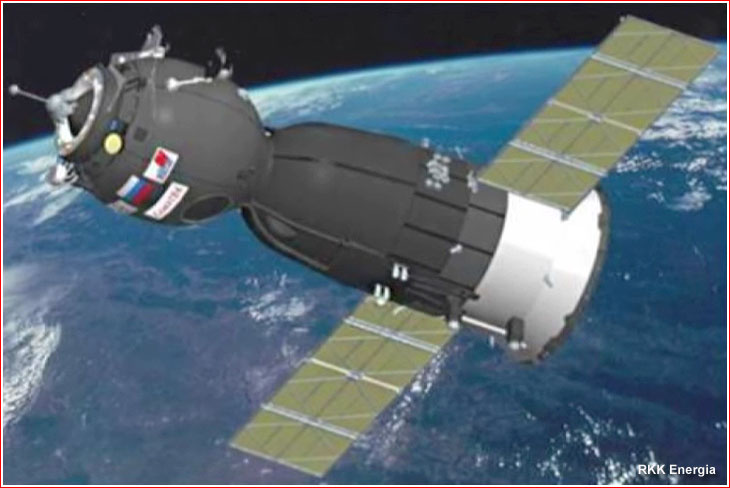 One early effort to equip the Progress with a reentry capsule from its manned cousin, the Soyuz, was made around 1999. At the time, RKK Energia, the prime developer of the Soyuz and Progress, dusted off its plans dating back to mid-1980s, for bigger, better transport ships.
The new cargo vehicle would be equipped with a reentry capsule borrowed from the Soyuz spacecraft and it would also sport a stretched cargo compartment. The drum-shaped instrument module would be eliminated to save room for the propellant section. (164) The new design was sized for the proposed Yamal rocket, which could carry a larger payload than the existing Soyuz-U booster. However, as hopes for the new launcher fizzled in the funding crunch, so did the plans for its payloads including the enlarged Progress.
Several years later, RKK Energia returned with a less ambitious concept of the prospective cargo ship, which would be based on the Soyuz TMA manned spacecraft and would fit into the existing version of the launcher. Its configuration was revealed at the International Astronautical Congress, which was held in Valencia, Spain, from Oct. 2 to Oct. 6, 2006. In an interview with RIA Novosti on November 10, 2006, head of RKK Energia Nikolai Sevastyanov said that the work on the vehicle was ongoing. As of January 2007, the organization was preparing to deliver a formal proposal for the development of the spacecraft to the Russian space agency, Roskosmos, according to Sevastyanov.
RKK Energia used the upcoming retirement of NASA's Space Shuttle, then expected in 2010, as the main justification for the development of the new spacecraft.
New attempt to develop the retrievable cargo version of the Soyuz spacecraft
The concept of the Soyuz GVK retrievable spacecraft resurfaced at the annual Korolev Readings in January 2018 among other concepts unveiled by Designer General at RKK Energia Evgeny Mikrin. The shown architecture of the retrievable spacecraft remained seemingly unchanged, but the vehicle was now designed to be launched on the Soyuz-2-1b rocket, the most powerful version in the Soyuz launcher family available at the time. Mikrin's presentation apparently did not mention the concept of the new-generation non-retrievable cargo ship, whose design was in development in the previous two years, but stalled due to lack of funding.
On May 18, 2018, RKK Energia said that the development of the Soyuz GVK spacecraft would be completed in 2022.
Known specs of the Soyuz-GVK spacecraft (as of January 2018):
| | |
| --- | --- |
| Launch vehicle | |
| Initial orbit parameters | Inclination: 51.67; Altitude: 200 by 242 kilometers |
| Operational orbital altitude | From 100 to 500 kilometers |
| Spacecraft liftoff mass | up to 8,020 kilometers |
| Deliverable cargo mass inside the Descent Module | up to 500 kilograms |
| Deliverable cargo mass inside the Cargo Section, GrO | up to 1,250 kilograms |
| Deliverable propellant for the space station's KDU propulsion system | up to 180 kilograms |
| Deliverable oxygen for ISS consumption | up to 36 kilograms |
| Returnable mass in the descent module | up to 500 kilograms |
| Mass of disposable cargo in the Cargo Section, GrO, at mission end | up to 1,250 kilograms |
| Spacecraft length | 7,230 millimeters |
| Spacecraft maximum diameter | 2,720 millimeters |
| Total flight duration | 370 days |
| Autonomous flight duration to support scientific experiments | up to 30 days |
---
Known specs of the retrievable cargo spacecraft, based on the Soyuz TMA (circa 2006):
| | |
| --- | --- |
| Payload mass delivered to orbit | 1,400 kg |
| Payload mass returned from space | 550 kg |
| Payload mass disposed at mission end | 620 kg |
Read much more about the history of the Russian space program in a richly illustrated, large-format glossy edition: