---
Sergei Korolev
Sergei Pavlovich Korolev (1907-1966) is widely regarded as the founder of the Soviet space program. Involved in pre-World War II studies of rocketry in the USSR, Korolev, like many of his colleagues, went through Stalin's prisons and later participated in the search for rocket technology in occupied Germany. His incredible energy, intelligence, belief in the prospects of space flight, managerial abilities and almost mythical skills in decision-making made him the head of the first Soviet rocket development center, known today as RKK Energia. According to many of his contemporaries, Korolev deserves most credit for turning rocket weapons into an instrument of space exploration and making the Soviet Union the world's first space-faring nation.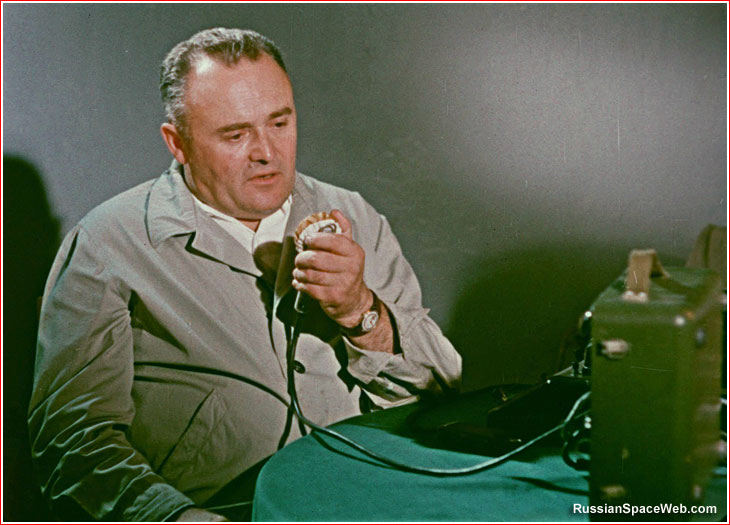 At the pinnacle of his career, Sergei Korolev re-enacts for the camera historic commands for the liftoff of the Vostok spacecraft with Yuri Gagarin onboard in 1961, which opened human exploration of space.
---
Sergei Korolev was born on December 30, 1906 (January 12, 1907, in the Gregorian calendar, currently in use in Russia) in the city of Zhitomir in present day Ukraine, in the family of a Russian language teacher. A year later, family moved to Kiev, Ukraine. In 1910, Sergei's parents separated and he moved with his mother to her parents home in the town of Nezhin. Korolev's parents officially divorced in October 1916 and soon Sergei's mother remarried. In 1917, the year of the Bolshevik Revolution in Russia, the family moved to Odessa, a major port city in Ukraine. (84)
In 1922, as the city was still recovering from the civil war, Sergei Korolev passed qualifying exams for a senior year at the Odessa professional construction school, an equivalent of a community college in the West. Here he met his future wife, Kseniya Vincentini. In addition to a top-notch staff, the Odessa construction school gave its graduates a previlige of entering colleges without entrance exams. At the time, Sergei was already interested in aviation, likely ignited by his step-father, a well-educated engineer with a booming dual career in the railroad industry and technical education. In June 1923, Korolev joined newly created Friends of Air Fleet Society. (241)
In 1924, Korolev transfered to the Kiev Polytechnic Institute, where he joined a group of glider enthusiasts. Two years later Korolev transferred to Moscow's Bauman High Technical School, MVTU, the best engineering college in Russia, later often compared to MIT in the United States.
Korolev graduated from MVTU in 1929 and in 1931 he joined the Central Aero and Hydrodynamics Institute, TsAGI. (2) In July 1932, Korolev was appointed chief of Jet Propulsion Research Group, GIRD, one of the earliest state-sponsored centers for rocket development in the USSR. In 1933, the group was reorganized into the Jet Propulsion Research Institute, RNII, where Korolev worked as Deputy Chief of the institute. At RNII, Korolev led the development of cruise missiles and of a manned rocket-powered glider.
On June 27, 1938, at the height of Stalin's purges, Korolev was arrested and sent to concentration camps in Siberia, in the region of the Kolyma River. Korolev fateful roller coaster continued in March 1940, when he was suddenly returned to Moscow and imprisoned in the infamous Butyrskaya prison. On July 10 of the same year, a special commission chaired by Lavrenty Beria, chief of Stalin's secret police, sentenced Korolev to eight years in labor camps on phony allegations of sabotage. "Fortunately" for Korolev, in September 1940, he was transferred to "sharashka" -- one of numerous design bureaus in prison. The sharashka network was organized in 1939, to exploit huge population of the Soviet GULAG. Officially called TsKB-29, Korolev's sharashka was led by Andrei Tupolev, also a GULAG prisoner and located in the city of Omsk. There, Korolev participated in the development of the Tu-2 bomber, a major aircraft of the Soviet Air Force during World War II. Korolev was then transferred to another sharashka in the city of Kazan, where he became a deputy to Valentin Glushko, his former colleague from NII-3 and future partner and competitor at the dawn of space age.
On July 27, 1944, the authorities "paroled" Korolev and on Sept. 8, 1945, Korolev traveled to Germany for evaluation and restoration of A-4 ballistic missiles. In August 1946, while still in Germany, Korolev was appointed chief of a department in the newly created NII-88 in Podlipki, northeast of Moscow. This organization was made responsible for the development and industrial production of missile technology based on German hardware.
At the peak of his career, Korolev led the development of the world's first intercontinental ballistic missile, known today as R-7, which became a base for a long-lasting family of space boosters, carrying Russian cosmonauts into orbit for decades to come.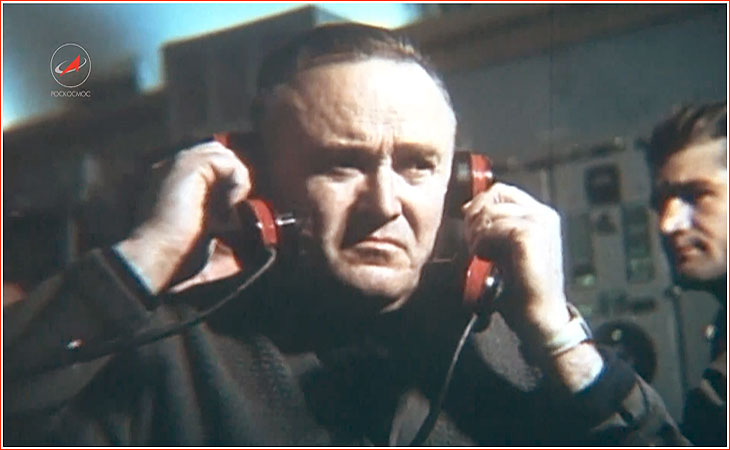 A still image from iconic footage of Korolev porbably inside the firing bunker of the R-7 missile in Tyuratam.
---
In the following years, Korolev led the development of several generations of ballistic missiles, launch vehicles, science, military and communications satellites, interplanetary probes and manned spacecraft. In 2016, the Soyuz spacecraft, which he had conceived at the dawn of the space era, turned half a century in operation. Korolev died at the height of his career as a result of a botched surgical operation on January 14, 1966. Even before his death, Korolev's largest undertaking, the development of the giant N1 Moon rocket, faced mounting technical challenges, unrealistic schedule and political pressure to beat Americans to the Moon.
Due to secret nature of the Soviet space industry, Korolev's contribution to the space program was widely recognized by the Soviet authorities only after his death.
For several more decades, Korolev's biography was laregely white-washed by the official Soviet press. His largely uncersored and detailed biography was first published only in 1994. (18) Korolev's daughter Natalya completed a life story of her legendary father in 2002. (241)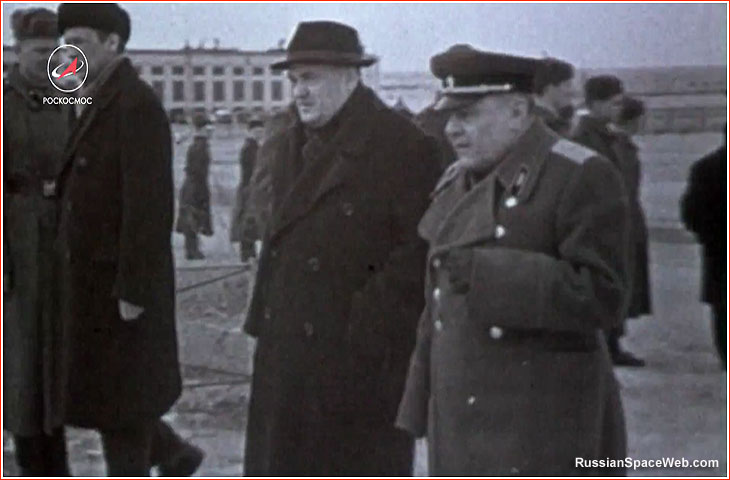 Sergei Korolev (center) and Georgy Tyulin (right, in uniform) at Site 2 in Tyuratam probably in March 1965.
---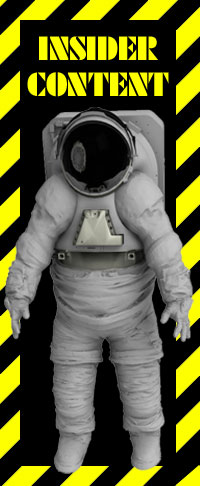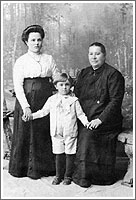 ---
---
---
---
---
---
---
---
---
---
---
---