---
---
---
Related page:

---

---
Previous chapter: MKA-FKI (PN2) Relek mission
MKA-FKI (PN3) Konus-M (372A353)
The third spacecraft in the MKA-FKI series was expected to fulfill following scientific tasks:
High-resolution observations of temporary profiles and spectra of gamma-bursts;
Search for repeating gamma sources;
Studies of unordinary transitional phenomena within space X-ray and gamma radiation.
The spacecraft would feature following components:
The standard Karat-200 platform, which differs from the original bus by a liquid-propellant engines instead of electric engines. The spacecraft bs was to feature:

A group of instruments for flight control, orientation and stabilization of spacecraft including:

Onboard computing system, BVS;
Input and output device, UVV;
Flight control measurement sensors:

Solar sensors, SD;
Star trackers, ZD;
Fiber-optic angular velocity sensor avionics, BIUS VO;

Attitude control systems:

Flywheel mechanism, DM;
Electromagnetic attitude control mechanism;

Data memory unit, ZU;
Onboard radio complex, BRK;
Propulsion system control avionics block, BUDU;

The main liquid-propellant propulsion system, DU, whose engines are also responsible for attitude control and stabilization of the spacecraft;
Antenna assembly, AFS;
Thermal control system;
A group of instruments for the power-supply system including:

An automation and stabilization block, BAS;
Power batteries, AB;
Photo-electric batteries, BF;

Onboard cable system, BKS;
Structural components;

The Konus-M science payload;
An additional experimental payload developed by NPO Lavochkin with a yet-to-be determined content as of October 2012. It probably referred to testing of deep-space communications in X-band, added to the mission after the loss of the Phobos-Grunt spacecraft, which would be the first post-Soviet space probe using such a communication mode;
An adapter.
On March 14, 2014, the Space Council of the Academy of Sciences, officially rejected the use of the Karat platform for all but the Relek experiment, which was to be Karat's second mission. The third, the fourth and the fifth launches of Karat were all cancelled. The Space Council proposed to fold ARKA, as well as the Konus-M experiment and the Monika spectrometer (provisionally scheduled to fly on the sixth Karat mission) into the Koronas-K solar-research project. However all these experiments would have to be accommodated as secondary payloads onboard future Russian application satellites.
Next chapter: MKA-FKI (PN4) Strannik mission
Page author: Anatoly Zak; Last update: April 27, 2014
All rights reserved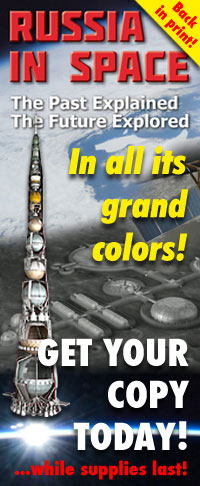 IMAGE ARCHIVE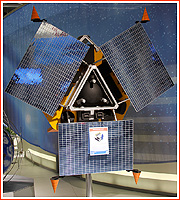 The standard MKA/Karat bus was expected to be used as a basis for numerous Russian science missions during the 2010s. Copyright © 2010 Anatoly Zak
---