Proton successfully delivers Eutelsat-9B
Opening Russia's space launch operations in 2016, the nation's workhorse rocket carried the Eutelsat-9B communications satellite into orbit on January 30. In addition to expanding the fleet of a major European operator, Eutelsat S.A., the launch was also the final test for the Proton launcher before its historic mission to send the ExoMars-2016 probe to the Red Planet in March.
---
Eutelsat-9B launch profile
A Proton-M/Briz-M rocket lifts off with the Eutelsat-9B satellite on Jan. 30, 2016.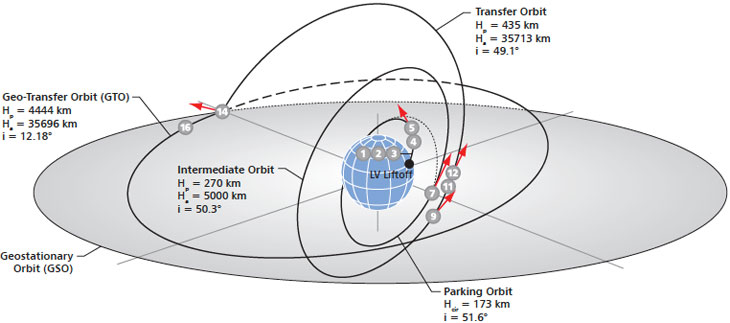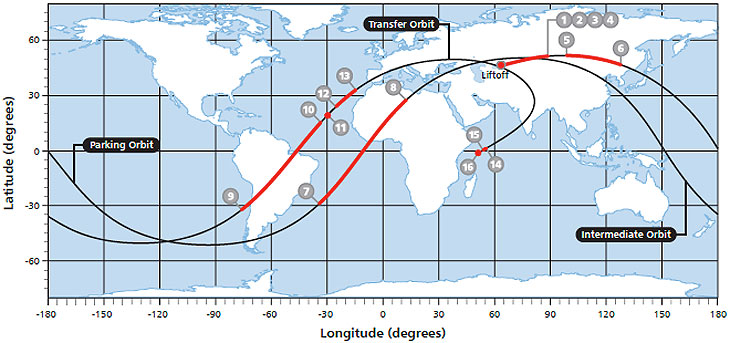 -

Liftoff

01:20:09.03

5:20 p.m.*

0

0.03 seconds

-

1

01:22:08.63

5:22 p.m.*

00:02:00

119.28 seconds

0.35 seconds

2

01:25:36.18

5:25 p.m.*

00:05:27

327.58 seconds

0.40 seconds

3

Payload fairing separation

01:25:53.98

5:25 p.m.*

00:05:47

345.34 seconds

0.36 seconds

4

01:29:51.22

5:29 p.m.*

00:09:42

582.48 seconds

0.26 seconds

5

01:31:25.22

5:31 p.m.*

00:11:16

676.92 seconds

0.70 seconds

6

Briz-M firing 1 ends

01:35:55.81

5:35 p.m.*

00:15:47

943.26 seconds

3.55 seconds

7

Briz-M firing 2 starts

02:27:22.00

6:27 p.m.*

01:07:33

4,053.34 seconds

0.34 seconds

8

Briz-M firing 2 ends

02:45:25.93

6:45 p.m.*

01:25:17

5,110.04 seconds

6.89 seconds

9

Briz-M firing 3 starts

04:48:21.00

8:48 p.m.*

03:28:12

12,492.28 seconds

0.28 seconds

10

Briz-M firing 3 ends

05:02:02.42

9:02 p.m.*

03:41:53

13,313.31 seconds

0.11 seconds

11

Briz-M jettisons its external tank

05:02:52.42

9:02 p.m.*

03:42:43

13,363.22 seconds

0.20 seconds

12

Briz-M firing 4 starts

05:04:19.42

9:04 p.m.*

03:44:10

13,450.67 seconds

0.25 seconds

13

Briz-M firing 4 ends

05:08:09.90

9:08 p.m.*

03:48:01

13,677.95 seconds

2.95 seconds

14

Briz-M firing 5 starts

10:11:57.00

2:11 a.m.

08:51:48

31,908.17 seconds

0.17 seconds

15

Briz-M firing 5 ends

10:20:03.80

2:20 a.m.

08:59:55

32,393.20 seconds

1.60 seconds

16

Spacecraft separation

10:32:09.00

2:32 a.m.

09:12:00

33,120.32 seconds

0.32 seconds

17

Briz-M disposal orbit firing 1 starts

12:36:49.00

4:36 a.m.

18

Briz-M disposal orbit firing 1 ends

12:37:01.00

4:37 a.m.

40,612.20 seconds

0.20 seconds

19

Briz-M disposal orbit firing 2 starts

13:56:49.00

5:56 a.m.

45,400.39 seconds

0.39 seconds

20

Briz-M disposal orbit firing 2 ends

13:58:29.00

5:58 a.m.

45,500.46 seconds

0.46 seconds
---
---
During the delivery of the Eutelsat-9B satellite, Proton-M followed a typical launch profile for most commercial missions. A Proton-M/Briz-M launch vehicle lifted off as scheduled from Baikonur Cosmodrome's Pad 39 at Site 200 on Jan. 30, 2016, at 01:20:08.966 Moscow Time (5:20 p.m. EST on January 29).
The first, second and third stages of the launch vehicle flew a standard ascent trajectory matching the orbital inclination of 51.32 degrees toward the Equator, placing the payload section including a Briz-M upper stage and the Eutelsat-9B satellite into a sub-orbital trajectory with an apogee (highest point) 177.67 kilometers, which was within specifications.
During the mission, Briz-M was scheduled to perform a total of five engine firings to advance the orbital unit first to a circular parking orbit, then to an intermediate orbit, followed by a transfer orbit, and, finally, to a geostationary transfer orbit.
The in-flight telemetry indicated that the nearly 182-kilometer parking orbit with an inclination 51.33 degrees toward the Equator had been within specifications. The second firing of the Briz-M stage also started on schedule and delivered the stack to a 276.82 by 5,006.63-kilometer orbit with an inclination around 50 degrees toward the Equator also within specifications. The third and fourth maneuvers separated by a short break to jettison the empty external tank delivered the stack into a 441.83 by 35,710-kilometer orbit with an inclination around 49 degrees toward the Equator.
Separation of the satellite took place as scheduled 9 hours 12 minutes after liftoff into a highly elliptical orbit.
The satellite is expected to use its own propulsion system to enter the geostationary orbit 36,000 kilometers above the Equator at 9 degrees East longitude.
From the publisher: Pace of our development depends primarily on the level of support from our readers!
Eutelsat-9B to expand communications in Europe
Eutelsat-9B, is a high-capacity Ku-band satellite built by the Space Systems division of Airbus Defence and Space (formerly Astrium). Based on a Eurostar E3000 platform, its 56 transponders will deliver to Eutelsat fresh resources and enhanced performance for broadcasting at the established 9 degrees East location via multiple service areas over Europe. This capacity will be spread across five footprints, with frequency reuse optimizing overall bandwidth. According to Eutelsat, the satellite will address high-growth digital TV markets through one pan-European footprint delivering wide coverage and four regional footprints over Italy, Germany, Greece, Scandinavia, Baltic and Ukraine.
Eutelsat-9B will also host the first data relay payload for the European Data Relay Satellite System, EDRS, being implemented through a Public-Private Partnership, PPP, between Airbus and the European Space Agency, ESA. The EDRS constellation will enable two-way, high-volume data relay between observation satellites in the low-Earth orbit and their ground control stations on Earth. This capability promised to cut reaction time for a wide range of operations such as disaster monitoring and emergency operations.
The EDRS-A payload hosted on Eutelsat-9B comprises a laser communications terminal and a Ka-band inter-satellite link that will retrieve high volumes of data sent from low orbit satellites, airborne platforms and the International Space Station. The data can then be immediately transmitted from geostationary orbit back to EDRS ground stations.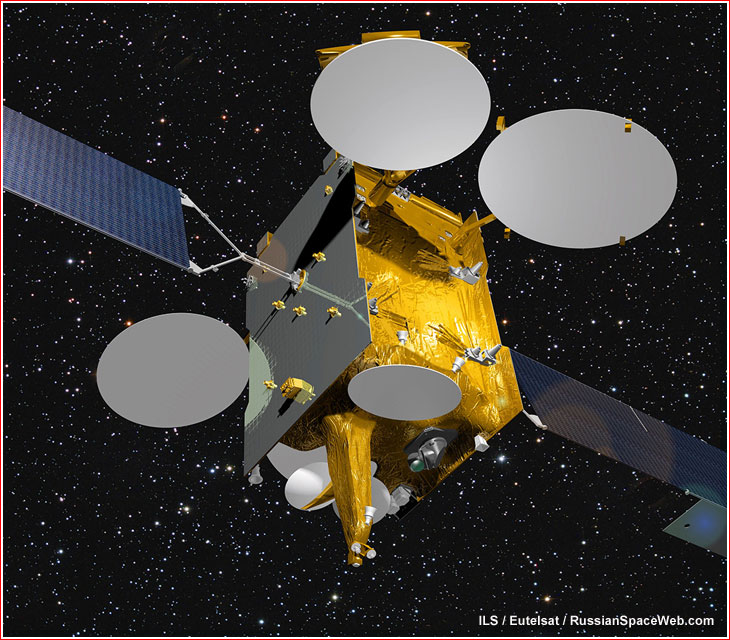 Eutelsat-9B specifications:
| | |
| --- | --- |
| Spacecraft mass (at launch vehicle separation) | 5,162-5,175 kilograms |
| Number of transponders | 56 (66 according to some sources) |
| Orbital position | 9 degrees East longitude |
| Life span | 15 years |
| Spacecraft developer | Airbus Defence and Space |
| Spacecraft platform | Eurostar-3000 |
| Spacecraft operator and owner | Eutelsat S.A. |
Road to the launch pad
The International Launch Services, ILS, the company that markets Proton rocket to commercial customers around the world, announced the agreement for this launch on Jan. 15, 2014. The mission to deliver the Eutelsat-9 satellite was previously planned in the second quarter of 2015. (On October 30, 2015, the ILS announced that it had reached an agreement with Eutelsat to launch an undisclosed number of additional satellites over a seven-year period from 2016 to 2023.)
Before the Proton rocket accident with MexSat-1 satellite on May 16, 2015, the launch of Eutelsat-9B was expected in July or August 2015. After the delay of the ExoMars-2016 mission in September 2015, from January to March 2016, the mission was considered either at the end of January or in April 2016, depending on the progress with earlier missions.
The Eutelsat-9B launch campaign in Baikonur started with the arrival of the satellite on Nov. 21, 2015, followed by its Airbus processing team three days later, however the propellant and pressurized gasses for the spacecraft arrived by train only on December 7. The spacecraft was then fueled by December 11, 2015.
On December 13, 2015, the Airbus team prepared and transferred the fully fueled satellite from Hall 103A to Hall 101 inside the 92A-50 facility in Baikonur. The satellite was then integrated with its adapter provided by RUAG and GKNPTs Khrunichev, serving as an interface with the Briz-M upper stage.
By mid-December, engineers working at Hall 101, performed a multitude of tests on the satellite before it could be integrated with the launch vehicle.
After the successful launch of Ekspress-AMU1 satellite on Dec. 25, 2015, the launch of Eutelsat-9B was re-scheduled from January 25 at 01:19:00 Moscow Time to January 28, at 01:19:45 Moscow Time. However in mid-January 2016, the mission had to be postponed until January 30, due to weather-related logistical issues associated with the nominal delivery of the second stage solid retro rockets, the ILS said.
On Jan. 25, 2015, the State Commission overseeing the Eutelsat-9B launch gave green light to the rollout of the Proton rocket with the satellite to the launch pad next day. The launch vehicle arrived at Site 200 as planned on January 26.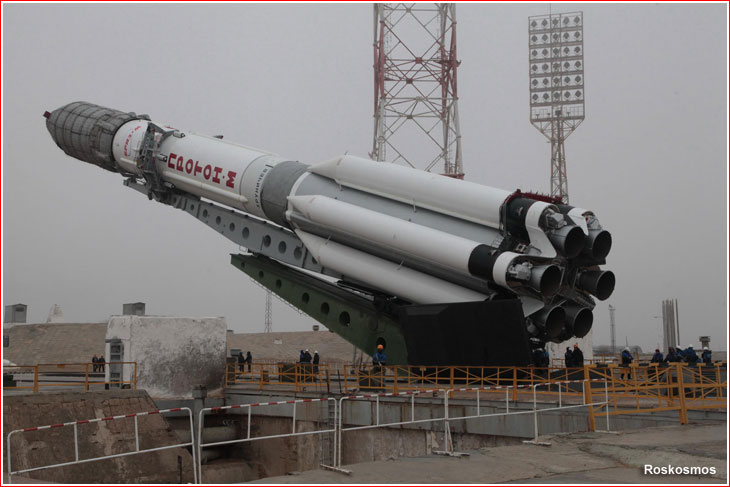 Next Proton mission: ExoMars-2016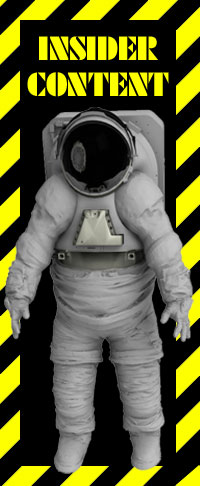 ---