Proton delivers a pair of Ekspress satellites
Russia's commercial workhorse rocket successfully delivered a pair of communications birds into orbit for the nation's main operator on March 16, 2014.
Previous Proton mission: Turksat-4A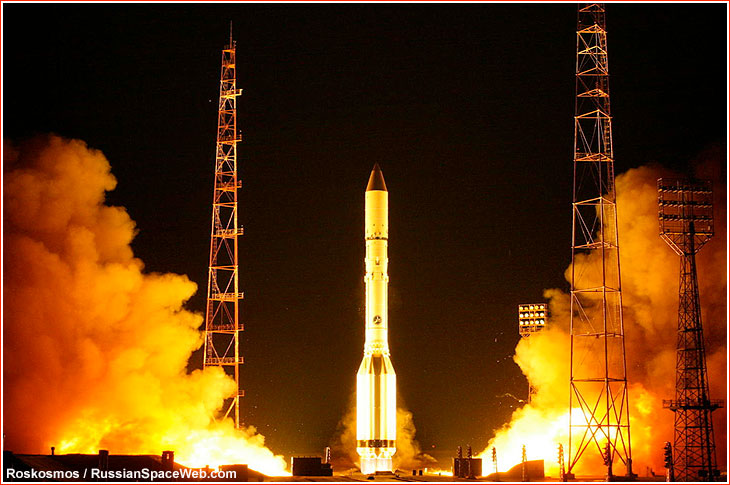 Proton lifts off with Ekspress-AT1 and AT2 satellites on March 16, 2014.
---
Flight profile
A Proton-M/Briz-M launch vehicle lifted off from Baikonur Cosmodrome's Pad 24 at Site 81 on March 16, 2014, at 03:08:00 Moscow Time (7:08 p.m. EST on February 15). The rocket carried Ekspress-AT1 and Ekspress-AT2 communications satellites for Russian Satellite Communications Company, RSCC.
The payload section, comprized of Briz-M stage and a pair of satellites, separated from the third stage of Proton at 03:17 Moscow Time, Roskosmos announced. Briz-M was expected to conduct four engine firings during the mission.
According to Roskosmos, Ekspress-AT1 satellite separated from Briz-M into a planned orbit at 12:10 Moscow Time on March 16 (4:10 a.m. EST). The satellite was left in a geostationary transfer orbit and would use its own propulsion system to enter its operational orbit at 56 degrees East longitude over the Equator.
Ekspress-AT2 was also successfully released 18 minutes later, the agency said. It was to be positioned at 140 degrees East longitude in the geostationary orbit.
According to Roskosmos, it was 395th mission of the Proton rocket and the launch was a complete success.
The spacecraft
The Ekspress-AT1 satellite was built at ISS Reshetnev in Zheleznogorsk, Russia, and had a mass of 1,800 kilograms, according to Roskosmos (1,672 kilograms according to ISS Reshetnev). They based on the company's standard Ekspress-1000N platform. The satellite carried 32 Ku-band main transponders and eight backup transponders. It was expected to operate in orbit no less than 15 years providing TV services across western and central Russia, western and central Siberia and most territory of Kazakhstan.
The Ekspress-AT2 spacecraft was based on the ISS Reshetnev's standard Ekspress-1000K satellite bus. It had a mass of 1,250 kilograms according to Roskosmos (1,326 kilograms according to ISS Reshetnev). It carried 16 Ku-band main transponders and four backups. With a projected life span of no less than 15 years, the satellite was designed to provide TV services across eastern Russia.
As of 2010, one Russian and one Western operator was expected to use satellites' communication capacities.
Mission history
The mission was originally expected in September 2012. The launch was then expected in the third quarter 2013, however by October 2013, it was postponed to 2014. By the beginning of that year, the mission was scheduled for March 4. By February, the mission was delayed until March 16. The launch vehicle with the spacecraft was rolled out to the launch pad on March 12, 2014.
Read (and see) much more about these and many other space developments in Russia
in a richly illustrated, large-format glossy edition:
The Past Explained, the Future Explored
Next page: Proton missions in 2014
---
Page author: Anatoly Zak; last update: December 15, 2021
All rights reserved