---
---
---
---
---
Proton delivers Yamal-401
During its 400th mission, the Russian commercial workhorse rocket delivered a communications satellite for the nation's gas and oil conglomerate Gazprom. The liftoff of a Proton-M rocket took place as scheduled on Dec. 15, 2014, at 03:16:00 Moscow Time, from Pad No. 24 at Site 81 in Baikonur. The launch vehicle carried the Yamal-401 communications satellite into a geostationary orbit at 90 degrees East longitude over the Equator.
Previous Proton mission: Ekspress-AM6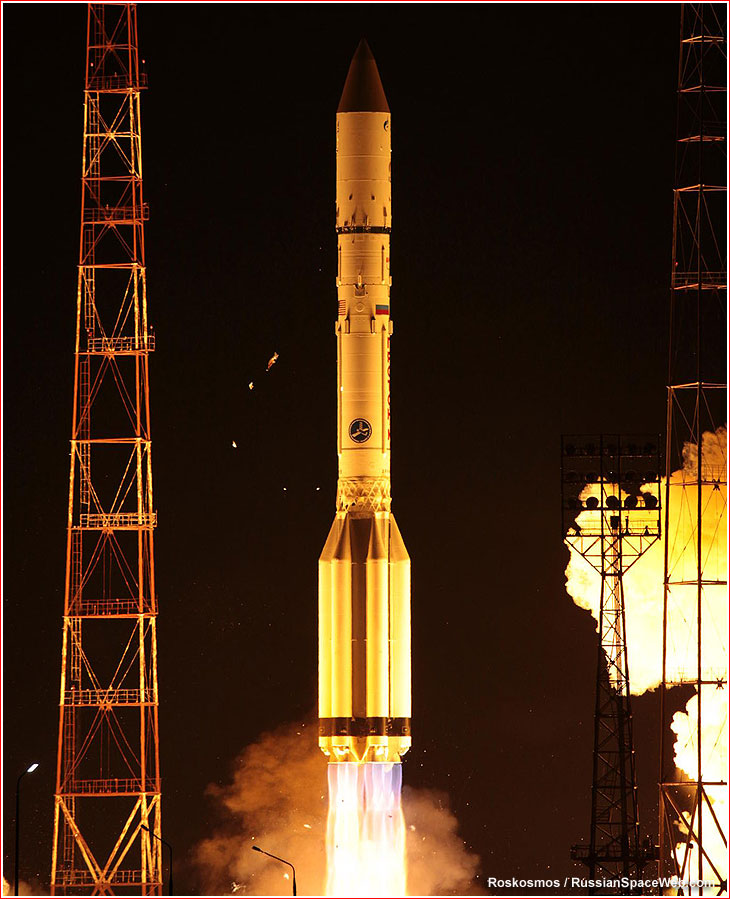 From the publisher: Please help to keep this site open and current! The pace of our development depends primarily on the level of support from our readers.
Launch of Yamal-401 at a glance:
| | |
| --- | --- |
| Launch date | 2014 Dec. 15, 03:16:00 Moscow Time, 00:16 GMT (7:16 p.m. EST, December 14) |
| Launch site | |
| Launch vehicle | |
| Spacecraft (primary payload) | Yamal-401 |
| Spacecraft mass | 2,976 kilograms |
| Operational orbit | Geostationary (35,669 kilometers), 90 degrees East longitude |
| Spacecraft prime developer | ISS Reshetnev, Zheleznogorsk, Russia |
Yamal-401: Russia's third big comsat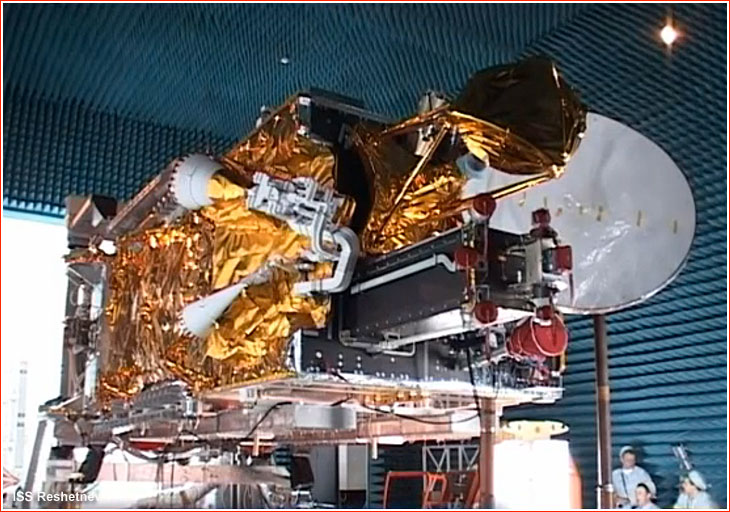 The 2,976-kilogram Yamal-401 was built by the Russian company ISS Reshetnev for Gazprom Kosmicheskie Sistemy (Gazprom Space Systems), Russia's key energy company.
The satellites is equipped with 53 transponders and six antennas operating in C- and Ku-band and designed to provide communications and TV signals across Europe and Asia. Most users of the satellite were expected to be in Russia and former Soviet republics. The Yakut Republic of Russia was quoted as a major user of the new spacecraft. Gazprom officials claimed that costs of satellite-based Internet services in the remote republic would fall as much three times with the arrival of Yamal-401.
The combined payload of the satellite included 17 72-megaherz transponders in standard C-band, 18 72-megaherz transponders in standard Ku-band and 18 36-megaherz transponders in planned frequencies of Ku-band. The total capacity of the Yamal-401 satellite was to amount to 53 physical transponders or 88 equivalent (36-megaherz) transponders, which compose one fixed beam in C-band covering Russia and former Soviet republics and two fixed beams in Ku-band (one beam known as Russian and one designated as Northern). Gazprom Space Systems also provided the development of the ground infrastructure to control and operate the satellite.
As of 2011, Yamal-401 was expected to replace the Yamal-300K satellite at 90 degrees East longitude, which in turn would be moved to 163.5 East longitude. In 2014, it was reported that Yamal-401 would be replacing an older Yamal-201, which had been located in a nearby position since 2003.
Yamal-401 became the third spacecraft, after Ekspress-AM5 and Ekspress-AM6, based on the Ekspress-2000A platform developed at ISS Reshetnev. All three satellites would be largest ever built in Russia and providing most communication capacity for their users.
Yamal-401 was insured by the Sogaz company for 280 million Euro against its loss during the launch or the first year of operation.
Like other spacecraft based on the Ekspress-2000 platform, a pair of satellites in the Yamal-400 series were guaranteed to operate for 15 years. They were expected to be followed by Yamal-500 and Yamal-600 series featuring Ka-band transponders providing broad-band Internet services.
Known specifications of the Yamal-401 satellite*:
| | |
| --- | --- |
| Spacecraft mass | 2,976 kilograms |
| Total number of transponders | 53 physical transponders or an equivalent 88 36-megaherz transponders |
| Number of antennas | 6 |
| Orbital position | 90 degrees East longitude |
| Power supply available for payload | 10.6 kilowatts |
| A total area of two solar panels | 88 square meters |
| Type of attitude control system | Three-axis |
| Station-keeping accuracy in orbit | 0.1 degrees |
| Attitude control accuracy in orbit | 0.1 degrees |
| Guaranteed service life | 15 years |
---
Mission history
According to original plans, the Yamal-401 and Yamal-402 satellites were to be built by a European company Thales Alenia Space with ISS Reshetnev (NPO PM) as a component supplier. The original agreement for the development of the satellite was reached in February 2009 and, at the time, its launch was expected on an Ariane-5 rocket in 2011. However on January 21, 2010, a shareholders meeting of Gazprom Space Systems approved an increased involvement of the Russian industry into the project and switched the launch provider to the International Launch Services, a US-based company that markets Proton rockets to commercial customers.
On May 28, 2010, it was announced that the 3,150-kilogram Yamal-401 would be a smaller spacecraft among other members of the Yamal-400 series. As a result, Yamal-401 could be launched directly into the geostationary orbit like most Russian communications satellites, rather than into a geostationary transfer orbit used by most Western spacecraft. According to the latest arrangement, Thales Alenia Space would provide a communications payload for the Russian-built spacecraft.
On May 2, 2012, ISS Reshetnev flown the payload module of the satellite to Toulouse, France, for a seven-month integration with the transponders built by Thales. The hardware was returned back to Russia at the beginning of 2013. The integration of the payload with the service module took place in the summer of 2013.
From mid-2012 until the beginning of 2013, the launch of Yamal-401 was expected at the end of 2013, however by the middle of that year, it was postponed to 2014. In February 2014, the launch was planned for June of that year.
The spacecraft went through final tests in an echoless chamber in May 2014. By June 2014, the assembly of the satellite was largely completed and it was delivered to Baikonur Cosmodrome on Oct. 27, 2014. A Briz-M stage for the mission arrived to the launch site on November 10.
The preparation of the satellite followed a launch campaign of the Astra-2G satellite, however after a discovery of the technical problem with its launch vehicle on the launch pad at the end of November, the launch of Yamal-401 was moved to December 16.
The payload section for Yamal-401 mission was assembled on December 5. By December 8, the launch date was advanced from December 16 to December 15 to avoid some schedule conflicts at the site, Interfax news agency reported. On the same day, the payload section was attached to the launch vehicle.
A fully assembled rocket was rolled out to the launch pad on Dec. 11, 2014.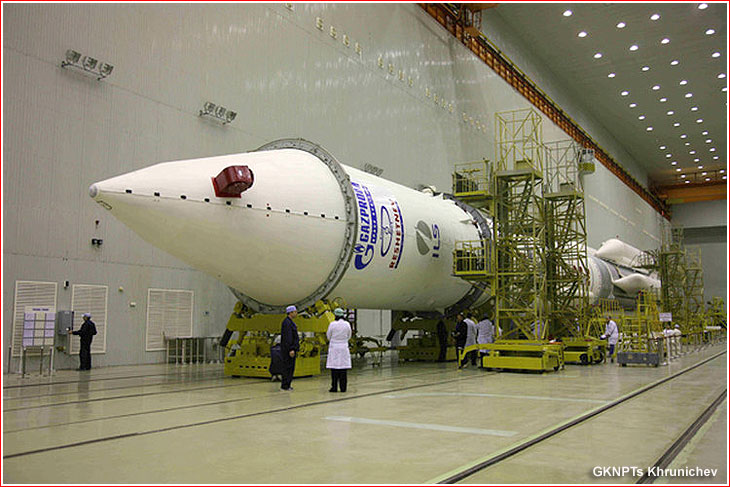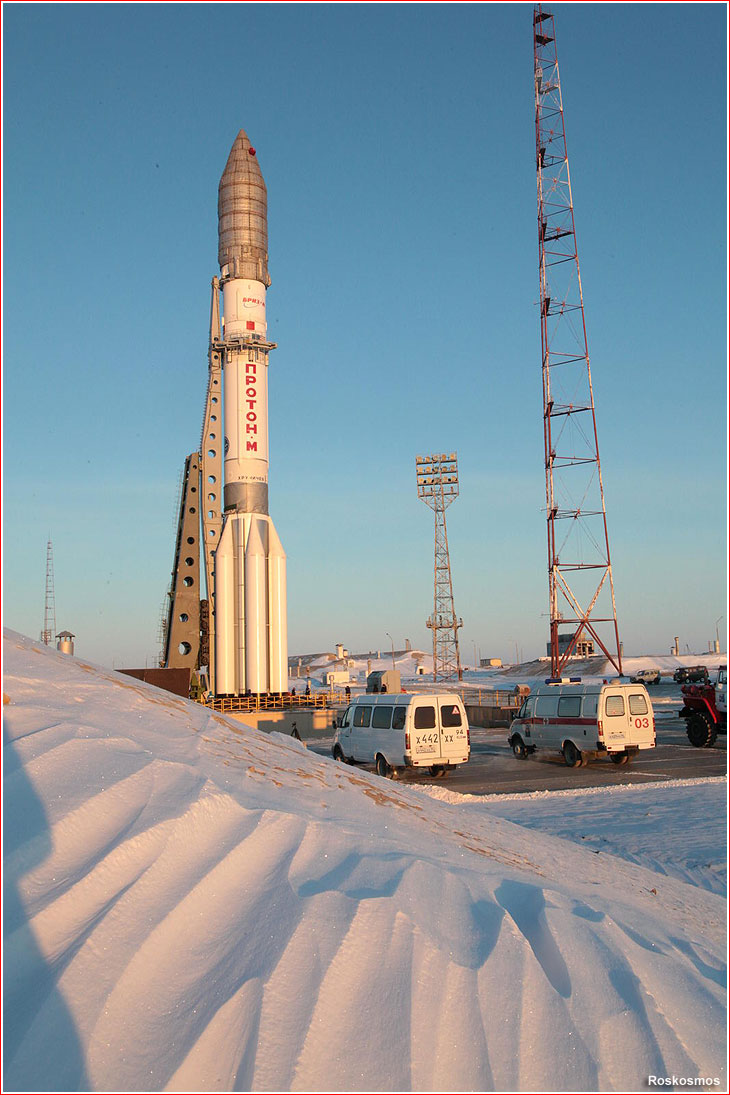 Above: A Proton-M rocket with the Yamal-401 satellite shortly after its delivery to the launch pad on Dec. 11, 2014.
Yamal-401 flight profile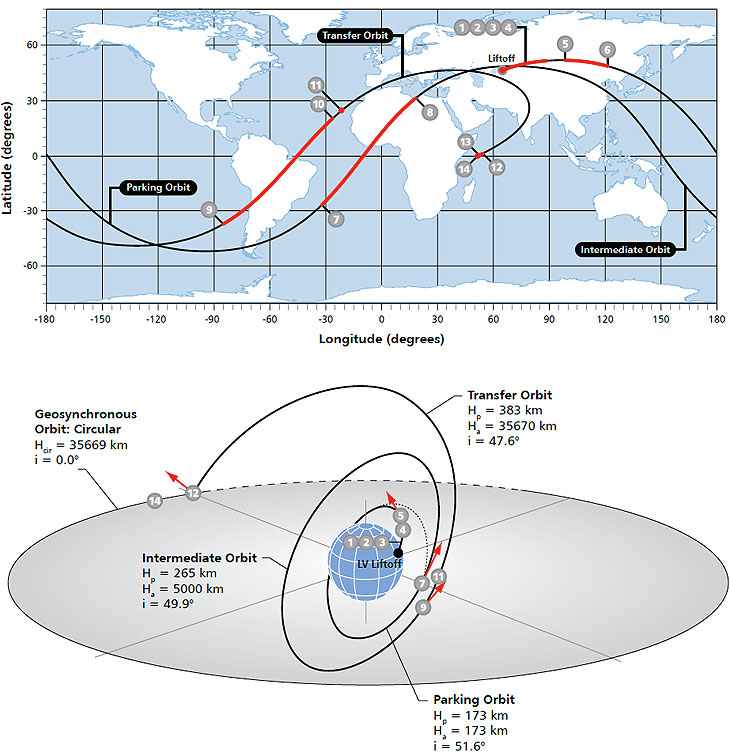 Yamal-401 launch timeline on Dec. 15, 2014:
-

Event

Moscow time

EST

Scheduled elapsed time

Factual elapsed time

Deviation

-

Liftoff

03:16:00

7:16 p.m.*

0

-

0

1

-

-

00:02:00 (120 seconds)

121 seconds

1 second

2

-

-

00:05:27 (327 seconds)

328 seconds

1 second

3

Payload fairing separation

-

-

00:05:47 (345 seconds)

346 seconds

1 second

4

03:25

-

00:09:42 (582 seconds)

582 seconds

0

5

Briz-M

firing 1 starts for 4 min. 06 sec.

-

-

00:11:16 (676 seconds)

677 seconds

1 second

6

Briz-M firing 1 ends

-

-

00:15:22 (922 seconds)

918 seconds

-4 seconds

7

Briz-M firing 2 starts for 17 min. 55 sec.

-

-

01:07:28 (4,048 seconds)

4,048 seconds

0

8

Briz-M firing 2 ends

-

-

01:25:23 (5,123 seconds)

5,109 seconds

-14 seconds

9

Briz-M firing 3 starts for 18 min. 01 sec.

-

-

03:28:57 (12,537 seconds)

12,537 seconds

0

10

Briz-M firing 3 ends

-

-

03:46:58 (13,618 seconds)

13,618 seconds

-11 seconds

11

Briz-M jettisons its external tank

-

-

03:48:19 (13,699 seconds)

13,688 seconds

-11 seconds

12

Briz-M firing 4 starts for 13 min. 05 sec.

-

-

08:47:09 (31,629 seconds)

31,629 seconds

0

13

Briz-M firing 4 ends

-

-

09:00:14 (32,414 seconds)

32,403 seconds

-11 seconds

14

Spacecraft separation

12:17

-

09:01:24 (32,484 seconds)

32,472 seconds

-12 seconds
---
*December 15;
Credit: ILS, GKNPTs Khrunichev
At the conclusion of the standard countdown for the Proton launch, the ignition sequence is initiated 2.5 seconds before the rocket leaves the pad. Around 1.75 seconds before liftoff, six engines of the first stage should reach 40 percent of their full thrust (known as Stage 1 ignition). The full thrust should be reached just 0.9 seconds before liftoff.
Following a vertical ascent, the Proton is heading east to enter an initial parking orbit with an inclination 51.5 degrees toward the Equator. The rocket overcomes the maximum dynamic pressure of the atmosphere one minute and two seconds after leaving the pad. The first, second and third stages of the launch vehicle are programmed to use a standard ascent profile to release the payload section, including the Yamal-401 satellite and the Briz upper stage, into a suborbital trajectory.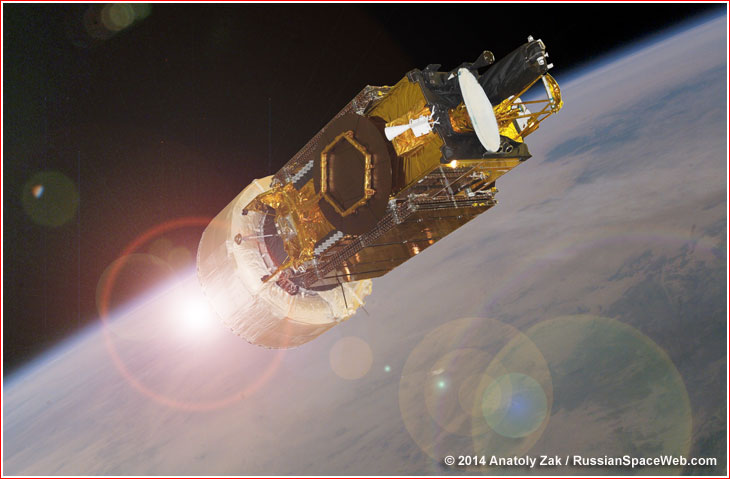 The Briz-M stage then executes a flight profile typical for Russian missions to the geostationary orbit, which includes four engine firings over the course of a nine-hour and one-minute orbital insertion process. First, Briz-M boosts the satellite to a circular parking orbit, then to an intermediate orbit, followed by a transfer orbit, and finally, to a geosynchronous orbit.
The launch concludes with the separation of the Yamal-401 satellite from the Briz-M in a 35,669-kilometer circular orbit matching the plane of the Equator. This is a major difference from Proton's commercial missions with foreign satellites, which due to their higher mass, are usually released into a geostationary transfer orbit and are required to use their own propulsion system to reach a final operational orbit.
The release of the Yamal-401 satellite is scheduled to occur approximately nine hours, 1 minute after liftoff. The spacecraft is slated for an operational deployment at 90 degrees East longitude. If everything goes as scheduled, it might enter service as soon as January 2015.
After the release of the satellite, Briz-M is programmed to perform two engine firings to enter a safe disposal orbit, where its tanks would be depressurized to prevent a potential explosion and contamination of the Earth's orbit with debris.
Read (and see) much more about the history of the Russian space program in a richly illustrated, large-format glossy edition: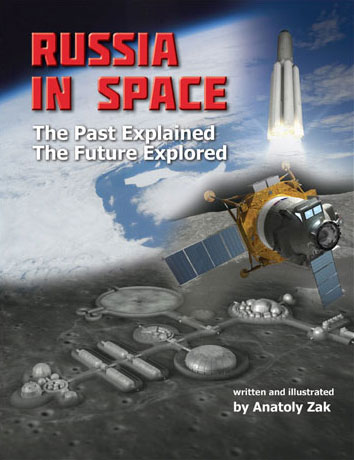 Next chapter: Proton missions in 2015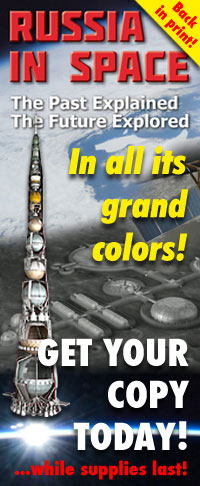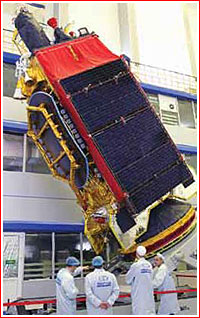 Yamal-401 during final tests at ISS Reshetnev in 2014. Credit: ISS Reshetnev
---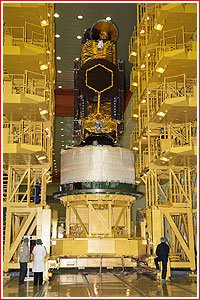 Click to enlarge. Credit: Roskosmos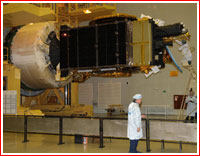 Click to enlarge. Credit: Roskosmos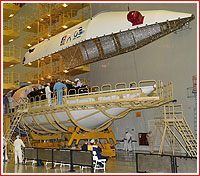 Payload section including Yamal-401 satellite and Briz-M stage is being integrated with its Proton rocket at the beginning of December 2014. Click to enlarge. Credit: Roskosmos
---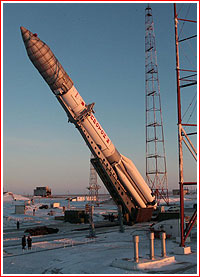 Click to enlarge. Credit: Roskosmos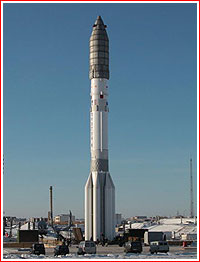 A Proton rocket with Yamal-401 during its installation on the launch pad on Dec. 11, 2014. Click to enlarge. Credit: Roskosmos
---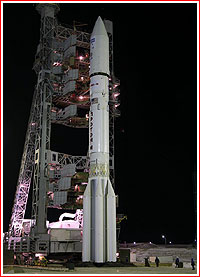 Proton rocket with Yamal-401 satellite shortly before liftoff on Dec. 15, 2014. Click to enlarge. Credit: Roskosmos
---