Berkut spacesuit
During the historic mission of the Voskhod-2 spacecraft in March 1965, both of its crew members were wearing Berkut spacesuits. In combination with a removable life-support backpack, KP-55, Berkut was designed for short spacewalks, but, when plugged into the onboard life-support system, the suit could also protect cosmonauts in a depressurized spacecraft.
---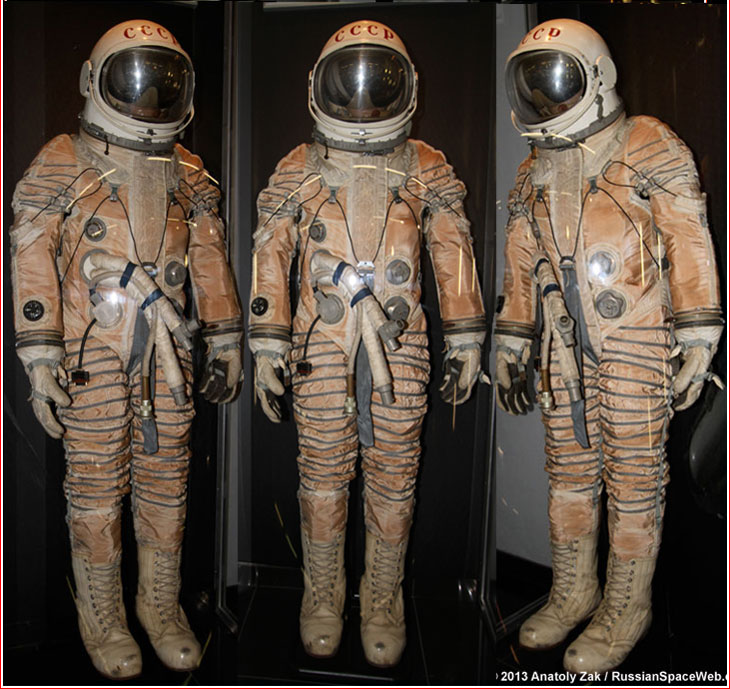 Berkut spacesuit sans external overalls
From the publisher: Pace of our development depends primarily on the level of support from our readers!
Berkut spacesuit with KP-55 life-support system at a glance:
| | |
| --- | --- |
| Development period | 1964 |
| Supply of oxygen from the KP-55 life-support backpack | 16-20 kilo-liters per minute |
| Operational span with KP-55 life-support backpack | 30-45 minutes |
| Spacesuit mass | 20 kilograms |
| Backpack mass | 21.5 kilograms |
| Operational pressure inside the spacesuit (primary mode) | 400 hectopascals |
---
During 1964, a design bureau in Tomilino developed the 20-kilogram Berkut spacesuit with the 21.5 kilogram backpack oxygen-supply system KP-22 (where KP stood for kislorodny pribor – Russian for "oxygen apparatus"). The suit had a removable hard helmet and a three-layered main garment: an external structural layer and two sealing layers. On top, it also had an exterior layer with thermal protection. The white-colored exterior overalls could resist from 10 to 15 kilograms of mechanical pressure. The overalls were attached with laces to the rest of the spacesuit.
The backpack provided from 30 to 45 minutes worth of oxygen.
Pressure in the spacesuit was maintained at 0.4 atmosphere, which was a compromise number, enabling life support, while keeping the suit from becoming too hard. (71)
Next chapter: Training for the Voskhod-2 mission
---