---
---
---
Searching for details:
The author of this page will appreciate comments, corrections and imagery related to the subject. Please contact Anatoly Zak.
---
Related pages:

---
---
Previous chapter: RD-193 engine
---
Development of a steering engine
In March 2010, Roskosmos announced that the RD-0110R (14D24) engine developed by KBKhA design bureau in Voronezh would steer the Soyuz-1 (Soyuz-2-1v) rocket during the first stage of the flight. Four chambers of the RD-0110 engine have capability to rotate in a single plane each, providing a three-axis stabilization. Via its heat-exchanger system, the engine is also designed to heat up helium used for pressurization of propellant tanks in the rocket.
Back in 2000, RKK Energia, TsSKB Progress and KBKhA made a decision to use RD-0110R on the second stage of the Avrora rocket, proposed for a never-developed launch facility on the Christmas Island, Australia. Based on a technical assignment from TsSKB Progress, KBKhA issued a preliminary design for this steering engine, closely based on the original RD-0110 design. Modifications involved mostly secondary components including: gimbal system, shortening of the combustion chamber nozzles, supply lines for propellant and combustion chamber purging, helium heat exchangers and exhaust nozzles. The aft bulkhead of the launch-vehicle's tail section would be used as the attachment point for the combustion chambers, turbopump, gas exhaust system and propellant supply lines. (331) The gimbal mechanism for RD-0110R was developed at TsSKB Progress.
According to Roskosmos, the production of the engine was in process of being started at the adjacent Voronezh mechanical plant. The engine would have to be modified to fit into the core stage, apparently requiring to increase distance between four steering nozzles. Roskosmos promised first test firings of the engine, based on the existing 11D55 powerplant in April-May 2010. On May 24, 2010, Viktor Gorokhov, a chief designer of the engine, was quoted as saying that initial "cold" tests of the engine, involving flow of propellant without its ignition, had been completed and after few more "cold" trials, a live firing of RD-0110R would be conducted. The first test firing of the engine was reported to take place on June 15, 2012. According to KBKhA, the steering engine previously went through testing at TsSKB Progress to prove its resistance to vibration from the accompanying NK-33A propulsion system. On Aug. 9, 2012, KBKhA design bureau reported a second firing of the 14D24 engine in the final tune-up testing, ZDI, lasting 280 seconds was successfully conducted bringing a total firing time of the engine during three tests to 840 seconds. With just 620 seconds required to certify the engine, it had been ready for integrated testing as a part of the fully assembled rocket stage and for inter-agency certification tests of the Soyuz-2-1v launch vehicle, KBKhA said.
In 2012, a KBKhA representative reported that a 11D24 engine had been in development for the eventual replacement of RD-0110R.
---
APPENDIX
RD-0110R (14D24) steering engine capabilities (331):
| | |
| --- | --- |
| Thrust on the ground | 24,350 kilograms |
| Specific impulse on the ground | 261.1 seconds |
| Thrust in vacuum | 27,860 kilograms |
| Specific impulse in vacuum | 298.7 seconds |
| Burn time | up to 250 seconds |
Next chapter: Soyuz-2-3 rocket
---
Page author: Anatoly Zak; last update: January 2, 2013
All rights reserved
MEDIA ARCHIVE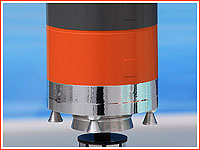 A scale model of the Soyuz-1 rocket demonstrated in 2010, featured a steering engine on the first stage. Click to enlarge. Copyright © 2010 Anatoly Zak
---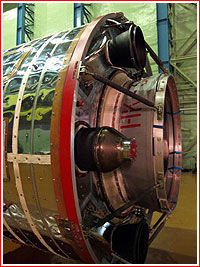 A tail section of the Soyuz-1 rocket. Credit: Roskosmos
---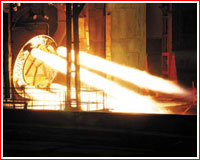 A photo released by KBKhA design bureau in Voronezh in April 2012 apparently shows test firing of the RD-0110R (14D24) steering engine for the Soyuz-1 rocket.
---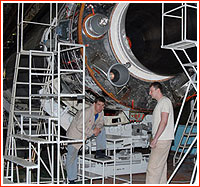 The first Soyuz-2.1v rocket during assembly at Facility 2212 in Samara circa August 2012. Credit: TsSKB Progress