Science and Power Module to wait until 2021
In 2017, a full-scale prototype of Russia's new-generation space station module, NEM-1, began a series of extensive tests which would clear its flight-worthy successor for launch and a multi-year mission in orbit. However the project faced a likely launch delay until at least 2021, or almost two years behind the latest schedule, because of delays in funding, sources at RKK Energia said.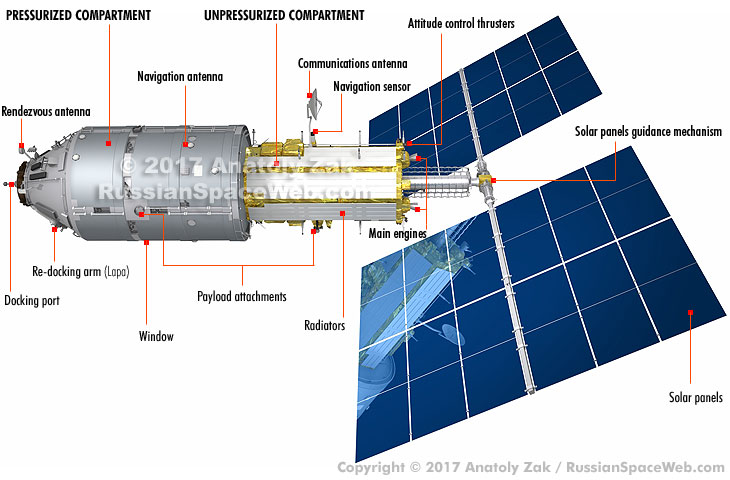 Architecture of the NEM module as of 2016.
---
Work in progress
Officially, the program for experimental testing of the NEM module, known by Russian abbreviation KPEO, was approved on December 18, 2016, in coordination with Roskosmos, its TsNIIMash research and certification institute and the Military Acceptance Service VP 1382.
In January 2017, the prototype of the NEM-1's pressurized compartment, designated 372P321.0000X51-0, arrived at the TsNIIMash research institute in Korolev near Moscow for static and endurance tests. By the beginning of September, engineers has completed 19 out of 27 static testing modes planned for the module. The full completion of static testing was expected in October. During the same month, the endurance tests on the NEM prototype were expected to begin.
Following the pressurized compartment, a prototype of the unpressurized section of the NEM-1 module arrived at TsNIIMash in August for similar tests. The entire test program with this segment of the spacecraft was to be completed in January 2018.
In the meantime, on July 31, 2017, the flight version of the pressurized module known as 372P321.1100-0 arrived at RKK Energia from the manufacturing plant at RKTs Progress in Samara in Southern Russia. As of September, RKK Energia was conducting an acceptance review of the structure. Around the same time, RKK Energia was expecting the delivery from RKTs Progress of another full-scale prototype designated 372P321.1100X61-0 intended for vibration and strength tests.
Financial problems
Although the development work on the NEM-1 progressed well, there were looming delays in the project caused by lack of funding. As a result, RKK Energia was unable to pay its subcontractors to complete the necessary work on various components of the spacecraft. Key areas of concern for management were the propulsion system, the driving mechanism for the solar panels, the solar panels themselves, the telemetry system and power batteries.
In the second half of 2017, project officials estimated that upon making up the funding shortfall, the NEM-1 module could be realistically ready for launch to the ISS in 2021 or around two years after the 2019 launch date which appeared in the most recent publicly available schedules for the assembly of the Russian ISS segment. (816)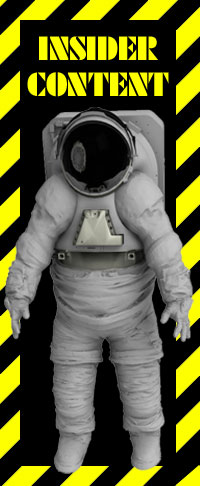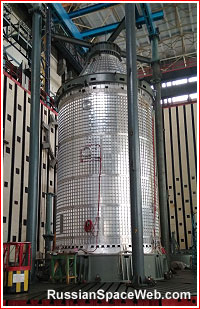 A full-scale prototype of the NEM-1 lab module during static tests at TsNIIMash in 2017. Credit: RKK Energia
---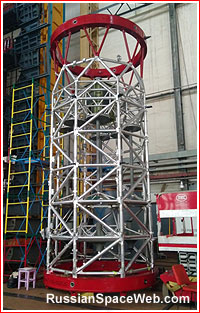 A full-scale prototype of the NEM-1 truss module during static tests at TsNIIMash in 2017. Credit: RKK Energia
---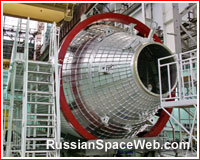 Flight version of the NEM module appeared in metal in 2017. Credit: RKK Energia
---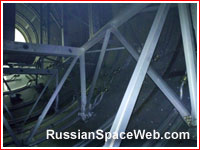 A prototype of the lab module for vibration tests. Credit: RKK Energia
---