---
---
---
Related page:

---

---
Previous chapter: Karat (MKA-FKI) platform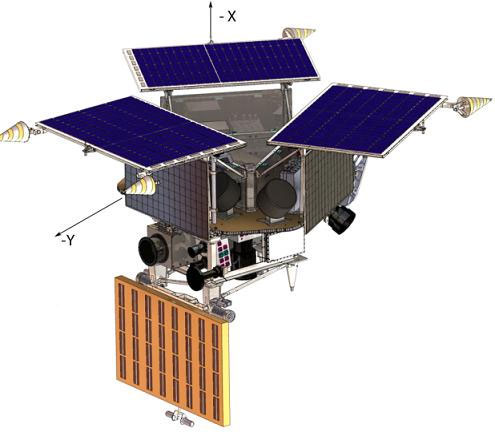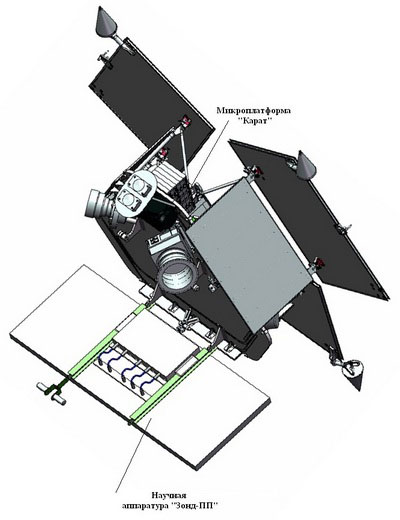 Above: A general layout of the Karat platform with the Zond-PP payload.
---
MKA-FKI (PN1) Zond-PP
The first Karat-based satellite to fly was the Zond-PP experiment, also known as MKA-FKI (PN1), where PN1 stood for "Payload No. 1". It carried a 35-kilogram L-band UHF panoramic radiometer developed at Kotelnikov Radio Technology and Electronics Institute, IRE, of the Russian Academy of Sciences, RAN. It would work at a frequency of 21 centimeter (1,400 megahertz), which enables it to register five salinity levels on the surface of oceans, as well as 10 levels of humidity over land. This data would help meteorologists to build models of ocean circulation (particularly in Arctic waters along Russian shores) and climate dynamics. For example, it would be possible to compile maps of soil humidity and study energy exchange between soil, ocean and the atmosphere.
In addition, a multi-spectral camera and a "hyper-spectrometer" (Pribor-EK) were installed onboard as secondary payloads.
The hyper spectrometer developed at NPO Lepton would be used for testing future imaging systems. It could reportedly detect oil and benzene spills in water.
A multi-spectral camera was designed to work in four ranges of optical spectrum: red, green, blue and near-infrared.
According to NPO Lavochkin, a pair of video cameras was also onboard.
The Zond-PP mission was launched in July 2012 and was expected to operate for three years in a 820-kilometer Sun-synchronous orbit.
The MKI-FKI (PN1) spacecraft included following components:
The Karat standard platform consisting of:

Onboard flight control avionics complex, BKU;
Antenna assembly, AFS, for the onboard radio complex, BRK;
Power-supply system, SES;
Onboard cable system, BKS.

Primary science payload: a dual-beam L-band panoramic UHF radiometer;
Secondary payload consisting of a Pribor-EK featuring a hyper-spectrometer and a multi-spectral camera;
An adapter.
Data from Zond-PP payloads was transmitted to the Oceanology Institute of the Russian Academy of Sciences, RAN, and to the Science Center of the Operational Monitoring of the Earth, NTs OMZ.
The flight control of the Zond-PP mission was conducted from Medvezhi Ozera ground station near the town of Shelkovo, east of Moscow.
The mission
In November 2012, the project officials promised to complete testing of the satellite before the end of the year. At the time, all onboard instruments reportedly had performed well, NPO Lavochkin said on November 13. The company released false-color maps of the large portions of the Earth surface and the oceans based on the satellite's radiometer data acquired from September 24 to September 30 which revealed properties of oceanic ice in polar areas. According to the company, ground controllers were calibrating the instrument, planned and conducted imaging and were downlinking science information on requests from Kotelnikov IRE institute.
Multi-spectral camera had also performed well, transmitting images regularly, Lavochkin said, and the instrument would be used for calibration using stars in the near future.
In total, ground control conducted 850 communications sessions with the spacecraft and only one had experienced minor problems, Chief Designer of MKA-FKI (PN1) project Sergei Nemykin was quoted as saying.
Loss of the spacecraft
In June 2013, rumors surfaced that the spacecraft stopped communicating with ground control. During an internal meeting, project managers declared the satellite dead on June 5, even though two days later Russian space officials claimed that efforts to contact the spacecraft had continued. The head of NPO Lavochkin Viktor Khartov singled out the satellite's flight control computer as the culprit in the failure.
Next chapter: MKA-FKI (PN2) Relek mission
---
APPENDIX
Zond-PP spacecraft specifications (circa 2008):
| | |
| --- | --- |
| Spacecraft mass (total) | 156 kilograms; (157 kilograms) |
| Payload mass | 53 kilograms (58 kilograms) |
| Data transmission rate in S-band | 1 megabit per second |
| Data transmission rate in X-band | 61 megabits per second |
| Zond-PP radiometer swath width | 800 kilometers |
| Zond-PP radiometer resolution | 300 meters |
---
Page author: Anatoly Zak; Last update: May 6, 2014
All rights reserved
IMAGE ARCHIVE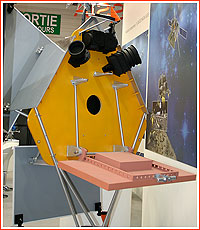 A full-scale mockup of the Karat spacecraft with a Zond-PP radiometer. Copyright © 2009 Anatoly Zak
---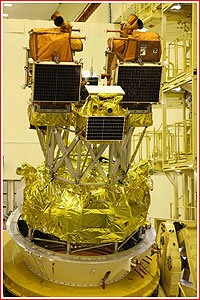 A cluster of payloads in the Kanopus-V mission integrated for launch. Karat-based Zond-PP payload can be seen in the center. Credit: Roskosmos
---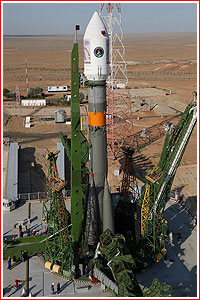 A Soyuz FG rocket with a cluster of satellites shortly after its rollout to the launch pad at Site 31 on July 19, 2012. Credit: Roskosmos
---
A Karat platform with a Zond-PP experiment during development. Credit: NPO Lavochkin
---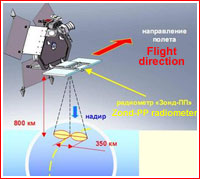 Operation of the Zond-PP radiometer onboard the first Karat platform. Credit: NPO Lavochkin
---