SHIPPING NOW!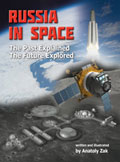 ---
---
---
---
---
Related page

---
Searching for details:
The author of this page will appreciate comments, corrections and imagery related to the subject. Please contact Anatoly Zak.
---
Previous mission: Soyuz TMA-07M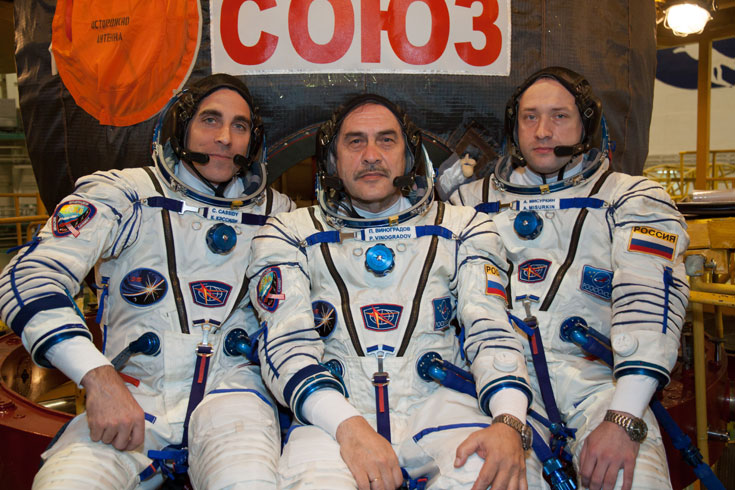 In the Integration Facility at the Baikonur, the Expedition 35/36 prime crew members pose for pictures March 17, 2013, during a systems dress rehearsal called a "fit check." Left to right are NASA Flight Engineer Chris Cassidy, Soyuz Commander Pavel Vinogradov and Flight Engineer Alexander Misurkin. Credit: NASA
---
The Soyuz TMA-08M (No. 708) spacecraft scheduled for launch on March 29, 2013, had a goal of delivering three members of the International Space Station crew, who represented the 35th and 36th long-duration expeditions on the orbiting outpost, where they were expected to remain until Sept. 11, 2013. The launch of the mission was previously planned for April 2, 2013.
Launch
The launch of the Soyuz-FG rocket carrying Soyuz TMA-08M spacecraft from Baikonur to the International Space Station, ISS, took place as scheduled on March 29, 2013, at 00:43:20 Moscow Time (4:43 p.m. EDT on March 28). After a liftoff from Site 1, the launch vehicle ascended along a standard trajectory delivering Soyuz TMA-08M into its initial orbit.
Docking
Following a six-hour rendezvous profile tried for the first time during a manned Soyuz mission, the spacecraft docked to the station's MIM2 module on the day of the launch during the fourth orbit of the flight at 06:28 Moscow Time, just few minutes ahead of planned 06:32:13 Moscow Time (10:32 p.m. EST on March 28), instead of a usual two-day rendezvous scenario. Previously, three unmanned Progress cargo vehicles made it to the station along the same accelerated flight profile. To achieve fast docking, Soyuz TMA-08M was scheduled to conduct four orbital maneuvers during the first two orbits around the Earth.
Planned mission timeline for Soyuz TMA-08M on March 29:
| | | | |
| --- | --- | --- | --- |
| Event | Moscow Time | EDT (March 28) | Mission orbit |
| Launch | 00:43:20 | 4:43 p.m. | 0 |
| Spacecraft separation | 00:52:08 | 4:52 p.m. | 1 |
| Orbit correction 1 | 01:25:32 | 5:25 p.m. | 1 |
| Orbit correction 2 | 02:05:35 | 6:05 p.m. | 2 |
| Orbit correction 3 | 02:46:44 | 6:46 p.m. | 2 |
| Orbit correction 4 | 03:16:41 | 7:16 p.m. | 2 |
| Beginning of autonomous rendezvous with the station | 04:26:29 | 8:26 p.m. | 4 |
| Beginning of station overflight and final approach | 06:11:24 | 10:11 p.m. | 4 |
| Docking with MIM2 module | 06:32:13 | 10:32 p.m. | 4 |
---
Flight program
Expedition 36 would officially start with the departure of Chris Hadfield, Roman Romanenko and Tom Marshburn onboard Soyuz TMA-07M spacecraft on May 14, 2013, leaving the crew of Soyuz TMA-08M onboard the station. These three crew members will be joined by Karen Nyberg, Fedor Yurchikhin and Luca Parmitano following their launch on May 28, 2013.
According to NASA, four Russian spacewalks are planned during Expeditions 35 and 36 focusing on retrieving science experiments, deploying other experiments and conducting preparatory work to discard the Pirs docking compartment later during 2013. Pirs was to be replaced by the Multipurpose Laboratory Module, MLM, equipped with an airlock, docking port and laboratory. As of beginning of 2013, it was officially scheduled for launch on a Proton rocket at the end of the year, however the mission was likely to be postponed until 2014. The first of these spacewalks was to be conducted by Pavel Vinogradov and Roman Romanenko. The last three were to be performed by Fedor Yurchikhin and Aleksandr Misurkin.
Two spacewalks from the US segment of the station were also planned by NASA's Chris Cassidy and ESA's Luca Parmitano. These were focused on routing power and communication cables for the MLM module, replacing a faulty electronics box for the station's Ku-band communication system, staging spacewalk tools and equipment, including a pair of radiator grapple bars, and completing a number of routine maintenance tasks deferred from previous spacewalks.
During the summer, the station crew was to receive the fourth Japanese HTV and the fourth European ATV cargo ships.
Soyuz TMA-08M and its crew was scheduled to return to Earth on Sept. 11, 2013.
Soyuz TMA-08M carrying Chris Cassidy, Pavel Vinogradov and Aleksandr Misurkin undocked from the Poisk mini-research module of the Russian segment of the ISS on Sept. 10, 2013, at 7:35 p.m. EDT. The ship's descent module then landed as scheduled in Kazakhstan at 10:58 p.m. EDT (08:58 local time on Sept. 11, 2013).
After the homeward-bound trio entered the Soyuz, they closed its hatches at 4:19 p.m., began leak checks and put on their Sokol pressure suits. The day before, Vinogradov handed over control of the station to Flight Engineer Fyodor Yurchikhin in a traditional Change of Command Ceremony in the Zvezda service module.
They leave behind new station Commander Yurchikhin and Flight Engineers Karen Nyberg and Luca Parmitano who became Expedition 37 when the Soyuz TMA-08M undocked from Poisk.
Waiting back on Earth to join Expedition 37 are future crew members Oleg Kotov, Mike Hopkins and Sergey Ryazanskiy. They are in Kazakhstan preparing for a Sept. 25 launch in their Soyuz TMA-10M spacecraft. The new space trio will arrive at the orbital laboratory just four orbits, or six hours, later and dock to Poisk.
The current station residents arrived at the station and docked to the Rassvet module on May 28, just four orbits after launch. They are due to go home in November in their Soyuz TMA-09M.
APPENDIX
Soyuz TMA-08M crew:
| | | |
| --- | --- | --- |
| Name | Status | Agency |
| Chris Cassidy | Flight engineer for Expedition 35 and 36 | NASA |
| Pavel Vinogradov | Soyuz commander, flight engineer for Expedition 35 and commander for Expedition 36 | Roskosmos |
| Aleksandr Misurkin | Flight engineer for Expedition 35 and 36 | Roskosmos |
---
Next mission: Soyuz TMA-09M
---
This page is maintained by Anatoly Zak
Last update: September 23, 2013
All rights reserved
MEDIA ARCHIVE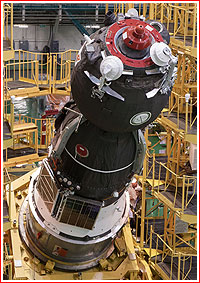 The Soyuz TMA-08M spacecraft is lowered into place March 22, 2013, for its encapsulation into the third stage of a Soyuz rocket at the Integration Facility in Baikonur. Credit: NASA
---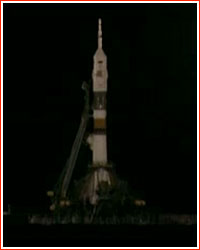 Soyuz TMA-08M around 12 minutes before launch on March 29, 2013. Credit: NASA
---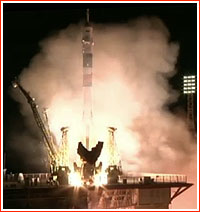 Soyuz TMA-08M lifts off on March 29, 2013. Credit: NASA
---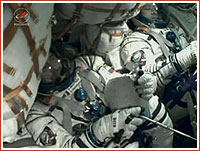 The drew inside the cabin during the launch on March 29, 2013. Credit: NASA
---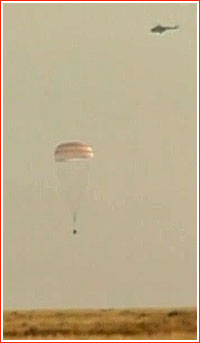 Soyuz TMA-08M lands on Sept. 11, 2013, local time in Kazakhstan. Credit: NASA TV