---
---
The author of this page will appreciate comments, corrections and imagery related to the subject. Please contact Anatoly Zak.
---

---
Ekspress MD series
A pair of Ekspress-MD communications satellites was developed by Moscow-based GKNPTs Khrunichev for Russian Satellite Communications Company, the nation's chief communications satellite operator. Unlike other larger spacecraft in the Ekspress family built at ISS Reshetnev, the MD series enabled to maintain an alternative supplier of communications satellites in Russia.
---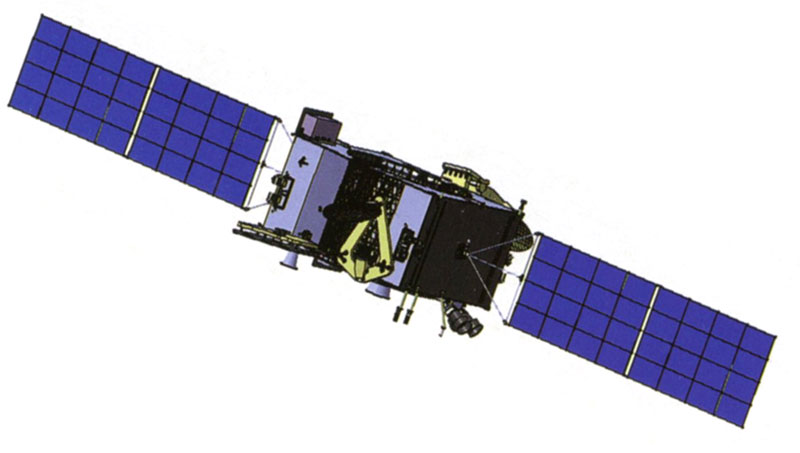 The design of the Ekspress-MD series was largely borrowed from the KazSat project, which enables this relatively small satellite to double as an adapter between the Proton's upper stage below and another payload mounted above. Thus, KazSat and Ekspress-MD could hitchike a ride to orbit along with other satellites. Italy's Thales Alenia Space played a role of main system's subcontractor in the Ekspress-MD project.
Ekspress-AM44/Ekspress-MD1 mission
2009 Feb. 11: A Proton M rocket equipped with Briz-M upper stage lifted off from Site 200 in Baikonur Cosmodrome on Feb. 11, 2009, at 03:03 Moscow Time, carrying Ekspress-AM44 and Ekspress-MD1 communications satellites for Russia's Satellite Communications Organization. The Briz-M upper stage and the third stage of the launch vehicle separated at 03:12 Moscow Time. After a series of firings of the upper stage, Ekspress-AM44 separated at 12:15:30 Moscow Time followed by Ekspress-MD1 at 12:29:40 Moscow Time, as planned and in the correct orbit, Russian space agency said.
The 2,560-kilogram Ekspress-AM44 satellite was manufactured by Reshetnev enterprise (formerly NPO PM) with Thales Alenia Space as a supplier of the communications payload. It was equipped with a Mars-4 flight control computer. The spacecraft has a projected life span of 12 years.
The 1,140-kilogram Ekspress-MD1 satellite was developed by Khrunichev enterprise and should remain in service for 10 years. Structurally, it was built around the cylindrical adapter connecting the Briz-M upper stage with the main payload (Ekspress-AM44). The same principle was used in the development of the KazSat satellite.
The mission was originally scheduled for December 2007, June, August, Sept. 25 and December 2008.
Ekspress-MD2 (lost in a launch mishap on Aug. 6, 2012)
The 1,140-kilogram Ekspress-MD2 satellite was to be placed at a point 145 East longitude over the Equator to provide communications over the Russian Far East, a region which experienced considerable lack of communications channels. The mission of Ekspress-MD2 was to be insured by Ingosstrakh company for 1,177 billion rubles, while the cost of the satellite development was quoted at 180.08 million rubles. The spacecraft was to be equipped with a Mars-4M flight control computer. The launch was originally scheduled as early as 2009, however it took place on Aug. 6, 2012 and failed
Express MD series specifications, according to GKNPTs Khrunichev:
| | |
| --- | --- |
| Orbital position | Ekspress MD1 - 53 degrees East; MD2 - 145 degrees East longitude |
| Spacecraft mass | 1,140 kilograms |
| Operational life time | 10 years |
| Total life time | 12.5 years |
| Pointing accuracy | 0.1 degrees |
| Position-holding accuracy | 0.05 degrees |
| Payload mass | 230 kilograms |
| Number of transponders | 8 in C-band; 1 in L-band; |
| Bandwidth | 40 MHz |
| Payload nominal power consumption | 1,300 Watts |
| Launch vehicle | Proton-M/Briz-M |
Page author: Anatoly Zak; Last update: December 15, 2021
All rights reserved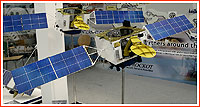 A scale model of the Ekspress-MD satellite. Copyright © 2008 Anatoly Zak
---
---
---
---